Perfectionists are a giant step closer to finding their perfect homes. This month, two internet-savvy real estate giants launched ChatGPT plugins.
It's an intriguing new development, connecting real estate and the artificial intelligence (AI) company OpenAI.
And it's part of a technological milestone: OpenAI only recently linked ChatGPT to the internet.
Zillow and Redfin Make ChatGPT Announcements in the Same Week
On Tuesday May 2, 2023, TheVerge.comreported that Zillow would introduce a ChatGPT plugin. The new tool would take users' conversational descriptions of what they wanted, and show them the relevant listings. By Wednesday, Redfin had announced its own ChatGPT plugin. 
The Zillow Group has always been a house-seeker's go-to company, and it's been working with AI for months now. The company has been steadily working on improvements in its free home value estimating tool (the "Zestimate"), its virtual home touring features, and its 3D floor plans.
Zillow ChatGPT is just the newest phase in Zillow's quest to be the leader in matching people to homes.
"Generative AI is changing the way people search for information," stated David Beitel, Zillow's head of technology. Beitel said the move was only the beginning of an expected series of collaborations with OpenAI.
Natural Language Queries: Now They Really Work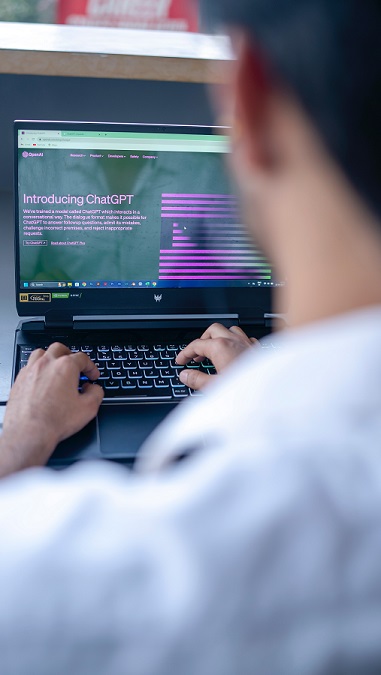 ChatGPT enables a natural-language search that really works. Hopeful buyers type conversational questions and preferences into a search field on their computers or phones. And the tool gets them the results they want, without hours of trial and error. In fact, by using ChatGPT, a hopeful buyer can receive ideas for similar homes, but in places they'd have never scoured without it. This means it could turn frustrated perfectionists into successful home hunters.
At its most basic, the ChatGPT plugin enables a home search based on the home seeker's key needs and preferences: rent or buy, in what area, what size, price range, number of bedrooms, and so forth. As Redfin explains:
You can use the Redfin ChatGPT plugin to describe your ideal home and neighborhood in everyday terms and find listings that suit your needs.
ChatGPT will take your cues, then dive into a real estate company's online database to unearth all the listings that match up.
The tool can be tailored to your own mood and evolving circumstances. Type the name of the city you need to move to, and the income you'd get at your new job there.Tell ChatGPT how many beds and baths you're looking for. Say you want to be near art galleries, farmers' markets… and you'd like a townhome with access to bike trails.
The AI tool will generate a collection of homes in the company's lineup to suit your particular package of needs, preferences, and possibilities. Redfin's site takes the customer right to the listings — and offers to book tours led by area Redfin agents at any homes they pick out.
Of course, this is good news for the people listing their homes on the market. They'll become more easily discovered by laser-focused buyers.
Redfin Sees ChatGPT as a Remedy for Buyer Pain Points
ChatGPT could make a big difference for business, Redfin believes. Redfin, of course, is famous in the online home-search and home valuation arena. It's the company that first created real estate searches using internet maps. It's also been adopting artificial intelligence over time, helping its site visitors get increasingly accurate and continually updated property value ranges.
So, as with Zillow, Redfin's adoption of ChatGPT is part of an evolution of technology in its business model.
The company notes that its volume of listings slowed in March 2023, and hit new lows. Redfin says its agents think potential buyers are having trouble trying to bring up listings that have precisely what they need and want.
ChatGPT could address this pain point. Meshing advanced AI with its large database could be the way ahead for Redfin, as the company looks for ways to draw and engage its customers.
Rolling Out ChatGPT: It's Available Now, to a Select Group of Users
Select ChatGPT users (there's a wait list) may now install the tool from OpenAI. Then they can pose their questions. As these early adopters start asking their questions and narrowing their home searches, they'll be teaching and collaborating with the tool. This is how AI works. It learns from each input it's given. Customers feed the tool valuable data, and the tool becomes continuously better at seeking and finding and articulating the best answers.
At this "alpha" stage of testing, only some home searchers can use the tool, but as it is refined, it will become more widely marketed. During the refinement process, AI tools also tend to make mistakes as they learn. By the time they are generally available, AI tools improve by leaps and bounds, simply on account of digesting so much customer data.
By the way… That ability to digest data and learn from it is an ingenious trait, but it has a lot of people worried. For one thing, is suggests that the intelligence of machines could outrun that of humans, making artificial intelligence among the riskiest, most dangerous technologies humanity has created so far.
Burning Question: Does the New Tech Help People Who Need Housing Most?
Picky home shoppers are one thing, but many people just want housing they can afford. Redfin product VP Ariel Dos Santos says: "We're excited to find new ways to use it to make buying, selling or renting a home simpler and more affordable."
We can only hope so. But couldn't AI tools just as well help commercial real estate investors snap up the most profitable opportunities? And wouldn't that make the housing market even more competitive than it already is? After all, the investors with the resources to develop the most powerful AI tools (and have available staff to ensure the correct use of data) will be the ones that gain knowledge, opportunities, and advantages that small investor could not reach.
And what about the ability of AI tools to use population demographics as part of their sophisticated search capabilities?
AI is certainly on track to reshape the world of real estate investment. It's naive to assume it will aim to do that in a socially responsible way. So, expect the flurry of interest in ChatGPT's emerging tool to catch the attention of regulators and fair housing advocates. There will be pushback, no doubt. And it will be pressing the real estate world to enhance its compliance with federal and state fair housing laws.
We'll keep our readers posted on how the AI story continues to unfold.
Note: We don't get compensation from any companies mentioned here; nor are we endorsing the use of, or investment in, any product. Deeds.com articles are for our readers' general information only. We appreciate your reading!
Supporting References
Monica Chin for TheVerge.com: ChatGPT Plugin Alpha Release – ChatGPT Can Now Find You a Home (May 2, 2023).
Alina Ptaszynski (PR representative for the Redfin Corporation), via Redfin.com: Redfin Real Estate News – Redfin Launches ChatGPT Plugin to Help People Find Their Next Home (May 3, 2023).
Alyssa Stringer and Kyle Wiggers for TechCrunch.com: AI ChatGPT – Everything You Need to Know About the AI-Powered Chatbot (May 3, 2023).
Connie Loizos for TechCrunch.com: Government and Policy – Is ChatGPT a "Virus That Has Been Released Into the Wild"? (Dec. 9, 2022).
And as linked.
Photo credit: Airam Dato-on and Viralyft, via Pexels.