And What's All This Talk About Rate Hikes?

In a Wall Street Journal article titled Millennials Are Supercharging the Housing Market, millennials — many of whom are just now jumping into the market — account for more than half of all mortgage applications. Super. A good deal of the future demand for homes hinges on millennials (people born in the 1980s and 90s).
But wait. Will rising interest rates put a damper on these young market-movers in 2022?
Double Whammy? As Interest Rates Climb, Home Prices Aren't Getting Any Lower
The indirect effects of the Federal Reserve's moves to curb inflation are expected to keep pushing interest rates up. Here's what Freddie Mac says:
"With higher inflation, promising economic growth and a tight labor market, we expect rates will continue to rise."
The scenario Freddie Mac foresees will create even more need for affordable housing in the United States — especially when combined with the high demand from all those millennial shoppers looking for their first homes. For everyone with limited or modest means, getting to ownership won't be easy. And the interest on the average 30-year fixed mortgage is already rising.
Interest rates went above a 3.2% annual percentage rate in January 2022, Freddie Mac's Primary Mortgage Market Survey reports. (A lot of loans run higher than that. Freddie Mac's survey is based on home purchase mortgages for strong borrowers with large down payments.)
So, we're seeing a significant rise from the 2020 – 2021 rates, which dipped, in early 2021, below 2.7%. If the rates are up about .5% from their lows a year ago, how significant is that? It means a five-figure difference in what a household pays the lender over 30-year period. Interest rates matter greatly.
At least home prices aren't rising quite so fast as they did in 2020-2021. But many real estate analysts do expect property valuations to steadily rise throughout 2022. Even if prices could dip, it looks pointless to deliberately delay home buying because of market conditions. Hopeful buyers would be sensible to buy before the interest rates climb to pre-pandemic levels.
By the same token, it looks like a good time for current homeowners to jump in and refinance now, in the last hurrah before today's rates get away from them.
As always, home buyers should seek out the best current blend of mortgage rate, lender fees and closing costs, and be sure they're in the financial position to buy. As The Mortgage Reports puts it:
"If you find a home you like and you're financially ready, then 2022 is an excellent time to buy."
Those who buy early in the year will be able to start building equity, rather than starting late in the year, when interest rates could be somewhere between 3.7% and 4% or higher. Granted, even those rates are low when we remember that mortgage rates were in the double digits in the 1980s! Check out Freddie Mac's chart of historical mortgage rate data for some helpful perspective.
Does the Fed Actually Change Mortgage Interest Rates?
The Federal Reserve (the U.S. central bank) doesn't set mortgage rates. But it does change short-term interest rates, and the ripple effects touch mortgages. Indeed, the Fed was working to avoid a foreclosure crisis when it acted to lower interest rates, indirectly supporting homeowners.
Since 2018, as home buyers know, the Fed has been lowering rates. To tackle the financial impact of Covid-19 in 2020, it kept interest rates in the bargain basement as it bought up bonds, boosting the flow of money.
But suddenly, "inflation shock" is the big concern. The Bureau of Labor and Statistics reports that inflation has now reached a 40-year high! It was December 2021 when Jerome Powell, who chairs the Federal Reserve, observed that inflation is not going away, so the government will need to ratchet down its U.S. Treasury bond purchases. What happens then? Interest rates rise. The Fed is planning rate hikes every few months, and the first in the series could come as soon as March 2022.
How do mortgage loan rates fit in? Mortgages involve long-term borrowing. As the Federal Reserve boosts treasury bond yields, it also impacts mortgage rates, although long-term bonds rise at a slower rate than short-term bonds. In a nutshell, expect mortgage interest rates to gradually rise as the central bank tries to tame inflation. But not in a straight line. Whenever there's news about a Covid variant getting a foothold in communities, mortgage rates tend to dip. Nevertheless, the 30-year fixed mortgage rate is now at its highest since the beginning of the pandemic, and the trajectory is upward bound.
Are the Roaring 20s Nearly Over for Mortgage and Refinancing Applications?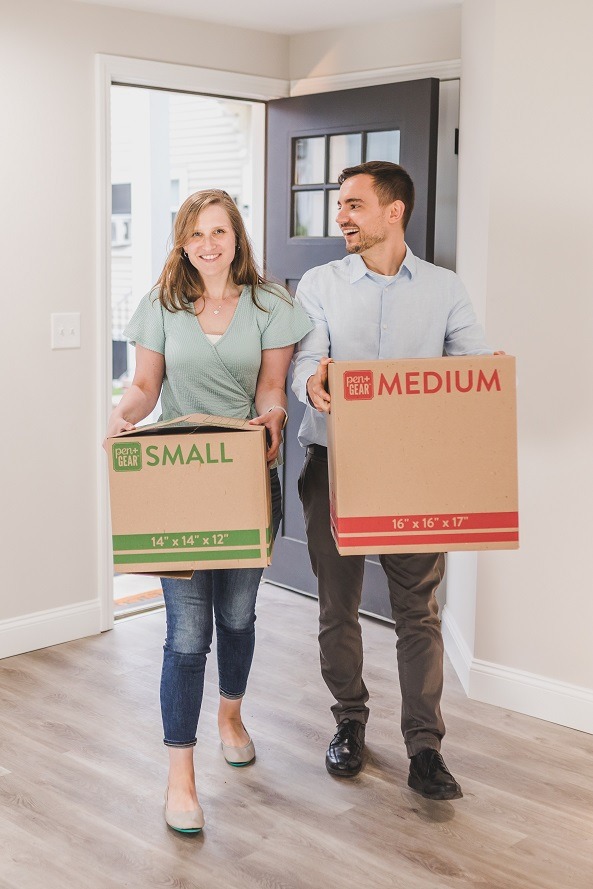 When interest rates went down to historic lows in 2020-21, well, that really supercharged financing for real estate.
☛ 2021 was a phenomenal year for residential transactions! Take a look back at some remarkable real estate milestones of an unprecedented year.
But now, as interest rates rise, the borrowing power of millennials and other home buyers will be dampened. Consumer buying power tends to diminish whenever interest rates go up on credit. And so we see people already shifting their borrowing habits. Mortgage and refinance applications have, in early January 2022, shown a downtick from their December levels.
Millennials do have one new advantage since the advent of Covid: a major boost for mobile, flexible employment options. The mass shift to hybrid and distance-based work made it possible for many income earners to set up their households beyond the pricey coastal career hubs. This will continue to be a major factor supporting the real estate market through the decade, at least outside of the super-expensive cities.
All of this year's buyers will enter the marketplace in a time of change. Property value appreciation is slowing down, although it could rise enough for the typical homeowner to pocket another $15,000 in home equity in 2022, according to a recent column in USA Today. As long as homeowner equity keeps rising, more property owners will be able to refinance their homes if they couldn't do so earlier.
☛ For a homeowner who has built up substantial equity, a cash-out refinance can help pay off high-interest debt or free up funds for big projects. The best time to consider this option is when interest rates are low.
On to a Normal Spring Season for Real Estate—Sort of?
Spring and the rest of 2022 should be somewhat calmer for real estate, if current indicators hold up. In all likelihood, while the 20s won't exactly keep roaring in real estate, mortgage and refinancing activity should be steady.
Whatever 2022 has in store, we'll be monitoring the market and keeping our readers apprised. And we'll be here to keep making real estate deeds easy.
Supporting References
Nicole Friedman for the Wall Street Journal: Millennials Are Supercharging the Housing Market (Dec. 14, 2021; citing data from CoreLogic).
Freddie Mac: Mortgage Rates Increase (Jan. 6, 2022).
Freddie Mac: 30-Year Fixed-Rate Mortgages Since 1971 (Jan. 2022).
Miranda Marquit for NextAdvisor in partnership with Time: What the Federal Reserve's Latest Move Means for Your Mortgage Rate Next Year (Dec. 16, 2021). 
Andrew Wan for NextAdvisor, in partnership with Time: Mortgage Rates Rose to 3.24% on the Heels of Soaring Inflation. Here's What Experts Predict Will Happen Next (Dec. 16, 2021; citing the Bureau of Labor and Statistics).
Zachary Halaschak for the Washington Examiner: What to Expect When the Federal Reserve Hikes Interest Rates (Jan. 6, 2022).
Vivien Lou Chen and William Watts for MarketWatch.com: Two-Year Treasury Yield Hits an Almost Two-Year High as Fed's Bullard Says First Rate Hike Could Come as Soon as March (Jan. 6, 2022).
Kathy Orton for the Washington Post: Fixed Mortgage Rates Hit 20-Month High as Long-Term Bond Yields Rise (Jan. 6, 2022).
Deeds.com: Ring In the New: Home Buying Trends for 2022 (Dec. 20, 2021).
Photo credits: Helena Lopes, via Unsplash; and RODNAE Productions, via Pexels.