Real Estate Title Research
Available Services:
Deed Retrieval
Copy of the most recent transfer document for a property. Usually a warranty deed, grant deed, quitclaim deed, etc.

Includes Property Detail Report.
Finance Document Retrieval
Copy of the most recent finance document recorded for a property. Usually a deed of trust or mortgage.

Includes Property Detail Report.
What is a real estate title search?
A title search of real property is performed primarily to answer three questions :
Does the seller or grantor have an interest in the property being transferred?
Are there any restrictions pertaining to the use of the land (real covenants, easements, or other servitudes)?
Is the property encumbered (mortgages, back taxes, mechanic's liens, or other assessments)?
Anyone can do a title search. Recorded documents concerning conveyances of land are a matter of public record. These documents are maintained in hard copy format or scanned into image files by the recording office in the jurisdiction where the subject property is located. Each record is a document evidencing an event that occurred in the history of the property. When combined, these records create a chain of title for a specific piece of property. Performing a title search involves accessing the official land records provided by the county or jurisdiction.
Who should get a title search?
Anyone who receives real estate, whether it is a purchase or a gift, is well advised to complete a title search for that property. When purchasing real estate, a title search protects the buyer. Not only does it confirm the actual ownership status of the seller, but it also verifies the seller's statements about the quality of the title and encumbrances on the property. When receiving real estate as a gift, a title search is also in the recipient's best interest. Real estate can carry burdens that may turn a gift into a nightmare.
Get a copy of your deed today.
Use our deed retrieval service to get a digital copy of your real estate deed today. We can pull the most recent transfer document (deed) for most properties within minutes.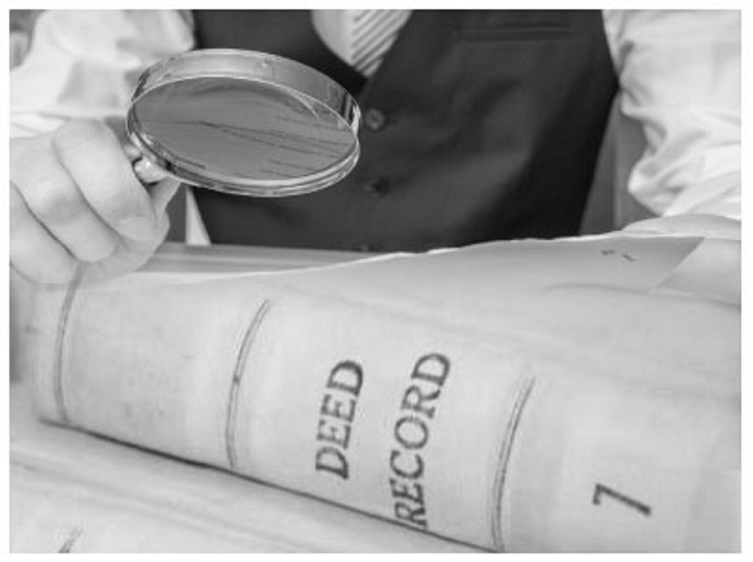 Reminder: You are on Deeds.com, we are NOT affiliated with any government agency, we are NOT the recorder's office. You can get most of this information directly from the recorder for less money if you want to do it yourself. Information on how to contact your local recorder can be found by clicking here.
THE SERVICES ARE INFORMATIONAL ONLY AND ARE NOT INTENDED TO PROVIDE SPECIFIC COMMERCIAL, FINANCIAL OR INVESTMENT ADVICE. THE SERVICES ARE BASED UPON CERTAIN DATA AND/OR RECORDINGS, SUBJECT TO FREQUENT CHANGE. DEEDS.COM MAKES NO WARRANTIES OR REPRESENTATIONS ABOUT THE METHODOLOGIES USED OR THE ACCURACY, TIMELINESS, RELIABILITY OR COMPLETENESS OF ANY OF THE SERVICES. THE SERVICES ARE PROVIDED ON AN "AS IS" BASIS, WITHOUT WARRANTIES OF ANY KIND WHATSOEVER, INCLUDING ANY IMPLIED OR EXPRESS WARRANTIES OF MERCHANTABILITY, FITNESS FOR A PARTICULAR PURPOSE OR NON-INFRINGEMENT. ANY RELIANCE ON OR USE BY CUSTOMER OF THE SERVICES SHALL BE ENTIRELY AT CUSTOMER'S OWN RISK. DEEDS.COM MAKES NO REPRESENTATIONS OR WARRANTIES ABOUT THE LEGALITY OR PROPRIETY OF THE USE OF THE SERVICES IN ANY JURISDICTION, STATE OR REGION. CUSTOMER SHALL BE SOLELY RESPONSIBLE FOR OBTAINING ANY AND ALL NECESSARY LICENSES, CERTIFICATES, PERMITS, APPROVALS OR OTHER AUTHORIZATIONS REQUIRED BY FEDERAL, STATE OR LOCAL STATUTE, LAW OR REGULATION APPLICABLE TO CUSTOMER'S USE OF THE SERVICES. THE SERVICES ARE NOT TO BE CONSTRUED AS A SUFFICIENT BASIS FOR UNDERWRITING TITLE INSURANCE POLICIES.