Today's real estate industry professionals are strained. They face massive workloads. Much of the work involves copying information, reviewing documents, billing clients, and performing other repetitive tasks. How can real estate companies attract, motivate, or retain great employees if the work isn't stimulating?
Today's software technology may help firms hire and keep talented people, by automating routine tasks. While it frees employees to do what they do best, it also help companies comply with laws, and avoid falling prey to fraud.
It's called Robotic Process Automation, or RPA.
The Special Ability of RPA: Mimicking the Way Humans Use Computers
Avison Young identifies itself as a technology-driven commercial real estate services firm. The business, based in Canada and expanding internationally, uses intelligence software to assess markets and provide data-driven insights to its clients. Its method enables professionals to:
Avert common errors in documents.
Make better decisions, based on better information.
Remove mundane and repetitive tasks from workloads.
Its next evolutionary step will be to assign software robots to tasks — and to individual employees.
The robot image above is just for fun. RPA bots won't actually look like some half-humanoid character from Star Wars. At least not the ones used for real estate offices. These robots are creatures of software. They mesh with other well-known and widely used office tech, such as ERP systems, Microsoft Excel spreadsheets, webpages and email. But RPA software robots can mimic the way humans work with information.
Case in Point: A Real Estate Office Integrates Software Robots
Together with a software robotics company called UiPath, the Avison Young company will develop better ways to extract and use key information about real estate assets — information about building interiors, walkability, available local transit, environmental data, and so forth. The firm will then present useful bundles of information to clients, to help them to stay competitive.
Robots will also automate the bookkeeping. Bots can crosscheck bank statements from separate institutions, and reconcile statements with corporate ledgers. And they will be property management heroes. They can digest, organize, and apply all those heaps of data which real estate companies receive from their smart buildings.
The ultimate goal in Avison Youngs's RPA adoption? Assigning a robot to every employee.
But there's a much broader goal for RPA. Because of its ability to raise the efficiency and competence of a firm while also increasing workplace satisfaction, RPA is expected to keep companies viable in the digital era. Real estate companies will be left behind, Avison Young believes, if they ignore RPA.
By now, you might be thinking: Uh oh. Big companies will get an edge with this software, and the ordinary people investing in real estate as small businesses are toast, right?
Well, maybe not. RPA for small businesses is a thing. And maybe it's just what many small real estate businesses need.
Software Robots Are Like People, But They Don't Fall Asleep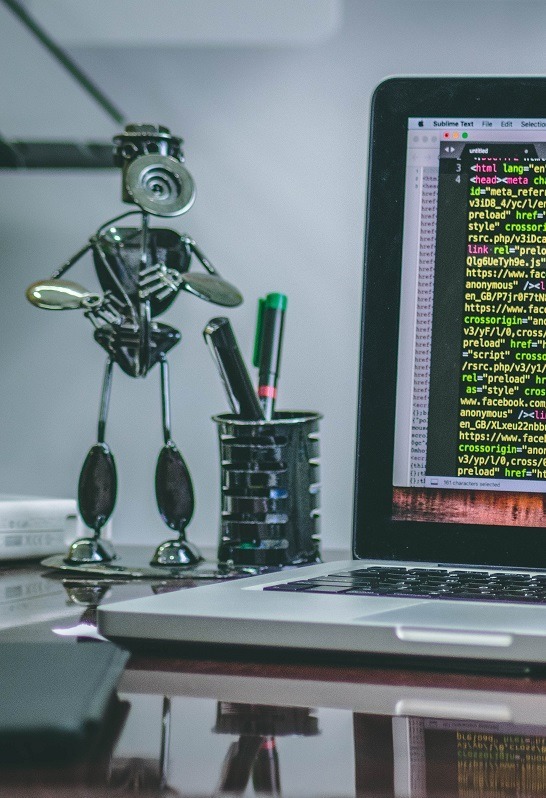 Once established in the workplace, a software robot can log onto a computer, type on a keyboard, read information, examine and process the details, organize documents and folders, insert facts into files, fill in forms, make copies, produce reports, and so forth. Robots do all of this rapidly, without needing to refresh their minds and muscles with breaks. Not only can they work 24/7 — they work with precision that a human can't replicate.
As in Avison Young's plan, software robots can become virtual assistants for real estate professionals. Once programmed, these assistants won't get tired or distracted. They won't let things slip through the cracks. They'll catch errors, and intervene when potential problems begin to arise.
Plus, machine learning improves and expands a robot's skill set as the robot keeps working and gathering more and more data. Ultimately this will enable robots to "think" like people. Already, robotic reading comprehension and analytical abilities are surprisingly advanced. Software robots can facilitate chats, make on-point jokes, and understand the business implications of a conversation. This advancement in RPA tech is called cognitive automation.
When a software robot finds an error or a potential breach, it pauses to notify a human employee. In the future, an RPA robot may make immediate decisions based on its findings, with outcomes that are better than those a human's decision could have created.
That doesn't mean RPA is replacing human workers. Robots are pretty task-specific. Humans, in contrast, are better at abstract thinking and many types of creative and interactive work. Plus, humans appreciate spending more time doing what they do well. A company wins when human employees are freer to collaborate on ideas, engage customers, and close deals — while the robots take care of the regular routine.
The Real Estate Routine: What Can Be Automated?
RPA can automate common real estate office processes, such as:
Risk assessments. Bots can check references and run credit histories. Then, they can sort renters' applications based on good data — rather than rejecting viable renters and losing them to competitors.
Document production. Bots can construct a lease in a fraction of the time it would take a human to do the job manually.
Averting contract breaches. Bots can send late payment reminders to renters who forgot to send their payments on time.
Portfolio management. Bots can refresh information on websites, removing filled properties and raising the visibility of available properties.
Investment assessments. Bots can run analyses of real estate investment trusts (REITs) to maximize potential returns.
Anti-money laundering and Know Your Customer compliance. Bots can check customer histories, cross-check databases, flag issues, and send emails to request documentation.
Internal security. Bots can handle sensitive information, avert fraud, and correctly preserve data for audits.
Software robots can also help verify information that's moved when a company adopts new systems. Checking a new system for anything lost in migration can take weeks if done manually, but just days when RPA automates the cross-checking and data validation. Once RPA points out all the errors, employees can correct them before a new system goes live.
Software Robots Are No Longer Unfamiliar.
RPA software is showing up across the spectrum of industries, from medicine to transportation to the world of financial transactions. It can be introduced to workplaces at a relatively low cost, and without interrupting work in progress. RPA can scale up a business without creating a need to find more humans to do the extra tasks.
RPA adoption can be part of any phase, including the very beginning, of a workplace's digital shift. One department can try out the system, prove its benefits, and then provide guidance for other departments to adopt it. Once robotic assistants spring into action, people find them easy to work with. And the user-friendly, low-code style of RPA helps ordinary people program their own bots.
RPA is just one example of software that's changing the real estate industry. Even if reducing companies' vulnerability to fraud were its sole use, the software robot idea would be compelling. But as you can see, robots will be doing much more.
Indeed, robots will play key roles in the future of real estate.
Supporting References
UiPathTM: Robotic Process Automation (RPA).
Business Wire: Avison Young and UiPath Partner to Drive Automation-Powered Real Estate Experience (Jan. 10, 2022).  
Alamira Jouman Hajjar for AIMultiple.com: 7 RPA Applications/ Use Cases in the Real Estate Industry (Feb. 4, 2022).
Nick Ismail for Information Age: The Role of Robotic Process Automation in the Real Estate Industry (Aug. 18, 2021).
Hendrik Aholt and Volker Wörmann for Deloitte Netherlands, via Deloitte.com: Robotics for Real Estate Services (Real Estate Predictions 2018).
Photo credits: Kindel Media and Hitesh Choudhary, via Pexels.
Deeds.com has no advertising relationship with any companies mentioned herein.