Cryptocurrencies such as bitcoin are becoming money in Argentina.
In May 2021, the massive e-commerce firm Mercado Libre started enabling people to buy Argentina real estate with bitcoin. At that time Argentina's real property could only be paid for in U.S. dollars. For the price of two bitcoins, a buyer could get a place to live in Buenos Aires.
More recently, Tienda Crypto (the Crypto Shop) has enabled a building developer to accept cryptocurrency for the homes it's producing for a real estate firm, as Federico Goldberg, CEO of Tienda Crypto, told ForbesAR.
According to statistics from international exchanges, Argentina is one of the hotspots for cryptocurrency transactions today. Let's take a look at what's going on.
Putting the Currency in Cryptocurrency
Most everyone knows bitcoin as an inflation-resistant store of value. This quality relates to its scarcity, as there's a hard limit of 21 million bitcoins that will ever exist. But in Argentina, it's more than that. People are using crypto to buy assets including real estate — bringing digital assets into the realm of transactions.
Argentina has seen its currency badly beaten up in the past several years, culminating in the 2018 Argentine monetary crisis. Inflation has averaged 45% since then. (Argentina is a stark example, but is hardly alone in dealing with inflation. Since the advent of Covid-19, quantitative easing policies in various countries have devalued government currencies' buying power, as measured against scarce or desirable assets.)
Argentina's recession has boosted cryptocurrency use. In the spring of 2021, two million digital currency accounts were held in Argentina (total population: 45 million). That represented a 10X increase since 2020, according to Maximiliano Hinz, Latin American director for the Binance exchange.
To the Argentine populace, cryptocurrencies have multiple positive traits. First, Argentina faces a shortage of available U.S. dollars. Cryptocurrencies are a good workaround for the government's $200 per month limit on buying dollars. Moreover, dollarized cryptocurrencies, such as Tether or Dai stablecoins, are available to buffer volatility during transactions. Stablecoins are cryptocurrencies that allow worldwide transfers and prompt settlements. Transactions are relatively inexpensive, and the coins' value can be transferred securely, directly, and immediately — 24/7.
In Federico Goldberg's view, the volume of transactions with cryptocurrency, both as payment for assets and for services, is bound to keep growing. Goldberg believes Argentina is in the early stages of adopting crypto for payments, investments, and asset diversification.
Nuts and Bolts of Buying a Home With Cryptocurrency in Argentina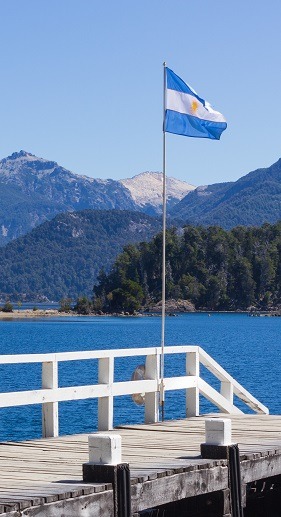 Real property in Argentina can now be bought with bitcoin, ether, or any stablecoin pegged to the dollar. Tienda Crypto's platform also handles transactions in other digital currencies, through a swap service.
On the Tienda Crypto platform, clients can inform the real estate company Clik Apartes of their interest in buying a listed property with cryptocurrency. Ezequiel Wierzba, who heads Clik Apartes, calls Tienda Crypto "real estate 2.0" — a platform at the leading edge of property tech.
Next, the clients can send their cryptocurrencies to the developer's account or that of the property seller. Then, the conversion to dollars occurs, and the funds go to the banks as agreed, unless the parties decide to keep the assets in cryptocurrency form. The buyer covers the cost of the currency exchange.
Alternatively, the clients may start running their tabs with Tienda Crypto. Then they can take charge of converting their crypto to dollars through the portal and send the funds to their banks, and then make payments from there to the developers or the property sellers.
With Tienda Crypto, companies may offer a way for their clients to use digital currencies. And they need not be financial gurus to do it. Real estate sector clients have praised Tienda Crypto's user-friendly platform, and expressed confidence that cryptocurrencies are here for good.
Taken together with news such as El Salvador's national adoption of bitcoin as legal tender, their predictions seem solid.
Supporting References
Forbes: Cómo Funciona la Plataforma Para Comprar Propiedades con Criptomonedas en el País (Dec. 24, 2021). 
Triple A: Cryptocurrency Across the World.
Sonia Avalos for Agence-France Presse via Yahoo Finance: Economic Downturn Fueling Argentine Crypto Craze (May 3, 2021).
Photo credits: Ewan Kennedy and Fernando Távora, via Unsplash.