Insurance policies are getting pricier. There is no end in sight.
Companies hope to limit payouts for weather damage linked to climate disruption. And so, as floods, storms and fires intensify, homeowners and buyers across the country should brace themselves for more than weather. Companies are shrinking coverage, hiking premiums, and raising deductibles.
Something's got to give.
When Policyholders Stop Paying
Some sticker-shocked homeowners would rather stop paying their out-of-control premiums than have coverage at this point. Trouble is, most people who have insurance they can't afford to keep live in risky states. This means another storm is brewing in the gathering clouds of uninsured homeowners.
Homeowners with mortgages usually pay their premiums through escrow accounts, so they won't drop coverage. If these policyholders decide to call the companies and deliberately cancel their coverage, they can expect prompt calls from their mortgage companies, insisting that they resume their coverage or else the mortgage company could slap an even more expensive "force-placed homeowner's insurance" on these homes.
To compound the risks, unprotected owners can find themselves in the middle of a catastrophic event. And the property values of many homes take a collective hit in the disaster-affected area—meaning these households' lifetime savings plummet in value.
☛ Learn more at Deeds.com about How a Sudden Disaster Impacts Your Mortgage Loan.
When Insurers Stop Insuring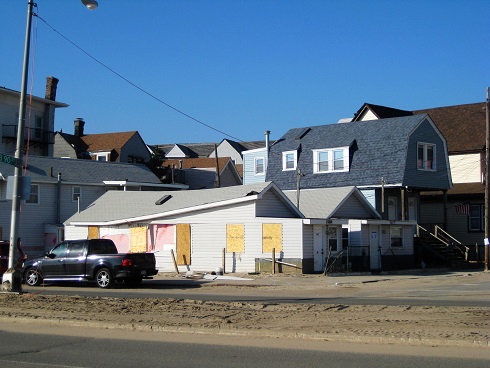 Some home insurers have stopped offering new homeowners' policies in high-risk areas. Think Florida or California. Why would the companies walk out on their markets?
Insurance companies can only charge so much, under states' laws and regulations. If they start losing money because of those state limits, they can't legally overcharge — but they are free to abandon a market.
Consider State Farm. In May 2023, it said it would issue no new policies for California homeowners. Allstate had already stopped selling to Californians by then. And Chubb, had shrunk its operations in areas vulnerable to wildfires. AIG followed suit. Farmers Insurance is also cutting back on its presence in California.
Farmers Insurance has also stopped selling policies for Florida homes. AAA, too, recently announced it would no longer insure certain home insurance policies in Florida which it deems high-risk.
Today, homes in a number of midwestern and southern markets are looking increasingly tough to insure. But insurance pricing varies wildly, depending on where the home is. Premiums in some states cost ten times the amount they'd cost for similar coverage in other states.
To be fair, insurers face soaring costs. And inflation is making damaged homes more costly to repair or rebuild.
Maybe companies have a point if they expect states to raise their caps on what they can charge? The cost of renovations after disasters now includes the rate of inflation and the new, harsh realities of fire and water damage. As some of the small insurance corporations are going out of business in this environment, maybe the states could enable residents to have a better array of choices if they allowed more pricing flexibility? At least we need to think about the question. See our Regulation section, below, for more root-level ideas for change.
Damaged Homes as Cheaper Homes
High-risk or damaged homes might look like a silver lining for potential buyers who can't afford homes in mint condition.
But on the other hand, homes in disaster-hit places can have structural defects, lingering insurance claims, or unpermitted renovations. They can be off-limits to financing due to the risk. How can the buyer who wants that uninsurable home get a mortgage?
And if the buyer is able to find insurance, what will the premiums cost?
Keep in mind that home insurance has already risen more than 20% nationwide since 2015. This is according to George Hosfield at LexisNexis Risk Solutions, who's often quoted on the matter. Disaster-prone states have faced steeper rises. And in some of the badly hit places, premiums are now as 3X what they were a few years ago.
What states have been most damaged in sea level rise, fires, and severe storms so far? Alaska, New York, Connecticut, Colorado, Texas, Louisiana, and Florida come to mind. So, buyers could just be better off moving to locations with lower risk. Some people work remotely and are geographically flexible. For them, relocation could make sense. Of course, not everyone is in the position to pack up and move.
Up Next: New Regulations?
NPR's show All Things Considered recently exclaimed that "climate change could cause a home insurance meltdown." NPR mentioned the pace of wildfire destruction in California, where homeowners have to follow state guidelines and harden their homes against wildfires. Even after spending heaps of money getting that task done, California homeowners are being dropped by their insurers.
People shouldn't be left exposed like that. Nor should they have to drop their insurance so they can have enough money to take care of basic needs. The outcry is growing for federal and state agencies to do something.
What should policy makers do? It's time to consider:
Federal funding for disaster-resistant home upgrades.
The creation of a viable replacement for the National Flood Insurance Program, which wasn't made to handle today's climate risks.
Federal support for the various state-run backup insurers that attempt to offer home insurance policies when large companies won't.
We have to get to some of the root causes, too, and stop letting so much insurance money go to polluters while struggling residents suffer. The NPR reporters pointed to this factor on "All Things Considered":
All the while, the rising temperatures driving disasters are caused primarily by burning fossil fuels that insurance companies themselves continue to underwrite and invest in.
Will policy makers restrict insurance companies' investments in major greenhouse gas emitters? This remains to be seen.
Keeping Our Readers Informed
Now, maybe you're thinking of shopping for a home. If you follow our work here at Deeds.com, you know it's important to gauge a home's risks before making a purchase. You can check out an online property lookup tool called Risk Factor® at RiskFactor.com. Write a home address into the field, and you'll get an assessment for specific and overall risks. (We're not affiliated with the tool.)
The United States is "marching steadily towards an uninsurable future," says Dave Jones, a law prof who used to be California's insurance commissioner.
That is, disaster risk isn't a static situation. Global changes mean local changes sooner or later. The impacts of climate will be felt by everyone, in every place they might opt to live. So it's important to be informed, to keep learning, and to try to keep a flexible mindset.
Supporting References
Michael Copley , Rebecca Hersher, Nathan Rott for "All Things Considered" on National Public Radio (NPR) via NPR.org: How Climate Change Could Cause a Home Insurance Meltdown (Jul. 22, 2023).
Cheryl Winokur Munk for CNBC LLC, a Division of NBCUniversal, via CNBC.com: Climate Risk Guarantees Home Insurance Policies Will Keep Getting More Expensive (Aug. 30, 2023; with information provided by Reuters).
Ron Fanish in REALTOR® Magazine, a publication of the National Association of REALTORS®: Maximize Property Value After a Disaster (Aug. 31, 2023).
And as linked.
Photo credits: Alberto Pillot of FEMA via NARA (Public Domain); and Roman Lakoubtchik via Flickr/Wikimedia Commons, CC by-SA 2.0.