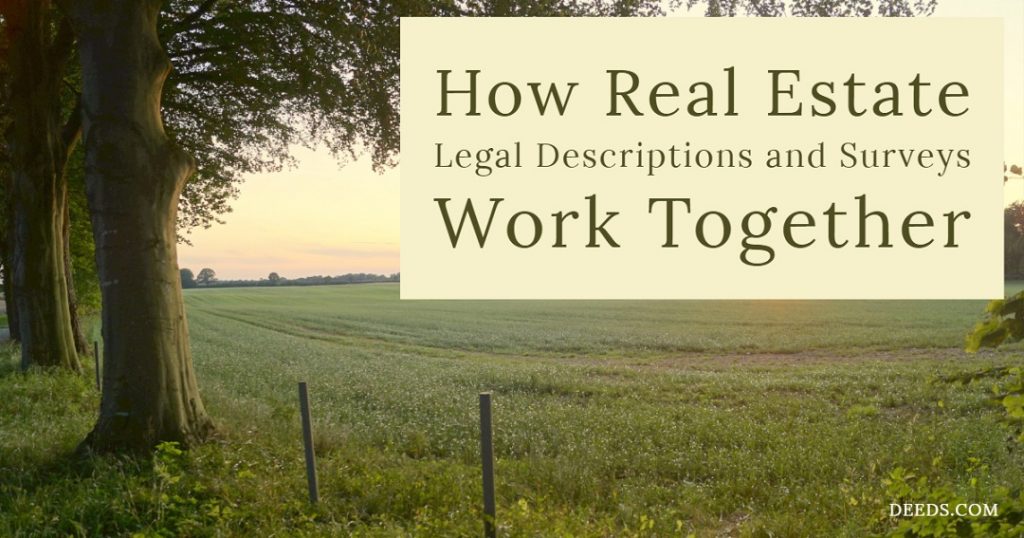 Real estate transactions involving home sales, deeds, mortgage loans, or deeds of trust all rely on a binding legal description. Mortgage companies, for example, need to be sure that the property is well described—and worth the money they lend to a buyer.
A properly written legal description sets forth the county and state of the property. It allows a surveyor to identify precise dimensions and correct, historical borderlines.
Indeed, the existing legal description is based on the original survey. And a key task of the current survey is a verification of the accuracy of the property's legal description. In short, real estate legal descriptions and surveys work together.
The Interaction of Legal Description and Survey
A surveyor goes to the site with the legal description that points to the property lines.
Especially in urban areas, a legal description can be found using the lot-and-block (recorded plat) method. This identifies a specific parcel by lot number with a given block, or subdivision plat. The block, in turn, may be located by metes and bounds.
So, the legal description may identify lot, block, county and subdivision, acreage, and the original grant. There may be references to adjacent properties, delineating boundaries. The legal description may refer to a more complete description, in metes and bounds, in a surveyor's attached field notes. Alternatively, the legal description can refer to a public (rectangular) survey.
A surveyor is not well served by a legal description comprised merely of an address and account number, or one referring to missing attachments. A new legal description may be necessary unless the existing description enables a surveyor to retrace the property lines.
A Surveyor's Task
A surveyor can be located through the state surveyors' society. State bodies, in turn, are affiliated with the National Society of Professional Surveyors.
The surveyor locates and identifies markers, objects, and boundaries of a property—in two ways.
Examining the land. A surveyor hunts for stakes, stone markers, tagged pipes, ancient trees, and old fence segments to retrace original boundaries.
Reviewing courthouse records. These can include maps, deeds, and information on property rights going back to the original grant.
A completed survey will include:
The signature, certification, and seal of the surveyor.
Boundaries and boundary corners.
Directions, angles, and distances of property lines.
Buildings and improvements. A survey that shows the property lines and improvements will bring any form of encroachment to light.
Fences, roads, and driveways.
Utility fixtures and lines; water and sewer features; AC fixtures; electric, telephone and cable equipment; meters.
Easements. While (recorded) easements show up in a review of the title insurance commitment, their exact location, presented in the survey, can show whether they are minor things or deal-breakers.
Having gathered the field evidence and recorded information, the surveyor creates the plat. This sketch of the property shows the parcel's corners, boundaries, angles, and dimensions. The surveyor must note natural objects, including property boundaries within streams, and objects such as boulders and stone markers.
The surveyor also creates a written metes and bounds description, to identify a piece of land. Metes are borderlines. Bounds comprise land within those metes. Starting with a distinguishing feature called the point of beginning, the surveyor's description should guide the reader along the distances, degrees, and angles until the line reconnects with that same point of beginning. When it closes, an accurate map exists of the property's borderlines.
A Title Company's Task
The title company takes stock of the property, issuing insurance to cover the correct area, and checking for any encroachments before closing. To prepare for a transaction, a title company reviews and verifies the public records identified in the survey, and checks that the distance calls are complete, with no unexplained gaps.
Today, a title insurer may simply use computer plotting software to check the surveyor's field notes. The field notes can reveal discrepancies that the company can correct.
More serious questions arise when there is no sign of an easement in the records to match the spot where the surveyor observed a utility fixture. A survey could bring unrecorded easements to light, such as a hiking pathway that encroaches on the parcel, or an undocumented encroachment of the adjacent property owner's driveway or gate. Yet another issue arises when boundary lines have changed by agreement of the owners, without any recorded conveyance.
If the title company receives no survey, it may expressly exclude loan insurance coverage for any items that a survey would have revealed.
Why Might a Buyer Request a New Survey Before a Purchase?
Because the above-mentioned discrepancies are so common, an updated survey is vital to preserving the accuracy of the homeowner's legal description. That said, if a survey was created in recent years, the title agent might accept it, along with a seller's affidavit stating that there have been no material changes to the property since the existing survey was created.
The buyer could have concerns and insist on a new survey if the seller is relying on an old one. Among a buyer's top concerns:
Perhaps the seller moved a section of fencing after a storm. Or that attractive, new pergola might be built on top of a water line.
Water or utility companies could have installed new systems since the last survey.
If a stream runs along the property or the plot is on a waterfront, a boundary could have changed significantly.
New maps may indicate that the property could fall within a Special Flood Hazard Area, or the surveyor's desktop research might find susceptibility to flooding. For flood-prone areas, a land surveyor may need to attach an elevation certificate.
These and similar issues pose potential risks. They are common reasons for new survey requests by buyers wanting to make informed decisions about the type of owner's insurance to obtain.
A local estate attorney in your county can advise you about what your legal description and property survey reveal, how to keep them current, and how to avert risk.