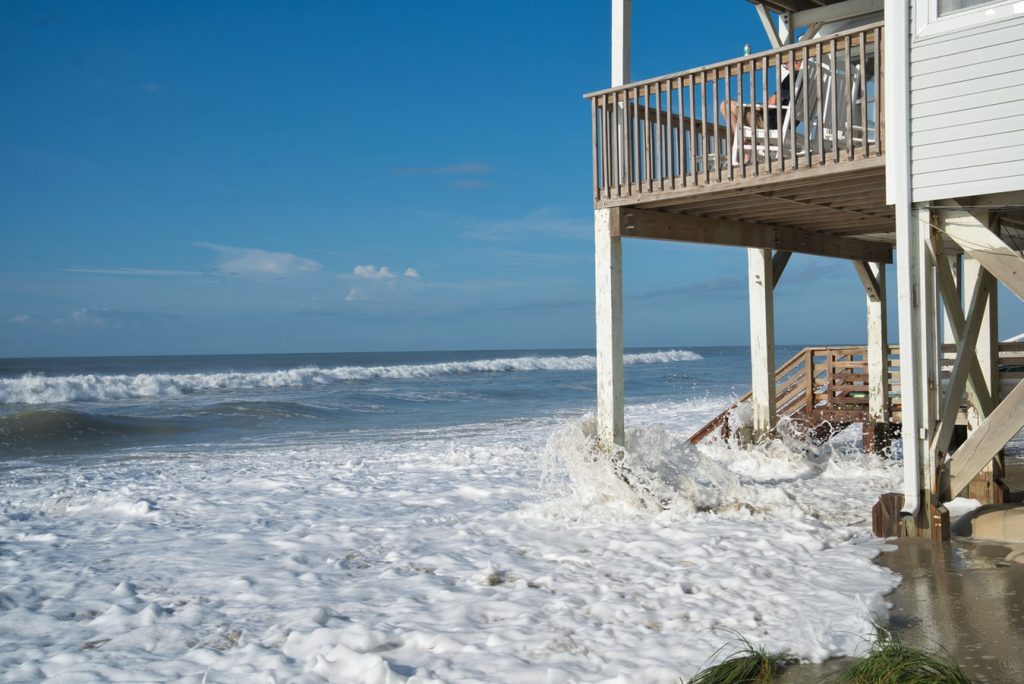 This story, alas, is unfolding. Physical signs of a heating world and its shifting weather patterns appear in tropical storms and in sea level rise, in heat waves, droughts, and wildfires. The economic and physical impacts of climate change are making their mark on real estate. 
Affected cities have already paid heavy costs in repairs and reconstruction, insurance premiums, and loss of trade and tourism. Real estate markets are seeing severe weather events steadily chip away at property values. Public initiatives to mitigate risks will increase taxes, code compliance burdens, and financing costs.
In other words, the risks go well beyond destructive incidents from specific disasters. They include higher capital and maintenance costs related to fire, water, and weather damage on properties over time. To anticipate the risk of climate-related damage, analysts are mapping properties—feeding site-specific data into geophysical, hydrological, and economic models. 
Social Impact: "Climate Gentrification"
In the coming four decades, beachfront Miami will experience something between 14 and 34 inches of sea level rise. The city is coming to grips with a new housing dynamic: climate gentrification. Affluent buyers who would have preferred beachfront property a generation ago are now scoping out higher ground. 
Residents of those higher spots face pressure from developers anxious to exploit the rising property values on higher land. Consider Miami's Little Haiti neighborhood. In just four years, it experienced more than a thousand-fold rise in owner-occupied properties valued above $150,000, as observed by researchers at Neighborhood Changes, a project at Florida International University.
Meanwhile, in some beachfront areas, the costs of rebuilding and maintenance are so high that only the very wealthy can, so far, remain.
To support the less affluent communities trying to survive the changes, Miami is mandating more workforce housing in high-elevation neighborhoods. Advocates are also interested in community land trusts, in which a nonprofit buys up land to lease it affordably to local residents.
Who Owns the Land Claimed by Climate?
Every hour, an area the size of a football field sinks under water in Louisiana, reports Bloomberg News. Under Louisiana state law, navigable waterways that Louisiana held at the time it became a state, in 1812, are public property.
But what about newly navigable properties with chains of title dating back generations? Some say the state should claim these new waterways.
At what point do the changes related to global heating justify government takings of formerly private property? The Louisiana House of Representatives recently considered passing a law deeming Louisiana's tidal waters public property. Opposed by landowners, the bill died. 
The stakes, of course, are enormous. They implicate trillions of dollars in coastal industry and real estate. Now, these questions are being taken up by the courts.
Expect Erosion—of the Public Trust Doctrine?
Under the centuries-old public trust doctrine, the governments in most states already do own coastal property below the average high-tide line.
What if the high-tide line moves? If this occurs in a single incident, such as a destructive storm, the private owner retains title, and has the burden of recovering the property.
On the other hand, in the case of a gradual shift in the high-tide mark, the boundary of publicly owned land shifts, too. Governments do not need to pay the owner for these natural changes. But sea level changes driven by a warming atmosphere pose a new test for an old doctrine.
Homeowners Push Back
Homeowners are anxious. They're looking for law and policy that has yet to be created. Miramar Beach, Florida and Nags Head, North Carolina offer additional cases in point.
Standoff at Miramar Beach
Florida owns land in Walton County below the Miramar Beach high-tide line. Historically, the public has been free to wander across drier sands that are titled to private owners. But after Hurricane Dennis in 2005, beachfront homeowners started pushing back against sunbathers.
Creating an ordinance expressly requiring homeowners to permit public access to the beach on their properties, the county reinstated long-held but unwritten rules by which private title holders shared the beach—and then, Miramar Beach homeowners sued to stop the ordinance. Florida senators who side with the property owners introduced a bill to force local officials to get a judge's approval to allow public access to private property above high-tide lines.
It's a losing legal battle for property rights when the high tide keeps moving in.
Showdown at Nags Head
Nags Head residents sued North Carolina in an area where the beachfront erodes at the rate of some 6 feet each year. State setbacks ban new construction there. The faster the erosion, the further inland it gradually pushes back the dune line—eroding property rights on its way. Homes were condemned and torn down, defying lawsuits. Nags Head paid one group of homeowners a $1.5 million settlement.
Then came a new twist in a case pitting private property rights against state lawmakers trying to protect coastal environments and reduce the costs and risks connected with rising sea levels. Homeowners Michael and Cathy Zito applied for permits to rebuild their fire-damaged vacation home on the same stretch of beach.
While the Zitos continued to pay their mortgage and taxes, state and local governments refused to issue permits. Any replacement structure built on the same site as the Zitos' original house, built in 1982, would violate North Carolina setback rules. The Zitos have been waging a legal battle over their rights to the eroded beachfront, claiming a right to "just compensation" under the federal and state constitutions' takings clauses.
Unprecedented Questions of Property Rights and Public Policy
Since Hurricane Katrina hit the area, beachfront homeowners of Dauphin Island, Alabama hold titles to submerged buildings. They haven't stopped paying their property taxes, though. The U.S. Army Corps of Engineers has already rebuilt parts of the beach. They're hoping it will rebuild theirs. And yet, where built land is reclaimed from the gulf, are properties restored to private ownership? Paying taxes, without more, does not guarantee the answer.
Bloomberg News quotes Patti Powell, who works for the state's Department of Conservation and Natural Resources: "I'm not sure that we have any precedent."
The question for real property law in the next generation is this. When homes go under water, what does a real estate title mean? Will governments have the authority, through eminent domain, to remove homes for the public good? Will governments offer "just compensation"—or object that the land was reclaimed not by the government but by nature?
Governments could keep buying owners out, until there no public funds left to do so. It's unlikely law and policy will demand that. Meanwhile, watch for insurance to become pricier, and to cover less. Flood insurance, as noted by the American Land Title Association, is missing from standard homeowners' insurance. This gap will be noticed throughout much of the country in coming years. Today, about 60% of homebuyers would pay more for insurance that deals with climate change risks, according to a ValuePenguin survey. People in Arkansas, Louisiana, Oklahoma, and Texas are the most likely to take into account potential climate change risks when buying a home.
Deeds.com will be watching this and other climate-related property issues. Stay tuned.
Supporting References:
Washington Post
https://www.washingtonpost.com/realestate/factoring-the-effects-of-climate-change-into-real-estate-investments/2019/03/07/aa60f186-3f7f-11e9-a0d3-1210e58a94cf_story.html
Miami Herald
https://www.miamiherald.com/news/local/environment/article222547640.html
NOLA.com
https://www.nola.com/news/environment/article_816f57f7-169b-5a0f-8fb8-73b0c69399d6.html
ABC News 13 (WVIC):
https://www.13newsnow.com/article/news/local/north-carolina/couple-sues-over-rebuild-permit-denial-for-burned-beach-home/291-893673ec-d5eb-4dea-b477-f4ec88ba2e26
Coastal Review Online
https://www.coastalreview.org/2019/07/crc-to-discuss-challenge-to-setback-rules/
Washington State Office of the Insurance Commissioner
https://www.insurance.wa.gov/how-climate-change-affects-your-insurance
NPR
https://www.npr.org/2018/09/20/648700837/price-tag-of-natural-disasters-grows
Bloomberg News
https://www.bloomberg.com/news/features/2018-04-25/fight-grows-over-who-owns-real-estate-drowned-by-climate-change
The Virginian-Pilot
https://www.pilotonline.com/news/environment/article_95825876-5c59-11e9-93fb-d7c55d39351d.html
Realtor Magazine
https://magazine.realtor/daily-news/2019/10/22/survey-climate-change-isn-t-affecting-owners-preferences
Photo by Clint Patterson via Unsplash: https://unsplash.com/photos/SYpWSInV_U8