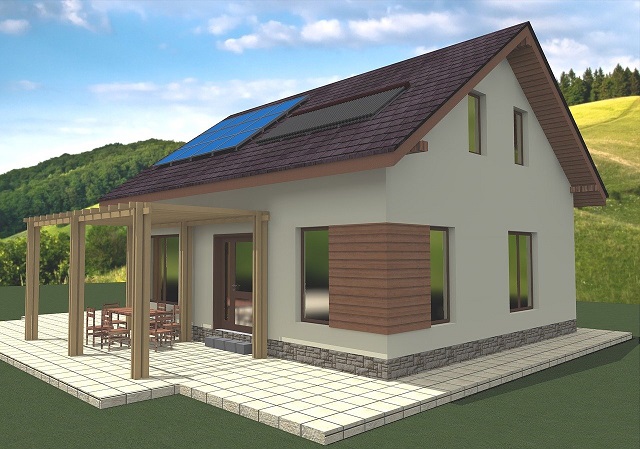 3D printing technology, which applies robotic automation to materials, is making some notable inroads. Let's take a brief tour of what's out there.
From the East Coast…
Recently, a 3D printed house in New York was listed for about $300,000 on Zillow. The home is advertised as "a piece of history." Yet its price is competitive with — actually, a bit lower than — homes with comparable floor plans in the area.
The home's manufacturer, the Long Island company SQ4D Inc., used an Autonomous Robotic Construction System, or ARCS — a very large 3D printer. The ARCS system laid the concrete foundation, created walls, and built the base of the carport one layer at a time. It additionally set up the basic systems and utility lines for the 1,900-square-foot home.
In this process, concrete is extruded through the printer. Then it must quickly strengthen, to receive the load of all higher layers. Each layer must rapidly bond to the next. The printing phase spans just eight days, constructing about 40% of the building. Then, the human construction workers come onto the scene to complete the work. You can watch the printing in action here.
To the West Coast…
Oakland's Mighty Buildings company offers modular dwelling units, or studios, made with a proprietary form of synthetic stone. The 350-square-foot buildings are totally 3D printed and connected to utilities. Joined-up multiple units ("duo" or "quatro" options) form larger structures. Still larger home designs involve bringing whole 3D-printed panels to the worksite. Here's how it works, from zoning and permitting to moving in. The company also works with lenders and enables financing for the studios.
The goal of Mighty Buildings is to work collaboratively with other builders worldwide, starting in southern California. The company's leadership believes 3D printing could transform mass residential construction.
A Leaner and Greener Construction
There are high investment costs to start up a 3D printing company. Once that hurdle has been conquered, though, automated construction costs run lower than the costs that go into a traditionally built home, because:
The use of concrete allows for savings on materials.
Robotic construction cuts down on the personnel hours needed for a job, by streamlining building processes.
Using robotics, a construction job can be completed ten times faster or more.
The efficiency and affordability are attracting wide interest among affordable housing advocates.
The technology also uses environmentally conscious building methods, 3D building proponents say. The homes are made to surpass all standard energy efficiency guidelines. As international building trends focus on phasing out petroleum, subsidies could be in the picture to help the technology evolve.
Is the 3D Printed House Safe?
Critics focus on the need for safety in all conditions. Regulators and consumers will do the same. Can walls laid out in horizontal layers, without vertical rebar supports, withstand hurricanes, floods, earthquakes, and the ravages of time? Here's what the innovators say:
India's Larsen & Toubro use a modified printer head that can embed rebars.
New York's SQ4D Inc. says 3D techniques can improve on safety and building strength as they replace weaker construction materials. The company points out that concrete is also fire-resistant.
Austin-based startup ICON describes its Lavacrete as stronger and more durable than standard construction materials. NASA has faith in its potential to build sound structures on the Moon and Mars.
Meanwhile, research is producing new ways to further the integrity of robotically built structures. An important technique to enhance 3D printing is computer-aided design (CAD) software. The result is called digital fabrication. Although it makes for a longer construction job, it can work with metallic materials, and it's meant to ensure a high level of accuracy in building.
Can 3D Printing Solve Housing Shortages?
India is in serious need of housing. Its government is aiming to create tens of millions of new city and rural homes. Many other areas, too, are grappling with homelessness. Could 3D printing play a role in the solutions? Consider these companies and their work to date:
L&T Construction
India's Larsen & Toubro Construction creates 3D units to meet pertinent building codes, using its own printing equipment and locally created concrete blend. Beyond speed and cost savings, the company's engineers believe 3D printing has a host of benefits — including safety. Yet the company says design approval procedures still need to be established by research groups and lawmakers. The company was recently profiled by IEEE Spectrum, the magazine of the leading professional engineering organization. 
The New Story and ICON Collaboration
The Atlanta-based nonprofit New Story works to provide affordable housing in Haiti, as well as in Central and South America. Now, it's able to work faster. New Story is collaborating with ICON, which has a Vulcan 3D printer. With Icon, an Austin startup, New Story has built a fully 3D-printed Mexican community. No question: the New Story homes in Tabasco, Mexico are impressive to behold.
For its part, ICON sets out to "re-imagine the approach to homebuilding," and to keep its commitment to "affordable, dignified housing available to everyone throughout the world." Its star piece of equipment, the Vulcan, can print a concrete home for a four-person household in a day, has a built-in backup power generator. In 2018 in Austin, ICON first announced it had obtained a building permit to construct a 3D printed home.
ICON says its concrete slab layering technique can build a safe house capable of withstanding natural disasters. Its goal is the ability to build homes for just $4,000 in construction costs — and then share the technology with other groups to meet more needs. At the moment, New Story is able to build a house for a family in need for $10,000, and accepts donations to make it happen.
Our Takeaway: Innovations Worth Watching
Automation to produce home furnishings and arty décor is already a popular trend, and the results can be both visually appealing and eco-friendly. But using robotics to make houses is an emerging innovation. Judging from Zillow's New York listing — which, at the time of this writing, has been on the market for about two months — U.S. home buyers are likely to hang back for now, and watch for the data on the safety and durability factors.
Still, it will be interesting to watch what unfolds in Austin this summer, as ICON's $450K 3D printed homes enter the market.
And for many people today, going from no house to a 3D printed house is a matter of survival and dignity. In areas where housing needs are most acute and where technology is rapidly advancing, watch for a transformation of the construction industry. Some of the best innovations could come from 3D printing.
Supporting References
Anne Marie Lee for CBS News: 3D Printed Houses Are Leading a Revolution in Real Estate (Mar. 2021).
Cole Higgins for CNN: A 3D Printed House Is for Sale in New York; Builders Say It Will Cut Out Housing Construction Costs (Feb. 2021).
Kim Lyons for The Verge:  These New 3D Printed Homes in Austin Are Going for $450K (Mar. 2021).
Rashmi Shivni for PBS News Hour: These 3D Printed Homes Could Provide Shelter to the World's Most Vulnerable People (Science, Mar. 2018).
Banner image credit: Teodor Muntean (austrocasaro), via Pixabay.