Is the hot seller's market of Summer 2021 tempting you to put your home on the market and watch the offers roll in? To get ready quickly, you might wonder if you should put a clause in your contract to announce you're selling the house as-is.
A seller may use the term as-is to point out that the house isn't in pristine condition. The unspoken message? The home is available at a discount to those who'll upgrade it themselves. In other words, as-is hints to buyers: Please don't come back after the inspection to request repairs, replacements, and price concessions!
But you can always speak with your agent about contractual language that limits the buyer's leverage in an inspection contingency. Selling the home as-is adds vagueness to the transaction, and might not be your best strategy.
Let's flesh this out with some general considerations for sellers.
As a Seller, You Need to Make a Full Disclosure in Any Case
As-is is redundant. You'll already disclose the condition of your home's systems and features on the legally required disclosure form. The typical state law says you must disclose known latent defects that pose health or safety risks. If a home shopper is unlikely to notice these issues in a careful visual inspection, they're latent, and must be pointed out on the disclosure statement.
Additionally, agents must follow professional ethics rules. For example, the Maryland Code of Ethics requires agents in the state to reasonably find out the significant facts about a property, and to avoid error, exaggeration, misrepresentation or concealment.
Full disclosure protects the seller as well as the buyer. A seller who neglects the proper disclosure process can be held responsible later.
Pro tip: Your real estate agent has a fiduciary duty to represent your best interests. Most states and professional ethics codes direct agents to offer reasonable disclosure of facts that materially impact value. As for non-material facts, an agent should disclose negative information if the buyer asks. Check your home state's real property disclosure laws to learn more.
Small details need to be accounted for too, when sellers make promises. If you stated all the windows have shades, all those shades should be present and accounted for. Sellers should keep their promises to buyers, whether or not they use words like as-is.
Buyers May Ask for Fixes or a Lower Price on the House — As Is or Not
It's a fact of the seller's life. Buyers often request repairs or additional discounts over various items that turn up on the inspector's report. And the buyer's lender might need to see certain issues resolved before the final loan approval.
If you're concerned that your house isn't the right fit for everyone, the level of detail expected on today's listing sites should alleviate much of that concern. The online photos of homes for sale offer a visual idea of the updates needed. Prospective buyers can learn a lot from browsing the descriptions and photos on the listings. They can use this information to strike the homes that won't work for them from their shopping lists.
Assume that you'll need to do some maintenance before closing — to the extent the buyer's requests are in good faith and reasonable in light of the offer. Leaving the buyer with some work ahead is quite normal. Plus, jobs done after the purchase can be done to suit the buyer's personal specifications.
Even in a Seller's Market, Expect Negotiations
In a competitive market, bidders may agree to waive inspection contingencies altogether. If you properly disclosed an issue or the matter is obvious to anyone who looks, you can expect the buyer to stick with their agreement to waive contingencies. But…
If the inspection report reveals a material defect the seller either neglected to disclose or understated, then expect new negotiations. The buyer is not stuck with the deal, as-is or not.
And, of course, the seller doesn't have to sell to any prospective buyer, whether or not the house is as-is. It's just usually a wise idea to be reasonably accommodating rather than lose pending deals and have the listing keep resurfacing on the internet. When that happens, other potential buyers may understandably wonder what is going on with the house.
So, if you're selling a home that needs work, you might simply list it without the as-is descriptor, in order to attract more viewers and more offers. We're assuming it's a habitable home for sale, with all the necessary systems running as they should be. Unless a home is in a truly distressed condition, there may be no benefit to the as-is tag — while there can be certain pitfalls in using it. Some professional investors look for as-is properties to take advantage of their sellers. Consult with a local real estate agent for suggestions, and to know how your home's listing description will likely play in your area.
What Other Strategies Help Sell Older Homes?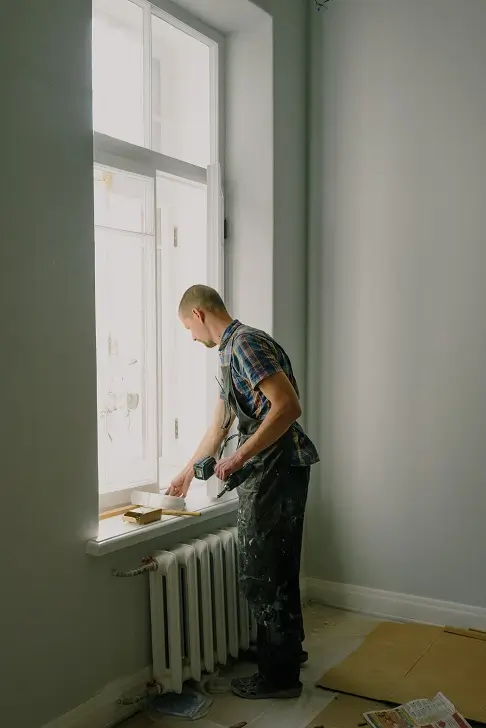 So, your home is looking…lived in. Many homes are! Can you take specific steps to set yourself up for selling success in any case? The pros have some data for you:
Listing on a Thursday correlates with better results. Homes listed on Thursdays are more likely to move quickly and to sell above the asking price, according to Zillow®. Homes listed on Wednesdays or Thursdays benefit from an attention boost leading up to the weekends. Listings posted on Saturdays, Sundays, and Mondays tend to go the opposite way. Those days correlate with slower sales and less stellar bids overall.
Listing during the traditional home buying season matters. Summer really is a good time to list, if the rest of this year falls into step with historical trends. Zillow recommends getting your home on the market before the traditional school year begins. Historically, competition for available homes cools down in October.
Online visuals help sell homes. Homes listed with virtual home tours, particularly 3D tours, draw higher levels of buyer interest than homes listed without them. Online tours help today's buyers understand the homes they put on their short lists. And if a picture is worth a thousand words, your online tour will be far more expressive than the phrase as-is.
Finally, remember that your home's surroundings are important. If you have attractive amenities in the area, point them out. Many of today's buyers are not just living in their homes, but also working in them. They need to know about the parks, running and cycling trails, local coffee shops and other attractions near their new homes. Show visuals of subtle traits your potential buyers might not otherwise notice. The way the sunlight washes over your south-facing patio and garden, for example, can be a positive disclosure! With advice from a good local real estate expert, you can accentuate the charm of an older home.
Supporting References
Cindy Sellers, for Maryland REALTORS®: What Is the Difference Between a Latent Defect and a Material Fact? Who Must Disclose What? (Apr. 26, 2017).
Zillow® press release via PR Newswire: To Sell Your Home Quickly, List it on a Thursday Before Labor Day (Jun. 3, 2021).
Photo credits: Anete Lusina and Ksenia Chernaya, via Pexels.