Buying a small home makes sense for many people today. And still, after buying a home in this market, who has the money to furnish and decorate? Take heart. Even when the inflation crisis hits home, it's totally possible to transform a modest setting into a charming environment.
Here are four ideas that keep costs contained while making a modest home feel utterly luxurious.
1. Get a Feel for Estate Sales and Online Marketplaces.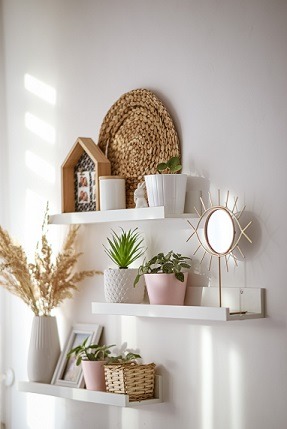 Just in time, vintage furnishings are back. But antique stores can be pricey. No worries. Moving and estate sale season is here.
An inexpensive (and fun) way to add richness and beauty to a room is setting up "Garage Sale Finder" alerts with your search engine, and keeping on the lookout for local estate sales and moving sales. Then, you can see what's available when you are, and start your interior design adventure! Note that estate sales by heirs tend to be less expensive than the ones hosted by hired estate sale companies.
Finding a lot of little things? You might try adding shelves to the walls to create displays.
While you wait for the next estate sale, you can always join a local "Buy Nothing" Facebook/Meta page and browse on Facebook Marketplace. Also, check out the items for sale on sites like eBay.
At local house sales, you'll find art, antiques, and all sorts of unexpected things as well as necessities (like blenders, towel sets, and lamps). The quirkiness of shopping at garage and estate sales only enhances the stylistic opportunities! The perfect rug for a room, or just the right antique desk, brings lasting pleasure. Part of the joy is in saving something charming from going to the curb.
No wonder spending less while buying well is a personal passion for many buyers today. There's a special joy in timeless "finds" with rich histories that continue to unfold in a new owner's home.
2. Give New Life to Old Furnishings.
Following from the treasure hunt concept above, you might also find new potential in some of the items you already have. Or you might refurbish some of the pieces you collect from the sales. Look online for DIY videos if you'd like some guidance when taking on these potential projects:
If you have old family photos or portraits, consider having them reframed. They become unique and personal touches — and they will start conversations as your guests come across them.
Reupholstering that old sofa? It can costs hundreds of dollars. Yet upholstered sofas and chairs and other furnishings can be painted, to a beautiful effect. Learning from others' experiences is so easy now, with so many great online videos from people who have already done the job!
Lamp bases can be repainted. This is a great way to liven up a room without going out to shop for new lamps. Shades, too, can be painted. The bigger the shade, the more effect its new look will have on the room.
Wooden furniture can easily be repainted to give it new life, and transform your rooms. And now that spring weather is here, it's easy to go outside and put a couple of coats of spray paint on those faded plastic garden chairs. They'll become like-new patio furnishings in rich, appealing hues.
These are just a few ideas to update your home, save objects from the landfill, and add creative touches to your interior and exterior spaces. The more videos you explore, the more ideas you'll find.
3. Get Creative With Art and Lighting.
Art can bring elegance and new energy into any room. Beautiful pieces can be found for a few hundred dollars or even less at estate sales, in online galleries (many artists use and sell works on Instagram), or in local artists' open-house tours. Some artists offer a choice of original pieces or limited-edition prints. The prints are more affordable options. Some artists are happy to touch up a print with flourishes that will make the piece original in its own right.
Pro tip: Art and photography students display their works in galleries when their semesters end. Look for the Master of Fine Arts departments at nearby universities. They typically have schedules of events where the shows are announced. Seek out these events, and you may bring home a beautiful investment from an emerging artist.
You might could yourself gravitating to certain artworks because of how you relate, personally or culturally, to the artists. Art is personal; don't let the assumption that you must be an expert wall you off from the experience.
How your artworks are displayed can matter as much as the pieces themselves. Without committing to spending too much, it's easy to find easels, mounting hardware, and good LED lighting especially for displaying art. These can be freestanding and great for lighting up any accents in your home. Special lights for artwork are adjustable — both in the way they move, and the way the lighting can be dim or bright, warm or cool.
Come home in the evening and turn on your painting's LED light. The mood is set.
4. Think Layers, Using Cushions and Curtains…and Paint!
When in doubt, why not paint the walls? Adding a new coat is an inexpensive way to clean up and re-energize a room.
A contrasting hue for the trim can tailor the walls crisply. The same combination can be used in other rooms to give the home a pulled-together feel. You can apply the same shades when painting lamp bases or wooden furniture.
For a kid's room, a bathroom, or wherever you like, consider wall decals to liven up a space. It's a simple and inexpensive way to personalize wall. Designer wall decals have real elegance, and can even mimic classic headboards and other traditional accents.
Curtains are great additions, too. Curtains can make a room feel more expansive, more finished, more layered, more luxurious. They're great for windows, of course, but a set of full-length curtains can also become finishing touches in hallways, and backdrops for favorite furnishings.
As with clothing, layering creates a stylish look in interior design. Drapes, throws, and a mix of small and oversized cushions can all be part of the layered effect, and complete the look of a room.
And don't overlook the way mirrors can suddenly beautify, brighten, and enlarge a narrow hallway or a nondescript room. The interplay of lighting and mirrored walls can create stunning effects.
At the End of the Day, What Makes a Home Beautiful?
Budget-conscious design may be essential today, but you may still believe it's still important to live in a home with character and style. We couldn't agree more.
Your own sense of comfort and aesthetics is what really brings luxury to a home. By knowing how your tastes and the space mesh, you'll design a place you'll love coming home to.
Supporting References
Chiana Dickson for Homes & Gardens (Future Publishing Ltd.): Interior Design – Decorating a Home on a Budget (updated Sep. 26, 2022).
H. Camille Smith for HGTV.com (Warner Bros. Discovery, Inc.): Fifty (Almost!) Free Kitchen Updates (image gallery).
And as linked.
Photo credits: SHVETS Production, Dominika Roseclay, and Pixabay, via Pexels.