Imagine a licensed real estate broker — of all people — accused of taking other people's homes and selling them.
Imagine someone deciding to fake a deed to steal the house of an elderly homeowner who's ill and in a nursing home.
These are both real stories, now unfolding in Florida.
Tampa: A Real Estate Broker Is Charged With Concocting Fake Deeds…
Why? All the better to snatch homes from people struggling with their property taxes!
Detectives started investigating the fraud scheme in January 2019. In January 2023, the authorities arrested and jailed a suspect, a licensed real estate broker. The broker has pleaded not guilty.
Investigators charged the broker with targeting at least six abandoned or distressed properties. Local news reports describe a string of forged signatures, a bogus notary stamp, fake deeds, and even faked mortgage payoff letters. The fraud scheme also involved people pretending to be witnesses.
The fake deeds passed ownership rights into names that the broker allegedly controlled. Investigators believe the broker then borrowed against these properties or sold them.
Local news stations reported that the properties' total value amounted to $1,071,000. They believe the broker bagged at least $327,000. Their investigation continues.
Meanwhile…
One of the Stolen Tampa Properties Has Been Successfully Recovered.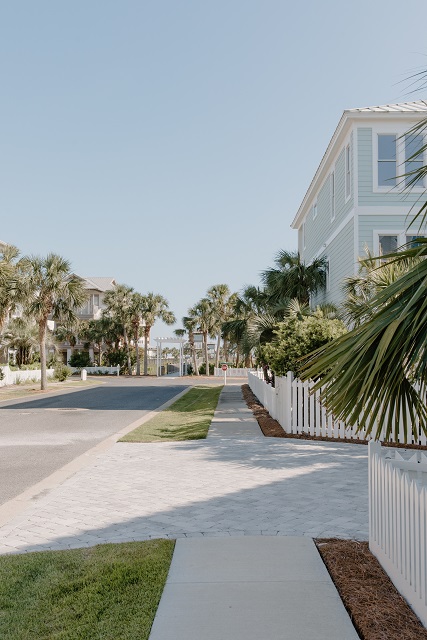 The above-noted scheme caught John Whitt Jenkins in its net. Someone forged Jenkins's signature on a deed. The county recorder of deeds accepted the filing — which showed the home, then worth about $350K, going for less than half its value.
NBC's Shannon Behnken in Tampa reported: "In an instant, he no longer owned his house and received nothing in return."
Twenty-five years back, Jenkins bought a piece of land in Pinellas County, Florida for $15,000. And then, with his own hands, he built a home on the land.
In 2019, when checking in on his home value at the Zillow website, Jenkins saw evidence of a sale. Shocked, Jenkins asked the county if it had video footage of his deed being filed. The answer was no; the transaction was done online.
A fraud investigation began.
For Jenkins, it paid to spot the strange transfer soon. In just four months, Jenkins managed to get his beloved home back.
Miami: Plot to Sell Bedridden Senior's Home Is Foiled
In February 2023, the Miami-Dade County authorities arrested a fellow named Tom. In a case of grand theft, fraud, and elder exploitation, reports NBC 6 News, Tom attempted to sell an 86-year-old's house. The senior lies ill in a nursing home. Tom pretended to be her son.
The wrongdoer knew his victim. But not all fraudsters know their targets. They can get the information they want through online record systems.
Tom and an accomplice lied about their identities to a notary public. And then, Tom carried a false Florida ID, a forged home sale contract, and other bogus documents into a title company in North Miami, planning to sell someone else's home for a half-million dollars.
But the people at the title company spotted a few red flags. And they called the Miami-Dade police. At that point, the police department's undercover real estate fraud detectives got busy. They nabbed Tom in the act of trying to pick up his payment. So, that's a little more good news in the deed fraud scene. The quick-thinking title professionals managed to keep the deed in its rightful owner's name.
But this is a wake-up call to homeowners to check their county property records. Plenty of fraudsters are after Florida seniors' increasingly valuable homes.
☛ No matter where you live, why not take a peek at our tips on how to protect the seniors you know from deed theft?
It's Not Just Florida. Ask Letitia James, Attorney General of New York.
Late last year, Attorney General Leticia James announced the indictment of five people for grand larceny, money laundering, and other charged crimes. What happened? Three senior-owned homes were sold by deed fraud.
According to the indictment:
The ring of five people went after three homes in Queens, New York City that had elderly and deceased owners.
One of the ring members acted as a broker, selling discount homes to investor buyers.
The culprits dug up the owners' personal data and recruited impersonators to appear at the closing tables with fake IDs. Thus, three fake homeowners became part of the ring of five.
The deeds and other transfer documents contained forged signatures.
The group bagged more than a million dollars from the alleged fraud.
"Deed theft," A.G. James said in a statement, "is a merciless crime that targets seniors, and often people of color, who are asset rich but cash poor, and reliant on their homes as a stabilizing force for their families and loved ones."
A telling set of facts in this case involves the identities of key players. One is a loan officer at a Bay Shore, New York lending company. Another is a disbarred attorney, who is also the son of the deceased owner of one of the three homes. Seems this character wasn't named as an heir to the estate.
Stay Informed. Expect Fraud to Become Increasingly Sophisticated.
One theme we're hearing as these cases unfold is that title fraud is becoming more sophisticated and organized. So, should homeowners buy "title locks" from companies that raise alarms about fraud?
If your county has established an email alert system, you can take this issue into your own hands by registering your home. You can also help loved ones do the same. Then, the county will auto-generate an alert if anyone makes claims on the house title. This will allow you to call for help quickly. As noted above, quick action matters.
And if you're just now thinking of buying a home, you'll want to learn about extended title insurance first. Stay safe out there, friends.
Supporting References
Pinellas County Sherriff's Office: Economic Crimes Detectives Arrest Plant City Man for Scheme to Defraud (updated Jan. 25, 2023).
Amy Gehrt for the Tampa Bay Times: Hillsborough Real Estate Broker Accused of Using Fraudulent Deeds to Sell Properties He Didn't Own (updated Jan. 26, 2023).
Katlyn Brieskorn for WFLA News Tampa Bay (NBC News), 8 On Your Side: Plant City Man Made More Than $300K After Creating Fake Deeds for Properties – Deputies (Nexstar Media Inc.; updated Jan 26, 2023). See also WFLA News Tampa Bay, 8 On Your Side: Dunedin Man Discovers His House Stolen Through Deed; and WFLA News Tampa Bay via Youtube.com.
Kristen Burke for Dunedin, Florida Patch: Community Corner – Deed Fraud On The Rise (Feb. 23, 2023).
Ground News: Dunedin Man Discovers His House Stolen Through Deed Fraud.
Alyssa Hyman, Julia Bagg, and Christian Colon for NBC 6 WTVJ in South Florida via NBCMiami.com: Man Accused of Trying to Sell Bedridden Elderly Woman's House – Miami-Dade Police (updated Feb. 28, 2023).
Sonia Rincon for ABC7NY Eyewitness News: 7 On Your Side Investigates (WABC-TV New York City): NYC Deed Theft Ring Targeted Elderly Residents, Stole Their Homes in Queens, Attorney General Says (Dec. 9, 2022).
Brad Finkelstein for National Mortgage News: Mortgage Loan Officer Among Five Indicted for Title Fraud in New York (Dec. 9, 2022).
And as linked.
Photo credits: Kindel Media and Tara Winstead, via Pexels.