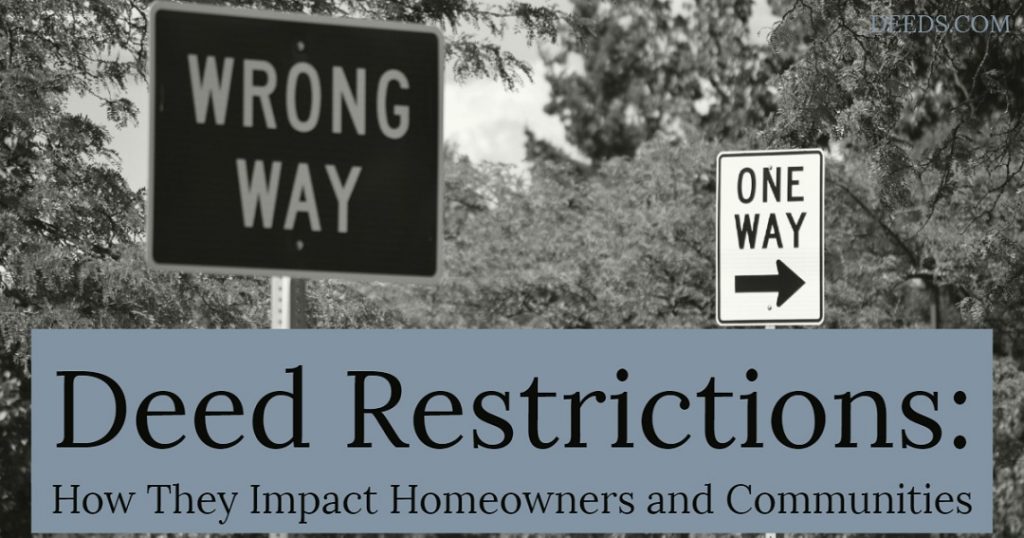 Your home is your castle. But language in your deed just might keep you from installing a pool, constructing a basement apartment and renting it out, or using a non-neutral shade of paint on your exterior walls. Here is a brief explanation of deed restrictions and how they impact individual homeowners — and entire communities.
Deed Restrictions: Separate From Zoning Rules
Zoning laws control land use in a given area. They're enacted by the county, city, or municipality. Zoning laws can be changed or amended by those same government bodies.
Deed restrictions are placed on deed by the developers or owners. Deed restrictions can impact individual homes, groups of homes, and units subject to homeowners' associations. Often called restrictive covenants, they rein in changes to the uses and the structures of a property.
The issue of deed restrictions has taken on heightened relevance today. Two examples stand out:
Restrictions on short-term rentals. The rise of Airbnb has prompted some developments to place covenants on deeds. Developers and associations may require, for example, a minimum length for any rentals of a house. So, if you think you'll be renting out part of your property to someone else, better check the deed.
Restrictions to preclude high-density housing. Some cities are seeking new ways of allowing for gentle high-density development, including the addition of accessory dwelling units ("ADUs") such as in-law cottages. First, the town's zoning rules must allow the addition of ADUs. But because deed restrictions are separate from local zoning ordinances, in areas where deed restrictions are common, changing zoning may not be enough.
Unlike zoning restrictions, deed restrictions are difficult if not just about impossible to remove.
If Deed Restrictions Limit Choice, Why Have Them?
When associations and developers create restrictions, the rationale is typically that the whole community will benefit from maintaining the social, aesthetic, and physical traits of a development.
To this end, commonly restricted elements are:
The number of bedrooms and bathrooms a property can have.
Maximum size for accessory dwelling units.
Architectural styles.
Home expansion and height limits.
Types and number of cars that can be parked at a home.
Tree planting or removal.
Type and style of construction materials used for fences, renovations, and other improvements.
The use of the home for running a business.
Types and numbers of animals permitted on the property.
Lot setbacks and waterfront use restrictions.
In some cases, the restrictions came from an owner who divided up land and sold some to other people, and did not want the new next-door owners making noise, engaging in commercial activities, and so forth.
Antiquated, Irrelevant and…Enforceable?
Before purchasing any property, the buyer should do a search for deed restriction and restrictive covenant in the county clerk's online public records index.
Additionally, the buyer is well advised to have a title search completed, or obtain a title insurance company's statement on whether deed restrictions exist, and, if they do exist, what they disallow. This is important because once a properly recorded deed restriction exists, is still in the chain of title of that property — even if the property's later deeds neglect to mention the restriction.
Will courts enforce these restrictions? They sometimes do. An association may impose fines on homeowners for violations, or sue to have courts compel homeowners to stop or remove home improvements, including sheds, stairs, patios, and so forth, that violate deed restrictions. 
On the other hand, when individual homeowners and investor buyers discover deed restrictions, they may be looking at limitations that are decades old. Perhaps they were created by now-defunct associations. If there is no one to enforce them, and they are irrelevant to the surrounding community, they will have no effect. Still, deed restrictions surface during title searches. They are limitations that run with the land, meant to bind any future buyer. This could be off-putting to a buyer, or worse.
In the last century, associations, owners, and developers often created deed restrictions to racially segregate towns. These covenants expressly barred people from buying parcels on account of race. We explain more about hurtful deed restrictions here.
Alas. Unlike homeowners' associations' rules or municipal zoning restrictions, deed restrictions are not easily amended.
If the association that created the covenant still exists, it may allow an owner to carry out modifications despite the deed restriction. The deed restriction itself might provide time limits on the provision, or lay out a process for termination. Otherwise, state law might include certain processes that allow residents to modify problematic deed restrictions.
Ultimately, you will likely need to go to court and petition for invalidation of an illegal, harmful, or senseless deed restriction.
Turnabout's Fair Play: Deed Restrictions as Inclusion Measures
The town of Frisco, Colorado has adopted a new initiative called Frisco Housing Helps. The idea? To have the town offer cash incentives to homeowners and buyers who will agree to put an occupancy restriction on the properties. The goal? To keep and increase workforce-friendly housing offerings.
Basically, the town is purchasing deed restrictions to preserve affordable homes for working people who live in town. Building new housing is resource-costly. Now, some cities are preserving already-existing housing in perpetuity for locals.
This took off with Vail InDeed. It gained further traction with Breckenridge's Housing Helps, which has reserved about 1,000 deed-restricted rental and ownership units in its Upper Blue Basin.
For Frisco, the plan will allow employees to live in the county — a goal set forth in the town's strategic plan. Once Frisco implements the new initiative, owners, investors, businesses, and buyers will have the chance to receive cash for placing a restrictive covenant on the property that requires occupancy by individuals who work locally, 30 hours a week. 
Frisco's voluntary initiative will be available to:
New buyers, to increase their ability to put a down payment on a home.
Investor buyers looking to use current housing stock for rentals.
Current owners of market-rate homes, who can use the funding to stay in their family homes, make home repairs, or cover their homeowners' association payments.
Property owners willing to build deed-restricted ADUs, such as backyard cottages, on their home properties.
Local businesses wishing to acquire housing for employees.
The town itself, which can use the incentives to buy and resell the properties, now with the deed restriction.
And this is how the latest trend in deed restrictions is pursuing locally integrated economies and the preservation of community ties. Deed restrictions have long been used to promote a certain character in a community. In this case, that character is one of inclusion.