Throughout 2022, the Federal Reserve (the U.S. central bank) has been raising interest rates. The reason? To suppress inflation, and avoid a recession if we can.
At this point, we're supposedly headed for a "growth recession." That's a financial slowdown rather than a full-blown recession. Fortune magazine tells us the term growth recession was coined in 1972 by Solomon Fabricant, President Eisenhower's chief economic adviser. 
What does this mean for housing?
New Goldman Sachs Report Signals a Housing Downturn
The United States is now experiencing its first housing downturn, says Fortune magazine, since the financial crisis of 2007 – 2009. What's that announcement based on? Glad you asked. It's based on the latest housing market report from Goldman Sachs. And what is that report predicting? Housing sales dropping off as part of the country's gross domestic product: An 8.9% housing drop for 2022, and a 9.2% drop in the forecast for 2023.
This housing downturn is happening because of the Federal Reserve's actions. Yes, people are deliberately making this happen. How?
When the Federal Reserve chair raises interest rates, the ripple effects push mortgage rates up. That's been happening.
Potential home buyers notice, and purchasing slows. That's been happening, too.
In turn, builders slow down, putting a domino effect in play that's actually intended to beat down costs.
Whenever it tries to beat down inflation this way, the Fed risks driving the economy into a recession. Economists with the National Bureau of Economic Research are the people who formally declare when the United States has entered a recession. This body of experts has not called out a recession. But a housing slowdown? That term is in play, absolutely.
☛ If we're entering a housing slowdown, potential home buyers could have doubts about whether a home purchased today is a smart buy. They'll want to learn how buying a home helps offset the impact of inflation.
So, the Cost of Homes Could Come Down?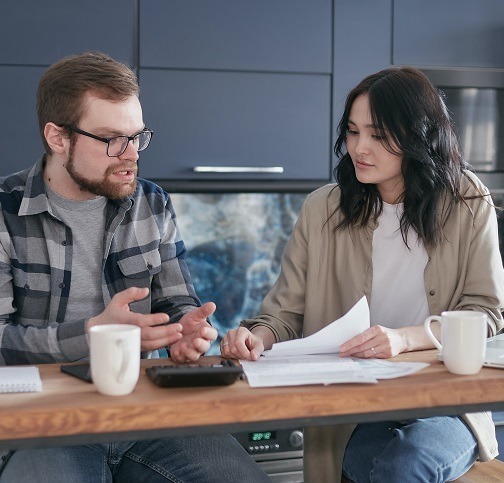 Not exactly, although the rate of home sales should slow, and home prices won't rise so fast.
Goldman Sachs thinks we'll see a rise in home prices that's under 2% for 2023. That's a far cry from the 18% hikes we all witnessed after the advent of Covid-19!
While home prices could actually go down (and likely will in some areas), "large declines seem unlikely."
That's the verdict of the new Goldman Sachs report.
But homeowners and investor owners will be glad to know that a real estate bear market — meaning an actual downward trend in property values — is unlikely for the residential market. Real estate bear markets are very rare.
Indeed, the Goldman Sachs forecast predicts home prices will rise again, growing 3.5% in 2024, and close to 4% in 2025.
The report rings true with what we know about modern downturns. Most continue for less than two years. Then there are expansions, or upturns. And those typically continue for several years.
Economic downturns generally resolve themselves, and the economy rebounds.
A Red Flag, But No Full-Blown Recession in the Forecast
The stock market is taking a slow dive as the Fed struggles to meet its goal of taking inflation down to 2%. And lately, the Fed has stopped assuring us we'll avert a recession.
The economy is already showing one major red flag: we've just witnessed the second quarter in a row in which the gross domestic product (GDP) showed negative numbers. Financial analysts see that as a technical sign of a recession.
Most people across the country are anticipating an economic downturn. Plus, they've been spending a lot on fuel so far in 2022. About half of us are holding off on discretionary buying now, according to polls Fortune magazine cites from a Bankrate survey.
But the classic mood of a recession is a widespread fear of not getting by, because of potential unemployment. We're not seeing that now.
Because jobs are available at this time, a full-blown recession is a long-shot scenario.
In full-blown recessions, people lose jobs and default on mortgages, or otherwise have to sell their houses. They cut back on discretionary purchases and entertainment. Businesses suffer, and a wave of shutdowns follow.
Will an Economic Downturn Impact Your Home Equity? What About Your Mortgage?
Will homeowners feel the pain?
Fortunately, the "growth recession" itself should have no impact on a fixed-rate mortgage, and very little impact on most peoples' property value and equity. Indeed, for most people, value appreciation should continue. Home prices are not fated to drop, even in a recession.
If you have an adjustable-rate mortgage, and your initial lock-in period is over, your monthly payments have already been changing. An adjustable-rate mortgage has a variable interest rate — it tends to rise with federal interest rates. That's happening now.
☛ The Consumer Financial Protection Bureau provides more information on adjustable-rate mortgages. Learn how your payment can change over time.
If you've been planning to sell or refinance your home in any case, then you're probably not too concerned. If you're going to keep it a while, you'll need to make long-term adjustments to your budget, to accommodate the rising interest percentages.
Some mortgage borrowers decide to pay, say, $100 or $200 extra on their loan principal each month. This way, they reduce the total interest they'll pay over the life of the loan. Most loan servicing websites have an option for borrowers to adjust their monthly payments, so that they pay extra principle each month.
Silver Linings: Home Buyers Could Catch a Break in 2022-2023
The market is gradually settling down after a very wild ride. In 2020-2021, corporate investors and all-cash buyers swooped in to outbid ordinary people. Over the next two years, hopeful home buyers in some areas of the country should have a little breathing room.
☛ As the real estate market returns to Earth in key areas, sidelined buyers can try again. The remaining months of 2022, and all the way through 2023, should present opportunities. Here are Six Cities Where Home Buyers Might Finally Get a Fair Deal.
The word "recession" doesn't do a lot for people's confidence, and "growth recession" doesn't sound a whole lot nicer. People will be watchful with their funds. One thing's now certain: the buying competition has cooled. The housing market is giving at least some breathing room to ordinary buyers.
Supporting References
Will Daniel for Fortune: The Stock Market Is Plunging and the Fed Is Giving Up on a "Soft landing" in Favor of a "Growth Recession." Buckle up (Aug. 31, 2022).
Lance Lambert for Fortune: The U.S. Housing Market Downturn Will Be Worse in 2023, Forecasts Goldman Sachs (August 31, 2022).
Evan Santiago for The Charlotte Observer: North Carolina Economist Explains When We'll Know the Recession Is Here and How Long It Will Last (Aug. 2, 2022).
Ashley Sutphin for RealtyTimes.com: What Happens to Your Mortgage During a Recession? (Apr. 12, 2022).
Rebecca Lake for SmartAsset.com: What Is a Bear Market in Real Estate? (Aug. 9, 2022).
Deeds.com: Thinking About an Adjustable-Rate Mortgage in 2022? (Apr. 18, 2022).
And as linked.
Photo credits: Andrea Piacquadio and Mikhail Nilov, via Pexels.