Navigating Mortgages, Titles and Deeds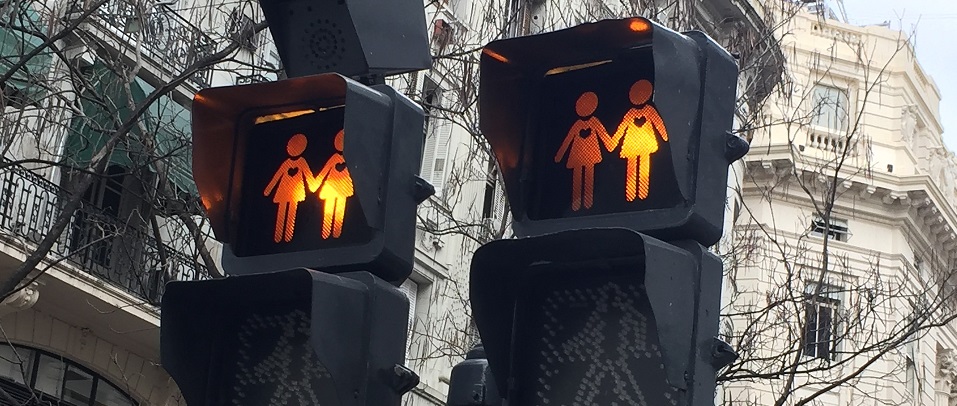 Co-buying a home as a couple signifies a serious commitment on multiple levels. If you have spoken with your real estate lawyer and financial expert, and decided to buy property together as a couple, congrats! You'll want to make informed decisions about financing and titling your property together. You'll be forging an estate plan as you go — because the way ownership is vested on the title tells the world what should happen with your property ownership even beyond your life.
It's good to know that the language of the chain of title can co-exist with respect for the homeowners' sexual identity. Even so, certain things will be on LGBTIQ home buyers' radar. Here, we outline some frequently noted issues, to help orient your conversations with your financial and legal advisers, and your mortgage and title professionals.
How to Hold the Title in the Home You Buy Together
As co-owners, you'll want to vest your home title with the right information, helping you meet your planning goals and protect your interests, both individually and as a couple. You might vest the property as:
Joint Tenancy with the Right of Survivorship
Co-owners who select this vesting type own the property in equal shares. They can be married or unmarried. If one partner dies during the co-ownership, the home does not get stuck in probate, where it could be challenged (the very word probate means the validity of the will is being proved). With a joint tenancy with a right of survivorship, by law, the interest of the deceased partner is simply extinguished, so the surviving partner will own the entire property.
Tenants in Common
Tenants in common could also be married or unmarried. This is a flexible vesting option. The partners may hold different percentages of the property if they wish, so Joe might own 80% while Bert owns 20%, though they both use the entire space together. They may each transfer or will their individual interests to each other, or to other people — even without permission of the other owner.
This could be the best option if the owners want to pay unequal amounts into the monthly mortgage and other household expenses. (While both co-owners are not legally required to be on the mortgage, lenders typically expect to put both names on the agreement.) Be aware, though, that if one owner dies during the co-ownership, the home won't automatically vest in the surviving owner. Have a lawyer draft a will or transfer on death deed to protect the survivor's interest.
Tenancy by the Entirety
Today, all legally married couples, same-sex couples included, may title their home as a tenancy by the entirety. In some states it is the default for spouses. It might be available to domestic partners, depending on state law.
Tenancy by the entirety exists as a vesting category in Arkansas, Florida, Mississippi, Missouri, Oklahoma, Oregon, Tennessee, and a number of other states. Is yours among them? Check your current state code to see what is available to you. Real estate laws change, and state lawmakers can and do establish or abolish tenancy by the entirety for property deeds.
Where available, "TBE" is a highly protective vesting choice. It shields the home from one owner's creditors — unless the creditor is the IRS, or unless both owners took on the debt as a couple. When one owner dies, the other safely owns the property. Only after the surviving partner dies (or if both die at once) will the home go through probate. Neither owner may transfer an interest in the home to a third party.
Note:Some state codes still use the "husband and wife only" language. Same-sex couples should work with a lawyer to draft title language that cements their intent to vest as tenants by the entirety.
Community Property
Some couples buy real estate in community property states, where property (and debt) acquired during a marriage or life partnership belongs to both people together. We'll cite California as a prominent example. For heterosexual or same-sex couples in California, the law presumes that couples buying homes are buying community property. They may opt to hold it specifically as community property with a right of survivorship, or they may decide to vest with another form of co-ownership.
If one passes away during the home ownership, the survivor gets a stepped-up cost basis of the property — an important tax advantage.
Eligible same-sex couples in California are those in a legally acknowledged relationships, including:
Registered domestic partners. When they purchase a home, the title identifies the co-owners as, for example, Joseph Green and Bertrand Brown, Registered Domestic Partners, as joint tenants (or any other form of vesting the couple selects).
Married or married equivalent spouses. Some same-sex couples have married once state and federal court decisions articulated their right to do so. On their home title, married co-owners are identified, for example, as Joseph Green and Bertrand Brown spouses, as community property (or any other form of vesting the couple selects). The title will identify the couple as spouses under the laws of another state if applicable.
A number of California couples in domestic partnerships have also legally married. These couples have titled their home as, for example, Joseph Green and Bertrand Brown, spouses and Registered Domestic Partners, as community property with the right of survivorship (or any other form of vesting the couple selects).
Check with a lawyer experienced in property law for LGBT couples to ensure that the vesting language on your deed is properly chosen. Title companies' representatives and real estate agents may not have this knowledge and experience.
Separate Property
In some cases, homes are vested as sole and separate property of just one person in a domestic partnership or marriage. You're entitled to keep to yourself anything that you purchased only with money from your own account, that was willed specifically to you, or that was already yours before you became a couple. If a house is separate property, it belongs just to you — if titled in your name alone, and as long as you keep and treat it separately.
Just in Case: The Importance of a Separate Agreement
Regardless of sexual orientation, co-borrowers are always well advised to draft and sign a document outlining what happens in case of a future decision by the co-owners to end their arrangement:
If the co-owners decide to split up, will the home be sold?
Can one co-owner buy the home from the other?
How will any outstanding debts between the co-owners be resolved?
If one co-owner continues to live in the house, will the one who leaves be expected to continue paying off the mortgage?
If the house is sold, how will the sale proceeds be divided and distributed?
What timeline would the partners need to follow?
Is there any real estate that is deemed and will continue to be deemed separate property of one partner only?
Memorializing a plan acceptable to both co-owners is prudent — no matter that you'll likely never need to use the agreement. And have a Domestic Partnership Agreement drafted [sample PDF], even if you're legally married under your state's law.
If you have children with an ex-spouse, consult with a family law expert in your state. If your ex has custody, your property could become subject to judgment liens and other complications, and the way you vest your ownership may have additional consequences. Of course, this may be the case with gay, lesbian, and heterosexual couples alike.
LGBT+ Real Estate Discrimination? Know the Facts — And Your Rights
Given that both familial status and sex are categories protected against discrimination by U.S. law, we might think heterosexual and same-sex couples both face the same level of stress on their way to a mortgage approval. Is this true, though?
Same-sex marriage is now legal in all 50 states. That is highly significant in real estate, as "registered domestic partners are not married for federal tax purposes." Even so, the branches of our federal government have yet to firmly speak on gay, lesbian, bisexual and transgender rights. So, regardless of your current marital status, it's immensely important to connect with a financial adviser or tax expert who will guide you through the situation-specific points of real estate co-ownership, and help you protect your interests.
According to the Department of Housing and Urban Development (HUD), the federal Fair Housing Act does bar housing discrimination against LGBTQIA persons on account of real or perceived gender identity or sexual orientation. So, for example, underwriters for federally insured lenders must approve financially eligible same-sex couples' loan applications. So must private lenders and underwriters involved with the USDA federally managed mortgage loans or VA home loans.
In practice, though, systematic discrimination may be difficult to spot, or root out. Troubling research results from Iowa State University showed that even low-risk LGBT borrowers are less likely to get a mortgage and face higher interest rates than their heterosexual peers. If you have experienced LGBTQ housing discrimination, you can ask HUD to investigate.
Research from Freddie Mac notes that almost half (46%) of LGBT renters who wish to buy a house fear discrimination in the process. The apprehension is understandable. It's only been a few years since the U.S. Supreme Court held that same-sex couples have equal rights. We take heart in knowing that today, most people across the country support same-sex couples — and that everyone is entitled to pursue the dream of home ownership.
Photo credit: chiguy66, via Pixabay.