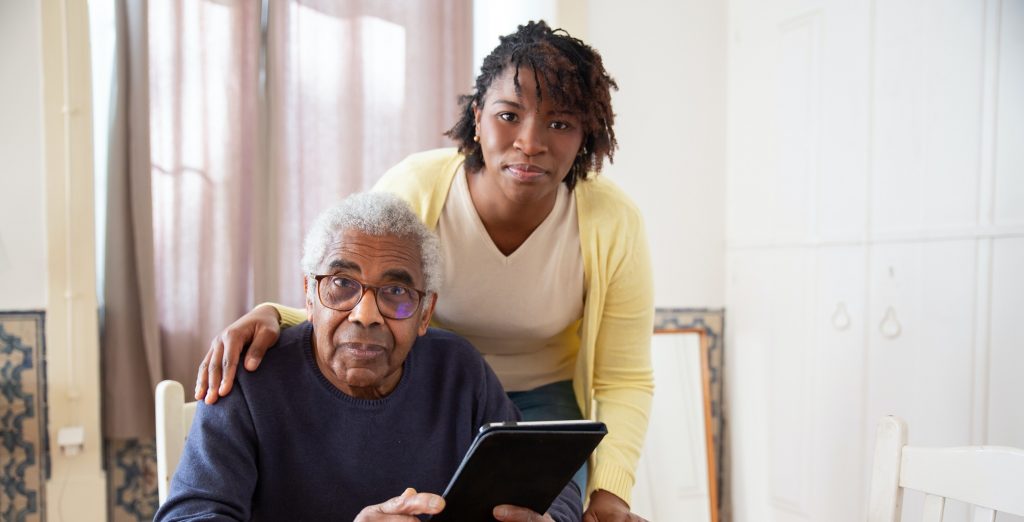 On October 1st, Tesla revealed a model of its Tesla humanoid robot, Optimus. Some viewers think it might have retail potential, as a robotic home assistant. Tesla seems serious about the project. The company even sidelined the creation of an affordable ($25K) electric car to focus its expertise on robot technology. But Optimus is still years away from viability, and the predicted cost of the Tesla robot is about $20K.
For that much, some senior homeowners could pay off their remaining mortgage debt. In any case, they could certainly buy quite a few of the tech options discussed below. These items focus on assisting with tasks and chores, safety and security, and all-around ease for homeowners "getting up there" in years.
Tech Gear Older Adults Should Know About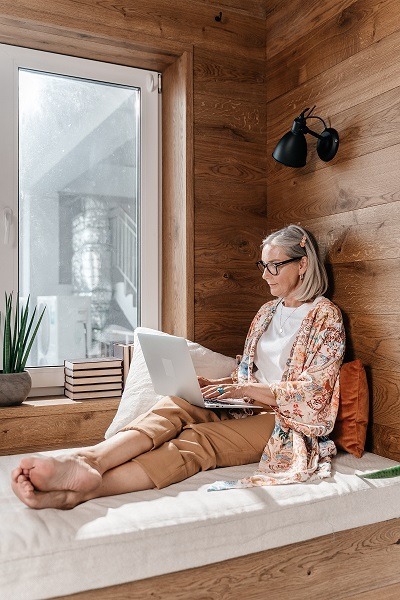 Among adults aged 55-plus, 66% want to live in their own homes as they age, Freddie Mac research suggests. AARP says 87% of people over retirement age want to live at home, not at an expensive group residence.
Smart tech is enabling independent living for many seniors. In the age of Zoom and programmable thermostats, many older adults are comfortable using the latest smart-home gadgets.
☛ Curious about some of the most futuristic home tech? Check out how emerging technology could change the future of home life.
For those who like their smart tech interconnected, reputable platforms include Alexa from Amazon, Apple's HomeKit, Samsung SmartThings, and Google Assistant. As for the specific innovations on the market, here are some popular picks.
Smart smoke detectors.
Smart smoke detectors don't just emit ear-piercing alarms inside a house. They send message alerts to friends and caregivers. The best ones have motion-activated lights to guide the homeowner's way when the alarm goes off.  
If you have Alexa or Google Assistant, consider a SimpliSafe® kit. It can detect smoke, and a lot more. Like let you know when your door or window isn't properly shut. Using cameras, it can notify you when guests arrive.
Caregiver contact systems.
Add a monitoring subscription, and SimpliSafe will contact emergency responders if your regular emergency contact can't be reached.
Then there's the compact, voice-controlled Echo Dot, which connects seniors with caregivers using Alexa Calling. And a newer service is Alexa Together. For an annual subscription of about $200, it can allow a distant relative to know that an older loved one is doing fine, or needs help. Alexa Together is easy to set up and handle, especially for those who use Amazon's Echo and Alexa.
In other good news, your Apple Watch can detect falls now, and it can call for help with the touch of a button.
Smart screens.
Amazon Echo Show is just one example here. It works with Alexa, and the smartphone Alexa app. The screen is helpful for telemedicine, check-ins with caregivers, and calls to emergency responders, as well as medication support, news, and entertainment.
Visually impaired seniors should know about Show and Tell, Echo's accessibility aid that identifies common objects using Echo Show's camera. Just hold up a product and it'll tell you what you've got!
Smart sensors.
Contact sensors can be placed on windows and doors (even the fridge) to let you know what's open, what's shut, and who's there. The Ring Alarm Pro system from Amazon is particularly popular for seniors and others who have Alexa.
Did you know you can also get smart water-leak sensors? They can guard the bathroom, the kitchen, the laundry area, the water heater, or any place leaks may occur. If water does leak, you get an alert on your smartphone.
There are even smart beds that track the sleeper's breathing and heart rate patterns and can wake a person for medication. They can communicate details by phone to a caregiver, too.
Smart plugs.
Smart plugs are the easy solution for lighting up bathroom trips (when used together with motion sensors), or for turning on and off space heaters safely. They can schedule on and off times for lamps, coffee makers, fans, or televisions.
Smart plugs work in regular wall outlets, and connect with popular platforms to control the above-mentioned items. They double as timers, making a home look occupied when the owner is out for the evening or weekend.
Smart door cameras and locks.
Smart door cam systems can alert you to everything happening on your doorstep. There are also remote lock or unlock features available, although a regular key will still work fine. No more lockouts.
The Wyze Lock gets high praise from tech reviewer Rachel Cericola at the New York Times. It notifies the resident or caregiver by phone whenever the door is used or not shut properly.
Or you can get a Bluetooth Smart Lock that resembles a normal turn bolt, but is easy to use for people with arthritis or limited mobility. The lock opens automatically and locks back up when you come home, and it can follow Siri voice instructions.
Automated light and shade.
At the high end of functional window fashion are items like smart shading and motorized window treatments. These can be voice-operated or timed, and even motion activated. Free of cords, they offer safety for pets. 
A major bonus? The energy savings. Smart shades or blinds can close when no one is in the room, acting as energy-saving insulation. Smart window treatments can close when exposed to direct sunlight to cut air conditioning costs and enhance comfort.
Smart lighting.
One of the simplest and best tech fixes available is the smart bulb. New York Times' Wirecutter columnist Rachel Cericola is a fan of the Wyze Bulb Color. At $48 for a 4-pack, there's a lot to be said for the bulb, which works with Alexa or Google Assistant voice prompts to dim rooms, color them, and change from cool to warm lighting. Resembling standard bulbs, smart bulbs can schedule all your lighting or let you operate your lights remotely.
Smart switches and dimmers enable motion sensing, and can also be operated through a smartphone. Of course, the regular switch will still work.
Notes for Caregivers
Smart-home technologies can help older adults live independently, and can also connect families and friends. If the older person isn't tech-savvy, set-up and troubleshooting help is a must. The person should know what and where these devices are, how they work, and what data they collect. (A certain level of data collection is inevitable, especially when the purpose is to connect caregivers or request emergency responses.)
A convenient but strong password system also matters.
Most important, keep in mind that no tech system substitutes for human care and contact. Technology can help us stay safe, connected, educated, and entertained — but not even Tesla's humanoid robot will replace interactions with real humans.
Supporting References
Melissa Dittmann Tracey for REALTOR® Magazine: Smart-Home Tech That Helps Homeowners Age in Place (Jun. 28, 2022; citing studies from the Hartford and MIT AgeLab as well as AARP).
Rachel Cericola for Wirecutter in the New York Times: The Best Smart Home Devices to Help Seniors Age in Place (updated Apr. 1, 2022). 
Michael Brown for TechHive: The Best Smart Shades – Luxurious Window Treatments Blend High Tech, High Fashion (Sep. 23, 2022).
Smart Locks Guide: 5 Best Smart Locks for Seniors.
And as linked. Photo credits: Kampus Production and Antoni Shkraba, via Pexels.