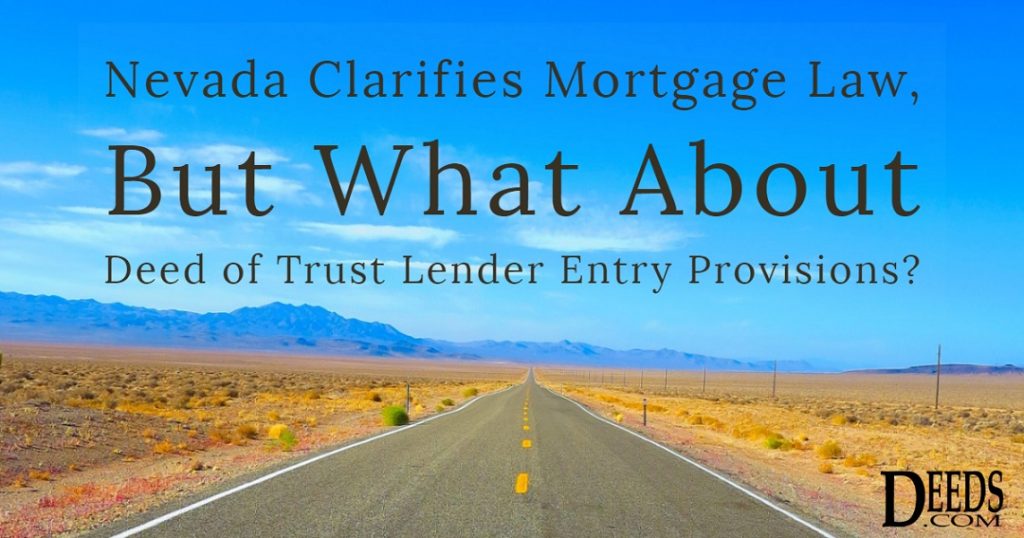 In May 2019, effective October 1, 2019, Nevada passed Senate Bill 382 amending the law pertaining to deeds of trust, foreclosure sales, and homeowners' associations.
Among other things, this is a change to Nevada Revised Statute § 40.050, whose language states that a mortgage of real property is not deemed a conveyance. If a mortgage does not constitute a conveyance, the mortgage lender may take possession on the home upon the inhabitant's default, bypassing a judicial foreclosure sale.
Nevada employs a deed of trust between the home buyer and the lender. A deed of trust places the legal ownership of a home with a designated trustee until the buyer—who holds equitable ownership—pays off the loan.
Of course, some buyers do experience financial challenges and find themselves unable to pay their mortgages.
Here, we briefly explore the ramifications, as seen through a case that shook mortgage lenders' expectations in homes they held legally through deeds of trust.
Locked Out
A deed of trust typically contains provisions permitting the lender to enter and secure the home after a buyer default, so that the asset underlying the loan is protected. Boilerplate language in deeds of trust contain such entry provisions, which allows a servicer, at the lender's discretion, to go into the home to repair the property, remedy code violations, board up the doors and windows, change the locks, drain the pipes, and turn utilities on or off.
A buyer who comes home to a locked or boarded up door, without notice or recourse, is likely to regard such an act on the lender's part as trespass, and may invoke the state's consumer protection statute and debt collection rules. That's what happened in Washington, another deed of trust state.
In 2016, the case of a locked-out resident named Laura Zamora Jordan went to the Washington Supreme Court. In the  case, Jordan v. Nationstar Mortgage, LLC, the lender had assigned the debt to Fannie Mae, which in turn hired Nationstar as the loan servicer. Two months after Jordan defaulted, the servicer had the lock changed.
The District Court allowed a class action on behalf of Jordan and home buyers in Washington who signed a deed of trust or mortgage with Nationstar, whose homes were re-locked and weatherized, and who received bills for these actions. Plaintiff Laura Zamora Jordan represented 3,600 locked-out homeowners.
Washington's Supreme Court held that "enter, maintain, and secure" provisions are unenforceable under state law. Language in a deed of trust cannot legally bind Washington home buyers to a clause that allows them to be locked out after loan default and before foreclosure. Nor is the boilerplate language in the Fannie Mae and Freddie Mac Uniform Deed of Trust form, enabling lenders to "take possession" by locking the homes, enforceable in Washington state.
The court, though, did not determine what particular remedies are available. It left leeway for lenders, and suggested that legally taking possession by court order and receivership before a foreclosure sale is legally acceptable. Unless and until there is a foreclosure, servicers should not relock (even apparently vacant) homes.
What the Jordan Court Thought About Other Deed of Trust States
Other deed of trust states, said the Jordan court, "codified statutes that specifically invalidate" entry provisions. Yet other states, Nevada included, uses entry provisions in deeds of trust.
Before the 2019 amendment, Nevada law stated that a mortgage "shall not be deemed a conveyance, whatever its terms, so as to enable the owner of the mortgage to take possession of the real property without a foreclosure and sale." This language is hardly a nullification of entry provisions in deeds of trust. To this day, Nevada remains vulnerable to consumer lawsuits.
So, under Jordan, and Nevada law as well, a lender can petition for a receivership or for a judicial foreclosure, but these are costly and time-intensive, and may defeat the purpose of the deed of trust.
Nevada's Amendment to the Mortgage Language: A "Technical Correction"
The prepared testimony of Attorney Michael E. Buckley on behalf of the Real Property Section of the State Bar of Nevada (April 2019) states that the Nevada amendments are "technical corrections" to clarify formerly ambiguous language. The bill:
Changes the references to the "conveyed premises" and "premises conveyed or transferred in trust" to "premises."
Changes references to "conveyance in trust" to "deed of trust."
Changes references to "transfer in trust" and "trust agreement" to "deed of trust" throughout.
This also clears up possible confusion, the testimony stated, between a trust agreement in estate planning and a real estate deed of trust.
A mortgage, the law had stated, is not a conveyance, "so as to enable the owner of the mortgage to take possession of the real property without a foreclosure and sale."
Now the language, instead of stating "without a foreclosure and sale," will state "in the absence of a foreclosure sale or in accordance with NRS 32.100 to 41 32.370, inclusive, NRS 107.100 or 107A.010 to 107A.370, inclusive."
Possession, that is, can be effected under one of three instruments:
Nevada's Uniform Commercial Real Estate Receivership Act.
Nevada Assignment of Rents (Uniform Act).
A court-appointed receiver, under Nevada Revised Statute § 107.100.
What's Next for Deed of Trust States?
Since Washington rejected the entry provisions in deeds of trusts, states that use these agreements, including Nevada, are on notice that lenders' customary practices could collide with consumer protection law (and lawyers).
In Washington itself, a legislative resolution came in 2018, in the form of House Bill 2057.
Under the new law, a mortgage servicer may secure the property only to abate an identified nuisance, preserve property, or prevent waste.
The law provides rights for the defaulter, too, including a 24-hour number to request entry by the following business day, a civil legal aid hotline, and notice of access to possible mediation.
Washington's law now anticipates lenders' petitions for court orders to preserve property. Further, it states that such action will not preclude a nonjudicial foreclosure.
The purpose of the deed of trust remains undefeated—but lenders should proceed with caution.
Source
106 NEV. REV. STAT. § 40.050.
Nevada legislative history: https://www.leg.state.nv.us/App/NELIS/REL/80th2019/ExhibitDocument/OpenExhibitDocument?exhibitId=40422&fileDownloadName=SB%20382_Work%20Session%20Document.pdf
Jordan v. Nationstar Mortgage, LLC, LLC, 374 P.3d 1195, 1199 (Wash. 2016) (en banc).
Jordan v. Nationstar Mortgage LLC, 2015 WL 1447217 (9th Cir. Apr. 1, 2015).
T. Harris, Real Property, Probate and Trust Law Journal (May 2017). You Can't Lock the Doors! Are Lenders Powerless to Stop Zombie Properties in Lien Theory States? Available at: https://ssrn.com/abstract=3014796
Bradley Arant Boult Cummings LLP, for Lexology (Aug. 2016). Washington Supreme Court Closes the Door on Changing the Locks. Available: https://www.lexology.com/library/detail.aspx?g=eeefccf5-000d-4604-aa7a-9a3de144fc39