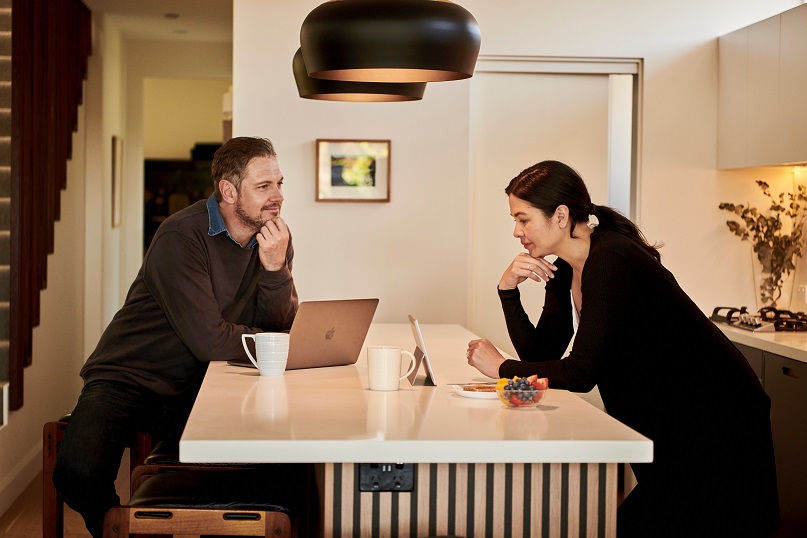 Next time you use a notary, your certification might look a little different. Notary statements on documents have changed over the last year, amidst a rush to adopt digital notarizations. Today's notarial certificates often explain whether the notarization was done in a physical meeting or online, and where the parties were when the document was executed.
A year ago, we featured a perspective on how swiftly the home buying process adjusted to Covid-19. Practically overnight, we noted, remote agreements went mainstream. By late 2020, most states were offering remote online notarization (RON) in response to their governors' emergency orders. Security measures were installed. Office managers got used to operating remotely. RON worked. Today, most every state has legislated some form of RON.
With RON, people can handle a transaction from where they are. Meetings can take place through audio-visual connections, using software by DocuSign, Notarize, NotaryCam, LiveNotary, or other approved platforms. While the notary sits in the closing room, RON lets the parties sign from anywhere. Even the beach.
For Notaries, Security Has Always Been Key
The notarial act is an age-old process. The point is to identify a person, and to witness that person's signing of a legally binding instrument. It's up to the notary to ensure that signers understand the
significance of what they sign, and that they sign it of their own free will. A notary authenticates signatures, takes oaths, and maintains the integrity of important documents.
While the notarial ceremony has long meant a physical, in-person witnessing, RON can replicate its process. It can arguably improve it, using tamper-proof seals and fraud-prevention technologies.
RON records the ceremony, keeping it so it can be reviewed in the future. Most states have therefore been willing to keep RON in place (although estate-planning documents may still require in-person signing).
New Language and Guidance for Our New Reality
Notary statements on the documents are evolving, too. Consider an example in Florida. The Florida notary's statement must tell whether the document was notarized online. Under CS/HB 121, slated to become law Jan. 1, 2022, the Florida notary must also:
Place the electronic signature and seal on the notarial certificate in a way that safely allows third-party verification.
Have the tech platform store the RON data in an electronic journal and keep a backup file for at least 10 years.
A New York notary's statement should identify the RON, citing Executive Order No. 202.7. Any notarization needed in New York may be done remotely, following state guidelines. Notaries should state each county participants are in during the RON. And a notary must sign a paper document (not use e-signing) for RON.
South Dakota, too, limits RON to notarizing on paper.
In March 2021, Virginia amended its law to require certain information in the notary statement. The Virginia notary has to state whether the notarization was done in person or remotely. If remotely, the notarial certificate should specify which Virginia county the RON notary was physically in for the notarization.
Georgia, where notarizations must be attorney-supervised, has best-practice guidelines that cover the everyday practicalities.
"Consider being consistent with the technology you use," advises the Georgia State Bar.
"Ensure that all witnesses are using the same platform (i.e., Zoom) rather than making exceptions where one witness is on FaceTime pointed at a computer screen with everyone else on Zoom."
Georgia attorneys or attorney-supervised notaries are encouraged to keep a journal to identify what was notarized and with which tech platform. The notary should enter dates and times of the notarizations, and include the signers' names and ID type. As additional guidance, the State Bar recommends "a line or caption on the notary public's signature block that states This [name of document] was notarized pursuant to Executive Order 04.09.20.01 using [insert technology name] as real-time audio-visual communication technology."
Pro tip: If you participate in RON, you might be given a copy. According to Freddie Mac, for example, the seller must get a copy of the RON recording, or have access to it through the RON software provider, for the time required by the state RON laws under which the notary is licensed or for ten years — whichever is longer. Fannie Mae has similar rules.
Even where the notary doesn't have to do it, keeping a complete "audit trail" is the best practice. Today's approved platforms make that task simple and secure.
Interstate Use of Remote Online Notarization
Each state has a set of rules pertaining to notarizations. These include ID requirements, the number of people who need to witness and sign the document (and whether the notary can be one of them), and what needs to be contained in the notary statement. Although states have different rules, a notarization carried out under the laws of one state is considered valid in another.
So far, so good in carrying that principle over to RON. Sensibly, what holds for in-person notary acts also holds for RON. Even in states where RON is not carried out (surprisingly, one is Delaware), it has nevertheless been accepted after being done under another state's law.
Some states have not allowed RON unless the signer and the notary are both within the state's borders when the document is executed. But many states do not limit the geography of RON. The next question for RON is whether a set of interstate guidelines can standardize the evolving practice and the notarial language. Connecticut and several other states are pressing forward to support nationwide remote online notary standards.
In Summary
Remote online notarization (RON) facilitated mortgage and real estate agreements during the pandemic of 2020. The method enables people to view each other and to witness signings on-screen, in real time. It also supplies secure communication and storage technology to record and support the notary's work.
At Deeds.com, we'll continue to watch new developments in this changing area. Our intent is to inform, but we do not produce legal opinion or counsel. We've explored a sampling of states and updated laws here, but each state (for now) takes its own approach. Moreover, and some notaries are especially certified to perform RON, while the notaries of some states may not perform RON at all.
Important note: Notaries who are not lawyers cannot offer legal advice. For assistance with case-specific legal questions, the reader is urged to speak with a local attorney.
In various ways, the adoption of electronic business practices brings new language into the law.
The great part of RON is the way transactions can close despite distance or the most severe interruptions in business operations. RON injects resilience and flexibility into real estate and financing. And if the quest for a national standard succeeds, RON will make notarizations even simpler. As long as we keep data security top of mind, the change will do us good.
Supporting References
Freddie Mac: COVID-19 Selling-Related Frequently Asked Questions (Updated: Mar. 11, 2021).
W. James Denvil and Hogan Lovells for JDSupra®: Remote Online Notarization Across State Lines (in collaboration with DocuSign; Mar. 15, 2021).
Jeffrey S. Page and Sun Lee for Ballard Spahr LLP: E-Signatures and Remote Online Notarization(updated Mar. 1, 2021).
Photo credits: DocuSign, via Unsplash.