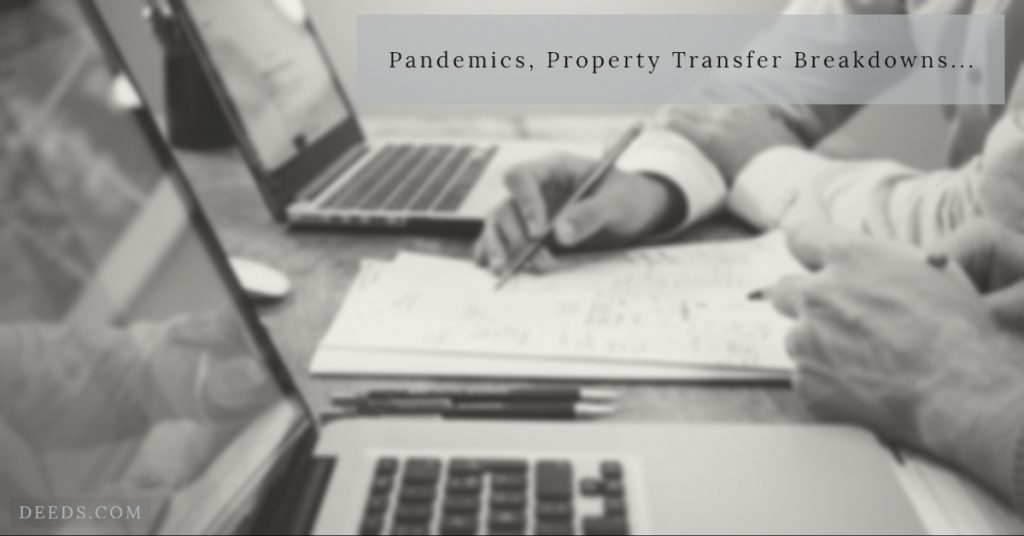 The latest impetus to digitalize real estate might just turn out to be the tipping point. Practically overnight, COVID-19 is a defining element of our time. This hideous and deadly virus became a major challenge to the systems that carry us through our everyday transactions.
Deed Recording in the Time of COVID-19
Spring 2020 brought a time of at-home quarantine to people in most every walk of life, across most of the United States. To shield employees and the public against the spread of the virus, many county recorders shut their offices in March. This meant they were providing the public with limited ability, at best, to record documents and complete their real estate transfers.
On March 26, 2020, Fidelity National Financial CEO Raymond Quirk, along with the company's chief legal officer, wrote to Mark Calabria, the director of the Federal Housing Finance Agency, to discuss these limits. The letter characterized property transfers as "the backbone of our nation's financial health." The typical U.S. household saves $3,300 a year through refinancing — a substantial monetary stimulus. And deed recorders supply essential services: shielding consumers from fraud, solidifying the lender's lien priority, and keeping titles defect-free. In light of these realities, FNF urged the Federal Housing Finance Agency to press for exemptions to let county recorders and registrars' offices stay open.
But why should that be necessary? After all, we are talking about issuing, signing, and recording paperwork. Can't these processes be handled remotely?
Many county recorders are able to digitally submit documents into the county records. Electronic signatures are no longer oddities, paperwork for home sales is becoming digital, and county recording offices regularly scan home deeds for online review. Nevertheless, COVID-19 obstructed Washington DC's building permit process, as declarations of covenants became nearly impossible to record. And while California, for example, allows for eRecording, it's only available to professionals, not the public.
The jurisdictions currently offering public access to eRecording services are leading the way to the future. A completely electronic process must become standard, from online notarization to the uniform handling of mortgage agreements.
In Search of the Digital Mortgage
The fully digital mortgage-based home purchase needs just one thing to become the norm. It needs to automate the final phase: closing.
A closing on a property sale is that magic moment when the seller and the buyer come to the table and sign the final title and mortgage paperwork, and the new owner receives the title and the keys to the home. The main hindrance to fully online closings — in addition to the need for standardized, secure remote notarization policies and practices — is the lack of eRecording capabilities in some counties.
Cook County, Illinois provides a model for others to follow. The county provides deed recording services without requiring any in-person contact. Consider its response to the virus lockdown: a Recorder of Deeds Public Notice on COVID-19. Dated March 16, 2020, it explained that while Recorder of Deeds offices were temporarily closed to the public, basic functions could be handled remotely:
People could continue to record documents in Cook County by submitting documents to the Recorder of Deeds not just by mail or delivery companies, but also by selecting the eRecording option.
Online purchases of copies of documents recorded since 1985 could be made by following the guidance on the Recorder's website.
Documents recorded before 1985 also remained available, by e-mailed request.
On March 24, Sarasota County closed its drop box, and stopped taking hand-delivered documents. Like Cook County, Sarasota had alternate delivery options in place in addition to overnight mail, including eRecording for mortgages, deeds, and notices of commencements.
Will Real Estate Transactions Become Stay-at-Home Affairs?
In the future, will home sales happen entirely online? If so, the gains in convenience and transparency could be substantial, suiting the new generations of home buyers. Even before COVID-19, wire payments, online collaboration and the use of teleconferencing was rapidly increasing. Other digital real estate transaction trends include:
Mortgage apps. Quicken Loans pressed innovation ahead by introducing Rocket Mortgage, an online mortgage process, in 2015. Today's mortgage apps can check a user's bank account information and state how much the user qualifies to borrow.
The iBuyer market: Redfin, Keller Williams, Zillow and other companies are driving the iBuyer market, which offers an option for homeowners who want cash for their homes in days, not weeks or months.
Automation: As more functions occur through automated technology instead of manual entries, the need for services that charge recording fees, escrow fees, and other costs decreases.
Paperless eClosings: The trajectory of progress in a digital era is leading to fully automated closings. Wescor Land Title Insurance Company, in partnership with Notarize.com, has lauded the advent of a fully electronic closing process in which there is "no scheduling required that disrupts your life and no driving to the closing."
Blockchain in real estate: Blockchain technology can ensure title integrity. And when closings are fully automated, the tokenized deed could emerge, says Natalia Karayaneva, whose business focuses on blockchain-based home transactions. Home ownership might one day be represented by digital tokens that could be transferred peer-to-peer. One category of property transaction has already been tokenized, Karayaneva notes: the home equity line of credit (HELOC).
The rise of liquidity in real estate: The real estate sector has a global valuation higher than that of any other asset class in existence. Expect to find more innovations focused on liquidity in this market over the decade ahead, as up-and-coming generations of home buyers come to expect direct, digital control over their assets.
Artificial intelligence (AI): Digital assistants can help real estate agents gauge a home buyer's interest in certain properties, based on their location, their social ties, tastes, and needs. It can also match the delivery of information to the clients' online browsing and home-shopping schedules. Expect AI to sync up with home shoppers' smartphone calendars, collect user preference data, offer parking directions, and even unlock the home using a secure code.
Expect brokers and real estate agents to become increasingly proficient in digital technologies — if only to avoid becoming replaced by them. Agents who have a strong and interactive online presence, and know how to use new technologies effectively, will be the winners. And, on the other side of the coin, a digital real estate market promises to demystify the real estate market and make property assets easier to transfer for ordinary people, not just industry experts. Much will depend on how diligently recording offices and policy-makers work to create accessibility in real estate technology.
Remote Notarization of Real Estate Deeds
Notarizing a document, by definition, means witnessing a signature in real time. The notary's witnessing role serves to verify to the public that a person who signed a document was actually identified as that person, and actually observed in the act of signing the document, knowingly and without coercion. Yet many key real estate documents are now handled electronically. How, then, does remote notarization work?
Technology is changing the role and the definition of witnessing. We now have webcams. And we have tech-savvy legislators. Today, notaries in several states remotely witness signatures and verify documents. It's a process is known as RON: remote online notarization. With RON, notarizing — a key step in the valid property transfer — can happen without in-person meetings.
Enter the coronavirus crisis. Now, there's a powerful sense of urgency for remote online notarization. Online collaboration and verification capabilities facilitate social distancing as well as the avoidance of dangerous weather, travel restrictions, or political unrest. Of course, any form of notarization of records involving mortgage loans must adhere to industry standards. And the Mortgage Industry Standards Maintenance Organization, expressly responding to the COVID-19 crisis, has published a list of RON providers on its website, citing remote notarization capacity as "one important tool" to support public safety and the continuity of business.
Industry Experts Weigh In on Remote Notarization
As notaries point out, remote online notarization needs special concern, because it goes beyond electronic notarization. Electronic notarization, or eNotarization, can be handled in the physical presence of the parties, using paper or an electronic journal. In remote notarization, in contrast, the signing happens at a distance. The notary cannot pick up and examine the signers' physical IDs. Thus, the National Notary Association has recommended in-person notarization. In-person signing, the Association asserts, protects the public and the integrity of the signing.
Yet the Mortgage Bankers Association (MBA) and the American Land Title Association (ALTA) have jointly supported remote online notarizations as an attractive consumer benefit. These groups express concerns that different states have taken different approaches. They call for uniform standards to be adopted. At Deeds.com, we concur. Their stance has proven itself forward-thinking, and their call for uniform standards is ripe. Today, a deadly virus is converging with the human technological capacity to push new social and legal norms into being. The call from the MBA and ALTA for a uniform acceptance and approach to remote notarization is now likely to be heeded.
The most important reason for uniform standards is exactly what the National Notary Association stressed. Deed fraud and related crimes are increasingly common. Fraudsters are always on the lookout for new opportunities. Proper, careful notarizations comprise a key element in preventing fraud that can end up invalidating mortgages and embittering lives. To ensure the integrity of land title records and the secure treatment of documents, laws should require notarization to involve:
Uniform means of verifying signers' identities whether for RON, in-person eNotarization, or paper.
The continuing education of notaries public, with an eye to helping notaries detect duress, undue influence, fraudulent intent, or fake identification, and prevent defects in notarizations.
Research into occurrences of RON fraud.
Support for the development of online fraud prevention mechanisms.
A notation on all notarized documents indicating whether RON or in-person notarization took place. This would be especially helpful in any fraud analysis.
Online recording of the full action, to make every element easily traceable.
Significant periods for retaining recordings.
ALTA offers a thorough checklist for developing state laws.
Remote Notarization Early Adopters
A uniform, accessible, yet safe approach will be a boon for society, as it greatly improves the experience of real estate transactions for buyers and sellers. Several states have pioneered remote online notarizations, or RON, using leading-edge audio-video conference technology:
Florida has just stepped to the frontier of remote notarization, and several additional states are making the transition, including Michigan, as well as Indiana, Vermont, and Tennessee. Significantly, Tennessee decided to enable its in-state notaries to perform remote online notarizations wherever the signature physically occurs.
The Way Forward
Given the realities of our interconnected population, and the unknown factors influencing diseases in a changing climate, the novel coronavirus won't be over when it's over. What does that mean for property transactions? Expect to see the real estate industry implementing automation. Expect better online access to real estate document recording. Resilience will require the adoption of technological advancements — with appropriate consumer protections in place.