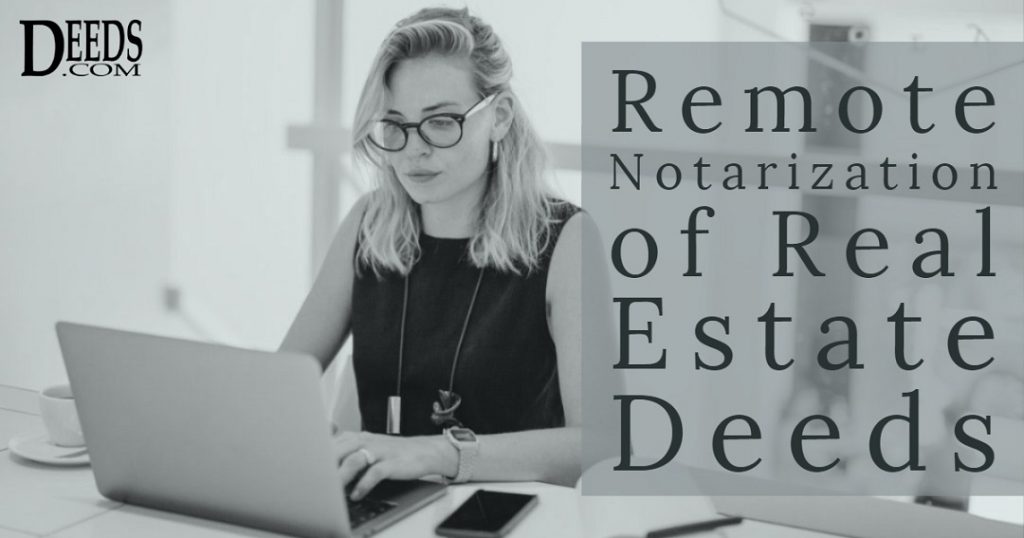 Today, many real estate documents are handled electronically. But it remains clear that notarizing a document, under the laws of all states, means witnessing a signature in real time. The notary's witnessing role serves to verify to the public that the person who signs a paper has been personally identified, and freely signed the document.
Not to be deterred, technology is changing the way society defines witnessing. With the advancement of webcam technology and novel legal provisions, notaries are remotely witnessing signatures and verifying documents in several states. This new process is known as RON remote online notarization.
So far, reviews in the industry are mixed.
Industry Experts Weigh In on Remote Notarization
The best way to proceed at the current time, according to the National Notary Association, is to insist on in-person notarization. In-person signing, it asserts, protects the public and the transaction.
In contrast, the Mortgage Bankers Association (MBA) and the American Land Title Association (ALTA) jointly regard remote online notarizations as an attractive consumer benefit. Still, the groups express concerns that different states have taken different approaches and they call for uniform standards to be adopted.
Notaries themselves point out that remote notarization goes beyond electronic notarization (eNotarization), which can take place in the physical presence of the parties, using paper or an electronic journal. Remote notarization raises special concerns, because the signing happens at a distance. The notary cannot pick up and handle physical proof of identity belonging to the signers. 
Meanwhile, Wescor Land Title Insurance Company, in partnership with Notarize, lauds the advent of a fully electronic closing process in which there is "no scheduling required that disrupts your life and no driving to the closing." 
Remote Notarization Early Adopters
Several states now allow for remote online notarizations using audio-video conference technology:
More States Join the Trend
Florida is looking at adopting remote notarization, although a recent bill died on calendar in 2019. And several additional states have pending legislation as of 2019:
Uniformity in Legislative Approaches: A Pressing Need
Remote online notarization is here. It will facilitate real estate closings for buyers and sellers. And yet, to ensure the integrity of land title records and the secure treatment of documents, laws must be carefully written. Optimally, they would require RON to involve:
The continuing education of notaries public, with an eye to helping notaries detect duress, undue influence, fraudulent intent, or fake identification, and prevent defects in notarizations.
Research into occurrences of RON fraud.
Support for the development of online fraud prevention mechanisms.
A notation on all notarized documents indicating whether RON or in-person notarization took place. This would be especially helpful in any fraud analysis.
Online recording of the full action, to make every element easily traceable.
Significant periods for retaining recordings.
Uniform means of verifying signers' identities whether for RON, in-person eNotarization, or paper.
ALTA offers a thorough checklist for developing state laws.
At Deeds.com, We Recommend Caution
Deed fraud and related crimes are increasingly common. Fraudsters are ever vigilant for new opportunities. Proper, careful notarizations comprise a key element in preventing fraud that can end up invalidating mortgages and embittering lives. Although eNotarization is becoming a new standard in many transactions, RON is new. It is unsettled in law and practice. It is potentially attractive to sophisticated criminals.
We note that Virginia currently recognizes interstate remote notarizations as valid. Usually, states that allow RON expect the notary and the people signing documents to perform the action within the state. Virginia's less restricted approach has led to mortgage and notary services promoting eClosings carried out online by Virginia notaries. Whether states other than Virginia must acknowledge the validity of this practice raises yet untested legal questions. Until we see uniformity on the issue, we must urge caution.
Paperless eClosings may represent the trajectory of progress in our digital age. Yet, at present, Deeds.com does not submit documents for e-recording if they have been remotely notarized. As a reasonably consistent legal infrastructure develops, we will keep readers posted.
Supporting references:
www.manhattanda.org/wp-content/uploads/2018/12/Deed-Fraud-Grand-Jury-Report.pdf
https://www.mba.org/Documents/Model%20Bill%20FAQs(0).pdf
https://www.nationalnotary.org/notary-bulletin/blog/2019/01/grand-jury-faulty-notarizations-fraud-epidemic
https://www.nationalnotary.org/notary-bulletin/blog/2016/07/webcam-notarizations-redefining-presence-or-fraud
https://www.nationalnotary.org/notary-bulletin/blog/2019/02/19-more-states-propose-remote-notarization-in-2019
www.docverify.com/Products/E-Notaries/Electronic-Notary-and-Remote-Notary-Platform/Electronic-Notary-Kentucky