Mobile homes are popular choices throughout the United States. They're popular in Pennsylvania, big news in Florida, and in high demand across the southern, western, and midwestern regions of the country. They'll likely do very well in the months ahead. In a pricey market, mobile home ownership (property tax included) is relatively inexpensive. Buying a mobile home can be a path to ownership for hopeful buyers recovering from pandemic-related challenges.
So, where do you start shopping for a mobile home? What type of land arrangement should you choose? What do you need to know about your home's title, financing options, and taxes? Let's explore the world of mobile home buying and set out a plan.
Browsing the Listings
To get a feel for what's out there, search for "mobile/manufactured" home listings on any major real estate website. For example, you can find Pennsylvania mobile homes. Or you could browse this mobile home sales site, which is endorsed by the industry's trade association.
To zero in on the right house, look at the bedroom and bathroom count, flooring, overall condition, the size of the kitchen and other rooms, whether the land is included or the lot is owner-occupied, and whether association or lease fees apply. Be sure the rules and restrictions make sense to you. There may be pet limits, parking regulations, and directives for home upkeep and yard maintenance.
Look for amenities you care about, too, that add value to your purchase. Would you like a place with round-the-clock security? Beautiful scenery and walking trails? A swimming pool, tennis courts, or fitness equipment? A clubhouse for social gatherings and meetings? What about central heat and air conditioning? Many mobile home communities offer these features and more.
Knowing the Title Types
All mobile homes have titles that the buyer acquires. There are two main types of titles. Mobile home titles designate the home as a vehicle (personal property) or as a permanently located dwelling (real property).
Some mobile homes are considered personal property.
In the basic trailer park arrangement, you're renting your spot of land. You own a moveable trailer. In this case, your mobile home would not be classified as real estate. Usually, you can't get a mortgage. But this varies. California law, for example, allows chattel mortgages (also called security agreements) for mobile homes without land ownership. Some (but not all) mortgage companies can provide these loans.
As you might have guessed, these home-only sales tend to be quite affordable. And while buyers have to pay the applicable sales tax, they won't pay taxes on the land. They'll purchase registration and tags according to the state's rules. This is much like owning an RV, and the state motor vehicle department keeps records for each Vehicle Identification Number (VIN).
Some mobile homes are categorized and appraised as real estate.
If the mobile home is "located" — owned together with the land it occupies — it is real estate. The home's hitch, wheels and axles are removed, and the home is on a permanent foundation and connected to traditional or renewable power sources. The land rights (lease or ownership) are transferred through a deed. As an example, Pennsylvania law states that the deed to the land, transferred from seller to buyer, will declare ownership of the mobile home.
Mobile homes sold as real estate are, of course, subject to assessments and local property tax. The local tax assessor's office will identify the Property Index Number (PIN), which will appear on your deed. Some states issue real property decals (as opposed to vehicle registration stickers) to designate located mobile homes.
Buying the Land and Financing the Home
In some mobile home parks, owners rent the land. But by owning appropriately zoned land, you can avoid high park rents, and retain control over the property. The second-best scenario is a mobile home community that's resident-owned. If you're leasing your spot, a three-year term is the minimum for financing your mobile home purchase with a mortgage backed by the federal government.
Conventional loans are also available for homes on a permanent foundation if you own the land. A structural engineer may have to declare that the home complies with HUD regulations. Be sure to have key aspects of the home inspected: proper placement and installation, sound roof and drainage, well-maintained skirting, and appropriate insulation. Take care not to make any alterations that could impact your loan. Certain other rules apply, so be sure you have an experienced mortgage specialist or loan officer available to provide guidance and answer questions.
For mobile homes on permanent foundations, have a title company handle your closing. The transaction is complex. The home and the land could each have a title and a legal description. Therefore, two title searches could be necessary — one to look for any burdens or claims on the land, and another to uncover liens and claims on the home. The title company will go through the township records to find billing or permit issues that the county records don't account for. When the deal is done, the title agent will record the deed with the county where the home is located.
Is there a homeowner's association? Call the office to be sure the previous owner has kept the home up-to-date on all fees and charges, and that you'll get a clean record when you take over the title.
Convert a Mobile Home Title to a Real Estate Title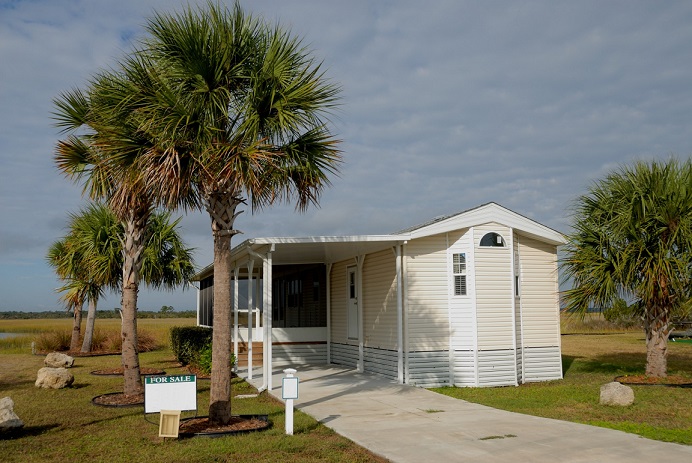 Homes manufactured after June 15, 1976 are designed to comply with the building code set forth by the Department of Housing and Urban Development (HUD). They may be converted into real property. HUD enhanced its standards in 1994, so newer homes meet higher standards for weather resistance and energy efficiency.
If you have a moveable trailer you'd like to convert into real property, you'll turn in the title and officially withdraw your registration from the state's motor vehicle department. You'll then create and record a real estate title. You'll need a certificate of location from the state, showing the home is placed on land zoned for mobile homes.
There are several financial and logistical steps to plan. You'll have the mobility features removed from your home. You'll apply for an oversized or overweight load permit to move it on state highways. You may be setting up a porch and pavement in your new location. Hookups to an adequate water supply and sewer system are legally required, and so are building permits to do the work.
You'll need to speak with your insurance company in advance about the process so your newly located home can be insured. Ultimately, the local property tax assessor will recognize your home as real estate. Refer to Sections 4 and 5 of the Uniform Manufactured Housing Act for details of the steps an owner is required to take.
What to Know About Mobile Home Community Life
Probably the best way to assess the mobile home lifestyle is to compare and contrast it with condo living. Let's take a look:
A mobile home, which shares no walls with other units on the property, can offer a quiet, private space that many condo properties cannot.
On the other hand, condos tend to appreciate in value, and mobile homes, like RVs, depreciate in value. But if you own the land under your mobile home, it could be a valuable asset to sell. In the meantime, you'll get value from living in the home, or you'll get a cash flow from renting it out.
As with a condo, there are no rising rents. But your mobile home park can raise its lease or association fees. A condo association can raise its monthly dues, too; so whichever way you go, budget creep is always a distinct possibility!
Whether you buy a condo or a mobile home, repairs within your structure are yours to make. Repairs and maintenance involving common areas and systems are, generally, handled by the property management and staff. Read the association's rules and regulations to learn how particular cases will be handled.
A homeowner's insurance policy may be a little bit higher for a mobile home than for a condo. This is because condos are heavier and sturdier. Insurance companies view mobile homes as more susceptible to weather-related issues and theft problems (which is one reason why many mobile home shoppers consider gated communities a plus).
Ready to Shop for a Mobile Home?
Happy home-hunting! Just a few more words to the wise before you go.
If you have questions about conversions, titles, and other legal procedures and documents, you can only get legal advice by hiring your own lawyer. Know that any tips and explanations on the internet are offered as general information, not individualized legal advice.
And to really understand what's on the market, work with a real estate agent in the area where you want to buy a home. Find an agent who has worked with mobile home buyers and sellers before. Experienced agents know the state and local practices for this type of real estate. There is just no substitute for an agent's informed guidance.
Supporting References
HUD Financing: Manufactured (Mobile) Homes.
Pennsylvania Code 67 § 401.
UniformLaws.org: Uniform Manufactured Housing Act.
Photo credits: Riverview Homes, Inc., through Wikimedia Commons as CC-BY-SA-3.0, and Paul Brennan, through PublicDomainPictures.net as CC0 Public Domain.