Frauds and fakers commonly target homeowners for money. In one of the sleaziest schemes going on at the moment, a home warranty vendor is trying to get homeowners to sign up for its product.
What's worse, the marketing letters don't look like sales materials. They look like they come from the local recorder of deeds.
Counties in numerous states are warning their residents about these unsolicited and deceptive letters.
Manipulative Home Warranty Letters Use Facts About the Titles From the County Records
The letters contain something resembling a check for $199, called a Registration Fee Voucher. Attached are so-called final notices from Home Warranty Direct, announcing that the recipients' home warranties are expiring. The notice instructs recipients to call a number or be held responsible for repair costs. It's just an underhanded marketing ploy, and has zero to do with homeowners' actual warranty plans or the status of their home titles.
One reason the scam can seem believable, notes the Sedgwick County D.A. in Kansas, is that these letters include real data about the homeowners' titles. Pulling from the public deed records, the letters include the homeowner's name and address. They also name the home's mortgage company.
The letters (here's an image, courtesy of the Witchita Eagle) are not connected in any way to a government entity, but obviously they aim to bamboozle recipients into believing they are. They have nothing to do with the homeowner's actual mortgage company.
Homeowners in many states have received similar letters. Oregon's state Attorney General, Ellen Rosenblum, has issued a statement about this letter urging Oregon homeowners to buy warranties.
Look Out for "Urgent" or Menacing Language in Letters
Officials warn against answering letters written in oddly high-pressure tones. Oregon's state Department of Justice has complaint forms, and urges recipients to lodge formal complaints against scammers. The county D.A. office has a Consumer Protection Division which recipients of the $199 letters are asked to call. States also have consumer protection departments. Call them to discuss pressure sales tactics — not the marketers.
What if you're not sure the communication you have received is legit or not?
Look for signs of a good business, or the absence of those signs. Is it easy or hard to find an agent of the company you can call or write to? If the company makes it hard to get through to customer service, watch out.
☛ Use special caution with emails and text messages. Avoid clicking on links in any communication you didn't initiate or were not expecting. As a rule, it's best to call a company if you want to communicate, rather than clicking through a message.
Look at the company's website. Do a search for customer reviews. Dig up the experiences of others who have dealt with the business and have submitted claims. If it's hard to find details about the business and its customers' experiences, why? Is the company authorized to operate in your state? Is the marketing material clear as to the company's location and identity?
Don't submit personal or financial information if you have any doubts about who is contacting you, and exactly what they are after.
Is the Home Warranty Business Inherently Shady? No…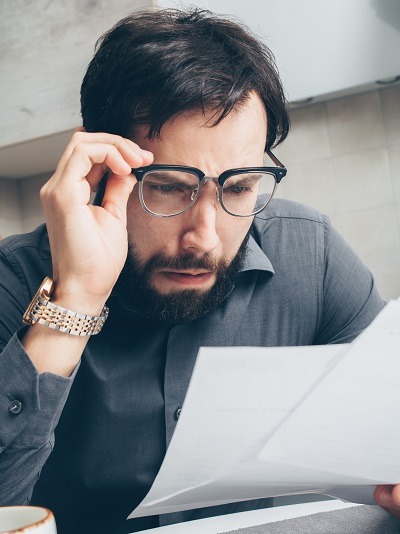 There are home warranty businesses with poor reputations, making false promises and taking advantage of their customers. And there are decent home warranty companies out there. In some situations it's not a bad idea to ask for home warranty coverage as a buyer — especially if the home has a number of old appliances. So, buyers need access to insights that sort the devious from the decent vendors. This is one of the best reasons to enlist an experience real estate agent in a home purchase.
Quick note: Home warranties are not the same as homeowner's insurance. A homeowners' insurance policy is geared to cover big incidents that can impact the home's value. A home warranty, in contrast, is simply a service contract. It focuses on the home's appliances and systems, such as the HVAC, the kitchen and laundry appliances, the water heater, and possibly electric and plumbing issues, etc. Home warranties provide fixes (if possible) or replacement (more rarely) when the machines break down in the normal course of use and age.
So, how do these plans work? Unless the seller offers the warranty as part of the purchase agreement, a homeowner pays a monthly or yearly premium, and the service fee whenever a technician is called to the home. A typical home warranty plan will pay up to two or three thousand dollars for a technician's visit and the repair or replacement of an appliance or system. The fee for the visit is generally around $100 or $125. Problematic businesses have hidden deductibles and give customers the runaround in response to reasonable claims.
While home warranties can come in handy for buyers of older homes, even the good ones have hard limits:
Some home warranty plans include the basic plan and a more comprehensive plan. Some have coverage options the customer can select a la carte, like coverage for ventilation and disposal systems and another coverage type that applies to major appliances, and them a comprehensive plan that covers them all. To have "the works" covered for diagnosis, repairs, or replacement, you might need to be on a pricier tier than the basic version.
Home warranty firms keep a running list of independent contractors on call. Customers must depend on the integrity of the home warranty business to send competent technicians.
When a technician responds to a call, the company rules might let that person diagnose only one problem per call.
There are usually a number of exclusions. Appliances that weren't installed or maintained correctly might be excluded from coverage, etc.
☛ Here are some points to ponder When Your Seller Offers You a Home Warranty – Instead of Repairs.
Alternatively, you can keep a reserve account for maintenance, and cover your own appliance repair costs. This way, you choose the expert who comes out on the service calls, and the brand of replacement system you'll get.
Steering Clear of Scams in 2023: Key Takeaways
Hearing from a company with news or an offer you didn't expect? Know that many scams are afoot in 2023. Some are retreads of old schemes, and some are more creative.
Hold on, and do some digging into the company that contacts you. Look out for a menacing or hurried tone. Look out for official-looking letters that might not really be official, and marketing material disguised as instructions from the mortgage company.
Supporting References
Derby [Kansas] Informer via DerbyInformer.com: County Residents Warned of Deed Scam (Feb. 8, 2023).
Amy Renee Leiker for The Wichita Eagle (McClatchy Media Network) Crime and Courts – Did You Get an Unsolicited $199 "Check" in the Mail? Don't Fall for the Scam, D.A. Says (Jan. 30, 2023).
Ben Walker, CEPF for FinanceBuzz.com, a part of Buzzery, LLC: How to Spot a Home Warranty Scam (updated Feb. 3, 2023).
Vermont Federal Credit Union of South Burlington, VT:  Security Alert: Mail Scam (Oct. 17, 2022).
Oregon Department of Justice: Don't Fall for This Home Warranty Scam (Aug. 17, 2022).
And as linked.
Photo credits: Gustavo Fring and Mikhail Nilov, via Pexels.