Your Five-Point Plan
A home purchase is one of the most rewarding investments most people ever make. That said, it can take courage to be a buyer. Unless the buyer is paying with cash — and few people can or will — buying a house means submitting to the scrutiny of financial experts. It means hoping for the best when choosing a new community. And it can mean a long-distance move.
Here, we talk about moving from state to state, and how interstate home buyers can set themselves up for success with a five-point checklist. Let's get right into it.
1. First Things First. Can You Rent?
This may be the most important consideration, so we're frontloading it. Can you rent first?
If you're buying a home from out of state, renting for 6 to 12 months before putting a deposit down on a house gives you a major advantage. If you'd rather avoid dealing with a security deposit and lease agreement, you could look into an Airbnb or an extended-stay hotel to get some long stays in.
Weekend trips just aren't the same. There's no substitute for getting to know people and attitudes in a place, and taking the time to discover a spot where you'll be content to live for years. After all, if you don't own your new home for at least five years, you probably won't build up enough value in your home to make a financially sensible sale.
If you move into your new town and buy a home at the same time, you'll almost certainly find areas and homes later on that you'd prefer to live in. Yes, interest rates could go up if you don't buy right away. On the other side of the coin, an expensive market might cool down a bit during that time, too. And there's intrinsic value in taking your time and finding the right home. Rush your purchase, and buyer's remorse is far more likely.
Finally, you might have to rent for at least two years while building up a local job history. It all depends on whether a lender considers your income continuous, despite the move from state to state.
Pro tip: Before moving to a temporary rental home in your new state, pack and label everything. Plan to store the bulk of your belongings. When you choose your new home after renting in the area for several months, the packing for your final move will already be done.
2. The Hive Mind Knows. Go Online.
A good real estate agent is diligent and informative, no matter where the client lives. But it's harder to forge a relationship and ask the right questions from afar. Read what locals are saying online. It's a great way for a prospective buyer to grasp the basics about a town, and formulate questions for an agent.
Real estate sites, of course, offer a wealth of frequently updated information about local housing markets for renters and buyers alike. And the listings include the amount a monthly rental or mortgage payment should cost.
Turn to Google Maps for the layout of the area, and where all the essentials are located. Scout out the local amenities online and read reviewers' opinions.
There are the local online media sources and dailies to read. It's also possible to join a discussion forum, ask questions, consider other peoples' concerns, and find locals who willingly share their thoughts. Learn about common complaints or challenges as well as what's going on in the various sections of the area. Visit career sites to know where people work and what opportunities are available at your destination.
Pro tip: Looking for reputational insights and pay scales? Glassdoor.com offers helpful overviews of companies.
3. Long-Distance Buyers Need Support. Find an Agent Willing to Give It.
You'll need an agent who can work for you not where you are, but where you're looking to buy. Already know an agent where you are? That person might be able to refer you to an agent who's licensed in the state you're moving to, and who works in the town where you'll be buying.
Look for an agent that works for you, the buyer. When you hire your own agent, you have an expert on your side who will act in your best interests.
Your agent may be able to tour houses with you through an audio-visual app like Facetime. Or perhaps you can take panoramic walk-throughs with your computer or phone. When you find the right home, your agent can get you through all the stages of home buying: negotiations, inspections, appraisals, and everything else that may be involved through closing.
Locally active agents can keep watch on the homes for sale and the price changes. They can spot issues — both negative and positive — that an untrained eye would miss, especially from a distance.
If you have special plans for the homes you're considering, your agent can tell you if local rules will allow those plans to work. From zoning to subdivision restrictions to local weather impacts, your agent can give you the insights you need to make the best possible decision at the time you're buying.
☛ Hiring a real estate agent truly means having an advocate on your side. See: Your Real Estate Agent's Fiduciary Duties.
4. Moving With Your Company? Tap Its Available Resources.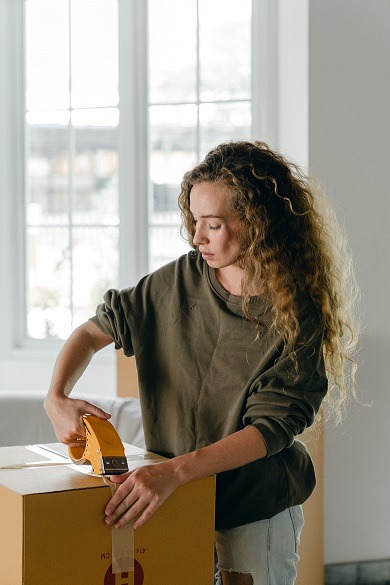 Moving for work? This will help you obtain a mortgage for a new primary residence. An on-site job offer or a remote employment letter, as well as a clearly established income, may all be necessary to have. Your mortgage expert can tell you more about the employment and income documents you'll need to provide.
If you're being considered for a post in a new town, ask for a tour of the surrounding area as well as your new workplace. Your peers at the company can offer knowledge about local neighborhoods, agents, mortgage specialists, and moving resources. Let them help you get a feel for where you'll want to live.
Some of the major factors are affordability, convenient transit to work and downtown, and proximity to your future co-workers and people you may already know in the area.
Pro tip: If your company is moving you, a relocation support agent might be available to help with your current home sale, your move, and your home search.
5. Can't Live There Before Buying? Visit. Explore.
Work with a mortgage specialist to have your pre-approval ready so you're ready to make an offer on the spot. One way to approach this is to open accounts with a financial institution where you plan to live. This can be done online and over the phone. The bank or credit union in your new town might have the perfect mortgage specialist for your needs.
Plan to visit your new town a few weeks before your move, and check out the homes you've pinpointed online. By driving on the streets, you can choose the ones that appeal to you in person, and rule out those that don't. Tour the ones you like with your agent.
At this point you might be ready to approach one or more sellers with offers. If that doesn't happen, at least your agent now knows you in person, and can tell what you're ruling out and why. This will help the agent find homes for you to consider.
Come back, if possible, for the inspection. Walking with the inspector through the house — watching an expert's reactions and thoughts as they occur — gives you valuable insights.
As for closing, you'll have to decide whether to let the agent handle it all on your behalf, or whether you need to be present at the table. Today, in the era of eSigning and remote online notarization, closings can be done entirely online.
If you're buying from out of state, you'll have more resources than buyers have had at any time in the past, and that's empowering. Prepare well, and enjoy the journey.
Photo credits: RODNAE Productions and Ketut Subiyanto, via Pexels.