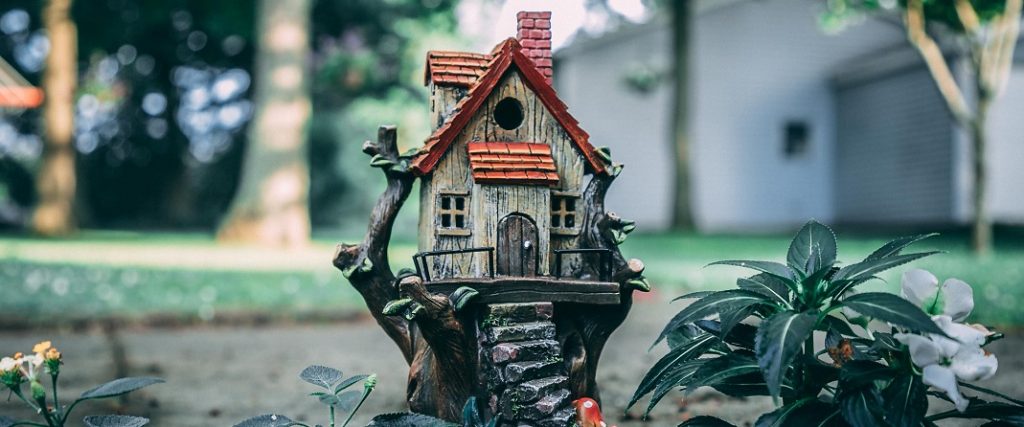 Tiny houses are, as the term suggests, small homes — generally smaller than modest-sized condos. The price tags are not necessarily tiny, although they can be. Here, we take a look at the logistics of living in a tiny house.
The Allure of the Tiny Home
Tiny houses draw homeowners who seek streamlined costs, energy efficiency, reduced environmental impact, and a love for the minimalist lifestyle. They also attract the adventurous. Most people interested in tiny homes would ideally want one smaller than 400 square feet, allowing for mobility.
In November 2020, the real estate exchange company IPX1031 sent a survey out to more than 2,000 people across the United States, asking whether they could see themselves in tiny homes. The respondents' median age was 38, and nearly half of those surveyed were renters. More than half of the group expressed interest. And among respondents thinking of buying their first homes, an impressive 86% say they would look at tiny homes.
Note the time of the survey: late 2020. Since the advent of Covid-19, the attractive elements to a tiny home are attracting special attention. A mini house could serve as an escape destination — a break from the close quarters of urban or condo living.
But whatever the reason for choosing a super-small home, the buyer has to decide on the must-have features when choosing the type of home to buy. Popular elements include:
A heating and air conditioning system.
A dedicated kitchen and bedroom area.
For some owners, the tiny home mystique has its own appeal. In other words, tiny home culture is on the rise. Some communities let tiny homeowners rent land and enjoy a co-op lifestyle. And now, with so many people working remotely, tiny houses set up as accessory offices are gaining traction, too. Some people choose tiny houses as investments, to use either as long-term rental properties or short-term getaways.
Affordable Housing Solution?
The Community Action Partnership (CAP) of St. Joseph, Missouri aims to remake a vacant lot into a cluster of six to 20 tiny homes, each costing $20,000 to build. Local zoning supports the goal. CAP would cover the costs of construction. They would then offer the homes to veterans without homes who are actively seeking help, and prepared to pay rent.
Similarly, Allentown community activists hope to create a starter village of 25 tiny homes on city property in Lehigh County. Shelter, they note, is a prerequisite for anyone trying to get back on solid financial footing.
Efforts like these could uplift people and places where they happen, yet NIMBYism does tend to pose challenges. "My concern," said a local resident at a city council meeting, "is will I be able to go in my backyard at night?" The fearful query was echoed by several others in attendance.
Tiny Home Logistics
Planning and logistics all depend on whether the tiny home is fixed on a foundation, or moveable. Turnkey tiny homes on foundations are available. For the handy among us, so are tiny home kits.
The big considerations with stationary homes are city zoning and building codes, and procedures for hooking up utilities. These are township-specific, so local research has to be done before deciding where to live. As a general rule, any residence on a foundation is responsible for paying property taxes.
Whether the buyer is using a kit or having the house built, it's helpful to consult a tiny home builder in the chosen location, and get a walk-though of the processes and regulations. Tiny home builders are thriving across the country.
Pro tip: Appendix Q: Tiny Houses was added into the International Residential Code (IRC) in 2018 to supply regulation for aspects like ceiling heights, loft dimensions, lighting and windows, and so forth. This makes permission to establish tiny homes more straightforward, and facilitates the lender's work as well.
Moveable tiny homes are deemed personal property, so they won't incur property taxes. But the land might. And there can be state motor vehicle department charges, correlating with the VIN on the title. A prospective buyer needs to know the seller possesses a valid and clear title, without liens that need to be paid off.
Financing the Fixed-in-Place Tiny Home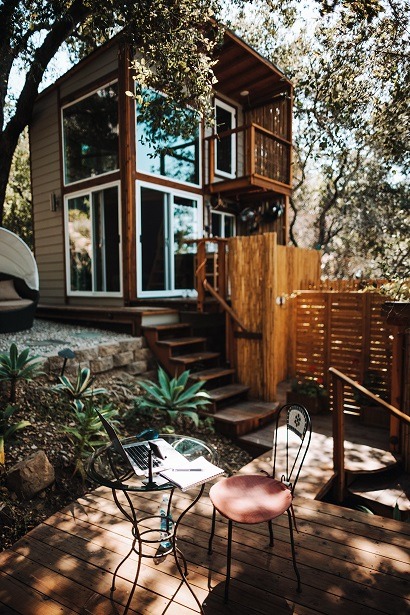 While the typical home purchase now runs considerably more than 200K, the price of most tiny homes is in the five figures. Note that home loans can start at $50,000, so not all tiny homes will fit into the mortgage standards. And as noted by TheMortgageReports.com, the FHA won't finance anything under 400 square feet. For really tiny and inexpensive tiny homes, this suggests that paying cash is best.
Tiny homes on foundations can run well over $50,000, though, making government backed or conventional (Freddie Mac or Fannie Mae) loans possible. Interest rates for mortgages beat rates for personal loans, so a mortgage makes sense if the property counts as real estate. This means homeownership is reflected in property taxes. Also, any piece of real estate has a title and plat recorded.
Additionally, appraisers need to be able to find nearby homes of comparable style and value so they can produce accurate, local tiny home valuations for a mortgage lender. This is a good reason to work with established tiny home builders in places where other tiny homes built on permanent foundations have recently sold.
Some locations classify a stationary tiny home as an Accessory Dwelling Unit (commonly known as an ADU or in-law cottage). In these areas, tiny homes are acceptable if a primary home already stands on the real estate. If you're a homeowner who can build a tiny home or office on your property, you may qualify for the federal government's Title 1 Property Improvement Loan Insurance. This tool backs loans up to $25,000 for site improvements on real estate.
In contrast to the ADU-only scenario, some local zoning ordinances limit high-density housing, putting the kibosh on homeowners' plans to build ADUs on their own land. And check the main property's deed. Does it rule out new structures on the property? Compared to zoning restrictions, deed restrictions are extremely sticky and hard to challenge.
Financing a Tiny Home on Wheels
What about a tiny home on wheels? This kind of home can't get a mortgage. If certified as a recreational vehicle, a home must adhere to the National Highway Traffic Safety Administration (NHTSA) standards and manufacturing codes.
Search for "RVIA-certified homes" to study the safety standards. Certification is also important if you're making the home your primary residence and are seeking financing to do it.
☛ Moveable homes may be designated as recreational vehicles or permanent dwellings. Read about titling, buying land, and financing these homes from Deeds.com at Types, Titles & Taxes: What to Know Before You Buy a Mobile Home.
To help buyers uncover the states and towns with "tiny-friendly ordinances," the American Tiny Home Association offers materials to help them become knowledgeable, instead of trying to reinvent the wheel!
Words to the Wise Tiny Home Buyers
You're here because you know this. But we'll say it anyway: research is key. A buyer must know about the title aspects of tiny home buying, and must find out about local and state registration, permitting, and fees.
Speak with your insurer before making the shift, too. Insurance needs can vary, depending on the type of tiny home it covers. Plus, if and when you move a tiny house, separate coverage or a special endorsement is likely needed.
And we'd be remiss if we didn't mention the value of getting legal help. Buying a tiny home can be fast and easy — sometimes too easy. To avert problems later, a tiny home purchase should be treated as a homebuying process. This means having the tiny home, if it's already built, inspected. It's also wise to forge a written contract with the seller, covering the condition of the tiny home to the point it is received on its new lot, if moved — plus legal recourse for any breach of promises.
With an open mind and open eyes, a buyer can delight in the little things, and take pride in the commitment to a minimalist lifestyle.
Supporting References
Peter Miller for The Mortgage Reports: Tiny Houses Begin to Take Off With New Mortgage Options (Feb. 7, 2018). 
IPX1031: Insight Blog — Survey Reveals America's Ideal Tiny Home and Tiny Office.
Milgrom and Daskam: Six Tips for Purchasing a Used Tiny Home on Wheels (May 31, 2021).
Danielle Sachse for KQTV (Heartland Media, LLC, St. Joseph, MO): Neighbors Express Concerns Regarding "Tiny Hones" Project in St. Joseph (updated: Oct. 21, 2020). 
Megan Frank for National Public Radio (via WLVR in Lehigh County, PA): Tiny Homes Could Help Combat Homelessness in Lehigh County (Feb. 23, 2021).
Linda Bell for NerdWallet.com: What to Know About Buying a Tiny House (Oct. 15, 2020).
Quicken Loans®: Tiny-Home Financing: Is It Hard to Get a Loan? (Nov. 9, 2020).
Chris Moon for ValuePenguin.com by Lending Tree: Can You Get Tiny Home Insurance? (updated Apr. 12, 2021).
Photo credits: David Gonzales and Roberto Nickson, via Pexels.