Left Unoccupied?
Clever crooks in Ohio, Maine, and many other regions are swindling people out of their homes by recording fraudulent quitclaim deeds. They're doing it now, and they've been doing it for years. But now, property values have exploded. The stakes in real estate are higher than ever before. That makes the abuse of quitclaim deeds extremely appealing to house thieves.
Quitclaim deeds are documents that don't require a seller's warranty of title. Often, quitclaims are used to a house title between co-owners or people who trust each other and know the history of the title.
But there are shady characters out there who seize upon the quitclaim deed to sign vacant property over to themselves. And we all need to be aware of how they work.
Picking Targets: How Do Fraudsters Find Houses to Steal?
A home might be obviously vacant. Or a sneaky reader might know the owner is gone — having seen a death notice, or having overheard a discussion about the owner's move into an assisted living unit. The manipulator can then fill out a quitclaim deed form, purporting to be the owner who transfers the home. Deed forgers have quitclaims notarized and recorded in their own names, or in their companies' names.
A deed that's recorded this way, although recorded with a fraudulent purpose, nevertheless represents the title's transfer into the name of the house thief. After stealing the home from its unsuspecting owner (or from its dead owner's estate), the underhanded deed holder can now sell the house off to someone else, who likely has no idea of the fraud in the chain of title.
Sometimes, the defrauded homeowner is disabled or elderly. And the perpetrator might be a friend, adviser, or relative. People with an intent to exploit an owner's vulnerability might press the homeowner into signing a power of attorney document before conveying the title.
What does this mean for all of us? Whether someone we know is elderly, has recently died, or has moved out of the home, it's important to check on an empty house. When we take extended trips, the same rule applies.
Today, homeowners can also register their addresses with automatic fraud guard or alert systems, which are available in many counties. These free alert systems let property owners receive emails whenever documents get filed in the county under their names. Counties are increasingly adopting methods of detecting title fraud and notifying homeowners, who can then get law enforcement involved in the case.
Houses Are More Valuable Than Ever. Guard Yours Closely.
Homes are more expensive than ever. For most people, they are a key store of value and a financial cushion. It's no wonder house titles are sought by professional cheats. And with transactions able to take place virtually, title thieves and hackers may collaborate and share their gains.
The most recent full-year report from the FBI lists 11,578 real estate and rental scams in 2021, amounting to $350,328,166 in losses. And that's just the reported losses.
The lion's share of those ill-gotten gains were taken through wire fraud during the course of home purchases. Theft of the purchaser's closing funds now make up close to half of all internet crime takings. Anxious home buyers, of course, can be vulnerable. The competitive market has made these high-stakes transactions extremely stressful. After closing, new buyers might encounter other manipulations, such as deed recording scams.
☛ Has a deed recording service sent you marketing notices? Get familiar with deceptive deed recording letters.
And then there's the fraudster who preys on vacant homes by perpetrating:
Title or deed theft. These thieves procure the title by fraud or forgery, then quickly sell the houses. Sometimes, they impersonate real estate agents, to create a sense of legitimacy around the title transfer.
Rental scams. Nothing like seeing your home listed for rent, with photos, on Facebook or Craigslist. People trying to act fast to get someplace to live may skip the vital process of confirming that the home really is for rent, and the owner is who it's supposed to be. They might send money and identifying personal data to interstate or international fraudsters.
Piggy-backing on actual rental listings. This one is making the news in the Dayton, Ohio area now. Sleazy internet users are finding homes for rent through online channels. When they confirm that a rental house is empty, they apply to rent it. The manipulative renter then quitclaims the homeowner's deed into their own name.
A victim of fraud could be completely oblivious to what's going on for months, paying bills for a home that is now titled in someone else's name. Unfortunately, this is a fairly common.
What's the Best Action to Take for a Targeted House?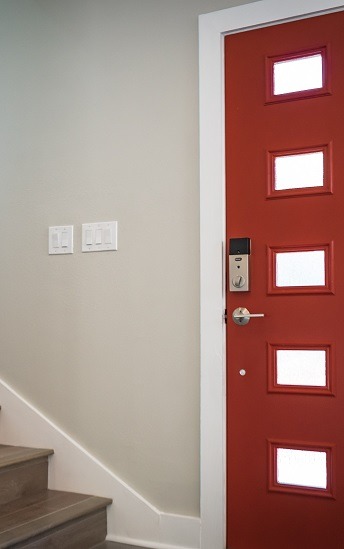 Stay on the lookout if you've left a home empty or know someone else who has left a home vacant. Real estate scams are on an upward trend.
If a home you know about is empty and mischief's afoot, don't hesitate to report the problem. Reporting quickly may assist in the recovery of funds in some cases. And it can also pinpoint bad actors and potentially stop someone else from being exploited.
☛ Need to check on your deed? Look it up in the county's online registry system. Owners may also get copies of their house deeds here on Deeds.com.
Please note that Deeds.com cannot provide legal counsel. To get legal advice, call a lawyer who can examine the facts and the current, applicable law.
It's Not Just About the Deed. Physical Issues Arise in an Empty House.
Water can ruin an empty home. If tree branches fall and a roof begins to leak, people who live in a home normally address the matter. In a vacant home, no one may notice the moisture that begins to seep throughout the home.
Tree roots can eventually get into sewer lines, causing water to back up and flood homes. In winter, water freezes in concrete, helping to break down the base or structure of a home. In very cold winters, with nobody at home to run a drippy faucet or point heat into cabinets where pipes come in, the pipes can freeze and burst.
Year round, without the HVAC and plumbing systems running, water tends to become lukewarm, which promotes buildups in pipes, along with leaks and mold.
In the dry states of the Southwest, the ground cracks around homes. Foundations can start to shift and gradually weaken the house.
Finally, insurance will stops covering any home left unoccupied for too long.
The takeaway? It's best not to hold on too long to an empty house. And it's vital to check in on things until a house resumes its role as somebody's home-sweet-home.
Supporting References
Bryn Caswell for Dayton 24/7 Ohio (WKEF): Quitclaim Deed Scams – How to Protect Your Real Estate From Being Stolen (Apr. 20, 2022).
WHIO Miami County, Ohio / Cox Media Group:  Area Man Almost Loses House to Deed Scam; Fraud on the Rise During Pandemic (Apr. 28, 2022).
Christopher Wheelock, Lewiston, Maine Sun Journal: Real Estate Fraud in Maine Rising as Scammers Take Advantage of Tight Housing Market, Desperate Buyers (via Yahoo News; May 1, 2022).
The [Phoenixville] Mercury: Chester County Launches Operation Fraud Guard (updated Sep. 23, 2021).
And as linked.
Photo credits: Maria Orlova and Gerritt Tisdale, via Pexels.