Many people look for workarounds in an off-putting real estate market. For a lot of buyers who simply seek a decent home to own, bidding wars aren't winnable.
Shut out of a seller's market but refusing to give in, some people are co-buying as tenants in common. And some are willing to "hack" homebuying — alone or as tenants in common — by renting out sections of the buildings they buy to others who need a roof overhead. After all, the shift to remote-first work creates new chances for homeowners to rent out rooms in various places. And fair rental opportunities are very much needed.
So, our hats are off to determined buyers who refuse to be left out of this market. Their decision to pool resources can be the perfect answer to high down payments and strict lender criteria.
Now, let's take a look at reasons not to do house hacking. Looking at the downsides can help a buyer decide whether it's the best answer — or not — to the tricky question of how to buy when prices are soaring.
"House Hacking": It's About Buying a Home With the Intent to Live in It and Rent It Out.
House hacking is really just a new name for living in one part of a purchased home and renting out another section, so the income from the rental part of the home helps cover the expenses of ownership. Multiple residents in one building can cover the debt burden, and the buyer might achieve ownership for less than the cost of renting. House hacking has helped some determined buyers succeed in a housing market that's stacked against them.
Some people who buy their homes this way enjoy being investor-owners. Others just want enough financial success to move on to the sole homeownership they sought in the first place. Either way, house hacking is an adventure and a learning experience.
☛ Isn't it cheaper just to keep renting? Maybe, and maybe not. In many locations throughout the United States, homeownership is cheaper than paying rent.
Government-sponsored loans like the popular Federal Housing Administration mortgage (FHA loan) is available for a house with rented sections (up to a 4-unit home), as long as the building is the buyer's primary residence. Freddie Mac's Home Possible® is another option.
Possible Pitfalls in House Hacking? Here Are the Most Common Ones.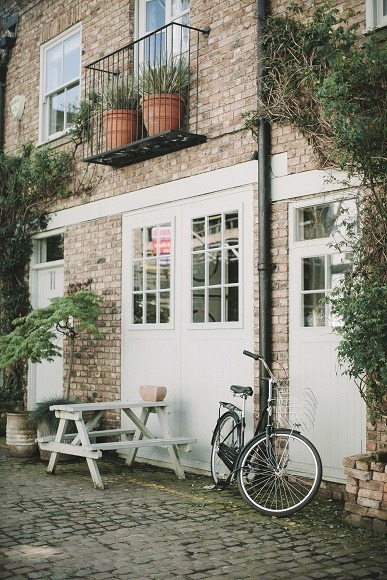 What are the typical buyer's pain points? The investor-buyer faces:
Extra recordkeeping. House hackers are not just homeowners. They're small business managers. Given the business expenses, taxes get more complicated. And another thing. Investor-buyers must look out for rental restrictions, city taxes, and rental property taxes wherever they decide to buy.
Extra housemates. A well-written lease can go a long way to establish boundaries. Many buyers choose duplex, triplex, or quad properties to ensure privacy. Others buy homes with accessory cottages. Basement or upstairs units could work, thanks to separate entrances, kitchens and bathrooms, and separate thermostats, laundry rooms, and patio spaces.
People skills are involved no matter what. And planning for the worst is essential. A rainy-day fund is important, as relying on someone else to cover expenses carries built-in risks.
Extra work. Owners of rental units need time to find and vet new renters, and track down payments and bills. Some investor-owners decide to set up businesses (such as LLCs). Deciding to register a business involves studying and following the state's process for registering and running the business, and keeping separate business and personal financial accounts.
Some buyers maximize their returns by choosing a house that needs repairs. This can pay off, but here, too, it takes time to do the necessary work.
Extra insurance payments. Private mortgage insurance payments are normal components of a mortgage with less than 20% paid down on the house. Regular rental income can bring the equity up to where the buyer can have this extra charge lifted (by refinancing if necessary). On the bright side, insurance premiums are generally lower when an owner lives on-premises than they are for remote rental properties.
Buyers should talk with their homeowner's insurance reps and discuss landlord insurance, and have residents carry renter coverage for their personal possessions.
Extra research. Renting out space means following the pertinent housing and business laws. These involve zoning restrictions, safety, permit compliance, anti-discrimination standards, and more. Additional rules come up if the purchase is on a condo property or other development where a homeowners' association (HOA) could cap renting. Buyers need to be aware of any covenants and restrictions that might impact investment use of the home.
Moreover, buyers must note that localities and associations do have procedures to adopt new regulations. Rules can change, and property owners could have to adjust. Owners who don't follow applicable rules can face penalties. A real estate attorney may be necessary to answer case-specific questions.
The buyer also needs to be prepared to invest a good deal of upfront money for the house hack. There's the down payment — although most house hackers seek to purchase with a low down payment, as rental income will be the source of mortgage repayment funds. There are closing costs. There's whatever amount is necessary to get the house in shape for the rental purpose. Getting the house in shape will be an ongoing process, as rental properties tend to draw extra wear and tear.
So, Why Do House Hackers Do It?
Because it's less money up front than the 25% down payment on a regular investment property.
Because living in an investment property allows the owner to keep watch over it, and be a present, active member of the local community.
And, well, because it beats renting, and paying an apartment company every month. Bonus points for property appreciation and real estate tax deductions for a rental property.
☛ Investor-owners should know about the IRS 1031 exchange. It defers taxes for people who use the value built up in one investment property to upgrade to another. It's still available in 2022. Here's how the 1031 exchange works.
Almost by definition, house hackers are creative. Some hire property managers to keep all the paperwork straight and legally compliant. Others use property management software to screen renters, create and update leases, set up automatic payment features for renters, and establish communication lines for work orders and rental account information.
Whether the investor loves the business or just needs to hack the market, buying a home builds equity and vests the owner with something to sell later. Those buyers who divide their properties into multiple units often increase their ultimate profits as they convert a property into condo units.
In short, house hacking is one way to create win-win situations in a very challenging real estate market. By anticipating the pitfalls, buyers are better able to achieve success.
Supporting References
HUD.gov / U.S. Department of Housing, Federal Housing Administration (FHA): Single Family Housing Handbook 4000.1.
Engelo Rumora for BiggerPockets.com: House Hacking Isn't for Everyone — Should You Skip This Strategy? (Jul. 2021)
Deeds.com: Investing in Real Estate? Five Trends and Themes to Watch in 2022 (Jan. 17, 2022).
Deeds.com: The "House Hacking" Trend: When a House Is a Rental Property Too (Dec. 28, 2020).
Photo credits: Kelly L and Lina Kivaka, via Pexels.