KeyBank®'s new Fair Housing Month poll takes the pulse of households earning less than $75,000. It asks homeowners how they feel about their encounters with home purchases and mortgages.
The poll says many people don't look into information on home buyer assistance, and might simply not know these opportunities exist.
A Third of Homeowners Don't Feel Sure Their Deals Were Fair.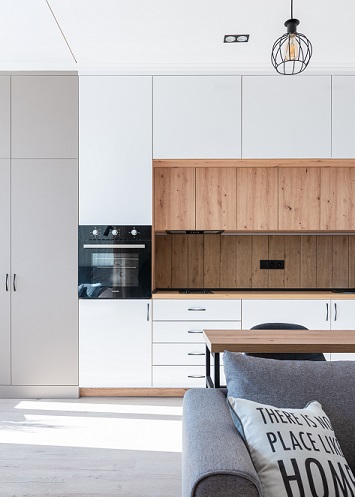 Respondents who bought their homes in the past five years reported focusing on location and pricing. A good number of these homeowners question whether deals were completely fair. Some believe they overpaid.
And how many homeowners have ever heard of Special Purpose Credit Programs? These can help meet the needs of modest-income households by extending credit to buyers who'd otherwise face mortgage denials or hard-to-meet mortgage terms.
To help hopeful home seekers, KeyBank says it's pledged more than $25 million in grants and fee waivers over five years to increase mortgage accessibility. The regional bank has also pledged more than $1 million for buyer education and community support.
Keybank says it is:
Doubling its buyer closing credits (to $5,000) to help households cover the costs of purchasing, borrowing, paying taxes on, and insuring a home.
Launching the Key Opportunities Home Equity Loan. The fixed-rate loan for eligible borrowers has no origination fee, and offers financing up to $100,000.
First-time buyers and borrowers in marginalized groups, KeyBank says, "are often at a disadvantage when it comes to awareness of tools, resources, and affordable offerings available to help them achieve home ownership."
Enforcing Housing Affordability in Pricey Places? It Ain't Easy.
Colorado hopes to make things simpler for students, working people, and first-timers buying homes. Prices in the Denver area for houses can easily exceed $650K. Believe it or not, condos in and around Denver can cost more than $400K.
Some towns have embraced deed-restricted housing. A deed restriction is a legally binding agreement between a buyer and a town.
☛ Find out how deed restrictions impact affordability, and put certain limits on an owner's use and enjoyment of real estate.
A deed-restricted home has rules for owning or reselling. For example, the owner must work locally, have a modest income, or agree to resell only for a very small profit. The idea? A town should provide homes with some protections from shooting up in price. This way, communities exist for working people to buy into, and reasons for them to stay. That's a fair promise.
But not all deed restrictions are going as planned. Take the ski resort town of Breckenridge. There, officials are considering installing a lottery system after recent "rumors" that a county commissioner used a workaround to sell her own deed-restricted home for a profit.
Spencer Wilson with CBS News Colorado reported that the commissioner got called out by a neighbor for auctioning off her shed separately to pull in more profit for her deed-restricted home. The neighbor claimed that the seller was getting five-figure bids for the shed alone.
Now, Colorado resort area homes are so off-the-charts pricey that people who get deed-restricted homes will not give them up. Or if they do, they'll figure out ways to make side deals to capture a profit. The workforce housing opportunities that were supposed to flourish due to the deed restrictions might be hitting a wall. A lottery would take away the ability of sellers to engage in side-dealings.
Meanwhile, in Vail, "More Housing Now" Draws Critics.
Colorado is considering a pair of new laws, designed to advance fair accessibility to housing. The "More Housing Now" bills are meant to help solve Colorado's housing crisis. But some of the potentially affected town officials say they're poorly designed. They would offer incentives to expand the state's overall housing supply but they wouldn't deal with the consequences, say the critics. The results of more housing accessibility is sprawl, congestion, added water and energy use, and the need to ensure real affordability. Critics also say state lawmakers aren't accounting for salaries that are normal for resort markets. ​
Throughout the decade of 2017 to 2027, the resort town of Vail is creating a thousand new deed-restricted homes, to get to a total of 1,700 affordable units. Generally, to be in compliance with the typical Colorado resort town deed restriction, the home must be occupied by a locally employed person. The owner of a deed-restricted home may not be an absentee owner.
As we might imagine, all of the new deed restrictions need potential enforcement.
And now, Vail's town council has "adopted a zero-tolerance policy" for deed restriction offenders. This year, the town is bringing enforcement actions to bear on 31 deeds.
Most of the households met the February deadline for reporting and documenting compliance with the local Housing Department. But 45 households didn't turn in their paperwork on time. Each of those households got an extended deadline and a $250 fine for late reporting.
Some missed their second deadlines, too. This means they may have to show up at municipal court hearings in misdemeanor cases. The Vail Police Department sends out summonses to owners who fall out of compliance. Court fines can go up to $999 per compliance failure.
☛ Housing is too expensive or hard to find in many key areas of the country. To cater to more modest-income buyers, some towns encourage property owners to add accessory dwelling units (ADUs) to their land. The addition of these small homes, or sections of homes, creates multi-unit properties.
Some town leaders are also critical of the way in which lawmakers promoted ADUs. They say the right deed restrictions were never created for these additional homes. So, the ADUs might or might not help towns reach affordability goals. Some households, critics say, built ADUs to have as their own extra housing units.
Let's Not Lose Sight of the Goal: Fair Housing.
So, how did April get picked as Fair Housing Month? It was April 1968 that President Lyndon B. Johnson signed the federal Fair Housing Act into law. The law targeted deliberate segregation in housing. It bars unfair discrimination against people in particular groups as they engage in housing transactions. Unfair discrimination could be based on color, race, ethnicity or national origin, religious beliefs, family status, sex, sexual orientation or gender identity, or a disability.
As members of communities, we can all contribute to social fairness. And fair access to housing is an essential part of that goal.
Supporting References
Spencer Wilson for CBS News Colorado (CBS Broadcasting Inc.): Breckenridge Considers New Deed-Restricted Housing Regulations After Public Official Sale Rumors: "Outrageous Lies" (Feb. 27, 2023).
Ali Longwell for VailDaily.com (Swift Communications, Inc.): Vail Begins Enforcement for 31 Non-Compliant Deed Restrictions (Apr. 6, 2023).
Josie Taris Swift for The Aspen Times via AspenTimes.com (Swift Communications, Inc.): Local Officials Say State "More Housing Now" Plan Ignores Rural Resort Needs (Apr. 11, 2023).
PR Newswire (Cision US Inc.): KeyBank Poll Finds 1 in 3 Surveyed Homebuyers Unaware of Affordable Home Lending Offerings (Apr. 11, 2023; announcing findings from KeyCorp®'s February 2023 Home Lending Poll).  
Deeds.com: Dramatic Transformations – Producing Homes for People in California and Colorado (Aug. 15, 2022).
And as linked. Photo credits: Max Rahubovskiy, via Pexels.