House prices are ridiculous. What's going on with the costs of building a house? And is relief for the consumer anywhere in sight?
Let's take a look.
What We Buy When We Buy a House
Real estate involves three major cost inputs:
Land. It's a finite substance, becoming ever scarcer. In an era of climate change, we're even losing habitable land in some areas of the country. Land, no wonder, is expensive. Its cost makes up about a third of a home's price.
Raw materials. Bank of America says the raw materials required to build a house went up 42% over the past three years. The reasons? Pandemic-related manufacturing and shipping slowdowns. That's a $35,000 price hike per house. Today, total raw materials in the typical freestanding house cost $118,000 — another third of the building costs.
People. Finally, workers who actually build a house make up the other third of a home's value.
The Materials Builders Need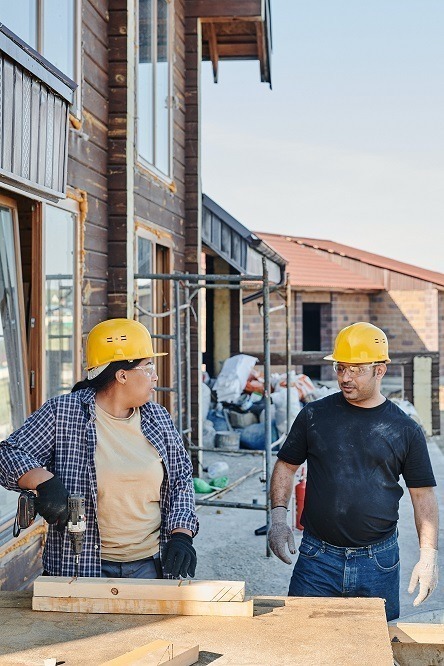 The typical house is made mostly of:
Wood. The cost of lumber in the typical home is about $35,000. Lumber costs reached an all-time high in 2021. They've backed down a little since then. Still, more than 90% of builders say they face shortages of wood for house frames.
A concrete foundation. The cost runs about $10,000 – $11,000. Concrete relies on the availability of cement. Would you believe there's a cement shortage?
Windows and doors. These are in high demand, taking months for orders to arrive. Their scarcity is a major bottleneck in home construction right now. Here, too, the total cost runs about $10,000 – $11,000. Add the cost of garage doors to that figure. They're hard to find as well.
These figures don't take into account the part-year numbers from 2022, and we know inflation keeps rising. This means tiling, wood and laminate flooring, cabinets, electric equipment, and furnishings are getting more expensive. Fuel costs increase the shipping rates for all of it.
There are wait lists for basic kitchen appliances. And plumbing? That's in the throes of a worker shortage. Builders now need at least eight months to create a house. That's twice as long as the pre-pandemic timeline.
How Building Trends Are Failing Ordinary People
Demand for homes is still very high. This, despite mortgage interest rates now hitting the 6% mark.
People who can afford to buy will pay these high prices, because homes are scarce. Would you believe the median price for an existing home (not new construction) went up nearly 15% year-over-year, hitting $407,600 in May 2022? It's a fact. And Redfin has just published a June median selling price upward of $428,000!
When homes are expensive, renters pay more, too. Today, nearly half of U.S. workers can't afford to rent a one-bedroom apartment. They need to make $20 an hour — and nearly half the work force doesn't.
☛ In May 2022, the Biden administration announced an "all of government effort" to deal with the home shortage. The White House intends to open new housing possibilities, curbing costs for both buyers and renters. The administration is also making moves to reduce competition from corporate real estate buyers. Here's the lowdown on the Housing Supply Action Plan.
If you happen to be one of the folks who bought a house a few years back, nice going. You have seen record rises in home equity. Those still trying to buy, though, are facing unbelievable asking prices. And given the slowdown in housing availability, some real estate companies, Redfin and Compass included, are laying off employees. They're anticipating difficult times ahead.
Industry analysts say supply chain bottlenecks and personnel shortages could easily last beyond 2022. Inflation has topped its highest rate four decades. Seems consumers are becoming more wary — and weary — than ever.
Where Have All the Workers Gone?
Builders say they are looking for people to hire. Perhaps surprisingly, a shortage of workers is now considered the biggest hurdle for the industry to overcome.
Where are all the construction workers? Many are retiring. Many more are leaving for other industries with sharply rising pay scales. Builders are having to pay a lot more to attract new entrants. Then, they have to train them.
What about the migrant workforce? Nearly one in three construction workers is a noncitizen. But many haven't returned to the jobs since the onset of the pandemic.
Now, builders are looking for more than half a million skilled workers to fill the vacancies. According to the trade group Associated Builders and Contractors:
In 2023, the industry will need to bring in nearly 590,000 new workers on top of normal hiring to meet industry demand, and that's presuming that construction spending growth slows next year.
The effect on the market is clear. Some homeowners have delayed selling their homes, waiting for companies to be able to handle the necessary repairs and upgrades.
These Days in Real Estate… Less Is More
So, how are builders still making houses? Portion control seems to be one strategy. The average U.S. home's footage is gradually lessening, observes Bank of America. Average square footage shrank notably after the global financial crisis.
Many builders are also aiming to create more townhouse-style homes, multi-unit properties that the first-time buyer population can afford. They know people need modestly sized and priced homes. This is why, gradually, support for upzoning is making headway, eroding single-unit-only zoning in a number of cities and towns. Upzoning, which the Biden housing plan promotes, leads to:
Townhouses, duplexes, and developments with small units, such as condo associations.
The building of Accessory Dwelling Units (ADUs), or smaller cottages added to single home properties.
Housing based on the streamlined use of land and amenities, like co-ops.
Because builders can't sell homes that they can't get materials to make, the trend in smaller floor plans will continue.
What's Ahead? Tech Solutions?
Modular homebuilding technology can produce new homes, especially smaller homes, relatively quickly. New concepts like architecture software and 3D printing can crank out housing without the need for a full team of construction workers on a building site. And training courses for workers who will use the technology can be absorbed relatively quickly.
But these technologies are still in the early-adoption phase. Whether they will expand, drop in price, and prove themselves in the market is yet to be seen. We'll be watching their progress.
Supporting References 
Aarthi Swaminathan for MarketWatch: Home-Building Costs Rise at "Unprecedented Rate," Bank of America Says. These Materials Are Proving Particularly Expensive (updated Jun. 13, 2022; discussing Bank of America's 2022 "Who Builds the House" report, released June 8).
Terry Collins for USA Today: Few Workers. Slow Supplies. Why You'll Be Waiting a While for That New House to Be Built (Jun. 16, 2022).
Chris Arnold for WVIA/NPR: There's Never Been Such a Severe Shortage of Homes in the U.S. Here's Why (Mar. 29, 2022).
Associated Builders and Contractors News Release: Construction Industry Faces Workforce Shortage of 650,000 in 2022 (Feb. 23, 2022).
Patrick Sisson for Bisnow.com: The Construction Labor Shortage Is Set To Intensify Over Next 6 Months (Jun. 28, 2022). 
And as linked.
Photo credits: Ksenia Chernaya and  Mikael Blomkvist, via Pexels.