The fully digital real estate closing is coming. The technology is here. The mortgage industry is exploring its potential — with retail demand leading the way.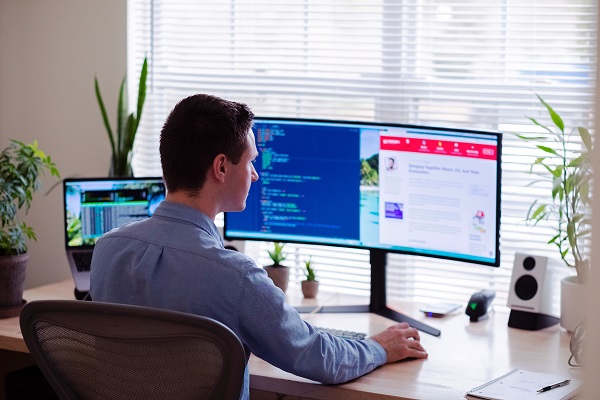 Remember your first encounter with the mortgage world? If you're like many people, yours was a nerve-wracking paper chase in slow motion. Each mortgage can generate hundreds of pieces of paper, and easily take a month or more to close. The process is one of the last bastions of paperwork in a digital age.
But sharp advances started occurring in March 2020, when mortgage lenders had no choice but to set up remote operations. Then the federal government cut interest rates. There was a surge of interest in refinancing. Mortgage companies scrambled for ways to automate processes and collaborate online. We witnessed a sudden outcry from the California Lawyers Association for remote online notarization — an initiative that only months earlier just seemed too…upstarty.
The mortgage tech platform Rocket Companies, launched by Quicken Loans, debuted on the New York Stock Exchange in August 2000. Other companies — Lenda, SoFi, Sindeo, FormFree, Better.com, Zillow Home Loans and more — also have high-tech lending experiences to offer home shoppers.
Are the Digital Mortgage Platforms as Easy as They Seem?
A well-built digital mortgage portal makes document sharing simple, and transforms a previously opaque process into something user-friendly, efficient, and transparent. A typical online application could take an hour or so to fill in, and the overall process can cut approval time in half. The biggest selling point is the speed.
But some home shoppers say the platforms are administration-heavy and rigid, making case-specific interest rate decisions and exceptions difficult. As with tax returns, using an online platform is best if you're working with a straightforward, simple set of circumstances. If you get paid a salary or hourly wages (if you have W2s rather than 1099s), and you have a good credit score, and you don't have multiple properties, then a DIY mortgage on a digital platform should work without a hitch. A mortgage banker can help complete your approval in any case, once you have all the data inputs finished.
Are Digital Mortgages Riskier?
In some ways, digital mortgage platforms might reduce risk. They employ artificial intelligence to support dependable risk analysis. They produce transparent financial data, so the buyer's identity, assets, income and debts can be easily reviewed and understood by lenders and customers. Experian notes that financial tech allows loan companies to pull data from a range of sources — not just credit card use, but also car payments, rent and electric bills. This raises the bar, and now financial institutions are following suit by broadening their customers' credit data profiles.
Digital lenders are applying debt-to-income standards and verifying borrowers' finances to ensure their applicants are capable of repayment when the approval is issued. The guidelines applicable to traditional mortgage companies will generally apply to all lenders, including the digital companies.
At the end of the day, the product these platforms deliver are the same loans you'd find with traditional mortgage specialists. In fact, platforms that aren't owned by lending institutions have to sell buyers' accounts to secondary markets where the actual capital for the loan is available.
What Is the Customer Experience Like?
To look at how they work, let's take a specific example. Consider the very high-profile Rocket Mortgage digital loan platform from Quicken Loans, accessible on a computer or phone.
First, we need to differentiate Rocket Mortgage® from Quicken Loans®. Your area real estate experts might already work with Quicken, whose process takes place in person and through back-and-forth over phone calls. Rocket Mortgage is the digital edition. As the same corporation stands behind them, standards for loan approval will be identical between the two. In other words, use Rocket Mortgage and your loan is processed by Quicken.
Rocket Mortgage offers applications to buyers (with choices like "See What You Qualify For > Buy a Home") and to refinancers ("Refinance > Lower Your Monthly Payment"). Using Rocket Mortgage, customers may apply for conventional loan with Fannie Mae and Freddie Mac guidelines, or government-backed loans with the Federal Housing Administration, the Veterans Administration for former service people, or the U.S. Department of Agriculture for rural real estate.
You can select repayment terms, down payment choices, and fixed or adjustable rates. Most buyers' credit data and financial accounts can be populated right from financial institutions into the online form. Income and employment information can also be imported for many people. Help videos and the option to chat with a licensed mortgage pro are readily available.
After all your preferences and permutations are in the system, Rocket Mortgage calculates what you qualify for. Download your pre-approval letter, lock in a rate, and you're ready to go ahead with your transaction. Payments are easy to make, and it's simple to eSign the documents for the underwriter's examination and to schedule the closing date.
What Are the Disadvantages of the Online Mortgage Experience?
Rocket Companies and some of the other online loan companies are well known, and national in scope. The other side of the coin? Sometimes the seller's agent will insist on a pre-approval letter from a local or regional bank rather than a nationwide platform.
Keep this in mind, too, when you make your decision: The online experience doesn't replace local experts. A great local real estate agent knows at least one local mortgage specialist, and knows how to help buyers get to the right place for an approval. Local lending companies tend to have a network in the real estate sphere, including title insurers and home appraisers, that may be helpful if friction comes up in a transaction. A relationship with a mortgage specialist could get you through an underwriter's challenges. Local professionals can use what they know about your background — things gleaned from sitting down with you and talking through any perceived shortcomings as a borrower. They can help you raise a credit score, possibly making the difference between a government-backed loan and a less expensive conventional loan, or between having to pay private mortgage insurance or not. And while your local mortgage specialist might insist on a larger down payment, it makes sense to put enough down to make a substantial investment from the outset and start building up your equity.
On the platforms, origination fees may cost up to about one percent of the loan amount. Some platforms fold fees and costs into the interest rate — which could nevertheless be lower than traditional lenders' rates. It's a good idea to compare the platform's rates with those of local lenders, because small differences amount to tens of thousands of dollars over the course of a mortgage. Be sure to compare the same quote. Will the platform expect you to pay points to get the advertised rate? Will the rate be the same for the loan amount you need?
More Choice Means a Better Environment for Loan Customers
Overall, there is a place for mortgage tech in the real estate world. Startups are now competing with—and putting some pressure on — the country's biggest banks. This means large banks are now becoming more agile, more transparent, and more likely to reduce their paperwork and introduce high-tech replacements.
The current high demand for loans is helped by new entrants and more consumer choice. This could keep big banks more competitive and more engaged with their customers. All in all, then, mortgage tech is a net positive; and we can expect to see many advancements in this area in the coming years.
Helpful References
Mortgage Bankers Association, Research and Economics.
Kate Rockwood for Inc., Buying a House Is Miserable. These Startups Are Trying to Help.
Photo credit: Luke Peters, via Unsplash