Are Federal RON Standards Coming?
When people buy homes, they have the deeds notarized and publicly recorded in the home's city or county. Traditionally, people have always gone to the notary public in person. This is changing.
Since the Covid-19 pandemic disrupted in-person business, the world of real estate has accepted that home purchases and mortgage agreements can occur from a distance.
Remote online notarization (RON) uses an online platform to carry out a notarization, with the signer in one place and the notary in another. (Hence the word remote. Note that RON is one step beyond eNotarization, which uses an electronic form of notary seal, but happens in person.)
Just two years ago, remote technology for home purchases was considered futuristic and risky. Today, for many people, it's enabling transactions when in-person meetings have to be placed on hold. It's turning homeowning hopes into realities. The key reason it's gaining acceptance? It's safe.
Mortgage Borrowers Warm Up to RON's Anti-Fraud Safeguards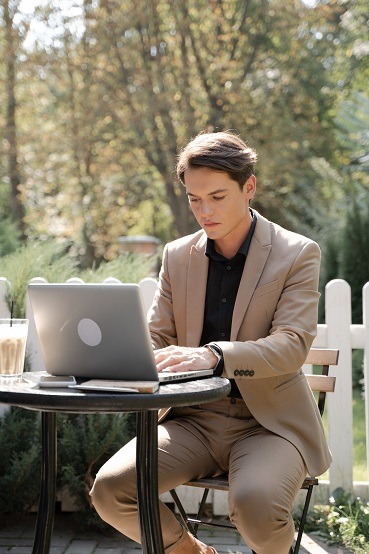 The CEO of the American Land Title Association (ALTA), Diane Tomb, calls remote online notarization "one of the title industry's most important tools" in adapting to society's current needs. In a recent press release, ALTA cited Virginia's Champion Title company, whose survey of home buyers found:
97% of respondents who closed remotely on their Virginia homes consider RON a trustworthy process.
95% would suggest remote closings to other people.
Virginia, an early adopter, has had RON for a decade. The state paved the way for other states to follow. The Mortgage Bankers Association and the American Land Title Association have lent their heft to the trend, constructing model legislation for states to use or adapt.
State laws already address electronic signings, notarizations, and document recordings. RON adheres to these rules, and enhances them. What features ensure that the customer is using a safe method? The person who signs the document has to present multiple forms of identification — and these are vetted. Copies of identification and AV recordings are digitally stored as proof for seven years or the time required by state law.
While a range of AV software can be used to witness signings, using a dedicated RON platform is the safe way to go. By creating and securely storing a digital history of everything that happens to the recorded instrument, dedicated RON platforms make document execution more resistant to fraud and fakes than the traditional, in-person method. The notary prepares the RON certificate with software that detects and signals any changes to the files, to avert deed fraud.
As an additional safeguard, a state can require upfront notifications that notaries will be working with documents from a distance. For example, Pennsylvania states:
[B]efore the notary public performs any notarial act with respect to an electronic record or notarizes a record for a remotely located customer who is appearing before the notary by means of communication technology, the notary must notify the Department of State that the notary public will be doing so.
States Create Guidance for Remote Online Notaries
According to ALTA, RON is popular in Florida, Texas, and throughout the Midwest as well as Virginia. And a majority of states have enacted RON statutes. The state statutes lay out the terms by which notaries may use audio-visual technology to notarize and record — sometimes interstate, or even internationally, depending on the state. Under a number of states' laws, such as New Mexico's RON statute, the states provide regular courses and tests so notaries maintain proficiency.
Fannie Mae and Freddie Mac have also issued guidance for notaries. They have urged notaries to require government-issued proof of identity with the person's signature and photo, and multi-factor sign-in technology. They have further guided notaries to use electronic journals, with all audio-visual evidence protected by secure backups.
Which leads us straight into the possibility of a federal law enabling RON. It's time, say ALTA and key players in the mortgage industry. The National Association of REALTORS® agrees. And American Council of Life Insurers CEO Susan Neely says it "makes sense to embrace remote online notarization as a permanent innovation." The Credit Union National Association (CUNA) also finds RON safe — and necessary. These groups believe it would be sound public policy to have a uniform set of standards, including rules for witnesses. And we can expect to see safeguards such as multifactor authentication and fraud-resistant features.
If passed, a bipartisan bill will authorize RON's "immediate nationwide use" across the country.
Digital Closings Making Real Estate More Accessible and Inclusive—and Safe.
Digital closings promote accessibility. This means more customers who wouldn't have been able to close in person now can. These customers can overcome transportation challenges, disability and health obstacles, or the need to juggle employment and childcare schedules while attempting to buy in a competitive market. In a time of virtual learning, buyers' and sellers' childcare needs have been especially pressing.
Some buyers cannot easily leave their workplaces, yet they could easily handle a digital closing on a break in the workday. Because it involves digital documents which are signed electronically, RON also allows for a simpler experience than having stacks of paperwork and having to physically go through them, and sign them all with pens and ink.
Some buyers need to buy from out of state or out of the country. RON irons out these wrinkles and helps everyone have practical access to the closing process.
☛ Buying U.S. real estate from outside the United States? Take a look at the Deeds.com guide to international home buying.
All factors considered, remote notarization has emerged as the most helpful way to keep closings safe and accessible, allowing real estate transactions to move ahead in the face of impediments.
Words to the Wise from Deeds.com
Thinking of using remote notarization? Your agent or mortgage specialist can go over your state's guidelines with you. RON in some jurisdictions can only be done with a lawyer's oversight. The signer and notary have to be in the same state in other jurisdictions.
In any case, when you're buying a home, title companies and notaries are required to know and adhere to the RON laws of their states. Underwriters and banks will have their own rules.
And if you feel strongly opposed to RON, know that even in RON states, in-person notarization is not dead! It's available, and it's still the standard with many mortgage lenders.
Supporting References
American Land Title Association: Checklist for Conforming Laws Related to Remote Online Notarization ("RON").
ALTA Blog (American Land Title Association): Consumers Call Remote Online Notarization Process Safe, Secure (Aug. 5, 2021).
ALTA Blog (American Land Title Association): GSEs Issue New Guidance on RON, Powers of Attorney (Mar. 31, 2020).
Credit Union National Association: CUNA Backs "Commonsense" SAFE Banking Act, Remote Notary Amendments (Sep. 22, 2021).
Tim Glaze for HousingWire.com: Senators Reintroduce Bill to Allow Remote Online Notarizations (May 17, 2021).
National Association of Secretaries of State: Remote Electronic Notarization (updated Sep. 22, 2021).
Pennsylvania Department of State: Electronic/Remote Notarization (updated Nov. 4, 2020).
Deeds.com: Notaries Go Remote: A Digital Shift Is Changing Notary Language (Apr. 14, 2021).
Deeds.com: Deeds by Distance: Which States Are Moving to Remote Notarization? (Oct. 5, 2020).
Deeds.com: Remote Notarization of Real Estate Deeds (Mar. 27, 2019).
Photo credits: Helena Lopes, via Unsplash, and Pavel Danilyuk, via Pexels.