Looking for homes in and around Salt Lake City? In just the past three years, home prices in Weber, Morgan, and Davis counties are up more than 40%. Forbes recently cited data from March 2023, showing the median sale price for a Utah home at nearly $526K. Demand just won't quit.
More people are coming into the state, attracted by a vibrant job market. So, Utah lawmakers have been working to fill the need for attainably priced housing. Here's what they've come up with so far.
Apartments Aren't Enough: Help for First-Time Home Buyers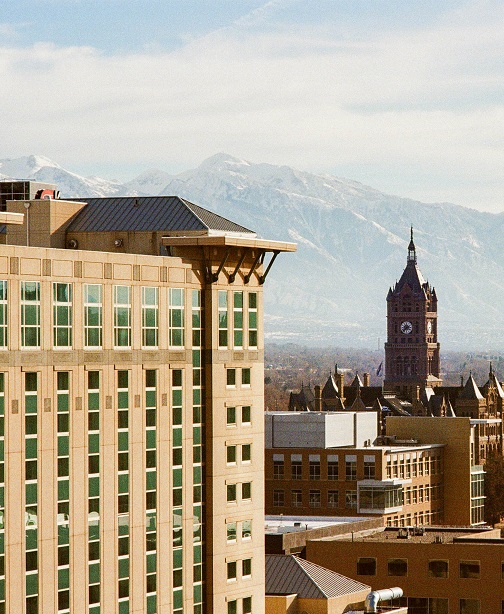 According to the Rocky Mountain Homes Fund, Utah's rental prices have, for years, risen 5% to 7% annually. A one-bedroom apartment in Salt Lake City costs nearly $1,800 a month. That's not affordable for many working people. Plus, it means they miss the chance to build equity. Oh, and another thing. Renters don't share in any tax breaks for paying down the mortgage.
Early in 2023, powered by low-interest loans from the Redevelopment Agency, developers put 888 new rent-subsidized apartments on the Salt Lake City market. But the Utah Senate's president, Stuart Adams (R-Layton), says Utah should "get people out of their apartments" and support them as they buy homes.
Adams has sponsored a bill to revamp Utah's homebuyer assistance provisions. The new legislation sets aside $50 million to lend to first-time home buyers for newly constructed homes priced at $450,000 or less. The law is S.B. 240, the First-time Homebuyer Assistance Program. Home buyers may apply for funding when the program debuts shortly after July 1, 2023.
Under federal law, a first-time home buyer is broadly defined to include anyone who hasn't owned their primary residence in the last three years. A buyer can apply for as much as $20,000 from the Utah Housing Corporation. The loan can cover a permanent mortgage rate buydown, the down payment, or closing costs.
Buyers repay the funding when it's time to resell or refinance, but the home equity they build up is theirs to keep. Loan repayments go back into the fund for subsequent borrowers.
The program stimulates the construction industry and promotes the building of starter homes. The Utah Housing Corporation says rolling out the new provision will "assist approximately 2,500 first-time homebuyers."
At the same time, Utah Housing Corp will fund tax credits for developers of affordable housing units. The plan is to fund the development of 600+ housing units per year, but 40,000 affordable homes are needed, says the state-created public corporation. In other words, Utah has its work cut out. Permit applications to build free-standing houses are down by a third year over year. That's the steepest drop since 2008. No wonder legislators are scrambling.
Upzoning: Normalizing Accessory Dwelling Units
Then there's Senate Bill 174. Its goal is to bring accessory dwelling units into the real estate mix.
An accessory dwelling unit is a smaller home, connected to or next to a main home.
Some are backyard cottages; some are basement or attic units. They have their own entrances and are complete living spaces. Unless they're in the main building, they also have their own plumbing, heating, electric, and HVAC equipment.
S.B. 174 will enable new construction to include accessory units. The idea is to make more housing to meet the demand. This focus rides the wave of the "upzoning" trend that's gained popularity in and around many cities across the United States.
North Salt Lake is an area where home prices rose rapidly over the past few years. To deal with demand, the city has "upzoned" itself to allow accessory dwelling units of several types:
Detached cottages and tiny homes.
Basements converted to apartments.
Second story units, including homes above garages.
Since 2018, North Salt Lake has allowed homeowners to add these accessory dwelling units, as long as they follow the city's regulations. Owners must obtain land use permits.
☛ Are you a homeowner who's thinking of adding a new living space? Be sure it's OK to do so. Zoning is just one factor. Check for deed restrictions that could rule out building (or renting out) additional units on your property.
Shared Equity: Some for Me, Some for You
Utah lawmakers have directed $5 million to bolster the Shared Equity Revolving Loan Fund. This fund helps buyers with modest incomes build equity for stable futures.
With this revolving financing opportunity, the Rocky Mountain Homes Fund makes workforce housing attainable even while Salt Lake City property values have reached astronomical levels. It's also a great perk companies can offer when they recruit employees.
First-time homebuyers who participate can get homes with no money down. And if that weren't already great enough, they can also tap into the shared equity fund to obtain an affordable mortgage payment with discounted interest rates!
As the new homeowners pay down their loans, they build equity for all participants, and for themselves. When it's time to sell or refinance, the owners keep half of their home's appreciation in value. The remainder of the equity goes back into the kitty, and new buyers are helped. This way, buyers in Utah's shared equity plan are always paying it forward.
Is This a Good Time to Buy a Home in Utah?
A decision to buy a home is complicated. Who really knows what home values will do over the coming years?
And yet, given the intense demand for housing, especially in the Salt Lake City area, Utah gets praise as a good place to invest in real estate. Utah has stunning natural beauty, a strong economy, and a job market that's healthier than most. At 2.2% at the time of this writing, Utah's unemployment figure is the lowest across the country.
Even if the United States were to suffer a marked recession, those factors will likely buoy the Utah market. Granted, analysts see signs of a slowdown in the market. Mortgage rates have gone up, and that puts the damper on buying.
By the end of 2023, charts showing the year's home sales around Salt Lake City are expected to make that slowdown obvious. That's true for the U.S. market generally, of course.
In any case, people are moving to Utah. Analysts believe the trend is poised to continue.
Supporting References
Utah S.B. 240, the First-time Homebuyer Assistance Program (2023).
Utah S.B. 174, Local Land Use and Development Revisions (2023).
Andrew DePietro for Forbes, via Forbes.com: Utah's Housing Market Is Looking Iffy In 2023 (Apr. 19, 2023).
Katie McKellar for Deseret.com: Utah First Time Homebuyer Program Approved New Construction (Feb. 28, 2023).
Adam Speth, on behalf of the Northern Wasatch Association of Realtors and published in the Standard-Examiner (Ogden, Utah): NWAOR – New Legislation Helping Tackle Utah's Housing Shortage (Apr. 28, 2023).
Tony Semerad for The Salt Lake Tribune: "Hang in There," Utah Real Estate Agents Told. What Does That Mean for Buyers and Sellers? (Jan. 14, 2023).  
Tony Semerad for The Salt Lake Tribune: Eight Projects, 880 Affordable Units Are Coming, With $8M in Help From Salt Lake City (Jan. 12, 2023).
City of North Salt Lake, Utah: Accessory-Dwelling-Units.
Deeds.com: The Rise of Accessory Dwelling Units (ADUs) (Dec. 12, 2022).
And as linked.
Photo credits: Joshua T and David Guerrero, via Pexels.