Avoyelles Parish Warranty Deed Forms (Louisiana)
Express Checkout
Form Package
Warranty Deed
State
Louisiana
Area
Avoyelles Parish
Price
$29.97
Delivery
Immediate Download
Payment Information
Included Forms
All Avoyelles Parish specific forms and documents listed below are included in your immediate download package:
Warranty Deed Form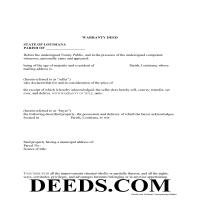 Fill in the blank form formatted to comply with all recording and content requirements.
Included document last reviewed/updated 6/29/2023
Warranty Deed Guide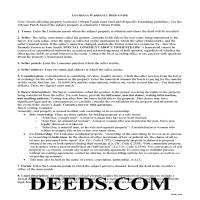 Line by line guide explaining every blank on the form.
Included document last reviewed/updated 6/26/2023
Completed Example of the Warranty Deed Document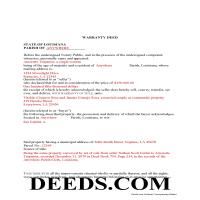 Example of a properly completed form for reference.
Included document last reviewed/updated 10/2/2023
Included Supplemental Documents
The following Louisiana and Avoyelles Parish supplemental forms are included as a courtesy with your order.
No available supplemental forms at this time.
Frequently Asked Questions:
How long does it take to get my forms?
Forms are available immediately after submitting payment.
What are supplemental forms?
Often when a deed is recorded additional documents are required by or Avoyelles Parish. These could be tax related, informational, or even as simple as a coversheet. Supplemental forms are provided for free with your order where available.
How do I get my forms, are they emailed?
After you submit payment you will see a page listing the Avoyelles Parish forms you ordered with a download link to the pdf form file. You download the forms to your computer. You will also receive an email with a link to your download page in case you need it later.
What type of files are the forms?
All of our Avoyelles Parish Warranty Deed forms are PDFs. You will need to have or get Adobe Reader to use our forms. Adobe Reader is free software that most computers already have installed.
Can the Warranty Deed forms be re-used?
Yes. You can re-use the forms for your personal use. For example, if you have more than one property in Avoyelles Parish that you need to transfer you would only need to order our forms once for all of your properties in Avoyelles Parish.
Are these forms guaranteed to be recordable in Avoyelles Parish?
Yes. Our form blanks are guaranteed to meet or exceed all formatting requirements set forth by Avoyelles Parish including margin requirements, content requirements, font and font size requirements.
Do I have to enter all of my property information online?
No. The blank forms are downloaded to your computer and you fill them out there, at your convenience.
Can I save the completed form, email it to someone?
Yes, you can save your deed form at any point with your information in it. The forms can also be emailed, blank or complete, as attachments.
Do I need any special software to use these forms?
You will need to have Adobe Reader installed on your computer to use our forms. Adobe Reader is free software that most computers already have installed.
Are there any recurring fees involved?
No. Nothing to cancel, no memberships, no recurring fees.
Areas Covered by These Warranty Deed Forms:
Including:
Bordelonville
Bunkie
Center Point
Cottonport
Dupont
Effie
Evergreen
Hamburg
Hessmer
Mansura
Marksville
Moreauville
Plaucheville
Simmesport
What is the Louisiana Warranty Deed
A warranty deed is a customary form for the conveyance of real estate in Louisiana. Deeds in this state may be referred to as Acts of Sales or Cash Sales. The Louisiana Statutes do not provide a statutory form for a warranty deed.

In Louisiana, the warranty for condition is referred to as redhibition. Redhibition is a civil action against the seller of a defective product or property, similar to lemon laws in other states. In a warranty deed, the grantor warrants the buyer against redhibitory defects or vices in the property. A redhibitory defect is defined as a defect that renders the property useless, or its use would be so inconvenient that it is presumed that the buyer would not have purchased the real estate had he known about the defects (CC 2520). In addition, the grantor also warrants to the buyer the ownership and peaceful possession of the property, and the absence of hidden defects. The seller also warrants that the property being sold is fit for its intended use (CC 2475). In Louisiana, a seller of real estate who is in good faith is allowed to limit the warranties made in regard to redhibitory defects by including a waiver of redhibition clause in the deed.

The grantor to a warranty deed must sign the instrument and have his or her signature acknowledged. Some recording clerks will require the signature to be in authentic form, which although not a statutory requirement is nonetheless a common practice in Louisiana. An instrument in authentic form requires the signature of each party who executed the instrument. A warranty deed may be acknowledged in Louisiana or out-of-state. If executed out of state, a warranty deed will have the same force and effect as if executed by or before a notary public in Louisiana (RS 35:5).

There are three different types of written instruments in Louisiana: the authentic act, the act under private signature duly acknowledged, and the act under private signature or writing. The authentic act is used for most warranty deeds and recorded documents. An authentic act is executed in writing before a notary public, in the presence of two witnesses, and signed by each party who executed the warranty deed or other instrument. Both the witnesses and notary public must sign. The act under private signature duly acknowledged is a written instrument signed before a notary public. The presence of witnesses is not required for the signing of this type of document; however, witnesses need to be present when the notary signs. The act under private signature is not used often.

Real estate deeds or Acts of Sale are recorded in the parish at the clerk of courts office in the parish where the real property (immovable) is located. The ownership of real property is voluntarily transferred by a deed (contract) between the owner and the transferee that purports to transfer the ownership of the property. The transfer of ownership takes place between the parties by the effect of the agreement and is not effective against third persons until the warranty deed (or Act of Sale) is filed for registry in the conveyance records of the parish where the real property is located (CC 517). This type of recording act is known as a race statute. Priority of documents is determined by the order of filing.
Our Promise
The documents you receive here will meet, or exceed, the Avoyelles Parish recording requirements for formatting. If there's an issue caused by our formatting, we'll make it right and refund your payment.
Save Time and Money
Get your Avoyelles Parish Warranty Deed form done right the first time with Deeds.com Uniform Conveyancing Blanks. At Deeds.com, we understand that your time and money are valuable resources, and we don't want you to face a penalty fee or rejection imposed by a county recorder for submitting nonstandard documents. We constantly review and update our forms to meet rapidly changing state and county recording requirements for roughly 3,500 counties and local jurisdictions.
Reviews
4.8 out of 5 (4174 Reviews)
Brennan H.
October 4th, 2023
I had worked for a couple of months sending things back and forth to the county and still had no success. I decided to use deeds.com and it was all done in a few hours. Such a relief! While I find this to be wrong and the county should work with property owners as well as they work with third parties, I was still grateful for this service.
Reply from Staff
Thank you for your feedback. We really appreciate it. Have a great day!
Norman J.
October 3rd, 2023
I really enjoyed your service. It was great.
Reply from Staff
Thank you!
Kristen N.
October 3rd, 2023
Very easy to use, helpful instructions and examples. I also like the chat feature and the erecording. So much better than other DIY law websites out there.
Reply from Staff
We appreciate your business and value your feedback. Thank you. Have a wonderful day!
David C.
January 17th, 2020
Very fast service
Reply from Staff
Thank you!
Logan S.
April 27th, 2020
Wonderful experience. Was preapred to wait days, recording was finished in less than an hour.
Reply from Staff
Thank you!
Fred P.
April 1st, 2021
Great website to get your state and county forms.
Reply from Staff
Thank you!
BRIAN M.
May 1st, 2020
Excellent Service, Fast and efficient. Thank You!
Reply from Staff
Thank you!
Joe L.
February 12th, 2019
Great service, and fast.
Reply from Staff
We appreciate your business and value your feedback. Thank you. Have a wonderful day!
Nancy J M.
August 22nd, 2021
Site is easy to navigate and forms are as described.
Too bad there is no secure payment link service (PayPal, Apple Pay, etc. So after I verify charge has hit my credit card I will delete my Deeds.com account.
Reply from Staff
Thank you!
Linda B.
March 26th, 2022
the forms are easy to understand. How do I go about getting the deed recorded and is there a charge.
Reply from Staff
Thank you for your feedback. We really appreciate it. Have a great day!
Omid B.
January 14th, 2021
Super efficient, extremely responsive , and above all quick turnaround. Thank you! Will definitely use your services again!
Reply from Staff
Thank you!
Roy B.
January 31st, 2021
Great way to get forms needed and fill them out then we only need to record them!
Reply from Staff
Thank you!
STANLEY F.
March 25th, 2019
Forms were spot on and able to save over $100 by not going to an attorney to complete the same documents. There were templates on how forms are supposed to be completed. You just need a notary to sign.
Reply from Staff
Thank you Stanley, we really appreciate your feedback.
john t.
November 1st, 2019
it worked well and printed out well.
Reply from Staff
Thank you!
Margaret V.
August 6th, 2019
It was easy to follow the instructions, the sample pages were a great help.
Reply from Staff
Thank you!
Legal Forms Disclaimer
Use of Deeds.com Legal Forms:
On our Site, we provide self-help "Do It Yourself Legal Forms." By using a form from our Site, you explicitly agree to our Terms of Use. You acknowledge and agree that your purchase and/or use of a form document does not constitute legal advice nor the practice of law. Furthermore, each form, including any related instructions or guidance, is not tailored to your specific requirements and is not guaranteed or warranted to be up-to-date, accurate, or applicable to your individual circumstances.
NO WARRANTY:
The Do It Yourself Legal Forms provided on our Website are not guaranteed to be usable, accurate, up-to-date, or suitable for any legal purpose. Any use of a Do It Yourself Legal Form from our website is undertaken AT YOUR OWN RISK.
Limitation of Liability:
If you use a Do It Yourself Legal Form available on Deeds.com, you acknowledge and agree that, TO THE EXTENT PERMITTED BY APPLICABLE LAW, WE SHALL NOT BE LIABLE FOR DAMAGES OF ANY KIND (INCLUDING, WITHOUT LIMITATION, LOST PROFITS OR ANY SPECIAL, INCIDENTAL, OR CONSEQUENTIAL DAMAGES) ARISING OUT OF OR IN CONNECTION WITH THE LEGAL FORMS OR FOR ANY INFORMATION OR SERVICES PROVIDED TO YOU THROUGH THE DEEDS.COM WEBSITE.
Damage Cap:
In circumstances where the above limitation of liability is prohibited, OUR SOLE OBLIGATION TO YOU FOR DAMAGES SHALL BE CAPPED AT $100.00.