Sacramento County Quitclaim Deed Forms (California)
Express Checkout
Form Package
Quitclaim Deed
State
California
Area
Sacramento County
Price
$27.97
Delivery
Immediate Download
Payment Information
Included Forms
All Sacramento County specific forms and documents listed below are included in your immediate download package:
Quitclaim Deed Form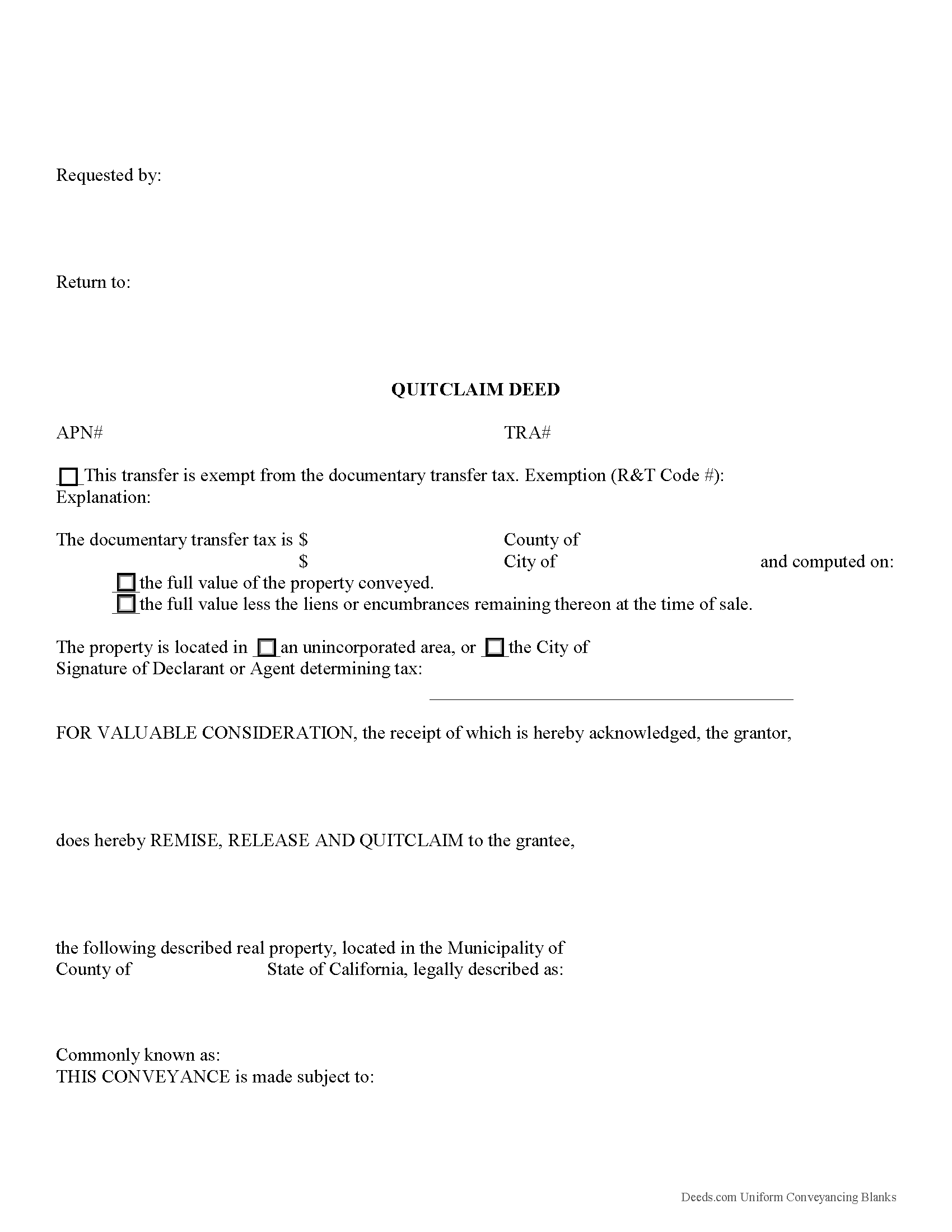 Fill in the blank Quitclaim Deed form formatted to comply with all California recording and content requirements.
Included document last reviewed/updated 11/19/2023
Quitclaim Deed Guide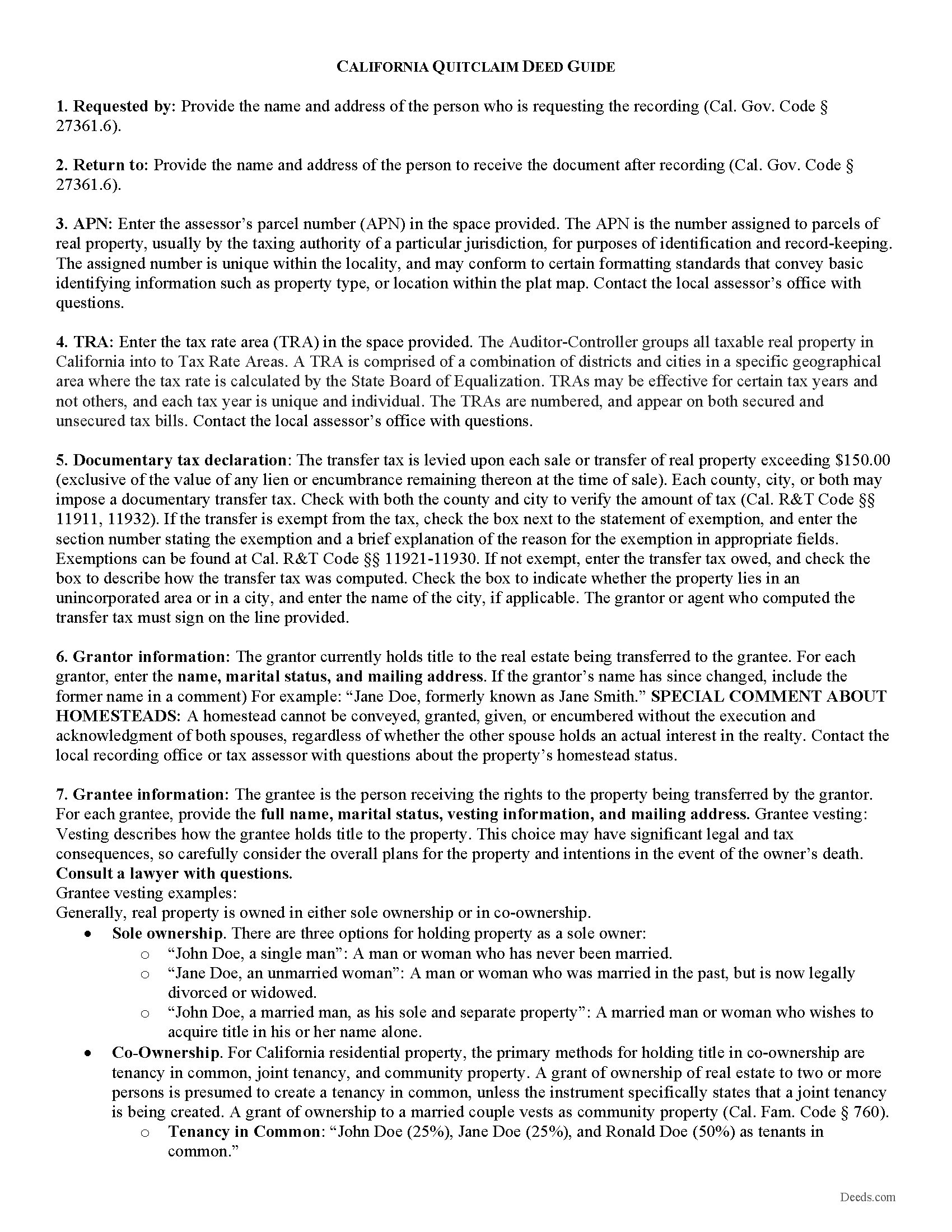 Line by line guide explaining every blank on the Quitclaim Deed form.
Included document last reviewed/updated 11/19/2023
Completed Example of the Quitclaim Deed Document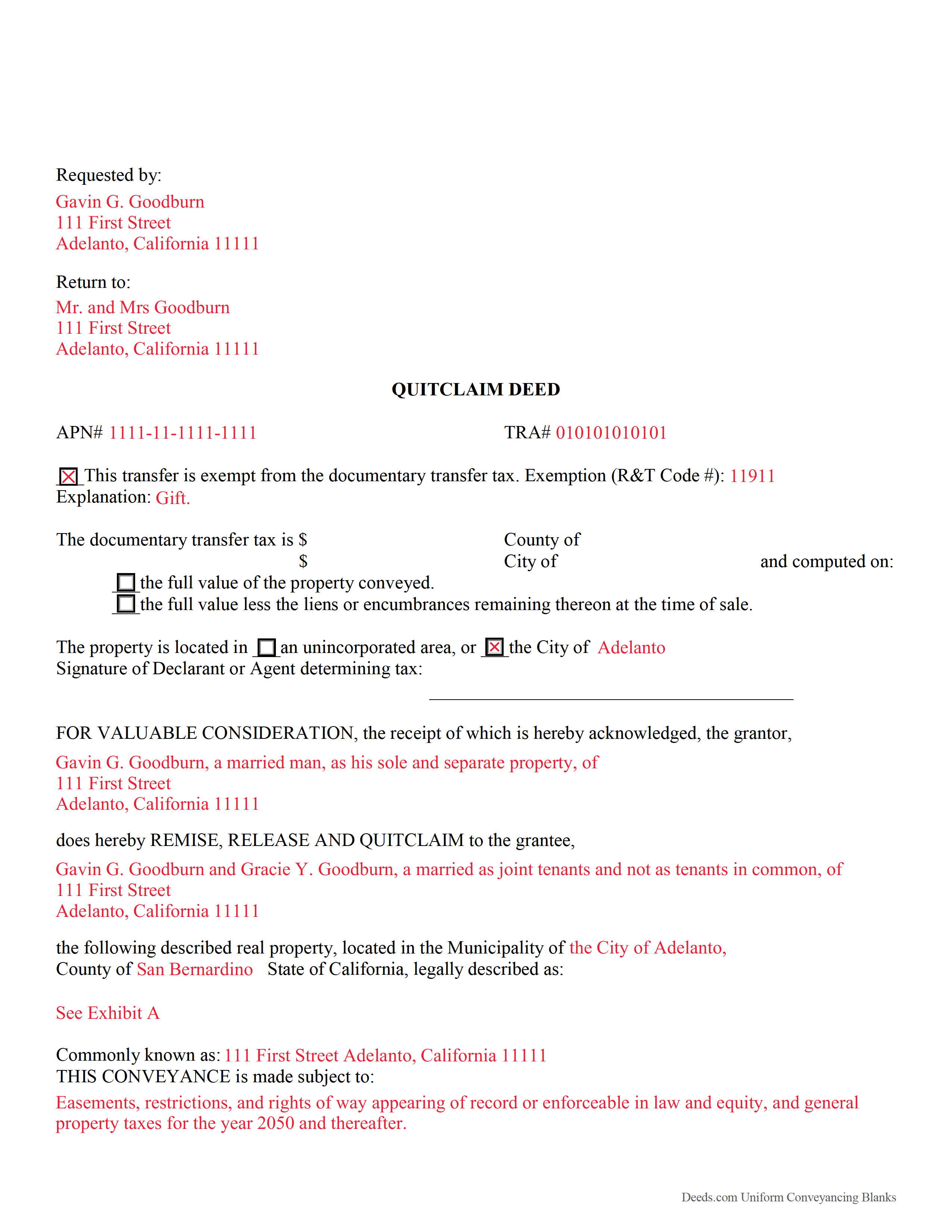 Example of a properly completed California Quitclaim Deed document for reference.
Included document last reviewed/updated 11/19/2023
Frequently Asked Questions:
How long does it take to get my forms?
Forms are available immediately after submitting payment.
What are supplemental forms?
Often when a deed is recorded additional documents are required by or Sacramento County. These could be tax related, informational, or even as simple as a coversheet. Supplemental forms are provided for free with your order where available.
How do I get my forms, are they emailed?
After you submit payment you will see a page listing the Sacramento County forms you ordered with a download link to the pdf form file. You download the forms to your computer. You will also receive an email with a link to your download page in case you need it later.
What type of files are the forms?
All of our Sacramento County Quitclaim Deed forms are PDFs. You will need to have or get Adobe Reader to use our forms. Adobe Reader is free software that most computers already have installed.
Can the Quitclaim Deed forms be re-used?
Yes. You can re-use the forms for your personal use. For example, if you have more than one property in Sacramento County that you need to transfer you would only need to order our forms once for all of your properties in Sacramento County.
Are these forms guaranteed to be recordable in Sacramento County?
Yes. Our form blanks are guaranteed to meet or exceed all formatting requirements set forth by Sacramento County including margin requirements, content requirements, font and font size requirements.
Do I have to enter all of my property information online?
No. The blank forms are downloaded to your computer and you fill them out there, at your convenience.
Can I save the completed form, email it to someone?
Yes, you can save your deed form at any point with your information in it. The forms can also be emailed, blank or complete, as attachments.
Do I need any special software to use these forms?
You will need to have Adobe Reader installed on your computer to use our forms. Adobe Reader is free software that most computers already have installed.
Are there any recurring fees involved?
No. Nothing to cancel, no memberships, no recurring fees.
Areas Covered by These Quitclaim Deed Forms:
Including:
Antelope
Carmichael
Citrus Heights
Courtland
Elk Grove
Elverta
Fair Oaks
Folsom
Galt
Herald
Hood
Isleton
Mather
Mcclellan
North Highlands
Orangevale
Rancho Cordova
Represa
Rio Linda
Ryde
Sacramento
Sloughhouse
Walnut Grove
Wilton
What is the California Quitclaim Deed
Quitclaim deeds in California are initially defined by Civ. Code, 1092, 1104-1107, 1113, and further in Gov. Code 27279-27297.7, 27320-27337.

Content:
Each document submitted for recording should have the title near the top of the first page (Gov. Code 27324). Include the name and address of the individual requesting recording as well as a name and return address for use after the quitclaim deed is recorded. Provide the name and address of the individual or entity to receive tax bills at the bottom of the first page. (Gov. Code 27321.5, 27361.6). In addition, every quit claim deed must contain the name and address of everyone with an ownership interest in the property. Be certain to present the names in exactly the same way they're found on the prior deed. If there are any unrecorded changes, provide the original and new names like this: Jane Doe, formerly known as Jane Smith. See Gov. Code 27288.1.

Any document which modifies, releases, or cancels the provisions of a previously recorded document shall state the recorder identification number or the book and page of the document being modified, released, or canceled. (Gov. Code 27361.6). Additionally, Gov. Code 27280.5 requires that the names of parties required to be indexed appearing in any instrument, paper, or notice presented for recordation should be legibly typed or printed near the signature. The names of all persons executing or witnessing a document shall be legibly signed or shall be typed or printed to the side of or below the signature.
While not specifically discussed in the statutes, a valid quit claim deed should also include, at minimum, a complete legal description of the property and the name, address, and vesting choice of the grantee.

Recording:
Note that Gov. Code 27293 requires that quit claim deeds in languages other than English are not suitable for recording. Civ. Code 1169 states that quit claim deeds must be recorded by the County Recorder of the county in which the conveyed real estate is situated.
Civ. Code 1213-1214 discuss California's recording statute, which is classified as "race-notice." Basically, the first bona fide purchaser....will prevail over an earlier purchaser who failed to record the conveyance. So, despite Civ. Code 1217, which states that "an unrecorded instrument is valid as between the parties thereto and those who have notice thereof," just because the parties on the quit claim deed know about it, their knowledge does NOT constitute constructive notice to the public. Therefore, RECORD THE QUIT CLAIM DEED as soon as possible after executing it. This protects the interests of all parties.

Gov. Code 27361.6 formalizes some formatting requirements: The top right 2 " X 5" corner is reserved for the Recorder's use only. The top left 2 " X 3 " corner is reserved for the name of the person requesting recording and a return name and address. The title of the document must appear on the first page immediately below the space reserved for the Recorder.
Our Promise
The documents you receive here will meet, or exceed, the Sacramento County recording requirements for formatting. If there's an issue caused by our formatting, we'll make it right and refund your payment.
Save Time and Money
Get your Sacramento County Quitclaim Deed form done right the first time with Deeds.com Uniform Conveyancing Blanks. At Deeds.com, we understand that your time and money are valuable resources, and we don't want you to face a penalty fee or rejection imposed by a county recorder for submitting nonstandard documents. We constantly review and update our forms to meet rapidly changing state and county recording requirements for roughly 3,500 counties and local jurisdictions.
Reviews
4.8 out of 5 (4215 Reviews)
Lisa C.
December 5th, 2023
Thank you. Very easy!
Reply from Staff
We are delighted to have been of service. Thank you for the positive review!
Narcedalia G.
December 4th, 2023
Easy to use quick responses with accurate information and great customer service. No need to say more!
Reply from Staff
Your feedback is greatly appreciated. Thank you for taking the time to share your experience!
Sue C.
December 1st, 2023
Very helpful. Easy to use. Able to avoid the cost of having an attorney prepare the document I needed.
Reply from Staff
Your appreciative words mean the world to us. Thank you and we look forward to serving you again!
Quaid H.
August 20th, 2019
Just what we needed! Thank you!
Reply from Staff
Thank you for your feedback. We really appreciate it. Have a great day!
Glenn M.
July 21st, 2023
Fast, easy, saves money!!!
Reply from Staff
Thank you!
Michael C.
January 16th, 2019
I would appreciate being able to increase the size of the blocks such as the Grantor block and the legal description block where information is enter on the form and to adjust the font. Otherwise great product,
Reply from Staff
Thank you for your feedback Michael. We do wish we could make that an option. Unfortunately, adhering to formatting requirements (specifically margin requirements) leaves a finite amount of space available on the page.
Charlotte K.
August 31st, 2022
Really a simple, quick, professional experience!
Reply from Staff
Thank you!
Tim G.
April 23rd, 2020
Pretty good all in all. I do wish I could download forms to a word doc instead of a .pdf. Word is more 'accessable'.
Reply from Staff
Thank you!
Deborah P.
May 14th, 2020
Great site. Official. Easy to use. Less expensive than those other sites as well. Saved me approximately $20! My records were available immediately. I highly recommend this site.
Reply from Staff
Thank you!
Kathy C.
August 19th, 2021
Lee County, FL did accept the "Satisfaction of Mortgage" form. It was easy to fill out except for a couple of areas. Your fill in areas need to accommodate for whatever space needed for the pertinent information we as customers have to fill out. As individuals, banks have their own. Example when there are more than 1 party and information needed. Example of Document #; I was 1 number short (using Exhibit A was ridiculous.) So I had to write in the # after printing. Very unprofessional looking on a legal document. Just saying. Also, in Lee County, FL your document # is called "Instrument #, not said in your instructions. Hope this information helps for updates on your forms.
Reply from Staff
Thank you for your feedback. We really appreciate it. Have a great day!
Jeremy C.
May 13th, 2021
Really impressed with the speed and professionalism of the service. I would recommend putting a grey background on the form field inputs as I had trouble seeing them in the user interface, but otherwise I was really impressed and would happily return as a customer.
Reply from Staff
Thank you for your feedback. We really appreciate it. Have a great day!
Stanley L.
March 22nd, 2019
Great service
Reply from Staff
Thank you Stanley.
Jose G. C.
October 2nd, 2020
It was OK but unfortunately useless. The jurisdictions are now requesting that documents such as Notices of Commencement not only be recorded at their offices, but also certified. This last service is not provided by Deeds, or at least I could not find it in your website and did not receive a response when I asked if you did. Thus, we are going back to traditional means of recording/certifying
Reply from Staff
Thank you for your feedback Jose. We do hope that you find something more suitable to your needs elsewhere. Have a wonderful day.
Ernest B.
June 6th, 2021
Forms were perfect, recorded quickly with no issue.
Reply from Staff
Thank you!
GLENN A M.
November 26th, 2019
I loved the easy to understand and use system, very user friendly.
Reply from Staff
Thank you!
Legal Forms Disclaimer
Use of Deeds.com Legal Forms:
On our Site, we provide self-help "Do It Yourself Legal Forms." By using a form from our Site, you explicitly agree to our Terms of Use. You acknowledge and agree that your purchase and/or use of a form document does not constitute legal advice nor the practice of law. Furthermore, each form, including any related instructions or guidance, is not tailored to your specific requirements and is not guaranteed or warranted to be up-to-date, accurate, or applicable to your individual circumstances.
NO WARRANTY:
The Do It Yourself Legal Forms provided on our Website are not guaranteed to be usable, accurate, up-to-date, or suitable for any legal purpose. Any use of a Do It Yourself Legal Form from our website is undertaken AT YOUR OWN RISK.
Limitation of Liability:
If you use a Do It Yourself Legal Form available on Deeds.com, you acknowledge and agree that, TO THE EXTENT PERMITTED BY APPLICABLE LAW, WE SHALL NOT BE LIABLE FOR DAMAGES OF ANY KIND (INCLUDING, WITHOUT LIMITATION, LOST PROFITS OR ANY SPECIAL, INCIDENTAL, OR CONSEQUENTIAL DAMAGES) ARISING OUT OF OR IN CONNECTION WITH THE LEGAL FORMS OR FOR ANY INFORMATION OR SERVICES PROVIDED TO YOU THROUGH THE DEEDS.COM WEBSITE.
Damage Cap:
In circumstances where the above limitation of liability is prohibited, OUR SOLE OBLIGATION TO YOU FOR DAMAGES SHALL BE CAPPED AT $100.00.