Pima County Affidavit of Disclosure Forms (Arizona)
Express Checkout
Form Package
Affidavit of Disclosure
State
Arizona
Area
Pima County
Price
$27.97
Delivery
Immediate Download
Payment Information
Included Forms
All Pima County specific forms and documents listed below are included in your immediate download package:
Affidavit of Disclosure Form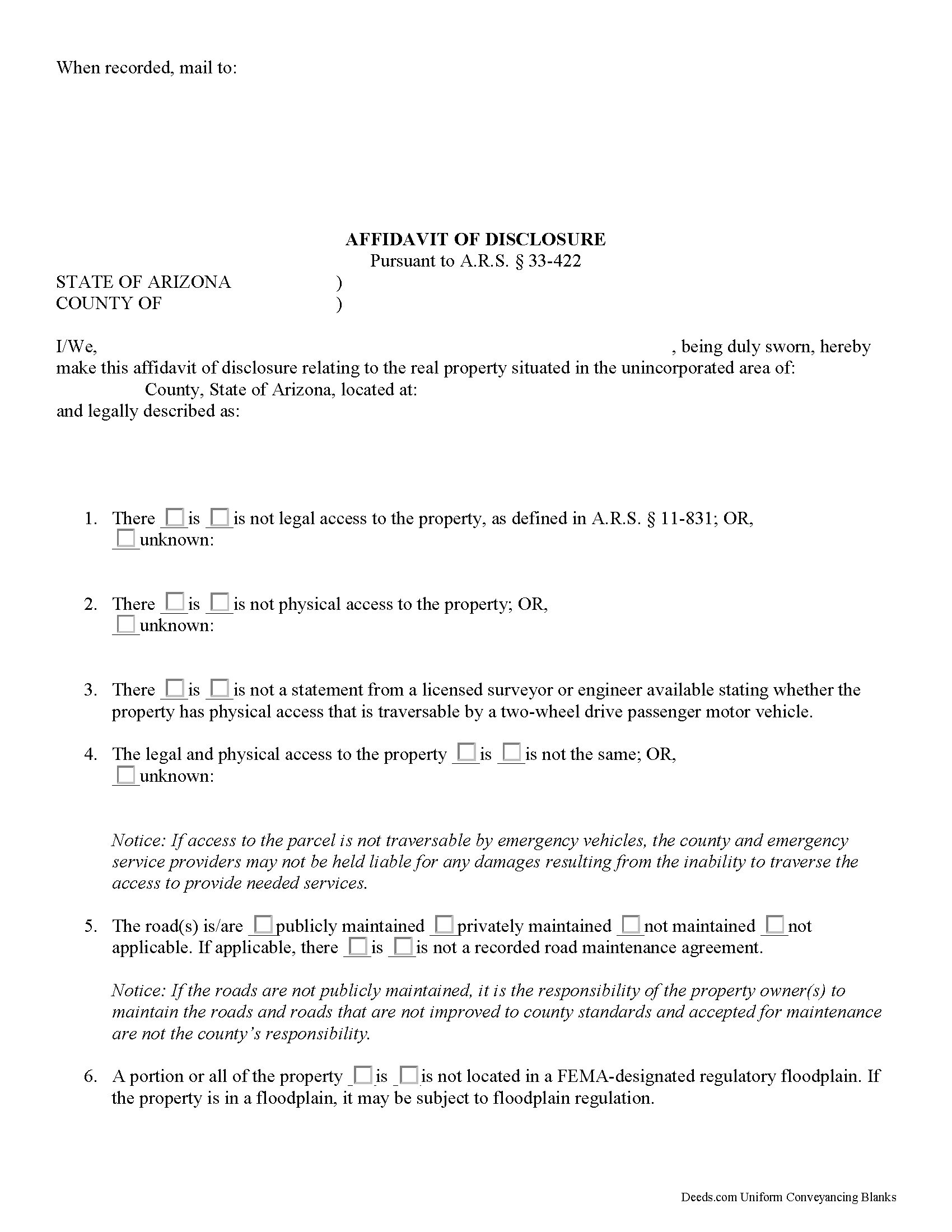 Fill in the blank form formatted to comply with all recording and content requirements.
Included document last reviewed/updated 6/27/2023
Affidavit of Disclosure Guide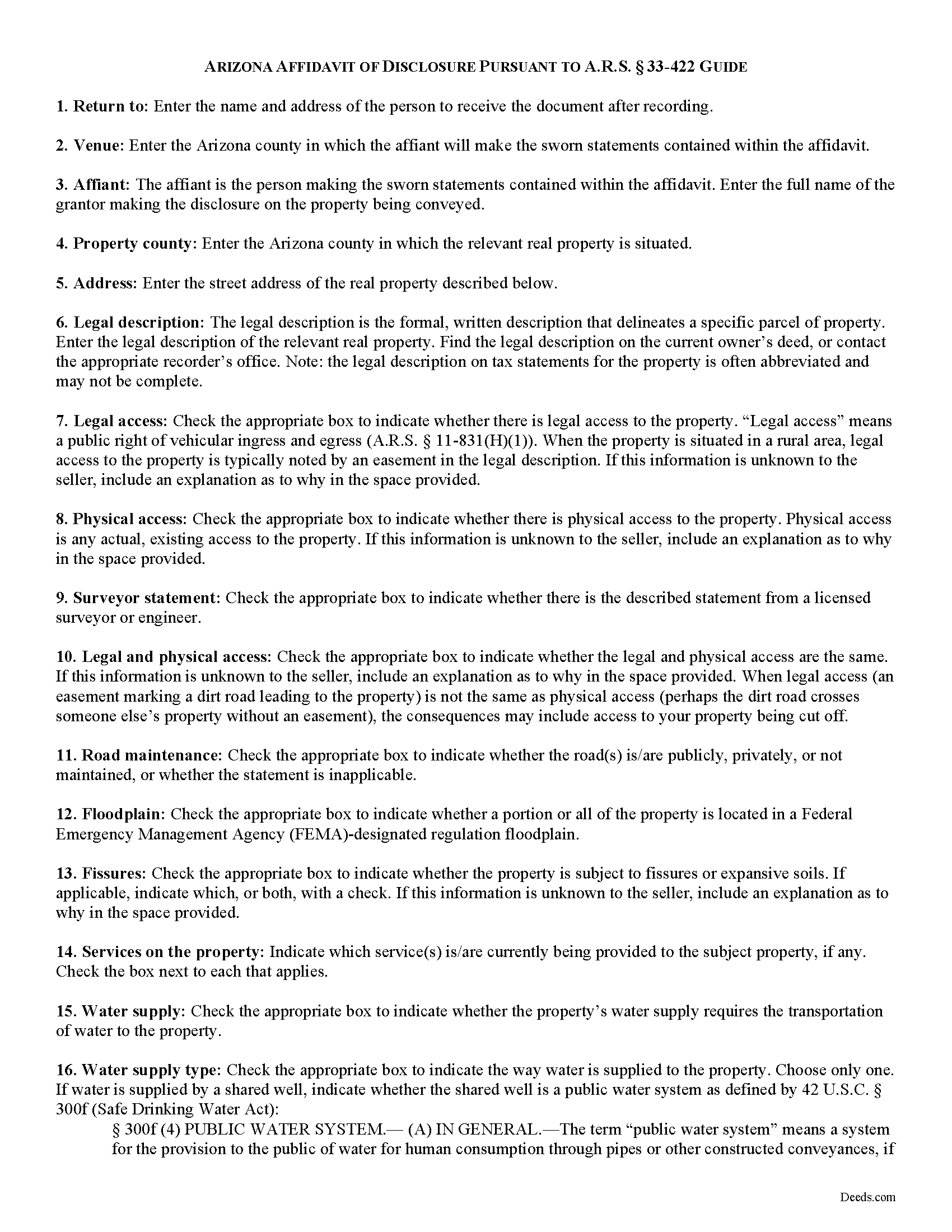 Line by line guide explaining every blank on the form.
Included document last reviewed/updated 10/24/2023
Completed Example of the Affidavit of Disclosure Document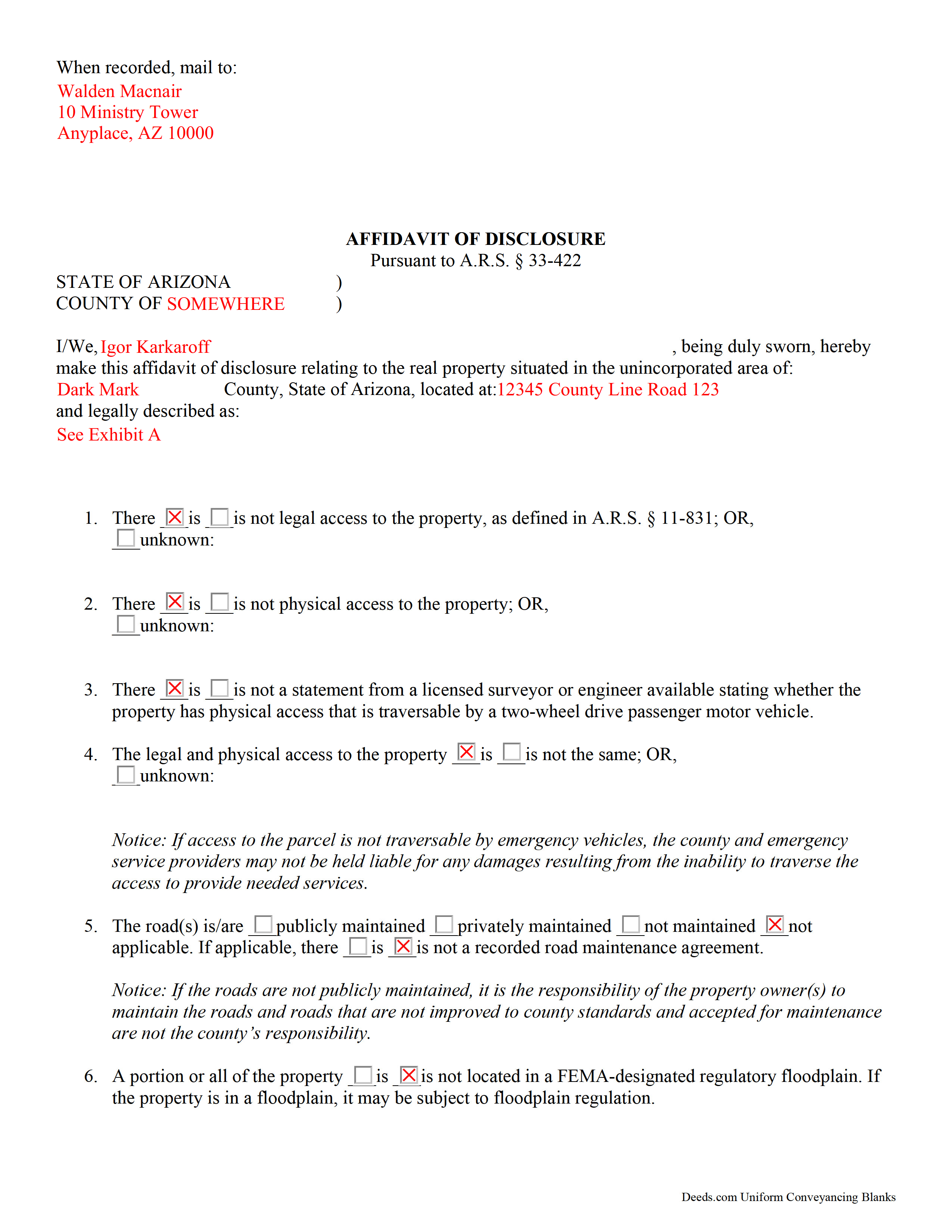 Example of a properly completed form for reference.
Included document last reviewed/updated 9/26/2023
Included Supplemental Documents
The following Arizona and Pima County supplemental forms are included as a courtesy with your order.
Frequently Asked Questions:
How long does it take to get my forms?
Forms are available immediately after submitting payment.
What are supplemental forms?
Often when a deed is recorded additional documents are required by or Pima County. These could be tax related, informational, or even as simple as a coversheet. Supplemental forms are provided for free with your order where available.
How do I get my forms, are they emailed?
After you submit payment you will see a page listing the Pima County forms you ordered with a download link to the pdf form file. You download the forms to your computer. You will also receive an email with a link to your download page in case you need it later.
What type of files are the forms?
All of our Pima County Affidavit of Disclosure forms are PDFs. You will need to have or get Adobe Reader to use our forms. Adobe Reader is free software that most computers already have installed.
Can the Affidavit of Disclosure forms be re-used?
Yes. You can re-use the forms for your personal use. For example, if you have more than one property in Pima County that you need to transfer you would only need to order our forms once for all of your properties in Pima County.
Are these forms guaranteed to be recordable in Pima County?
Yes. Our form blanks are guaranteed to meet or exceed all formatting requirements set forth by Pima County including margin requirements, content requirements, font and font size requirements.
Do I have to enter all of my property information online?
No. The blank forms are downloaded to your computer and you fill them out there, at your convenience.
Can I save the completed form, email it to someone?
Yes, you can save your deed form at any point with your information in it. The forms can also be emailed, blank or complete, as attachments.
Do I need any special software to use these forms?
You will need to have Adobe Reader installed on your computer to use our forms. Adobe Reader is free software that most computers already have installed.
Are there any recurring fees involved?
No. Nothing to cancel, no memberships, no recurring fees.
Areas Covered by These Affidavit of Disclosure Forms:
Including:
Ajo
Arivaca
Catalina
Cortaro
Green Valley
Lukeville
Marana
Mount Lemmon
Rillito
Sahuarita
Sasabe
Sells
Topawa
Tucson
Vail
What is the Arizona Affidavit of Disclosure
Before a transfer of real property is finalized, Arizona law requires the seller to disclose material facts about the relevant property to the buyer in a seller's disclosure report.

In Arizona, sellers of five or fewer parcels of improved or unimproved land located in an unincorporated part of a county (any area with no formally organized municipal government), must furnish buyers, in addition to any seller disclosure documents, another document called an affidavit of disclosure, under A.R.S. 33-422. The seller uses the affidavit to disclose additional material facts about the property subject to the pending conveyance. The seller is liable for omissions or misrepresentations made within the affidavit, which contains statements made under oath by the seller in the presence of a notary public or other official qualified by the State of Arizona.

By statute, the seller must provide the written disclosure to the buyer at least seven days prior to the transfer of property ( 33-422(A)). The buyer is then required to acknowledge receipt of the affidavit, and has the right to rescind the transaction up to five days after receiving the disclosure ( 33-422(D)). The affidavit is recorded alongside the deed of transfer in the office of the recorder in the appropriate county. Subsequent sellers of the property are also required to execute and record an affidavit of disclosure; any subsequent affidavit replaces a prior affidavit of record.

The form alerts buyers to some unique circumstances often associated with purchasing rural, unincorporated land in Arizona. For instance, the affidavit acknowledges whether there is legal access and physical access to the property. This disclosure allows the buyer to know beforehand if the necessary easements are in place to allow the buyer to legally access the property without issue, and whether any existent physical access to the property is lawful.

The affidavit also affirms relevant facts such as road maintenance, location on a FEMA-designated floodplain, existence of fissures or expansive soils, services provided to the property, water supply, wastewater treatment, and zoning, among others. The seller is also obligated to disclose any encumbrances due to pending legal action that may be attached to the property title.

Parts of the disclosure also serve as a general notice to the buyer: for example, a service provider is not liable for damages resulting from inaccessibility to the property in the case of an emergency. To complete the form, sellers may need to reference additional statutes pertaining to land divisions, maps designating military airports or facilities (available through the Arizona Department of Real Estate website), or other resources, as needed.

Seller and subsequent seller do not include a trustee of a deed of trust who is selling property by a trustees sale pursuant to title 33, chapter 6.1 or any officer who is selling property by execution sale pursuant to title 12, chapter 9 and title 33, chapter 6. If the seller is a trustee of a subdivision trust as defined in section 6-801, the disclosure affidavit required by this section shall be provided by the beneficiary of the subdivision trust.

Nondisclosures, whether intentional or accidental, can have significant legal consequences. Consult a lawyer with specific questions about the affidavit of disclosure or other inquiries relating to real estate transactions in Arizona.
Our Promise
The documents you receive here will meet, or exceed, the Pima County recording requirements for formatting. If there's an issue caused by our formatting, we'll make it right and refund your payment.
Save Time and Money
Get your Pima County Affidavit of Disclosure form done right the first time with Deeds.com Uniform Conveyancing Blanks. At Deeds.com, we understand that your time and money are valuable resources, and we don't want you to face a penalty fee or rejection imposed by a county recorder for submitting nonstandard documents. We constantly review and update our forms to meet rapidly changing state and county recording requirements for roughly 3,500 counties and local jurisdictions.
Reviews
4.8 out of 5 (4215 Reviews)
Lisa C.
December 5th, 2023
Thank you. Very easy!
Reply from Staff
We are delighted to have been of service. Thank you for the positive review!
Narcedalia G.
December 4th, 2023
Easy to use quick responses with accurate information and great customer service. No need to say more!
Reply from Staff
Your feedback is greatly appreciated. Thank you for taking the time to share your experience!
Sue C.
December 1st, 2023
Very helpful. Easy to use. Able to avoid the cost of having an attorney prepare the document I needed.
Reply from Staff
Your appreciative words mean the world to us. Thank you and we look forward to serving you again!
Theodore K.
September 8th, 2021
This does the job but we are not able to save this in our account and if you don't pay for Adobe and only have Adobe reader, I cannot save any information on the form online in my account. I do understand why they do this because they would lose money. A huge issue is that when I got to the end of the document and was adding an Exhibit A, as I typed, the page kept jumping back up the to top and I couldn't see what I was typing. I had to type a little then scroll back down and when I would type more, it would jump up again. This was a real problem.
Reply from Staff
Thank you for your feedback. We really appreciate it. Have a great day!
Heidi S.
April 21st, 2022
I do not enjoy the process of not knowing how something works. When I get to a new website I cringe inside. When I find one that works I am pleased to have function. Thank you for making it easy for a lay person
Reply from Staff
Thank you for your feedback. We really appreciate it. Have a great day!
Bayyinah M.
March 30th, 2022
EasyPeasy!
Reply from Staff
Thank you!
Gloria C.
January 6th, 2021
AMazing service. Fast and affordable.
Reply from Staff
We appreciate your business and value your feedback. Thank you. Have a wonderful day!
Rhonda L.
May 27th, 2020
This was one of the most simple but efficient process. Walked me thru every step. Total process was less than 2 weeks.
Reply from Staff
Thank you!
Thomas M.
July 26th, 2021
The process of finding exactly what was needed was pretty painless.
Reply from Staff
We appreciate your business and value your feedback. Thank you. Have a wonderful day!
Debra K.
January 16th, 2019
Very happy with forms downloaded. Well worth the price. Could not find them anywhere else on the web. Also had easy to understand instructions and a demo form as a guide
Reply from Staff
Thank you Debra, we appreciate your feedback. Have a wonderful day!
Ethan N.
January 11th, 2021
Quick, responsive service always!! Preferred way to record documents.

Thanks Deeds.com!!
Reply from Staff
Thank you!
Giovanni S.
February 23rd, 2023
Simple and easy going process
Reply from Staff
Thank you!
Monica M.
September 15th, 2020
I was very impressed with the quick responses I received from my questions. Usually when forced to communicate via email, responses aren't received right away. Thank you for being on top of things.
Reply from Staff
Thank you!
Tanya H.
July 21st, 2020
Could not be happier with deeds.com forms. The guide helped more than one can imagine, great resource.
Reply from Staff
We appreciate your business and value your feedback. Thank you. Have a wonderful day!
Jolene K.
June 6th, 2022
The forms were easy to download and use. I'm satisfied with it. The sample and the instructions were very helpful.
Reply from Staff
Thank you!
Legal Forms Disclaimer
Use of Deeds.com Legal Forms:
On our Site, we provide self-help "Do It Yourself Legal Forms." By using a form from our Site, you explicitly agree to our Terms of Use. You acknowledge and agree that your purchase and/or use of a form document does not constitute legal advice nor the practice of law. Furthermore, each form, including any related instructions or guidance, is not tailored to your specific requirements and is not guaranteed or warranted to be up-to-date, accurate, or applicable to your individual circumstances.
NO WARRANTY:
The Do It Yourself Legal Forms provided on our Website are not guaranteed to be usable, accurate, up-to-date, or suitable for any legal purpose. Any use of a Do It Yourself Legal Form from our website is undertaken AT YOUR OWN RISK.
Limitation of Liability:
If you use a Do It Yourself Legal Form available on Deeds.com, you acknowledge and agree that, TO THE EXTENT PERMITTED BY APPLICABLE LAW, WE SHALL NOT BE LIABLE FOR DAMAGES OF ANY KIND (INCLUDING, WITHOUT LIMITATION, LOST PROFITS OR ANY SPECIAL, INCIDENTAL, OR CONSEQUENTIAL DAMAGES) ARISING OUT OF OR IN CONNECTION WITH THE LEGAL FORMS OR FOR ANY INFORMATION OR SERVICES PROVIDED TO YOU THROUGH THE DEEDS.COM WEBSITE.
Damage Cap:
In circumstances where the above limitation of liability is prohibited, OUR SOLE OBLIGATION TO YOU FOR DAMAGES SHALL BE CAPPED AT $100.00.