Arizona Durable Power of Attorney
Durable Power of Attorney for Real Estate Located in Arizona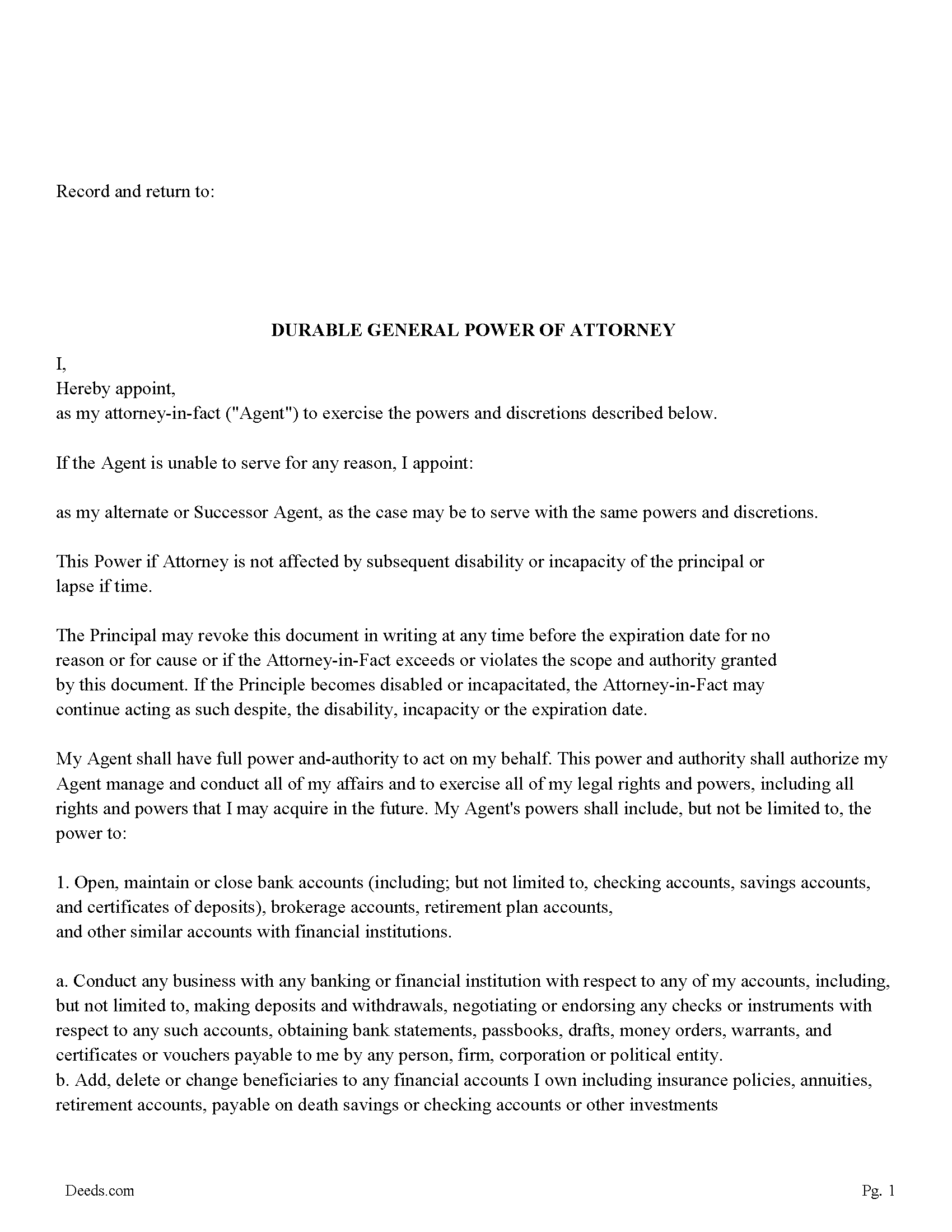 In a Durable Power of Attorney the principal designates an Agent. (The instrument shall contain words that demonstrate the principal's intent that the authority conferred in the durable power of attorney may be exercised) 14-5501 (A)

This POA stays active and expires on the Principal's death and is not affected by the principal's incapacity or disability. The Principal may also choose and alternate agent if so desired, if for some reason the agent is unable to serve.

The Power of Attorney shall contain language that the principle intent is (to create a Power of Attorney and clearly identifies the agent. (14-5501) (D)(1)

Must be (signed or marked by the principal or signed in the principal's name by some other individual in the principal's conscious presence and at the principal's direction.) (14-5501) (D)(2)

Must be Is witnessed by a person other than the agent, the agent's spouse, the agent's children or the notary public. (14-5501) (D)(3)

Actions the Agent can perform on your behalf
1. Open, maintain or close bank accounts
2. Provide for the support and protection of myself, my spouse, or of any minor child I have
3. Sell, exchange, buy, invest, or reinvest any assets or property owned by me
4. Purchase and/or maintain insurance and annuity contracts
5. Take any and all legal steps necessary to collect any amount or debt owed to me
6. Enter into binding contracts on my behalf
7. Exercise all rights on my behalf as my proxy
8. Maintain and operate any business that I may own
9. Employ professional and business assistance as may be appropriate
10. Sell, convey, lease, mortgage, manage, insure, improve, repair, or perform any other act with respect to any of my property
11. Prepare, sign, and file documents with-any government or agency
12. Make gifts from my assets to members of my family and to such other persons or charitable organizations
13. To transfer any, assets to the trustee of any revocable trust created by me, if such trust is in existence at the time of such transfer
14. Subject of this document, my Agent may disclaim any interest, which might otherwise be transferred or distributed to me from any other person, estate, trust, or other entity, as may be appropriate
15. Have access to my healthcare and medical record statements regarding billing, insurance and payments

This Power of Attorney shall be construed broadly as a General Power of Attorney. The listing of specific powers is not intended to limit or restrict the general powers granted in this Power of Attorney in any manner

Fully formatted for Recording.




Back to Arizona