Cochise County Easement Deed Forms (Arizona)
Express Checkout
Form Package
Easement Deed
State
Arizona
Area
Cochise County
Price
$29.97
Delivery
Immediate Download
Payment Information
Included Forms
All Cochise County specific forms and documents listed below are included in your immediate download package:
Easement Deed Form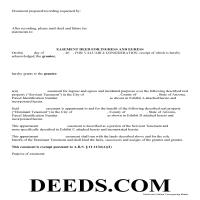 Fill in the blank form formatted to comply with all recording and content requirements.
Included document last reviewed/updated 5/19/2023
Easement Deed Guide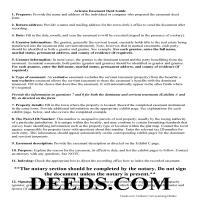 Line by line guide explaining every blank on the form.
Included document last reviewed/updated 10/2/2023
Completed Example of the Easement Deed Document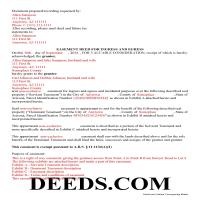 Example of a properly completed form for reference.
Included document last reviewed/updated 9/14/2023
Guide to Writing an Easement Description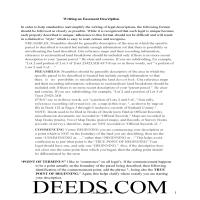 A Description of the Easement will be required, apply this guide to write an acceptable description of an easement/right of way, which gives access, to and from - point A to point B.
Included document last reviewed/updated 9/20/2023
Included Supplemental Documents
The following Arizona and Cochise County supplemental forms are included as a courtesy with your order.
Frequently Asked Questions:
How long does it take to get my forms?
Forms are available immediately after submitting payment.
What are supplemental forms?
Often when a deed is recorded additional documents are required by or Cochise County. These could be tax related, informational, or even as simple as a coversheet. Supplemental forms are provided for free with your order where available.
How do I get my forms, are they emailed?
After you submit payment you will see a page listing the Cochise County forms you ordered with a download link to the pdf form file. You download the forms to your computer. You will also receive an email with a link to your download page in case you need it later.
What type of files are the forms?
All of our Cochise County Easement Deed forms are PDFs. You will need to have or get Adobe Reader to use our forms. Adobe Reader is free software that most computers already have installed.
Can the Easement Deed forms be re-used?
Yes. You can re-use the forms for your personal use. For example, if you have more than one property in Cochise County that you need to transfer you would only need to order our forms once for all of your properties in Cochise County.
Are these forms guaranteed to be recordable in Cochise County?
Yes. Our form blanks are guaranteed to meet or exceed all formatting requirements set forth by Cochise County including margin requirements, content requirements, font and font size requirements.
Do I have to enter all of my property information online?
No. The blank forms are downloaded to your computer and you fill them out there, at your convenience.
Can I save the completed form, email it to someone?
Yes, you can save your deed form at any point with your information in it. The forms can also be emailed, blank or complete, as attachments.
Do I need any special software to use these forms?
You will need to have Adobe Reader installed on your computer to use our forms. Adobe Reader is free software that most computers already have installed.
Are there any recurring fees involved?
No. Nothing to cancel, no memberships, no recurring fees.
Areas Covered by These Easement Deed Forms:
Including:
Benson
Bisbee
Bowie
Cochise
Douglas
Dragoon
Elfrida
Fort Huachuca
Hereford
Huachuca City
Mc Neal
Naco
Pearce
Pirtleville
Pomerene
Saint David
San Simon
Sierra Vista
Tombstone
Willcox
What is the Arizona Easement Deed
An easement, a non-possessory interest in someone's land, is created using the same formalities as a transfer of other interests in land. The property to which the easement pertains may be owned by a private person, a business entity, or a group of owners. Easements generally pass with the property.

One type of easement in Arizona, a conservation easement, is a non-possessory interest of a holder in real property imposing limitations or affirmative obligations for conservation purposes or to preserve the historical, architectural, archaeological, or cultural aspects of real property (33-271). Other types of easements include the right-of-way easement and the affirmative easement. An easement is created by conveyance in a deed with the easement type described in the first paragraph of the document.

As a conveyance of a real property interest, an easement in Arizona should be signed by the grantor, duly acknowledged, and then recorded according to law. The easement should be recorded in the county where the property which is the subject of the easement is located. The act of recording provides constructive notice of the contents to subsequent purchasers or encumbrance holders for a valuable consideration without notice.
Our Promise
The documents you receive here will meet, or exceed, the Cochise County recording requirements for formatting. If there's an issue caused by our formatting, we'll make it right and refund your payment.
Save Time and Money
Get your Cochise County Easement Deed form done right the first time with Deeds.com Uniform Conveyancing Blanks. At Deeds.com, we understand that your time and money are valuable resources, and we don't want you to face a penalty fee or rejection imposed by a county recorder for submitting nonstandard documents. We constantly review and update our forms to meet rapidly changing state and county recording requirements for roughly 3,500 counties and local jurisdictions.
Reviews
4.8 out of 5 (4173 Reviews)
Norman J.
October 3rd, 2023
I really enjoyed your service. It was great.
Reply from Staff
Thank you!
Kristen N.
October 3rd, 2023
Very easy to use, helpful instructions and examples. I also like the chat feature and the erecording. So much better than other DIY law websites out there.
Reply from Staff
We appreciate your business and value your feedback. Thank you. Have a wonderful day!
Angela J M.
September 29th, 2023
Quick turnaround (about 24hrs) easy process.
Reply from Staff
Thank you for your feedback. We really appreciate it. Have a great day!
alex b.
February 16th, 2021
I appreciate the very quick response that I received and I am very impressed with the access that you provide to records. I'm still in the process of trying to find out what's there but that will take a bit of time. All in all, you are to be commended for a first class operation.
Reply from Staff
Thank you!
Harry S.
March 30th, 2021
This is my first time using the service. Wow! How efficient and effortless! Keep up the good work!
Reply from Staff
Thank you!
Nancy O.
July 27th, 2023
Outstanding forms and service. Liked that the main deed forms were PDF so I could fill them out on my laptop, in my own time, instead of some online Q/A auto populate system. Guide was helpful, as was the completed sample. Used the erecording service to file the deed, amazing.
Reply from Staff
Thank you for your wonderful review Nancy! Our team takes pride in providing helpful resources, and we are pleased that the guide and completed sample were beneficial to you throughout the process. Making the deed filing journey smoother for our users is always our top priority.


John D.
September 30th, 2020
I was quite impressed by the quality of your documents and the ease of the download.
Reply from Staff
Thank you for your feedback. We really appreciate it. Have a great day!
Joy V.
December 24th, 2018
Very helpful and efficient!
Reply from Staff
Thank you for your feedback. We really appreciate it. Have a great day!
Muhamed H.
February 3rd, 2022
Nice!
Reply from Staff
Thank you!
Theodore K.
September 8th, 2021
This does the job but we are not able to save this in our account and if you don't pay for Adobe and only have Adobe reader, I cannot save any information on the form online in my account. I do understand why they do this because they would lose money. A huge issue is that when I got to the end of the document and was adding an Exhibit A, as I typed, the page kept jumping back up the to top and I couldn't see what I was typing. I had to type a little then scroll back down and when I would type more, it would jump up again. This was a real problem.
Reply from Staff
Thank you for your feedback. We really appreciate it. Have a great day!
Karen D.
July 17th, 2020
Awesome,thorough, and fast.
Reply from Staff
Thank you!
Sandra K.
April 29th, 2019
Seems fairly simple with forms and instructions
Reply from Staff
Thank you for your feedback. We really appreciate it. Have a great day!
Joyce B.
July 25th, 2019
Very easy to purchase and download.
Reply from Staff
Thank you!
Kimberly M.
February 14th, 2019
Great service. Very helpful and quick. Love Deeds.com and will be using their services again.
Reply from Staff
Thank you for your feedback Kimberly, we really appreciate it!
Patrick P.
March 14th, 2020
Great service! I found out how easy it was for me to record a deed. I saved about $200 using deeds.com. The sample form really helped. Thanks!

Reply from Staff
Thank you!
Legal Forms Disclaimer
Use of Deeds.com Legal Forms:
On our Site, we provide self-help "Do It Yourself Legal Forms." By using a form from our Site, you explicitly agree to our Terms of Use. You acknowledge and agree that your purchase and/or use of a form document does not constitute legal advice nor the practice of law. Furthermore, each form, including any related instructions or guidance, is not tailored to your specific requirements and is not guaranteed or warranted to be up-to-date, accurate, or applicable to your individual circumstances.
NO WARRANTY:
The Do It Yourself Legal Forms provided on our Website are not guaranteed to be usable, accurate, up-to-date, or suitable for any legal purpose. Any use of a Do It Yourself Legal Form from our website is undertaken AT YOUR OWN RISK.
Limitation of Liability:
If you use a Do It Yourself Legal Form available on Deeds.com, you acknowledge and agree that, TO THE EXTENT PERMITTED BY APPLICABLE LAW, WE SHALL NOT BE LIABLE FOR DAMAGES OF ANY KIND (INCLUDING, WITHOUT LIMITATION, LOST PROFITS OR ANY SPECIAL, INCIDENTAL, OR CONSEQUENTIAL DAMAGES) ARISING OUT OF OR IN CONNECTION WITH THE LEGAL FORMS OR FOR ANY INFORMATION OR SERVICES PROVIDED TO YOU THROUGH THE DEEDS.COM WEBSITE.
Damage Cap:
In circumstances where the above limitation of liability is prohibited, OUR SOLE OBLIGATION TO YOU FOR DAMAGES SHALL BE CAPPED AT $100.00.