Kentucky - Monroe County Special Warranty Deed Form
All Monroe County specific forms listed below are included in your immediate download:
---
Special Warranty Deed Form - Monroe County
Fill in the blank form formatted to comply with all recording and content requirements.
Included document last updated 10/18/2018
---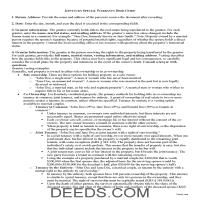 Special Warranty Deed Guide - Monroe County
Line by line guide explaining every blank on the form.
Included document last updated 10/4/2018
---
Completed Example of the Special Warranty Deed Document - Monroe County
Example of a properly completed form for reference.
Included document last updated 9/20/2018
---
*Kentucky and Monroe County supplemental forms are included as a courtesy with your order.
Frequently Asked Questions:
How long does it take to get my forms?

Forms are available immediately after submitting payment.

What are supplemental forms?

Often when a deed is recorded additional documents are required by the state or local jurisdiction. These could be tax related, informational, or even as simple as a coversheet. Supplemental forms are provided for free with your order where available.

How do I get my forms, are they emailed?

After you submit payment you will see a page listing the forms you ordered with a download link to the pdf form file. You download the forms to your computer. You will also receive an email with a link to your download page in case you need it later.

What type of files are the forms?

All of our forms are PDFs. You will need to have or get Adobe Reader to use our forms. Adobe Reader is free software that most computers already have installed.

Can the forms be re-used?

Yes. You can re-use the forms for your personal use. For example, if you have more than one property in a given county that you need to transfer you would only need to order our forms once for all of your properties in that county.

Are these forms guaranteed to be recordable in Monroe County ?

Yes. Our form blanks are guaranteed to meet or exceed all formatting requirements set forth by Monroe County including margin requirements, content requirements, font and font size requirements.

Do I have to enter all of my property information online?

No. The blank forms are downloaded to your computer and you fill them out there, at your convenience.

Can I save the completed form, email it to someone?

Yes, you can save your deed form at any point with your information in it. The forms can also be emailed, blank or complete, as attachments.

Do I need any special software to use these forms?

You will need to have Adobe Reader installed on your computer to use our forms. Adobe Reader is free software that most computers already have installed.

Are there any recurring fees involved?

No. Nothing to cancel, no memberships, no recurring fees.
Areas covered by these Special Warranty Deed Forms:
Including:
Fountain Run
Gamaliel
Hestand
Mount Hermon
Tompkinsville
What is the Kentucky Special Warranty Deed?
Real property conveyances are governed by Chapter 382 of the Kentucky Revised Statutes.

Special warranty deeds are statutory under KRS 382.040 and transfer ownership of real property from the grantor (the seller) to the grantee (the buyer) with limited warranties of title. They provide guarantees that the grantor is the true owner of the property, has the legal right to convey it, and will defend the title against any claims originating from the time they owned the property. However, the grantor does not guarantee that there are no other title defects before they owned it, so this type of deed offers more protection for the grantor, and less for the grantee.

A lawful special warranty deed includes the names and addresses of each grantor and grantee. Kentucky requires all recorded documents or documents affecting a change in property ownership to contain information on how the grantee will hold title. For residential property, the primary methods for holding title in co-ownership are tenancy in common, joint tenancy, and tenancy by entirety. A grant of ownership of real estate to two or more persons creates a tenancy in common, unless otherwise specified. Tenancy by entirety is a vesting option available to married couples only (KRS 381.050(1)).

Provide a complete legal description of the property and the source of the current grantor's title. The deed must also include the preparer's name, address, and signature (KRS 382.335), and the in-care-of tax address (KRS 382.110(2)). State law also stipulates either listing the full amount of consideration exchanged for the transfer, or, if nominal or no consideration has been exchanged, the fair cash value of the property (KRS 385.135). The county assesses a transfer tax on the consideration, due at the time of recording, unless the transaction is exempt under KRS 142.050.

Finally, the form must meet all state and local standards for recorded documents, which may vary from county to county. Confirm these requirements with the local recording office.

Both the grantor and grantee must sign the deed in front of a notary for the deed to be recorded (KRS 382.130). Submit the completed deed, along with any supplemental documentation necessary for the specific transaction, to the county clerk's office of the county in which the property is situated (KRS 382.110(1)). Recording preserves the ownership history of the property and provides public notice of the transfer, which protects both the grantor and the grantee from claims based on false information.

This article is provided for informational purposes only and is not a substitute for legal advice. Contact an attorney with questions about special warranty deeds or for any other issues related to the transfer of real property in Kentucky.
Save time and money.
Get your Monroe County Special Warranty Deed form done right the first time with Deeds.com Uniform Conveyancing Blanks. At Deeds.com, we understand that your time and money are valuable resources, and we don't want you to face a penalty fee or rejection imposed by a county recorder for submitting nonstandard documents. We constantly review and update our forms to meet rapidly changing state and county recording requirements for roughly 3,500 counties.
Guarantee:
We guarantee that you will receive access to the forms that you order and that those forms will be compliant with the recording requirements for the jurisdiction the forms were purchased for and the statutory requirements for content of the document.
Customer Rating: 9.37 out of 10 (30 Reviews)
---
On 10/20/18 LEONARD Said:
Score: 10
GOOD
---
On 10/11/18 Jennifer Walsh Said:
Score: 9
Dont know a lot about legal forms but these warranty deed forms were super easy form me to understand.
---
On 10/09/18 karen1354 Said:
Score: 10
Easy 2 use. Fast and professional looking! Very impressed!
---
On 10/06/18 roger f. Said:
Score: 9
Hard to get excited about legal forms but this site was very easy to use and the forms were accurate and simple.
---
On 10/05/18 Pamela Wilcox Said:
Score: 10
This was so easy! Doing it this way saved me a bundle. I used the example form to make sure mine was correct. I would highly recommend this to anyone.
---