Cattaraugus County Correction Deed Forms (New York)
Express Checkout
Form Package
Correction Deed
State
New York
Area
Cattaraugus County
Price
$29.97
Delivery
Immediate Download
Payment Information
Included Forms
All Cattaraugus County specific forms and documents listed below are included in your immediate download package:
Correction Deed Form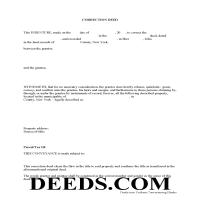 Fill in the blank form formatted to comply with all recording and content requirements.
Included document last reviewed/updated 6/1/2023
Correction Deed Guide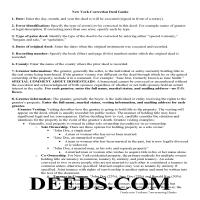 Line by line guide explaining every blank on the form.
Included document last reviewed/updated 4/17/2023
Completed Example of the Correction Deed Document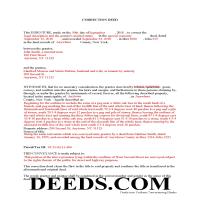 Example of a properly completed form for reference.
Included document last reviewed/updated 9/14/2023
Included Supplemental Documents
The following New York and Cattaraugus County supplemental forms are included as a courtesy with your order.
Frequently Asked Questions:
How long does it take to get my forms?
Forms are available immediately after submitting payment.
What are supplemental forms?
Often when a deed is recorded additional documents are required by or Cattaraugus County. These could be tax related, informational, or even as simple as a coversheet. Supplemental forms are provided for free with your order where available.
How do I get my forms, are they emailed?
After you submit payment you will see a page listing the Cattaraugus County forms you ordered with a download link to the pdf form file. You download the forms to your computer. You will also receive an email with a link to your download page in case you need it later.
What type of files are the forms?
All of our Cattaraugus County Correction Deed forms are PDFs. You will need to have or get Adobe Reader to use our forms. Adobe Reader is free software that most computers already have installed.
Can the Correction Deed forms be re-used?
Yes. You can re-use the forms for your personal use. For example, if you have more than one property in Cattaraugus County that you need to transfer you would only need to order our forms once for all of your properties in Cattaraugus County.
Are these forms guaranteed to be recordable in Cattaraugus County?
Yes. Our form blanks are guaranteed to meet or exceed all formatting requirements set forth by Cattaraugus County including margin requirements, content requirements, font and font size requirements.
Do I have to enter all of my property information online?
No. The blank forms are downloaded to your computer and you fill them out there, at your convenience.
Can I save the completed form, email it to someone?
Yes, you can save your deed form at any point with your information in it. The forms can also be emailed, blank or complete, as attachments.
Do I need any special software to use these forms?
You will need to have Adobe Reader installed on your computer to use our forms. Adobe Reader is free software that most computers already have installed.
Are there any recurring fees involved?
No. Nothing to cancel, no memberships, no recurring fees.
Areas Covered by These Correction Deed Forms:
Including:
Allegany
Cattaraugus
Conewango Valley
Dayton
Delevan
East Otto
East Randolph
Ellicottville
Farmersville Station
Franklinville
Freedom
Gowanda
Great Valley
Hinsdale
Kill Buck
Leon
Limestone
Little Valley
Machias
Olean
Otto
Perrysburg
Portville
Randolph
Saint Bonaventure
Salamanca
Sandusky
South Dayton
Steamburg
Versailles
West Valley
Westons Mills
Yorkshire
What is the New York Correction Deed
Correction deeds are sometimes called confirmatory instruments. As such, they confirm and perfect an existing title created earlier and remove any defects from it, but they do not pass title on their own. They make explicit reference to the instrument that is being corrected by indicating its execution and recording date, the place of recording and the number under which the document is filed. They also need to identify the error or errors by type before supplying the correction in the subsequent body of the deed.

A new real property transfer report, RP-5217-pdf (or RP-5217NYC), with original signatures must accompany all deeds in New York, including correction deeds; the same goes for the tax affidavit TP-584, which both seller and buyer must sign. Forms are available at the county recording office or can be ordered online (but not downloaded). As a correction, the transaction may be exempt from transfer tax. Be sure to include proof that the transfer tax was paid, either by including the original cover page of the prior deed, or by providing an affidavit stating that transfer tax was paid with the prior document.

Furthermore, counties often require a cover page, which may be specific to the county or city and provided on their websites. It serves to identify the document more easily and may be called "recording and endorsement (cover) page." New recording fees per page must be paid for a correction instrument.
Our Promise
The documents you receive here will meet, or exceed, the Cattaraugus County recording requirements for formatting. If there's an issue caused by our formatting, we'll make it right and refund your payment.
Save Time and Money
Get your Cattaraugus County Correction Deed form done right the first time with Deeds.com Uniform Conveyancing Blanks. At Deeds.com, we understand that your time and money are valuable resources, and we don't want you to face a penalty fee or rejection imposed by a county recorder for submitting nonstandard documents. We constantly review and update our forms to meet rapidly changing state and county recording requirements for roughly 3,500 counties and local jurisdictions.
Reviews
4.8 out of 5 (4174 Reviews)
Brennan H.
October 4th, 2023
I had worked for a couple of months sending things back and forth to the county and still had no success. I decided to use deeds.com and it was all done in a few hours. Such a relief! While I find this to be wrong and the county should work with property owners as well as they work with third parties, I was still grateful for this service.
Reply from Staff
Thank you for your feedback. We really appreciate it. Have a great day!
Norman J.
October 3rd, 2023
I really enjoyed your service. It was great.
Reply from Staff
Thank you!
Kristen N.
October 3rd, 2023
Very easy to use, helpful instructions and examples. I also like the chat feature and the erecording. So much better than other DIY law websites out there.
Reply from Staff
We appreciate your business and value your feedback. Thank you. Have a wonderful day!
Joseph E.
January 15th, 2023
At first I didn't trust all the 5 star reviews. So, I contacted lawyers to check their prices. The price being well over one hundred dollars made my mind up. I gave it a go, the form isn't hard and the directions are easy to follow. 5/5
Reply from Staff
Thank you for your feedback. We really appreciate it. Have a great day!
Barry C.
March 8th, 2019
prompt, complete and efficient process --- kudos to you
Reply from Staff
Thank you so much Barry. Have a great day!
GLENN A M.
November 26th, 2019
I loved the easy to understand and use system, very user friendly.
Reply from Staff
Thank you!
Robert B.
March 4th, 2019
Found this sight on the internet looking for information to add my fiance' to the house deed. Looks like the right place to be. Looking forward to getting the forms I need.
Reply from Staff
Thank you!
Debora A.
May 23rd, 2023
Website easy to use and explanations available
Reply from Staff
Thank you!
Jolene K.
June 6th, 2022
The forms were easy to download and use. I'm satisfied with it. The sample and the instructions were very helpful.
Reply from Staff
Thank you!
Deborah D.
June 1st, 2023
What I thought was gonna be a long drawn out tedious process was literally 10min tops... The help was quick and a load off. Thanks y'all.
Reply from Staff
We appreciate your business and value your feedback. Thank you. Have a wonderful day!
JAMES S.
November 6th, 2022
Saved me 1-2 hours' time dictating. Will use again.
Reply from Staff
Thank you!
Marc P.
March 4th, 2021
Simple and fast!
Reply from Staff
Thank you for your feedback. We really appreciate it. Have a great day!
Donna G.
April 26th, 2023
Very happy with this service, comprehensive detailed instructions as well as correct forms for my location
Reply from Staff
We appreciate your business and value your feedback. Thank you. Have a wonderful day!
Lorna D.
September 12th, 2020
Haven't used the form yet. But hopefully it's the correct one.
Reply from Staff
Thank you!
Sally P.
June 22nd, 2023
I cannot thank the staff at Deeds.com enough for all of their assistance and their quick and their most pleasant responses. They were extremely quick and efficient to help me to file my documents. Thanks for everything and I will definitely be referring folks to your site.
Reply from Staff
Our team is deeply committed to providing efficient, reliable assistance and it's always rewarding to know we've made a difference for our customers. Your kind words about our quick and pleasant responses are much appreciated and will certainly serve as an extra boost of motivation for our team.

We also sincerely appreciate your intention to refer others to our site. Your trust and confidence in our service means a lot to us, and we're grateful to have you as part of the Deeds.com community.
Legal Forms Disclaimer
Use of Deeds.com Legal Forms:
On our Site, we provide self-help "Do It Yourself Legal Forms." By using a form from our Site, you explicitly agree to our Terms of Use. You acknowledge and agree that your purchase and/or use of a form document does not constitute legal advice nor the practice of law. Furthermore, each form, including any related instructions or guidance, is not tailored to your specific requirements and is not guaranteed or warranted to be up-to-date, accurate, or applicable to your individual circumstances.
NO WARRANTY:
The Do It Yourself Legal Forms provided on our Website are not guaranteed to be usable, accurate, up-to-date, or suitable for any legal purpose. Any use of a Do It Yourself Legal Form from our website is undertaken AT YOUR OWN RISK.
Limitation of Liability:
If you use a Do It Yourself Legal Form available on Deeds.com, you acknowledge and agree that, TO THE EXTENT PERMITTED BY APPLICABLE LAW, WE SHALL NOT BE LIABLE FOR DAMAGES OF ANY KIND (INCLUDING, WITHOUT LIMITATION, LOST PROFITS OR ANY SPECIAL, INCIDENTAL, OR CONSEQUENTIAL DAMAGES) ARISING OUT OF OR IN CONNECTION WITH THE LEGAL FORMS OR FOR ANY INFORMATION OR SERVICES PROVIDED TO YOU THROUGH THE DEEDS.COM WEBSITE.
Damage Cap:
In circumstances where the above limitation of liability is prohibited, OUR SOLE OBLIGATION TO YOU FOR DAMAGES SHALL BE CAPPED AT $100.00.