Divide County Grant Deed Forms (North Dakota)
Express Checkout
Form Package
Grant Deed
State
North Dakota
Area
Divide County
Price
$29.97
Delivery
Immediate Download
Payment Information
Included Forms
All Divide County specific forms and documents listed below are included in your immediate download package:
Grant Deed Form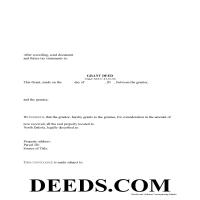 Fill in the blank form formatted to comply with all recording and content requirements.
Included document last updated 9/4/2023
Grant Deed Guide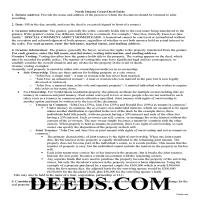 Line by line guide explaining every blank on the form.
Included document last updated 5/29/2023
Completed Example of the Grant Deed Document
Example of a properly completed form for reference.
Included document last updated 6/29/2023
Included Supplemental Documents
The following North Dakota and Divide County supplemental forms are included as a courtesy with your order.
Frequently Asked Questions:
How long does it take to get my forms?
Forms are available immediately after submitting payment.
What are supplemental forms?
Often when a deed is recorded additional documents are required by or Divide County. These could be tax related, informational, or even as simple as a coversheet. Supplemental forms are provided for free with your order where available.
How do I get my forms, are they emailed?
After you submit payment you will see a page listing the Divide County forms you ordered with a download link to the pdf form file. You download the forms to your computer. You will also receive an email with a link to your download page in case you need it later.
What type of files are the forms?
All of our Divide County Grant Deed forms are PDFs. You will need to have or get Adobe Reader to use our forms. Adobe Reader is free software that most computers already have installed.
Can the Grant Deed forms be re-used?
Yes. You can re-use the forms for your personal use. For example, if you have more than one property in Divide County that you need to transfer you would only need to order our forms once for all of your properties in Divide County.
Are these forms guaranteed to be recordable in Divide County?
Yes. Our form blanks are guaranteed to meet or exceed all formatting requirements set forth by Divide County including margin requirements, content requirements, font and font size requirements.
Do I have to enter all of my property information online?
No. The blank forms are downloaded to your computer and you fill them out there, at your convenience.
Can I save the completed form, email it to someone?
Yes, you can save your deed form at any point with your information in it. The forms can also be emailed, blank or complete, as attachments.
Do I need any special software to use these forms?
You will need to have Adobe Reader installed on your computer to use our forms. Adobe Reader is free software that most computers already have installed.
Are there any recurring fees involved?
No. Nothing to cancel, no memberships, no recurring fees.
Areas Covered by These Grant Deed Forms:
Including:
Ambrose
Crosby
Fortuna
Noonan
What is the North Dakota Grant Deed
Real property in North Dakota consists of land, that which is affixed to land, that which is incidental or appurtenant to land, and that which is immovable by law (47-01-03). Title to real property can be transferred with an instrument in writing, such as a grant deed, which is sufficient to transfer title in this state. The use of the word "grant" in a real estate conveyance in North Dakota will imply the following covenants, and none other, from the grantor to the grantee: (1) Previous to the execution of the conveyance, the grantor has not conveyed the same estate, or any right, title or interest therein to any person other than the grantee, and (2) that such estate is, at the time of execution of the conveyance, free from any encumbrances done, made, or suffered by the grantor, or any person claiming under the grantor (47-10-19). The statutory form for a conveyance of real estate is in section 47-10-06 of the North Dakota Century Code.

In order to be considered for recordation by a county clerk or recorder in North Dakota, a grant deed must contain the grantor's original signature and a proper acknowledgment (47-19-03). If the deed is not acknowledged as required, it must be proved by a subscribing witness before it can be recorded (47-10-05). A grant deed in North Dakota can be acknowledged before a judge or clerk of the Supreme Court or a notary public (47-19-13). A city mayor, a recorder, or a county auditor can also take acknowledgments, but only within their own district (47-19-14). A deed acknowledged out-of-state will be accepted for recording in North Dakota if it has been acknowledged according to the laws of such state (47-19-35). The officer taking proof or acknowledgment of a deed must endorse or attach a certificate to the deed, and such certification must be in substantially the same form provided in section 47-19-27 of the North Dakota Century Code. Some grant deeds will need to have an auditor's certificate of transfer and a completed Statement of Full Consideration in order to be recorded (11-18-02 and 11-18-02.2).

A grant deed that has been duly signed, acknowledged or proved, and recorded in the county where the property is located will be deemed to provide constructive notice of the contents of the instrument, as it appears of record, to all persons (47-19-19). An unrecorded grant deed will be valid between the parties to the instrument and those who have notice thereof (47-19-46). An unrecorded grant deed will also be void against any subsequent purchaser in good faith, and for a valuable consideration, of the same real estate or portion thereof, whose conveyance is first deposited with the recorder and subsequently recorded, whether or not it is entitled to be recorded, or as against any attachment levied thereon or any judgment lawfully obtained at the suit of any party, against the person in whose name the title to such land appears of record, prior to the recording of such conveyance (47-19-41).
Our Promise
The documents you receive here will meet, or exceed, the Divide County recording requirements for formatting. If there's an issue caused by our formatting, we'll make it right and refund your payment.
Save Time and Money
Get your Divide County Grant Deed form done right the first time with Deeds.com Uniform Conveyancing Blanks. At Deeds.com, we understand that your time and money are valuable resources, and we don't want you to face a penalty fee or rejection imposed by a county recorder for submitting nonstandard documents. We constantly review and update our forms to meet rapidly changing state and county recording requirements for roughly 3,500 counties and local jurisdictions.
Reviews
4.8 out of 5 (4166 Reviews)
Edward B.
September 22nd, 2023
I was looking for a certain form I needed. Deeds.com had the necessary form and I was able to purchase it with little effort on my part. This was a good customer experience.
Reply from Staff
We appreciate your business and value your feedback. Thank you. Have a wonderful day!
Jerry G.
September 21st, 2023
I found the document confusing and I don't think I can use it.
Reply from Staff
Thank you for your feedback. We recognize that do-it-yourself legal documents may not be suitable for everyone. We always advise all our customers to seek assistance from a legal professional familiar with their specific situation for any form they do not completely understand. For your convenience, we have canceled your order and processed a refund.
Reliant Roofers, Inc. N.
September 20th, 2023
Great communication. Quick response. deeds.com is timely and efficient.
Reply from Staff
We appreciate your business and value your feedback. Thank you. Have a wonderful day!
NANETTE G.
March 6th, 2021
I was so Happy to find a website that had deeds for property, reasonable price, helpful directions for diy flling out the deed info, no surprise hidden fees at checkout...what a relief. Saved hundreds because I can do it myself!
Great service here!!
Reply from Staff
Thank you for your feedback. We really appreciate it. Have a great day!
Julie G.
November 30th, 2020
Great online tool to get your deeds recorded without having to go downtown! Will be using deeds.com for all our future recordings!
Reply from Staff
Thank you!
arturo b d.
September 30th, 2021
just what I needed...thanks
Reply from Staff
Thank you!
James S.
January 21st, 2019
Order Process: 5 Stars - very easy
Material Received: 2 Stars
Issues:
1. Printing- Document would not print in format displayed. Format would continually shrink to approx 2/3 size thus not useable for formal doc submission to County Records office.
2. Document Format- Data insertion fields (addresses) were not of correct size for data input. I needed a 4 line input space but was limited to only 3 lines. Also, Date field (year) was mis-oriented in-so-much that the 3rd digit (inputted) overlapped on 2nd digit (pre-printed) and also was of noticeably different font.
3. Useability- Hand-written input space provided (for Notary) was deficient in space and spacing. It was a challenge to utilize the space available to complete fully and maintain legibility.

Overall - the document worked marginally as advertised, I did need to re-write the entire document myself. It is a good concept but I'd recommend that Deeds company improve the downloaded forms for actual useability, readability, functionability.
regards,
Jim S
Reply from Staff
Thank you for your feedback. We really appreciate it. Have a great day!
Ralph N.
April 5th, 2022
Fast download and clear, easy-to-follow directions. A great service.
Reply from Staff
We appreciate your business and value your feedback. Thank you. Have a wonderful day!
Jacinto A.
April 22nd, 2019
The forms are exactly what was needed. But wish I was able to click on the preview form to make sure it was the correct forms
Reply from Staff
Thank you for your feedback Jacinto.
Cindy H.
October 21st, 2020
Loved it! Quick and easy, done in 24 hours.
Reply from Staff
Thank you for your feedback. We really appreciate it. Have a great day!
Darrell G.
October 14th, 2022
Very easy to work with.
Reply from Staff
Thank you!
David A.
May 3rd, 2022
Forms were just what I needed. Very well explained and easy to use.
Reply from Staff
We appreciate your business and value your feedback. Thank you. Have a wonderful day!
Roger M.
January 9th, 2019
Great package it was nice to be able to get everything required for recording this deed in one place.
Reply from Staff
Thanks Roger, we appreciate your feedback.
Rebecca M.
February 22nd, 2023
Haven't used yet but I will check it out tomorrow
Reply from Staff
Thank you!
Giustino C.
May 27th, 2020
I am pleased with this electronic service in making a time sensitive deed transfer since very few options exist currently with the Covid 19 Crisis. This was the only rapid and available option to record the deed transfer and the fee was reasonable. I was able to upload my notarized and executed document and had a record number as well as the official document within 24 hours. It was simple and easy to use. Thank you deeds.com!!
Reply from Staff
Thank you Giustino, glad we could help.