Alfalfa County Memorandum of Trust Forms (Oklahoma)
Express Checkout
Form Package
Memorandum of Trust
State
Oklahoma
Area
Alfalfa County
Price
$29.97
Delivery
Immediate Download
Payment Information
Included Forms
All Alfalfa County specific forms and documents listed below are included in your immediate download package:
Memorandum of Trust Form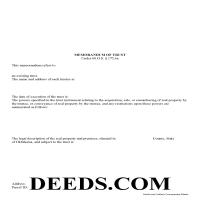 Fill in the blank form formatted to comply with all recording and content requirements.
Included document last updated 8/29/2023
Memorandum of Trust Guide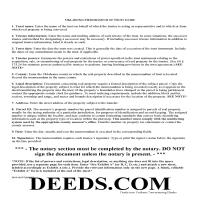 Line by line guide explaining every blank on the form.
Included document last updated 8/15/2023
Completed Example of the Memorandum of Trust Form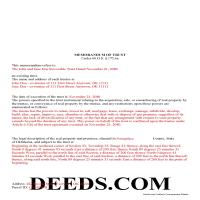 Example of a properly completed form for reference.
Included document last updated 5/8/2023
Included Supplemental Documents
The following Oklahoma and Alfalfa County supplemental forms are included as a courtesy with your order.
Frequently Asked Questions:
How long does it take to get my forms?
Forms are available immediately after submitting payment.
What are supplemental forms?
Often when a deed is recorded additional documents are required by or Alfalfa County. These could be tax related, informational, or even as simple as a coversheet. Supplemental forms are provided for free with your order where available.
How do I get my forms, are they emailed?
After you submit payment you will see a page listing the Alfalfa County forms you ordered with a download link to the pdf form file. You download the forms to your computer. You will also receive an email with a link to your download page in case you need it later.
What type of files are the forms?
All of our Alfalfa County Memorandum of Trust forms are PDFs. You will need to have or get Adobe Reader to use our forms. Adobe Reader is free software that most computers already have installed.
Can the Memorandum of Trust forms be re-used?
Yes. You can re-use the forms for your personal use. For example, if you have more than one property in Alfalfa County that you need to transfer you would only need to order our forms once for all of your properties in Alfalfa County.
Are these forms guaranteed to be recordable in Alfalfa County?
Yes. Our form blanks are guaranteed to meet or exceed all formatting requirements set forth by Alfalfa County including margin requirements, content requirements, font and font size requirements.
Do I have to enter all of my property information online?
No. The blank forms are downloaded to your computer and you fill them out there, at your convenience.
Can I save the completed form, email it to someone?
Yes, you can save your deed form at any point with your information in it. The forms can also be emailed, blank or complete, as attachments.
Do I need any special software to use these forms?
You will need to have Adobe Reader installed on your computer to use our forms. Adobe Reader is free software that most computers already have installed.
Are there any recurring fees involved?
No. Nothing to cancel, no memberships, no recurring fees.
Areas Covered by These Memorandum of Trust Forms:
Including:
Aline
Amorita
Burlington
Carmen
Cherokee
Goltry
Helena
Jet
What is the Oklahoma Memorandum of Trust
In Oklahoma, the memorandum of trust is codified at 60 O.S. 175.6a. Executed by a trustee, the memorandum of trust is a recorded document pertaining to real property acquisitions and transfers by an express private trust.

An express private trust refers to any trust that is "created with the settlor's express intent, usually declared in writing," and is not a business trust [1]. In a trust arrangement, a settlor conveys property to another person (the trustee) to be held for a third (the beneficiary). The trust is administered pursuant to the terms of a written document executed by the settlor. This document, called the trust instrument, designates the trustee and trust beneficiaries and outlines the provisions of the trust and the scope of the trust's assets. In some cases, the trust instrument may be recorded, but it is generally a private document.

In lieu of providing parties outside of the trust arrangement with the full trust instrument, a trustee may provide a memorandum when entering into real property transactions. The memorandum is an abstract of the trust instrument that is recorded when the trust acquires real property or when the trustee is conveying real property held in the trust. The document contains only essential information about the trust, allowing the settlor to keep his estate plans and other information irrelevant to the transaction at hand private. It is similar to a certification of trust (under the Uniform Trust Code), the major difference being that the certification is generally not recorded.

There are differences of opinion among title examiners on when a memorandum is required [2]. Oklahoma Title Standard 15.2 states that when real property is transferred to or by the name of a trustee as trustee of a named express private trust, a memorandum of trust is not required. Where a settlor makes a conveyance to a trust using the trust's name alone as the grantee, the Title Standards require a memorandum of trust (see also 60 O.S. 175.6a) [3].

The memorandum of trust provides the name of the trust and the name and address of each trustee of the trust, as well as the date the trust was created. Because the document pertains to real property, a legal description of the parcel subject to the transaction for which the memorandum is being recorded may be required.

A memorandum of trust is sometimes recorded alongside a conveyance by trustee as part of the deed as evidence of the trust's existence and the trustee's authority (as the trust instrument is generally not a matter of public record). The form should be signed by the trustees of a trust in the presence of a notary public before recording in the county in which the real property is located.

Consult a lawyer with questions about express private trusts and memoranda of trust in Oklahoma.


[1] Black's Law Dictionary, 8th ed.
[2] http://www.jhbpc.com/Estate-Planning-In-Depth/memotrust.htm
[3] http://eppersonlaw.com/wp-content/uploads/2013/05/1-ORIGINAL-2016-TES-HANDBOOK-Final-160111.pdf
Our Promise
The documents you receive here will meet, or exceed, the Alfalfa County recording requirements for formatting. If there's an issue caused by our formatting, we'll make it right and refund your payment.
Save Time and Money
Get your Alfalfa County Memorandum of Trust form done right the first time with Deeds.com Uniform Conveyancing Blanks. At Deeds.com, we understand that your time and money are valuable resources, and we don't want you to face a penalty fee or rejection imposed by a county recorder for submitting nonstandard documents. We constantly review and update our forms to meet rapidly changing state and county recording requirements for roughly 3,500 counties and local jurisdictions.
Reviews
4.8 out of 5 (4166 Reviews)
Edward B.
September 22nd, 2023
I was looking for a certain form I needed. Deeds.com had the necessary form and I was able to purchase it with little effort on my part. This was a good customer experience.
Reply from Staff
We appreciate your business and value your feedback. Thank you. Have a wonderful day!
Jerry G.
September 21st, 2023
I found the document confusing and I don't think I can use it.
Reply from Staff
Thank you for your feedback. We recognize that do-it-yourself legal documents may not be suitable for everyone. We always advise all our customers to seek assistance from a legal professional familiar with their specific situation for any form they do not completely understand. For your convenience, we have canceled your order and processed a refund.
Reliant Roofers, Inc. N.
September 20th, 2023
Great communication. Quick response. deeds.com is timely and efficient.
Reply from Staff
We appreciate your business and value your feedback. Thank you. Have a wonderful day!
Barbara D.
November 11th, 2021
Very helpful, clear and precise. The example further clarifies exactly what is needed to be included in information.
Reply from Staff
Thank you!
James W.
January 20th, 2019
Easy access to forms saving lots of time researching reqmts from a State/Municipal Govt website. I saved 400-500 in lawyer fees but getting these forms, and coordinating with the Property recorders office in another state. Will use you again.
Reply from Staff
Thank you James. We really appreciate your feedback.
Jeffry C.
October 19th, 2020
Deeds.com has been a lifesaver for my house buying business. Excellent support!
Reply from Staff
Thank you Jeffry, glad we could help.
Janet J.
December 15th, 2022
These forms were very easy to both download and print, as well as fill out on the site and then print. The instructions are clear and concise. We have not yet been to the County to file them, but we are expecting no issues.
Reply from Staff
We appreciate your business and value your feedback. Thank you. Have a wonderful day!
Marilyn O.
March 9th, 2021
Good resource. Got what I needed easily
Reply from Staff
Thank you for your feedback. We really appreciate it. Have a great day!
George S.
September 16th, 2021
Excellent product- very
easy to use.
Will use again...
Reply from Staff
Thank you for your feedback. We really appreciate it. Have a great day!
chungming a.
March 30th, 2019
easy to use website.
Reply from Staff
Thank you!
Evelyn A.
October 30th, 2021
Was easy to use. Just didnt find what i needed
Reply from Staff
Thank you for your feedback. We really appreciate it. Have a great day!
Stephen D.
April 17th, 2020
I recommend you add a box "Add another document or package." The way it is now confused me, so I uploaded the same document two more times, thinking the upload failed the first two times.
Reply from Staff
Thank you for your feedback Stephen.
Cyndi E.
March 25th, 2022
Outstanding service! So efficient and easy! Within 2 hours my document was reviewed, invoiced and forwarded to the DC ROD. This saved me so much time.
Reply from Staff
Thank you!
Linda R.
April 30th, 2019
I was happy to have my payment cancelled when no information was found. And I was given a link to contact the deed office directly.
Reply from Staff
Thank you!
Kevin P.
March 19th, 2023
Just what my parents and I have been looking for to do a Quit Deed to transfer property into my name.
Reply from Staff
Thank you!