Butler County Assignment of Lien Forms (Pennsylvania)
Express Checkout
Form Package
Assignment of Lien
State
Pennsylvania
Area
Butler County
Price
$29.97
Delivery
Immediate Download
Payment Information
Included Forms
All Butler County specific forms and documents listed below are included in your immediate download package:
Assignment of Mechanics Lien Form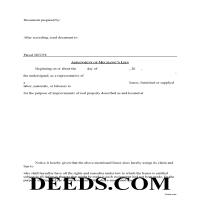 Fill in the blank form formatted to comply with all recording and content requirements.
Included document last reviewed/updated 8/31/2023
Assignment of Lien Guide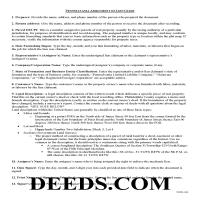 Line by line guide explaining every blank on the form.
Included document last reviewed/updated 8/14/2023
Completed Example of the Assignment of Lien Document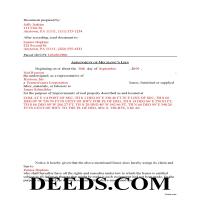 Example of a properly completed form for reference.
Included document last reviewed/updated 4/6/2023
Included Supplemental Documents
The following Pennsylvania and Butler County supplemental forms are included as a courtesy with your order.
Frequently Asked Questions:
How long does it take to get my forms?
Forms are available immediately after submitting payment.
What are supplemental forms?
Often when a deed is recorded additional documents are required by or Butler County. These could be tax related, informational, or even as simple as a coversheet. Supplemental forms are provided for free with your order where available.
How do I get my forms, are they emailed?
After you submit payment you will see a page listing the Butler County forms you ordered with a download link to the pdf form file. You download the forms to your computer. You will also receive an email with a link to your download page in case you need it later.
What type of files are the forms?
All of our Butler County Assignment of Lien forms are PDFs. You will need to have or get Adobe Reader to use our forms. Adobe Reader is free software that most computers already have installed.
Can the Assignment of Lien forms be re-used?
Yes. You can re-use the forms for your personal use. For example, if you have more than one property in Butler County that you need to transfer you would only need to order our forms once for all of your properties in Butler County.
Are these forms guaranteed to be recordable in Butler County?
Yes. Our form blanks are guaranteed to meet or exceed all formatting requirements set forth by Butler County including margin requirements, content requirements, font and font size requirements.
Do I have to enter all of my property information online?
No. The blank forms are downloaded to your computer and you fill them out there, at your convenience.
Can I save the completed form, email it to someone?
Yes, you can save your deed form at any point with your information in it. The forms can also be emailed, blank or complete, as attachments.
Do I need any special software to use these forms?
You will need to have Adobe Reader installed on your computer to use our forms. Adobe Reader is free software that most computers already have installed.
Are there any recurring fees involved?
No. Nothing to cancel, no memberships, no recurring fees.
Areas Covered by These Assignment of Lien Forms:
Including:
Boyers
Branchton
Bruin
Butler
Cabot
Callery
Chicora
Connoquenessing
Cranberry Twp
East Butler
Eau Claire
Evans City
Fenelton
Forestville
Harmony
Harrisville
Herman
Hilliards
Karns City
Lyndora
Mars
North Washington
Petrolia
Portersville
Prospect
Renfrew
Sarver
Saxonburg
Slippery Rock
Valencia
West Sunbury
Zelienople
What is the Pennsylvania Assignment of Lien
Mechanic's Lien assignments can be accomplished by filing an assignment of lien document with the county recorder or prothonotary office where the subject property is located and where the lien was originally recorded.

One of the fundamental principles of contract law is the right to assign contract rights to a third party. For example, Bill contracts with Ted to build a house for Ted. Bill then assigns the right to payment for the house to Fred (maybe he owes Fred some money on a debt). This is called an "assignment." With the basic legal terminology clarified, let's move on to how lien assignments work in Pennsylvania.

Typically, under the rule on assignments, all rights of either seller or buyer can be assigned except where the assignment would materially change the duty of the other party, or increase materially the burden or risk imposed on the other party by the contract, or impair materially the other party's chance of obtaining return performance. In general, as long as there is no increased burden or risk, or the duties required by the party subject to the lien somehow change, an assignment is permissible.

A valid assignment identifies the parties, the subject property, relevant dates, fees, and payments, and any other details needed for the specific situation. In addition, the document must meet all state and local standards for recorded documents.

Mechanic's Liens are governed by Title 49 of the Pennsylvania Consolidated Statutes.

This article is offered for informational purposes only and is not legal advice. This information should not be relied upon as a substitute for speaking with an attorney. Please speak with an attorney familiar with lien laws for questions regarding lien assignments or any other issues related to mechanic's liens in Pennsylvania.
Our Promise
The documents you receive here will meet, or exceed, the Butler County recording requirements for formatting. If there's an issue caused by our formatting, we'll make it right and refund your payment.
Save Time and Money
Get your Butler County Assignment of Lien form done right the first time with Deeds.com Uniform Conveyancing Blanks. At Deeds.com, we understand that your time and money are valuable resources, and we don't want you to face a penalty fee or rejection imposed by a county recorder for submitting nonstandard documents. We constantly review and update our forms to meet rapidly changing state and county recording requirements for roughly 3,500 counties and local jurisdictions.
Reviews
4.8 out of 5 (4173 Reviews)
Norman J.
October 3rd, 2023
I really enjoyed your service. It was great.
Reply from Staff
Thank you!
Kristen N.
October 3rd, 2023
Very easy to use, helpful instructions and examples. I also like the chat feature and the erecording. So much better than other DIY law websites out there.
Reply from Staff
We appreciate your business and value your feedback. Thank you. Have a wonderful day!
Angela J M.
September 29th, 2023
Quick turnaround (about 24hrs) easy process.
Reply from Staff
Thank you for your feedback. We really appreciate it. Have a great day!
davidjrhall e.
March 13th, 2023
So far its been good. The David Jr Hall Estate Trust is a Business Blind Trust and we are looking forward to working with your platform and seeing how far we can go.
Reply from Staff
Thank you!
Jerry O.
July 10th, 2020
Everything I needed including detailed instructions to transfer the deed on my house from me alone to me and my wife as joint owners with right of survivorship. Formatting was compliant and blanks for all information required were provided in all the right places.

5 stars
Reply from Staff
We appreciate your business and value your feedback. Thank you. Have a wonderful day!
Gary K.
July 26th, 2019
Easy to use site. Good job, it works with no stress.
Reply from Staff
Thank you!
Michael W.
August 27th, 2021
This was really easy and very helpful.
Thanks,
Reply from Staff
Thank you!
Kenneth R.
May 26th, 2023
Easy to use and saves money.
Reply from Staff
Thank you!
Ivory J.
August 1st, 2020
Haven't processed any deed documents so far. I do agree that Deed.com website browsing tool will be helpful.
Reply from Staff
Thank you!
Eric M.
April 8th, 2021
Easy process and staff was very helpful
Reply from Staff
Thank you for your feedback. We really appreciate it. Have a great day!
lola d.
June 13th, 2019
wonderful
Reply from Staff
Thank you!
Catherine S.
December 19th, 2019
Description of document could have been better
Reply from Staff
Thank you!
Rebecca W.
January 24th, 2023
Very easy to find and download.
Reply from Staff
Thank you!
Deirdre K.
July 19th, 2020
Fantastic! So helpful, got my deed recorded with no problem.
Reply from Staff
Thank you!
Jules S.
May 6th, 2020
I can't believe I haven't been using this service since inception. The only thing I would recommend is to allow us to delete an erroneous upload. I accidentally uploaded the same document twice but I saw no way for me to correct my mistake other than to send an email.
Reply from Staff
Thank you for your feedback. We really appreciate it. Have a great day!
Legal Forms Disclaimer
Use of Deeds.com Legal Forms:
On our Site, we provide self-help "Do It Yourself Legal Forms." By using a form from our Site, you explicitly agree to our Terms of Use. You acknowledge and agree that your purchase and/or use of a form document does not constitute legal advice nor the practice of law. Furthermore, each form, including any related instructions or guidance, is not tailored to your specific requirements and is not guaranteed or warranted to be up-to-date, accurate, or applicable to your individual circumstances.
NO WARRANTY:
The Do It Yourself Legal Forms provided on our Website are not guaranteed to be usable, accurate, up-to-date, or suitable for any legal purpose. Any use of a Do It Yourself Legal Form from our website is undertaken AT YOUR OWN RISK.
Limitation of Liability:
If you use a Do It Yourself Legal Form available on Deeds.com, you acknowledge and agree that, TO THE EXTENT PERMITTED BY APPLICABLE LAW, WE SHALL NOT BE LIABLE FOR DAMAGES OF ANY KIND (INCLUDING, WITHOUT LIMITATION, LOST PROFITS OR ANY SPECIAL, INCIDENTAL, OR CONSEQUENTIAL DAMAGES) ARISING OUT OF OR IN CONNECTION WITH THE LEGAL FORMS OR FOR ANY INFORMATION OR SERVICES PROVIDED TO YOU THROUGH THE DEEDS.COM WEBSITE.
Damage Cap:
In circumstances where the above limitation of liability is prohibited, OUR SOLE OBLIGATION TO YOU FOR DAMAGES SHALL BE CAPPED AT $100.00.