Clearfield County Assignment of Lien Forms (Pennsylvania)
Express Checkout
Form Package
Assignment of Lien
State
Pennsylvania
Area
Clearfield County
Price
$29.97
Delivery
Immediate Download
Payment Information
Included Forms
All Clearfield County specific forms and documents listed below are included in your immediate download package:
Assignment of Mechanics Lien Form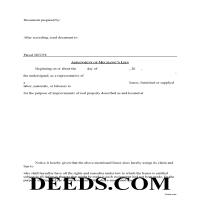 Fill in the blank form formatted to comply with all recording and content requirements.
Included document last reviewed/updated 8/31/2023
Assignment of Lien Guide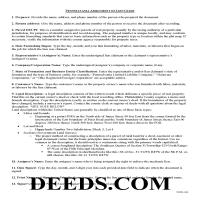 Line by line guide explaining every blank on the form.
Included document last reviewed/updated 8/14/2023
Completed Example of the Assignment of Lien Document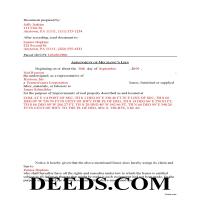 Example of a properly completed form for reference.
Included document last reviewed/updated 4/6/2023
Included Supplemental Documents
The following Pennsylvania and Clearfield County supplemental forms are included as a courtesy with your order.
Frequently Asked Questions:
How long does it take to get my forms?
Forms are available immediately after submitting payment.
What are supplemental forms?
Often when a deed is recorded additional documents are required by or Clearfield County. These could be tax related, informational, or even as simple as a coversheet. Supplemental forms are provided for free with your order where available.
How do I get my forms, are they emailed?
After you submit payment you will see a page listing the Clearfield County forms you ordered with a download link to the pdf form file. You download the forms to your computer. You will also receive an email with a link to your download page in case you need it later.
What type of files are the forms?
All of our Clearfield County Assignment of Lien forms are PDFs. You will need to have or get Adobe Reader to use our forms. Adobe Reader is free software that most computers already have installed.
Can the Assignment of Lien forms be re-used?
Yes. You can re-use the forms for your personal use. For example, if you have more than one property in Clearfield County that you need to transfer you would only need to order our forms once for all of your properties in Clearfield County.
Are these forms guaranteed to be recordable in Clearfield County?
Yes. Our form blanks are guaranteed to meet or exceed all formatting requirements set forth by Clearfield County including margin requirements, content requirements, font and font size requirements.
Do I have to enter all of my property information online?
No. The blank forms are downloaded to your computer and you fill them out there, at your convenience.
Can I save the completed form, email it to someone?
Yes, you can save your deed form at any point with your information in it. The forms can also be emailed, blank or complete, as attachments.
Do I need any special software to use these forms?
You will need to have Adobe Reader installed on your computer to use our forms. Adobe Reader is free software that most computers already have installed.
Are there any recurring fees involved?
No. Nothing to cancel, no memberships, no recurring fees.
Areas Covered by These Assignment of Lien Forms:
Including:
Allport
Beccaria
Bigler
Brisbin
Burnside
Clearfield
Coalport
Curwensville
Drifting
Du Bois
Frenchville
Glen Hope
Glen Richey
Grampian
Grassflat
Hawk Run
Houtzdale
Hyde
Irvona
Karthaus
Kylertown
La Jose
Lanse
Lecontes Mills
Luthersburg
Madera
Mahaffey
Mcgees Mills
Mineral Springs
Morann
Morrisdale
Munson
New Millport
Olanta
Osceola Mills
Penfield
Pottersdale
Ramey
Rockton
Shawville
Smithmill
Smokerun
Troutville
Wallaceton
West Decatur
Westover
Winburne
Woodland
What is the Pennsylvania Assignment of Lien
Mechanic's Lien assignments can be accomplished by filing an assignment of lien document with the county recorder or prothonotary office where the subject property is located and where the lien was originally recorded.

One of the fundamental principles of contract law is the right to assign contract rights to a third party. For example, Bill contracts with Ted to build a house for Ted. Bill then assigns the right to payment for the house to Fred (maybe he owes Fred some money on a debt). This is called an "assignment." With the basic legal terminology clarified, let's move on to how lien assignments work in Pennsylvania.

Typically, under the rule on assignments, all rights of either seller or buyer can be assigned except where the assignment would materially change the duty of the other party, or increase materially the burden or risk imposed on the other party by the contract, or impair materially the other party's chance of obtaining return performance. In general, as long as there is no increased burden or risk, or the duties required by the party subject to the lien somehow change, an assignment is permissible.

A valid assignment identifies the parties, the subject property, relevant dates, fees, and payments, and any other details needed for the specific situation. In addition, the document must meet all state and local standards for recorded documents.

Mechanic's Liens are governed by Title 49 of the Pennsylvania Consolidated Statutes.

This article is offered for informational purposes only and is not legal advice. This information should not be relied upon as a substitute for speaking with an attorney. Please speak with an attorney familiar with lien laws for questions regarding lien assignments or any other issues related to mechanic's liens in Pennsylvania.
Our Promise
The documents you receive here will meet, or exceed, the Clearfield County recording requirements for formatting. If there's an issue caused by our formatting, we'll make it right and refund your payment.
Save Time and Money
Get your Clearfield County Assignment of Lien form done right the first time with Deeds.com Uniform Conveyancing Blanks. At Deeds.com, we understand that your time and money are valuable resources, and we don't want you to face a penalty fee or rejection imposed by a county recorder for submitting nonstandard documents. We constantly review and update our forms to meet rapidly changing state and county recording requirements for roughly 3,500 counties and local jurisdictions.
Reviews
4.8 out of 5 (4171 Reviews)
Angela J M.
September 29th, 2023
Quick turnaround (about 24hrs) easy process.
Reply from Staff
Thank you for your feedback. We really appreciate it. Have a great day!
Jennifer T.
September 29th, 2023
I got instant access to the exact forms I needed! The guide to completing the form was very thorough and easy to understand. I am very thankful for this service!
Reply from Staff
Thank you for the kind words Jennifer. We appreciate you!
Maria M.
September 27th, 2023
The requested documents I needed were provided and also complete instructions on how to fill them out. I definitely will you this service again.
Reply from Staff
We appreciate your business and value your feedback. Thank you. Have a wonderful day!
willie jr t.
November 23rd, 2020
Awesome! Thanks so so much!
Reply from Staff
Thank you!
Della M.
July 7th, 2019
Very easy to purchase with immediate use of all of the forms that you need for probate of property.
My parents had died and left equal shares of their home to my 2 brothers and I.
Reply from Staff
Thank you!
Sheila P.
May 17th, 2023
What a great service to provide with excellent directions! At first I thought I would need an attorney, but I walked through the steps and now I have it finished! Saved a ton of money. Thanks Deed.com.
Reply from Staff
Thank you for your feedback. We really appreciate it. Have a great day!
Ted D.
August 17th, 2020
Very good/user friendly
Reply from Staff
Thank you!
Lynette D.
July 29th, 2020
I planned to use an attorney for this process but deeds.com made it so easy I was able to do it myself and I saved $330 in the process. I really appreciated the instructions and example provided on the site.
Reply from Staff
Thank you for your feedback. We really appreciate it. Have a great day!
Yvonne R.
December 1st, 2020
Quick and easy, however, I couldn't get the guide to download.
Reply from Staff
Thank you for your feedback. We really appreciate it. Have a great day!
Wayne R.
February 22nd, 2021
Couldn't believe how simple it was to do such a very important family support task and the price was right! Thank you
Reply from Staff
We appreciate your business and value your feedback. Thank you. Have a wonderful day!
Ardith S.
February 14th, 2021
Very informative and user friendly. Was able to get all information and forms needed without any problems.
Reply from Staff
We appreciate your business and value your feedback. Thank you. Have a wonderful day!
Lou H.
April 27th, 2019
5 stars.
Reply from Staff
Thank you!
annie m.
February 13th, 2023
recently joined Deeds.com. still exploring the site. has been very helpful in providing local information for recording, such as fees and requirements. i am working to correct mistakes made within a deed. it is amazing how these municipalities operate outside the scope of Article 1, Section 8, Clause 17; to claim land is "in" the "State of ____. when the land is actually not ceded to the United States of America as for use for needful buildings. beware of the fraud perpetrated by Attorneys in the recording of your Deeds. Registration as "RESIDENTIAL" puts your private-use land on the TAX rolls with the use of that one word. i recommend this site as it appears there is information for each state and each county office. will update my review once i place an order.
Reply from Staff
Thank you!
Albert j.
June 3rd, 2020
Very easy site to use for a simple minded happy howmowner.
Very reasonable fee
Quick turn around
Good communication
Reply from Staff
Thank you!
Fritz C.
August 27th, 2020
Quick and complete info
Reply from Staff
Thank you!
Legal Forms Disclaimer
Use of Deeds.com Legal Forms:
On our Site, we provide self-help "Do It Yourself Legal Forms." By using a form from our Site, you explicitly agree to our Terms of Use. You acknowledge and agree that your purchase and/or use of a form document does not constitute legal advice nor the practice of law. Furthermore, each form, including any related instructions or guidance, is not tailored to your specific requirements and is not guaranteed or warranted to be up-to-date, accurate, or applicable to your individual circumstances.
NO WARRANTY:
The Do It Yourself Legal Forms provided on our Website are not guaranteed to be usable, accurate, up-to-date, or suitable for any legal purpose. Any use of a Do It Yourself Legal Form from our website is undertaken AT YOUR OWN RISK.
Limitation of Liability:
If you use a Do It Yourself Legal Form available on Deeds.com, you acknowledge and agree that, TO THE EXTENT PERMITTED BY APPLICABLE LAW, WE SHALL NOT BE LIABLE FOR DAMAGES OF ANY KIND (INCLUDING, WITHOUT LIMITATION, LOST PROFITS OR ANY SPECIAL, INCIDENTAL, OR CONSEQUENTIAL DAMAGES) ARISING OUT OF OR IN CONNECTION WITH THE LEGAL FORMS OR FOR ANY INFORMATION OR SERVICES PROVIDED TO YOU THROUGH THE DEEDS.COM WEBSITE.
Damage Cap:
In circumstances where the above limitation of liability is prohibited, OUR SOLE OBLIGATION TO YOU FOR DAMAGES SHALL BE CAPPED AT $100.00.