Fulton County Assignment of Lien Forms (Pennsylvania)
Express Checkout
Form Package
Assignment of Lien
State
Pennsylvania
Area
Fulton County
Price
$29.97
Delivery
Immediate Download
Payment Information
Included Forms
All Fulton County specific forms and documents listed below are included in your immediate download package:
Assignment of Mechanics Lien Form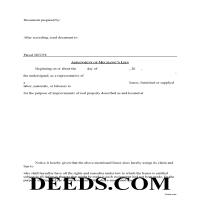 Fill in the blank form formatted to comply with all recording and content requirements.
Included document last reviewed/updated 8/31/2023
Assignment of Lien Guide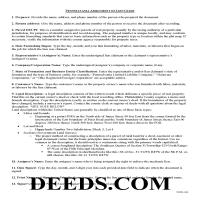 Line by line guide explaining every blank on the form.
Included document last reviewed/updated 8/14/2023
Completed Example of the Assignment of Lien Document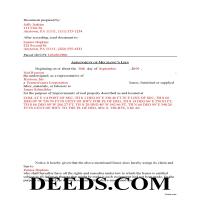 Example of a properly completed form for reference.
Included document last reviewed/updated 4/6/2023
Included Supplemental Documents
The following Pennsylvania and Fulton County supplemental forms are included as a courtesy with your order.
Frequently Asked Questions:
How long does it take to get my forms?
Forms are available immediately after submitting payment.
What are supplemental forms?
Often when a deed is recorded additional documents are required by or Fulton County. These could be tax related, informational, or even as simple as a coversheet. Supplemental forms are provided for free with your order where available.
How do I get my forms, are they emailed?
After you submit payment you will see a page listing the Fulton County forms you ordered with a download link to the pdf form file. You download the forms to your computer. You will also receive an email with a link to your download page in case you need it later.
What type of files are the forms?
All of our Fulton County Assignment of Lien forms are PDFs. You will need to have or get Adobe Reader to use our forms. Adobe Reader is free software that most computers already have installed.
Can the Assignment of Lien forms be re-used?
Yes. You can re-use the forms for your personal use. For example, if you have more than one property in Fulton County that you need to transfer you would only need to order our forms once for all of your properties in Fulton County.
Are these forms guaranteed to be recordable in Fulton County?
Yes. Our form blanks are guaranteed to meet or exceed all formatting requirements set forth by Fulton County including margin requirements, content requirements, font and font size requirements.
Do I have to enter all of my property information online?
No. The blank forms are downloaded to your computer and you fill them out there, at your convenience.
Can I save the completed form, email it to someone?
Yes, you can save your deed form at any point with your information in it. The forms can also be emailed, blank or complete, as attachments.
Do I need any special software to use these forms?
You will need to have Adobe Reader installed on your computer to use our forms. Adobe Reader is free software that most computers already have installed.
Are there any recurring fees involved?
No. Nothing to cancel, no memberships, no recurring fees.
Areas Covered by These Assignment of Lien Forms:
Including:
Big Cove Tannery
Burnt Cabins
Crystal Spring
Fort Littleton
Harrisonville
Hustontown
Mc Connellsburg
Needmore
Warfordsburg
Waterfall
Wells Tannery
What is the Pennsylvania Assignment of Lien
Mechanic's Lien assignments can be accomplished by filing an assignment of lien document with the county recorder or prothonotary office where the subject property is located and where the lien was originally recorded.

One of the fundamental principles of contract law is the right to assign contract rights to a third party. For example, Bill contracts with Ted to build a house for Ted. Bill then assigns the right to payment for the house to Fred (maybe he owes Fred some money on a debt). This is called an "assignment." With the basic legal terminology clarified, let's move on to how lien assignments work in Pennsylvania.

Typically, under the rule on assignments, all rights of either seller or buyer can be assigned except where the assignment would materially change the duty of the other party, or increase materially the burden or risk imposed on the other party by the contract, or impair materially the other party's chance of obtaining return performance. In general, as long as there is no increased burden or risk, or the duties required by the party subject to the lien somehow change, an assignment is permissible.

A valid assignment identifies the parties, the subject property, relevant dates, fees, and payments, and any other details needed for the specific situation. In addition, the document must meet all state and local standards for recorded documents.

Mechanic's Liens are governed by Title 49 of the Pennsylvania Consolidated Statutes.

This article is offered for informational purposes only and is not legal advice. This information should not be relied upon as a substitute for speaking with an attorney. Please speak with an attorney familiar with lien laws for questions regarding lien assignments or any other issues related to mechanic's liens in Pennsylvania.
Our Promise
The documents you receive here will meet, or exceed, the Fulton County recording requirements for formatting. If there's an issue caused by our formatting, we'll make it right and refund your payment.
Save Time and Money
Get your Fulton County Assignment of Lien form done right the first time with Deeds.com Uniform Conveyancing Blanks. At Deeds.com, we understand that your time and money are valuable resources, and we don't want you to face a penalty fee or rejection imposed by a county recorder for submitting nonstandard documents. We constantly review and update our forms to meet rapidly changing state and county recording requirements for roughly 3,500 counties and local jurisdictions.
Reviews
4.8 out of 5 (4174 Reviews)
Brennan H.
October 4th, 2023
I had worked for a couple of months sending things back and forth to the county and still had no success. I decided to use deeds.com and it was all done in a few hours. Such a relief! While I find this to be wrong and the county should work with property owners as well as they work with third parties, I was still grateful for this service.
Reply from Staff
Thank you for your feedback. We really appreciate it. Have a great day!
Norman J.
October 3rd, 2023
I really enjoyed your service. It was great.
Reply from Staff
Thank you!
Kristen N.
October 3rd, 2023
Very easy to use, helpful instructions and examples. I also like the chat feature and the erecording. So much better than other DIY law websites out there.
Reply from Staff
We appreciate your business and value your feedback. Thank you. Have a wonderful day!
Tanya B.
May 4th, 2022
Very convenient way to record documents without leaving the office. Responses to any questions have always been very quick. Would recommend using the site to anyone who needs to record documents and wants to save valuable time.
Reply from Staff
Thank you!
David P.
March 26th, 2019
You make the recording/registration process easy to follow - the value to price ratio is awesome!
Reply from Staff
We appreciate your business and value your feedback. Thank you. Have a wonderful day!
A. S.
February 27th, 2019
First, I am glad that you gave a blank copy, an example copy, and a 'guide'. It made it much easier to do. Overall I was very happy with your products and organization... however, things got pretty confusing and I have a pretty 'serious' law background in Real Estate and Civil law. With that said, I spent about 10+ hours getting my work done, using the Deed of Trust and Promissory note from you and there were a few problems: First, it would be FANTASTIC if you actually aligned your guide to actually match the Deed or Promissory Note. What I mean is that if the Deed says 'section (E)' then your guide shouldn't be 'randomly' numbered as 1,2,3, for advice/instructions, but should EXACTLY match 'section (E)'. Some places you have to 'hunt' for what you are looking for, and if you did it based on my suggestion, you wouldn't need to 'hunt' and it would avoid confusion. 2nd: This one really 'hurt'... you had something called the 'Deed of Trust Master Form' yet you had basically no information on what it was or how to use it. The only information you had was a small section at the top of the 'Short Form Deed of Trust Guide'. Holy Cow, was that 'section' super confusing. I still don't know if I did it correctly, but your guide says only put a return address on it and leave the rest of the 16 or so page Deed of Trust beneath it blank... and then include your 'Deed of Trust' (I had to assume the short form deed that I had just created) as part of it. I had to assume that I had to print off the entire 17 page or so title page and blank deed. I also had to assume that the promissory note was supposed to be EXHIBIT A or B on the Short Form Deed. It would be great if someone would take a serious look at that short section in your 'Short Form Deed of Trust Guide' and realize that those of us using your products are seriously turning this into a county clerk to file and that most of us, probably already have a property that has an existing Deed... or at least can find one in the county records if necessary... and make sure that you make a distinction between the Deed for the property that already exists, versus the Deed of Trust and Promissory note that we are trying to file. Thanks.
Reply from Staff
Thank you for your feedback. We'll have staff review the document for clarity. Have a great day!
Andrew H.
November 11th, 2020
Very efficient does what it says on the box.
Reply from Staff
Thank you!
Pamela C.
October 5th, 2022
It was easy to download. And your guide was informative as was the completed form for an example. But I wish that I had been able to edit the forms online and then print.

My handwritten info is just not as crisp.
Reply from Staff
Thank you for your feedback. We really appreciate it. Have a great day!
Mary Ann H V.
May 4th, 2021
I'm very happy with your service! It saved me, at least, hundreds of dollars vs. going through a lawyer in a different state.
Reply from Staff
We appreciate your business and value your feedback. Thank you. Have a wonderful day!
Brian W.
February 1st, 2020
Easy, but it would be nice if there was an option for font size. It looks tiny, like 6 or 8.
Reply from Staff
Thank you for your feedback. We really appreciate it. Have a great day!
Jamie B.
July 14th, 2020
Deeds.com made the recording of our Deed in a county where we do not reside, VERY easy! Customer service was great with all my questions answered immediately via my account portal. Very user friendly service!

I wish the available documents were a little less pricey, but all in all, to get the job done right, I'll probably utilize the document downloads in the future.
Reply from Staff
Thank you for your feedback. We really appreciate it. Have a great day!
Scott H.
April 14th, 2021
Very helpful
Reply from Staff
Thank you!
VICTOR S.
November 16th, 2019
Wow! Nice and easy!
Reply from Staff
Thank you!
Donald S.
July 7th, 2020
Good
Reply from Staff
Thank you!
James W.
June 10th, 2019
It turned out that I was able to search for what I needed on the local county website, which is what your site suggested be tried. I was impressed with your honesty and practical instructions for searches your site gave. I'm pretty sure I'll be back.
Reply from Staff
Thank you for your feedback James. Glad to hear we were able to steer you in the right direction.
Legal Forms Disclaimer
Use of Deeds.com Legal Forms:
On our Site, we provide self-help "Do It Yourself Legal Forms." By using a form from our Site, you explicitly agree to our Terms of Use. You acknowledge and agree that your purchase and/or use of a form document does not constitute legal advice nor the practice of law. Furthermore, each form, including any related instructions or guidance, is not tailored to your specific requirements and is not guaranteed or warranted to be up-to-date, accurate, or applicable to your individual circumstances.
NO WARRANTY:
The Do It Yourself Legal Forms provided on our Website are not guaranteed to be usable, accurate, up-to-date, or suitable for any legal purpose. Any use of a Do It Yourself Legal Form from our website is undertaken AT YOUR OWN RISK.
Limitation of Liability:
If you use a Do It Yourself Legal Form available on Deeds.com, you acknowledge and agree that, TO THE EXTENT PERMITTED BY APPLICABLE LAW, WE SHALL NOT BE LIABLE FOR DAMAGES OF ANY KIND (INCLUDING, WITHOUT LIMITATION, LOST PROFITS OR ANY SPECIAL, INCIDENTAL, OR CONSEQUENTIAL DAMAGES) ARISING OUT OF OR IN CONNECTION WITH THE LEGAL FORMS OR FOR ANY INFORMATION OR SERVICES PROVIDED TO YOU THROUGH THE DEEDS.COM WEBSITE.
Damage Cap:
In circumstances where the above limitation of liability is prohibited, OUR SOLE OBLIGATION TO YOU FOR DAMAGES SHALL BE CAPPED AT $100.00.