Wetzel County Gift Deed Forms (West Virginia)
Express Checkout
Form Package
Gift Deed
State
West Virginia
Area
Wetzel County
Price
$29.97
Delivery
Immediate Download
Payment Information
Included Forms
All Wetzel County specific forms and documents listed below are included in your immediate download package:
Gift Deed Form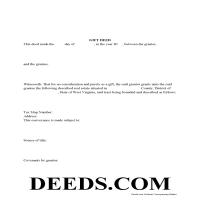 Fill in the blank form formatted to comply with all recording and content requirements.
Included document last updated 5/9/2023
Gift Deed Guide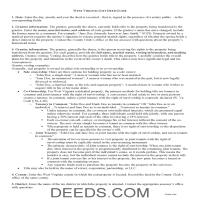 Line by line guide explaining every blank on the form.
Included document last updated 7/3/2023
Completed Example of the Gift Deed Document
Example of a properly completed form for reference.
Included document last updated 7/27/2023
Included Supplemental Documents
The following West Virginia and Wetzel County supplemental forms are included as a courtesy with your order.
Frequently Asked Questions:
How long does it take to get my forms?
Forms are available immediately after submitting payment.
What are supplemental forms?
Often when a deed is recorded additional documents are required by or Wetzel County. These could be tax related, informational, or even as simple as a coversheet. Supplemental forms are provided for free with your order where available.
How do I get my forms, are they emailed?
After you submit payment you will see a page listing the Wetzel County forms you ordered with a download link to the pdf form file. You download the forms to your computer. You will also receive an email with a link to your download page in case you need it later.
What type of files are the forms?
All of our Wetzel County Gift Deed forms are PDFs. You will need to have or get Adobe Reader to use our forms. Adobe Reader is free software that most computers already have installed.
Can the Gift Deed forms be re-used?
Yes. You can re-use the forms for your personal use. For example, if you have more than one property in Wetzel County that you need to transfer you would only need to order our forms once for all of your properties in Wetzel County.
Are these forms guaranteed to be recordable in Wetzel County?
Yes. Our form blanks are guaranteed to meet or exceed all formatting requirements set forth by Wetzel County including margin requirements, content requirements, font and font size requirements.
Do I have to enter all of my property information online?
No. The blank forms are downloaded to your computer and you fill them out there, at your convenience.
Can I save the completed form, email it to someone?
Yes, you can save your deed form at any point with your information in it. The forms can also be emailed, blank or complete, as attachments.
Do I need any special software to use these forms?
You will need to have Adobe Reader installed on your computer to use our forms. Adobe Reader is free software that most computers already have installed.
Are there any recurring fees involved?
No. Nothing to cancel, no memberships, no recurring fees.
Areas Covered by These Gift Deed Forms:
Including:
Big Run
Burton
Folsom
Hundred
Jacksonburg
Littleton
New Martinsville
Paden City
Pine Grove
Porters Falls
Reader
Smithfield
What is the West Virginia Gift Deed
A gift deed, or deed of gift, is a legal document voluntarily transferring title to real property from one party (the grantor or donor) to another (the grantee or donee). A gift deed typically transfers real property between family or close friends. Gift deeds are also used to donate to a non-profit organization or charity. The deed serves as proof that the transfer is indeed a gift and without consideration (any conditions or form of compensation).

In order for a gift deed to be valid they must meet the following requirements: The grantor must intend to make a present gift of the property, the grantor must deliver the property to the grantee, and the grantee must accept the gift. A gift deed must contain language that explicitly states no consideration is expected or required, because any ambiguity or reference to consideration can make the deed contestable in court. A promise to transfer ownership in the future is not a gift, and any deed that does not immediately transfer the interest in the property, or meet any of the aforementioned requirements, can be revoked [1].

A lawful gift deed includes the grantor's full name and marital status, as well as the grantee's full name, marital status, mailing address, and vesting. Vesting describes how the grantee holds title to the property. For West Virginia residential property, the primary methods for holding title in co-ownership are tenancy in common and joint tenancy. A grant of ownership of real estate to two or more persons is presumed to create a tenancy in common, unless a right of survivorship is clearly stated in the conveyance (W. Va. Code 36-1-10 onward).

As with any conveyance of real estate, a gift deed requires a complete legal description of the parcel. Any survey document that a deed references should be prepared by a licensed surveyor and filed with a county clerk, and must also have the licensed surveyor's signature and seal or stamp affixed thereto (W. Va. Code 39-1-2c). Recite the source of title to establish a clear chain of title, and detail any restrictions associated with the property.

In West Virginia, the fee to record a deed of conveyance (without a plat) is $15 for the first five pages and $1 for each additional page. A preservation fee is added to every recorded instrument and is $1 for documents with 1-9 pages, $2 for documents with 10-19 pages, and an additional $1 for every ten pages (W. Va. Code 59-1-10)

Every person who records a document in West Virginia is subject to pay a state excise tax when transferring title to real estate. The rate of the combined state and county excise tax is $4.40 for each $1,000 of value and is payable upon recording. The payment of the tax is evidenced by the affixing of documentary stamps on the document. Copies are $1.50 for the first two pages and $1 for each additional page. To certify a copied document costs an additional $1 (per document). All documents not listed are $10 for the first 5 pages and $1 for each additional page. Pages with printing on both sides will count as two pages (W. Va. Code 11-22-2).

The grantor is responsible for paying the Federal Gift Tax. The IRS implements a Federal Gift Tax on any transfer of property from one individual to another with no consideration, or consideration that is less than the full market value. In accordance with federal law, individuals are permitted an annual exclusion of $15,000 on gifts. This means that if a gift is valued below $15,000, a federal gift tax return (Form 709) does not need to be filed. However, if the gift is something that could possibly be disputed by the IRS -- such as real property -- a grantor may benefit from filing a Form 709 [2].

In West Virginia, there is no state gift tax. For questions regarding state taxation laws, consult a tax specialist. Gifts of real property in West Virginia are, however, subject to the federal gift tax. The grantor is responsible for paying the federal gift tax; however, if the grantor does not pay the gift tax, the grantee will be held liable [1].

With gifts of real property, the recipient of the gift (grantee) is not required to declare the amount of the gift as income, but if the property accrues income after the transaction, the recipient is responsible for paying the requisite state and federal income taxes [3].

This article is provided for informational purposes only and is not a substitute for the advice of an attorney. Contact a lawyer with any questions about gift deeds or other issues related to the transfer of real property. For questions regarding federal and state taxation laws, consult a tax specialist.

[1]
https://nationalparalegal.edu/public_documents/courseware_asp_files/realProperty/PersonalProperty/InterVivosGifts.asp
[2] http://msuextension.org/publications/FamilyFinancialManagement/MT199105HR.pdf
[3] https://www.irs.gov/businesses/small-businesses-self-employed/frequently-asked-questions-on-gift-taxes

Our Promise
The documents you receive here will meet, or exceed, the Wetzel County recording requirements for formatting. If there's an issue caused by our formatting, we'll make it right and refund your payment.
Save Time and Money
Get your Wetzel County Gift Deed form done right the first time with Deeds.com Uniform Conveyancing Blanks. At Deeds.com, we understand that your time and money are valuable resources, and we don't want you to face a penalty fee or rejection imposed by a county recorder for submitting nonstandard documents. We constantly review and update our forms to meet rapidly changing state and county recording requirements for roughly 3,500 counties and local jurisdictions.
Reviews
4.8 out of 5 (4166 Reviews)
Edward B.
September 22nd, 2023
I was looking for a certain form I needed. Deeds.com had the necessary form and I was able to purchase it with little effort on my part. This was a good customer experience.
Reply from Staff
We appreciate your business and value your feedback. Thank you. Have a wonderful day!
Jerry G.
September 21st, 2023
I found the document confusing and I don't think I can use it.
Reply from Staff
Thank you for your feedback. We recognize that do-it-yourself legal documents may not be suitable for everyone. We always advise all our customers to seek assistance from a legal professional familiar with their specific situation for any form they do not completely understand. For your convenience, we have canceled your order and processed a refund.
Reliant Roofers, Inc. N.
September 20th, 2023
Great communication. Quick response. deeds.com is timely and efficient.
Reply from Staff
We appreciate your business and value your feedback. Thank you. Have a wonderful day!
Billie W.
April 23rd, 2021
Excellent way to do this kind of transaction.
Reply from Staff
Thank you!
Nancy B.
August 23rd, 2020
Deeds.com is a godsend! Being able to download the pertinent state and county specific forms reassured me of having the correct t forms in which to proceed. The cost was most reasonable. Thanks for this service.
Reply from Staff
Thank you!
Richard G.
March 17th, 2023
Easy to use. I was able to find out what I needed quickly and was able to download the information necessary.
Reply from Staff
Thank you!
Mary C.
August 30th, 2022
The Deeds.com site made is relatively simple to download a Beneficiary Deed form specific to St Louis, which is great, because neither the city or state provide this. Thanks!
Reply from Staff
Thank you for your feedback. We really appreciate it. Have a great day!
Anthony J S.
July 30th, 2022
It was nice to find a form to use for leaving my house without having my kids deal with Probate Court. The price was a lot cheaper than paying for a Lawyer to set up a transfer of ownership.
Reply from Staff
Thank you for your feedback. We really appreciate it. Have a great day!
Laryn A.
March 3rd, 2020
Very happy with the beneficiary deed forms packet. It was helpful to have an example of a properly filled out form. The only suggestion would be is to show where the exemption code should be placed on the form.
Reply from Staff
Thank you for your feedback. We really appreciate it. Have a great day!
Carol M.
March 14th, 2019
worked very well
Reply from Staff
Thank you for your feedback. We really appreciate it. Have a great day!
arturo b d.
September 30th, 2021
just what I needed...thanks
Reply from Staff
Thank you!
Jim A.
January 26th, 2022
Your website is user friendly and when I brought up issues they were quickly addressed. thank you so much! jim atkinson

Reply from Staff
Thank you!
janelle s.
September 15th, 2020
Uncertain about use as I am new to online forms. Through use I am sure it will feel more comfortable. I like the storage of filled in info forms because I might be using I will be using them or the info in the future.
Reply from Staff
Thank you for your feedback. We really appreciate it. Have a great day!
Robert B.
June 22nd, 2021
This suited my purposes just fine. Instructions were clear and easy to follow. But,I would like to have had the ability to delete the many extra spaces on the final document ... for readability purposes.
Reply from Staff
We appreciate your business and value your feedback. Thank you. Have a wonderful day!
Susan S.
October 4th, 2019
Great forms, easy to understand and use (the guide helped a lot). Recorded with no issues. Will be back when needed.
Reply from Staff
We appreciate your business and value your feedback. Thank you. Have a wonderful day!
Legal Forms Disclaimer
Use of Deeds.com Legal Forms:
On our Site, we provide self-help "Do It Yourself Legal Forms." By using a form from our Site, you explicitly agree to our Terms of Use. You acknowledge and agree that your purchase and/or use of a form document does not constitute legal advice nor the practice of law. Furthermore, each form, including any related instructions or guidance, is not tailored to your specific requirements and is not guaranteed or warranted to be up-to-date, accurate, or applicable to your individual circumstances.
NO WARRANTY:
The Do It Yourself Legal Forms provided on our Website are not guaranteed to be usable, accurate, up-to-date, or suitable for any legal purpose. Any use of a Do It Yourself Legal Form from our website is undertaken AT YOUR OWN RISK.
Limitation of Liability:
If you use a Do It Yourself Legal Form available on Deeds.com, you acknowledge and agree that, TO THE EXTENT PERMITTED BY APPLICABLE LAW, WE SHALL NOT BE LIABLE FOR DAMAGES OF ANY KIND (INCLUDING, WITHOUT LIMITATION, LOST PROFITS OR ANY SPECIAL, INCIDENTAL, OR CONSEQUENTIAL DAMAGES) ARISING OUT OF OR IN CONNECTION WITH THE LEGAL FORMS OR FOR ANY INFORMATION OR SERVICES PROVIDED TO YOU THROUGH THE DEEDS.COM WEBSITE.
Damage Cap:
In circumstances where the above limitation of liability is prohibited, OUR SOLE OBLIGATION TO YOU FOR DAMAGES SHALL BE CAPPED AT $100.00.