Wisconsin Construction Lien Release
Construction Lien Release for Real Estate Located in Wisconsin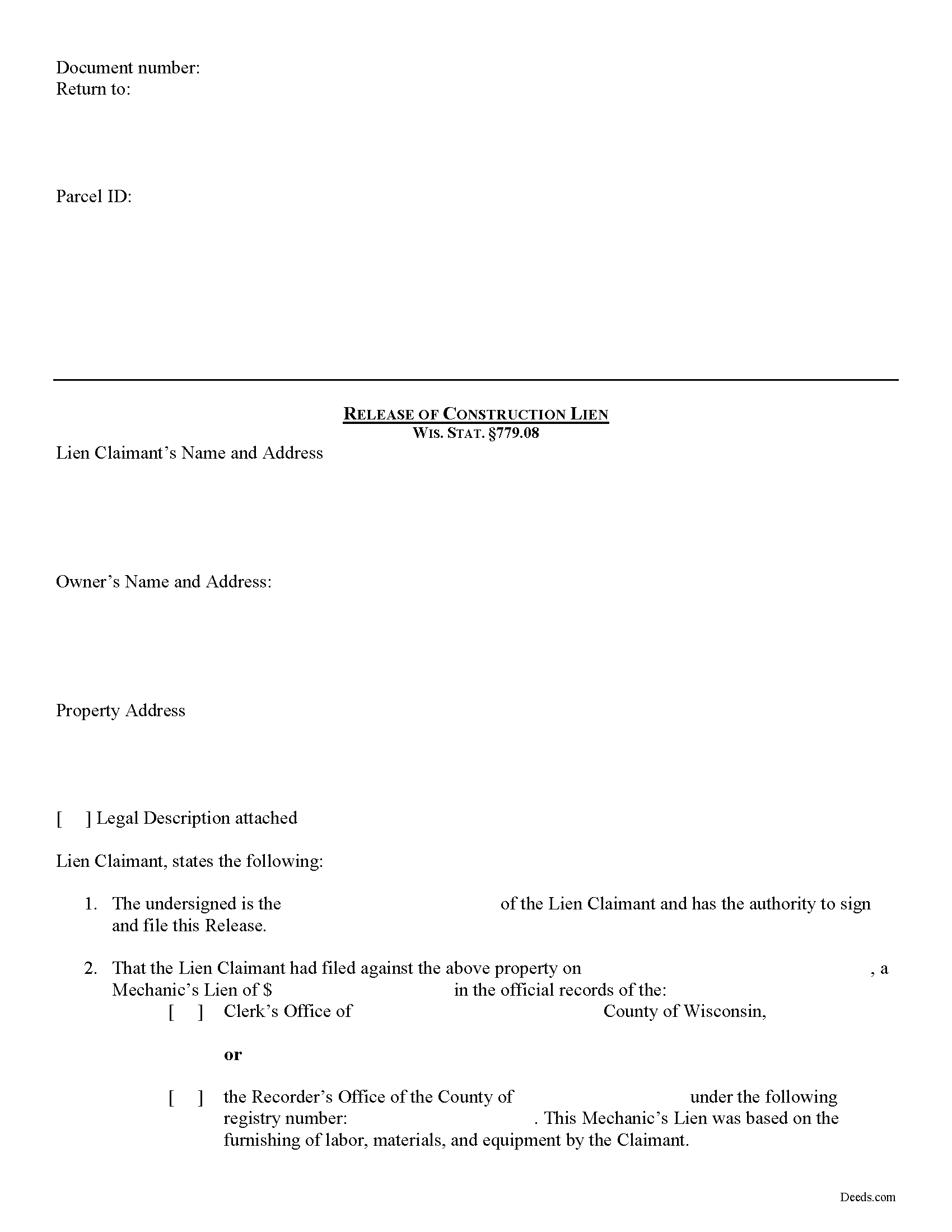 Releasing a Lien in Wisconsin

Property subject to a mechanic's lien should be released when the owner posts a bond or other surety to guarantee payment of the underlying lien. In exchange for posting the bond, the lien claimant should file a release with the clerk of court. Property should also be released when a lien is satisfied as a matter of course.

To release a lien, a surety bond must be posted in a value equal to 125 percent of the claim for lien. See Wis. Stat. 779.08(1). The court shall determine any question of sufficiency of the surety if an exception is taken by the lien claimant. Id.

The clerk of court shall remove the lien from the judgment and lien docket upon the court's order approving the surety in substitution for the lien. Id.

Issuing a release is required by law when the lien is no longer justified. Every lien claimant, or the attorney who executed and filed a claim for lien on the claimant's behalf, who has received satisfaction or tender of the claim with the costs of any action brought on the claim shall, at the request of any person interested in the premises affected and on payment of the costs of satisfying the same, execute and deliver the necessary satisfaction to the interested person. Wis. Stat. 779.13. When the satisfaction is filed with the clerk of circuit court, the clerk of circuit court shall enter satisfaction of the claim on the judgment and lien docket. Id.

Failure to execute and deliver the satisfaction or to satisfy the lien on the judgment and lien docket shall render the person so refusing liable to pay to the person requiring the satisfaction a sum equal to one-half of the sum claimed in the claim for lien. Id.

This article is provided for informational purposes only and should not be relied upon as a substitute for the advice from a legal professional. Please contact a Wisconsin attorney with any questions about filing a satisfaction of lien or releasing a lien.
Back to Wisconsin