Jefferson County Mineral Deed Forms (Alabama)
Express Checkout
Form Package
Mineral Deed
State
Alabama
Area
Jefferson County
Price
$29.97
Delivery
Immediate Download
Payment Information
Included Forms
All Jefferson County specific forms and documents listed below are included in your immediate download package:
Mineral Deed Form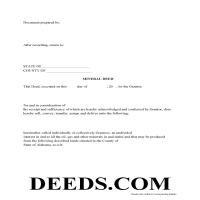 Fill in the blank form formatted to comply with all recording and content requirements.
Included document last updated 8/21/2023
Mineral Deed Guide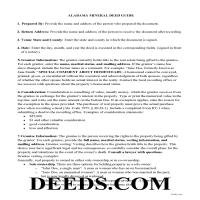 Line by line guide explaining every blank on the form.
Included document last updated 8/25/2023
Completed Example of a Mineral Deed Document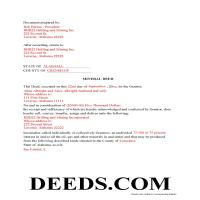 Example of a properly completed form for reference.
Included document last updated 7/11/2023
Included Supplemental Documents
The following Alabama and Jefferson County supplemental forms are included as a courtesy with your order.
Frequently Asked Questions:
How long does it take to get my forms?
Forms are available immediately after submitting payment.
What are supplemental forms?
Often when a deed is recorded additional documents are required by or Jefferson County. These could be tax related, informational, or even as simple as a coversheet. Supplemental forms are provided for free with your order where available.
How do I get my forms, are they emailed?
After you submit payment you will see a page listing the Jefferson County forms you ordered with a download link to the pdf form file. You download the forms to your computer. You will also receive an email with a link to your download page in case you need it later.
What type of files are the forms?
All of our Jefferson County Mineral Deed forms are PDFs. You will need to have or get Adobe Reader to use our forms. Adobe Reader is free software that most computers already have installed.
Can the Mineral Deed forms be re-used?
Yes. You can re-use the forms for your personal use. For example, if you have more than one property in Jefferson County that you need to transfer you would only need to order our forms once for all of your properties in Jefferson County.
Are these forms guaranteed to be recordable in Jefferson County?
Yes. Our form blanks are guaranteed to meet or exceed all formatting requirements set forth by Jefferson County including margin requirements, content requirements, font and font size requirements.
Do I have to enter all of my property information online?
No. The blank forms are downloaded to your computer and you fill them out there, at your convenience.
Can I save the completed form, email it to someone?
Yes, you can save your deed form at any point with your information in it. The forms can also be emailed, blank or complete, as attachments.
Do I need any special software to use these forms?
You will need to have Adobe Reader installed on your computer to use our forms. Adobe Reader is free software that most computers already have installed.
Are there any recurring fees involved?
No. Nothing to cancel, no memberships, no recurring fees.
Areas Covered by These Mineral Deed Forms:
Including:
Adamsville
Adger
Alton
Bessemer
Birmingham
Brookside
Cardiff
Clay
Docena
Dolomite
Dora
Fairfield
Fultondale
Gardendale
Graysville
Kimberly
Leeds
Mc Calla
Morris
Mount Olive
Mulga
New Castle
Palmerdale
Pinson
Pleasant Grove
Sayre
Shannon
Trafford
Trussville
Warrior
Watson
What is the Alabama Mineral Deed
The General Mineral Deed in Alabama transfers oil, gas, and mineral rights from the grantor to the grantee. THIS IS NOT A LEASE. There are no Exceptions or Reservations included.

The transfer includes the oil, gas and other minerals of every kind and nature. It also transfers any and all rights to receive royalties, overriding royalties, net profits interests or other payments out of or with respect to those oil, gas and other minerals. The Grantor can stipulate the percentage of Mineral Rights the Grantee will receive and is made subject to any rights existing under any valid and subsisting oil and gas lease or leases of record.

This general mineral deed gives the grantee the right to access, for the purpose of mining, drilling, exploring, operating and developing said lands for oil, gas, and other minerals, and storing handling, transporting and marketing of such.

In this document the Grantor Warrants and will defend said Title to Grantee. Use of this document has a permanent effect on your rights to the property, if you are not completely sure of what you are executing seek the advice of a legal professional.
Our Promise
The documents you receive here will meet, or exceed, the Jefferson County recording requirements for formatting. If there's an issue caused by our formatting, we'll make it right and refund your payment.
Save Time and Money
Get your Jefferson County Mineral Deed form done right the first time with Deeds.com Uniform Conveyancing Blanks. At Deeds.com, we understand that your time and money are valuable resources, and we don't want you to face a penalty fee or rejection imposed by a county recorder for submitting nonstandard documents. We constantly review and update our forms to meet rapidly changing state and county recording requirements for roughly 3,500 counties and local jurisdictions.
Reviews
4.8 out of 5 (4166 Reviews)
Edward B.
September 22nd, 2023
I was looking for a certain form I needed. Deeds.com had the necessary form and I was able to purchase it with little effort on my part. This was a good customer experience.
Reply from Staff
We appreciate your business and value your feedback. Thank you. Have a wonderful day!
Jerry G.
September 21st, 2023
I found the document confusing and I don't think I can use it.
Reply from Staff
Thank you for your feedback. We recognize that do-it-yourself legal documents may not be suitable for everyone. We always advise all our customers to seek assistance from a legal professional familiar with their specific situation for any form they do not completely understand. For your convenience, we have canceled your order and processed a refund.
Reliant Roofers, Inc. N.
September 20th, 2023
Great communication. Quick response. deeds.com is timely and efficient.
Reply from Staff
We appreciate your business and value your feedback. Thank you. Have a wonderful day!
Thomas G.
March 16th, 2020
A few parts are confusing'.Like sending Tax statements to WHO ?/ The rest is simple I hope.Have not tried to record yet
Reply from Staff
Thank you!
Wayne T.
November 11th, 2022
I found that it was easy-to-use and complete.
Reply from Staff
Thank you!
Russell F.
June 18th, 2019
Thanks for the prompt response to my inquiry. I appreciate the extra effort provided by Tom and Melbra. Great job!
Reply from Staff
Thank you!
Suzette H.
October 6th, 2021
helped clarify how process works Thanks

Reply from Staff
Thank you!
Sandra H.
February 26th, 2019
I am a retired attorney. I chanced upon this website while looking for a Florida Lady Bird Deed Form. It conforms to Florida Law and was exactly what I needed. The forms are easy to obtain and even easier to use and print out.
Reply from Staff
Thank you so much Sandra, we really appreciate your feedback.
John S.
May 20th, 2023
Easy to use website and reasonably priced forms. I recommend it.
Reply from Staff
Thank you for the kind words John.
Deborah C.
July 13th, 2019
Good organization and guidance.
Reply from Staff
Thank you!
Jeremiah W.
August 2nd, 2020
Very helpful information and great forms.
Reply from Staff
Thank you for your feedback. We really appreciate it. Have a great day!
JIM H.
July 21st, 2022
Excellent service
Always find the documents in minutes.
Supporting docs is a super plus!
Reply from Staff
Thank you!
Frank G B.
December 21st, 2019
site is very helpful and easy to use.
Reply from Staff
We appreciate your business and value your feedback. Thank you. Have a wonderful day!
KATHLEEN S.
January 21st, 2021
Excellent service, great feedback and recommendations by the deed preparer, and I really appreciate the personalized service. The website is amazing, everything is well thought out, and all messages are saved, clear and easy to read. I wish my website was so easy to navigate!
Seriously, the person who worked on my account is awesome. They made recommendations about what to include and what not to include. They didn't make me feel dumb for asking questions about out-of-state service and filing procedures, and I will be using Deeds.com exclusively on my cases. Five stars !
Reply from Staff
We appreciate your business and value your feedback. Thank you. Have a wonderful day!
Jack S.
March 5th, 2019
This is a great service and fairly priced.
Reply from Staff
Thank you Jack. hope you're having a great day!