Quitclaim Deed for Real Estate Located in Alaska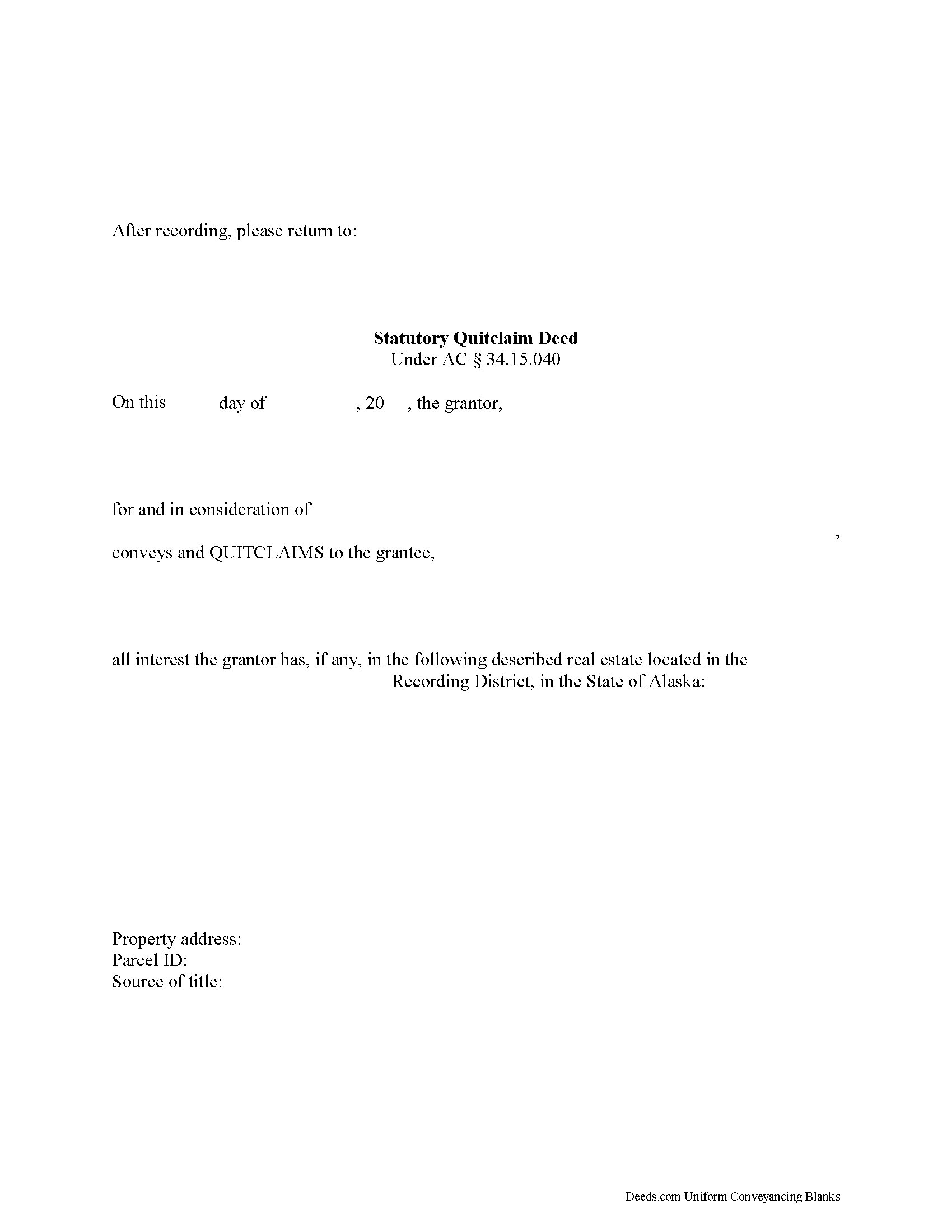 Valid quitclaim deeds in Alaska must meet certain statutory requirements.

Content:
To convey real property, the grantor must be of legal age or appoint an agent to act on his or her behalf. Beyond that, a quitclaim deed must contain original signatures of the grantor or authorized agent; a title that accurately reflects the overall intent of the document; a book and page reference or serial number reference of the prior recorded deed; the name and address of the individual to whom the document should be returned after recording; the names and mailing addresses of both the grantor and the grantee; the recording district in which it is to be recorded; a complete legal description of the property; the consideration paid (typically money); and a signed and dated acknowledgement by a notary or other official authorized to administer oaths and certify signatures. (See Alaska Stat. 34.15.010, et al)

If the property conveyed by the quit claim deed is identified as the grantor's homestead, the grantor's spouse, if any, must also sign the quit claim deed. This action does not grant the spouse any rights to the property if none existed before.

Recording:
The best way for the grantee to preserve property rights is to record any document that executes a change in the status of land ownership. Although recording quit claim deeds is not specifically mandated by Alaska law, the act of entering the updated information into the public record provides constructive notice that the property is now under the grantor's control. Alaska follows a race-notice recording statute, which means that, in general, unrecorded deeds are valid between the parties, but if the grantor reconveys the same property to another grantee who promptly records the deed, the "first in time" grantee loses possession because the transaction was not entered into the public record. Even if the first grantee records later, the property rights are lost to the later grantee who recorded the conveyance first. (Alaska Stat. 40.17.080) To summarize, record the executed quit claim deed as soon as possible.

Alaska quit claim deeds must be submitted to the recording district that is local to the property. They must also be accompanied by the applicable recording fee set by regulation; if the document is to be recorded for multiple purposes, it must be accompanied by the applicable fee for each of the multiple purposes.

NOTE: Be aware that different recording districts may require specific indexing information, unique formatting, additional information, tax forms, or other documents before the quit claim deed may qualify for recording.
Back to Alaska