Pinal County Correction Deed Forms (Arizona)
Express Checkout
Form Package
Correction Deed
State
Arizona
Area
Pinal County
Price
$29.97
Delivery
Immediate Download
Payment Information
Included Forms
All Pinal County specific forms and documents listed below are included in your immediate download package:
Correction Deed Form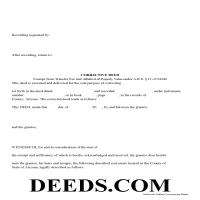 Fill in the blank form formatted to comply with all recording and content requirements.
Included document last reviewed/updated 8/17/2023
Correction Deed Guide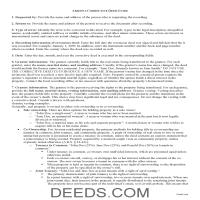 Line by line guide explaining every blank on the form.
Included document last reviewed/updated 4/17/2023
Completed Example of a Correction Deed Document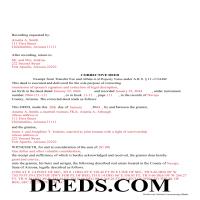 Example of a properly completed form for reference.
Included document last reviewed/updated 9/22/2023
Included Supplemental Documents
The following Arizona and Pinal County supplemental forms are included as a courtesy with your order.
Frequently Asked Questions:
How long does it take to get my forms?
Forms are available immediately after submitting payment.
What are supplemental forms?
Often when a deed is recorded additional documents are required by or Pinal County. These could be tax related, informational, or even as simple as a coversheet. Supplemental forms are provided for free with your order where available.
How do I get my forms, are they emailed?
After you submit payment you will see a page listing the Pinal County forms you ordered with a download link to the pdf form file. You download the forms to your computer. You will also receive an email with a link to your download page in case you need it later.
What type of files are the forms?
All of our Pinal County Correction Deed forms are PDFs. You will need to have or get Adobe Reader to use our forms. Adobe Reader is free software that most computers already have installed.
Can the Correction Deed forms be re-used?
Yes. You can re-use the forms for your personal use. For example, if you have more than one property in Pinal County that you need to transfer you would only need to order our forms once for all of your properties in Pinal County.
Are these forms guaranteed to be recordable in Pinal County?
Yes. Our form blanks are guaranteed to meet or exceed all formatting requirements set forth by Pinal County including margin requirements, content requirements, font and font size requirements.
Do I have to enter all of my property information online?
No. The blank forms are downloaded to your computer and you fill them out there, at your convenience.
Can I save the completed form, email it to someone?
Yes, you can save your deed form at any point with your information in it. The forms can also be emailed, blank or complete, as attachments.
Do I need any special software to use these forms?
You will need to have Adobe Reader installed on your computer to use our forms. Adobe Reader is free software that most computers already have installed.
Are there any recurring fees involved?
No. Nothing to cancel, no memberships, no recurring fees.
Areas Covered by These Correction Deed Forms:
Including:
Apache Junction
Arizona City
Bapchule
Casa Grande
Coolidge
Eloy
Florence
Kearny
Mammoth
Maricopa
Oracle
Picacho
Queen Creek
Red Rock
Sacaton
San Manuel
Stanfield
Superior
Valley Farms
What is the Arizona Correction Deed
What happens when there is an error in your deed? What can you do to fix it? One option may be filing a corrective deed.

A corrective deed is an instrument used to correct a small error in a deed that has been recorded at an earlier date. Corrections can only be made to non-material errors, causing no actual change in the substance of the deed. Common mistakes include typographical errors in the legal description, misspelled names, accidentally omitted suffixes or middle initials, etc.

Major, or material, changes to the substance of the deed have a legal effect in how property is titled, and therefore require a new deed. Adding or removing a grantee, for example, or significant changes to the legal description, may all require a new deed of conveyance. When in doubt about the gravity of an error and whether a correction deed is the appropriate vehicle to address it, consult with a lawyer.

On the corrective deed, give the recording information from the previously filed document, then identify which section contains the error. Provide the correct details in the body of the deed. The corrective deed states the nature of the error and recites the date and recording information of the erroneous deed.

For the corrective deed to be valid, all parties who signed the erroneous deed must sign the corrective deed in the presence of a notarial official. If the grantor is married, Arizona requires that both spouses sign the deed (A.R.S. 33-452). Finally, the form must meet all state and local standards for recorded documents. Submit the completed corrective deed to the local recording office.

Most transfers of real property are subject to a transfer tax and must be accompanied by an Affidavit of Property Value. However, corrective deeds are exempt from both because the property has already been transferred (A.R.S. 11-1133, 11-1134).

This article is provided for informational purposes only and is not a substitute for legal advice. Contact an attorney with questions about corrective deeds or any other issues related to real property in Arizona.
Our Promise
The documents you receive here will meet, or exceed, the Pinal County recording requirements for formatting. If there's an issue caused by our formatting, we'll make it right and refund your payment.
Save Time and Money
Get your Pinal County Correction Deed form done right the first time with Deeds.com Uniform Conveyancing Blanks. At Deeds.com, we understand that your time and money are valuable resources, and we don't want you to face a penalty fee or rejection imposed by a county recorder for submitting nonstandard documents. We constantly review and update our forms to meet rapidly changing state and county recording requirements for roughly 3,500 counties and local jurisdictions.
Reviews
4.8 out of 5 (4174 Reviews)
Brennan H.
October 4th, 2023
I had worked for a couple of months sending things back and forth to the county and still had no success. I decided to use deeds.com and it was all done in a few hours. Such a relief! While I find this to be wrong and the county should work with property owners as well as they work with third parties, I was still grateful for this service.
Reply from Staff
Thank you for your feedback. We really appreciate it. Have a great day!
Norman J.
October 3rd, 2023
I really enjoyed your service. It was great.
Reply from Staff
Thank you!
Kristen N.
October 3rd, 2023
Very easy to use, helpful instructions and examples. I also like the chat feature and the erecording. So much better than other DIY law websites out there.
Reply from Staff
We appreciate your business and value your feedback. Thank you. Have a wonderful day!
Laurie B.
May 30th, 2022
easy to use, good experience
Reply from Staff
Thank you!
Greg S.
August 19th, 2022
The Beneficiary Deed is easy to fill out, expecially with the examples/explanations provided. The only recommendation I would make is to state that the Parcel ID and the Assessor's ID are one in the same. I looked everywhere for something that mentions "Assessor's ID" in my paperwork to no avail. Upon calling the Maricopa Assessor's number in Maricopa I was told that they are the same.
Reply from Staff
Thank you for your feedback. We really appreciate it. Have a great day!
Cleatous S.
December 9th, 2020
The deed form is hard to fill in. There is no way to fill in the county in the "reviewed by" section. Also, there is no place for the Grantee's address on the form. I had to include it in the fill-in space for the legal description.
Reply from Staff
Thank you!
Michael W.
July 27th, 2021
Appreciate the help with DC's non-intuitive forms. Superb service.
Reply from Staff
Thank you!
ELOISA F.
May 27th, 2021
Once I had everything right;the recording was fast and easy. I was updated at every juncture and apprised of my mistakes in order to fix and record my deed. To improve service: I think that several different examples and scenarios would have helped. If you have different names from your children; birth certificates and marriage certificates are a requirement in Clark County, NV. If you want to add anyone to the deed in a Quit Claim Deed; you have to add yourself as a grantee even if you are the grantor along with the other grantees.
Reply from Staff
Thank you for your feedback. We really appreciate it. Have a great day!
Cindy H.
January 16th, 2021
It was easy and quick. Such a pleasure to use since we live out of town. So convenient. Definitely would recommend.
Reply from Staff
Thank you for your feedback. We really appreciate it. Have a great day!
Maree W.
August 5th, 2022
I am so impress with the forms that is needed for your state. It makes your task so easy and no worries. This was a big help in taking care of business. Thank you so much.
Reply from Staff
We appreciate your business and value your feedback. Thank you. Have a wonderful day!
Walter R.
February 15th, 2022
I was able to get all the Forms I required and it was straight forward and easy.
Thank you ,
Walt R.
Reply from Staff
Thank you!
Janalee T.
April 17th, 2020
Fast, easy. quickly accepted by county recorder.
Reply from Staff
Thank you!
Margaret J.
July 27th, 2022
Forms were clear and understandable
Reply from Staff
Thank you!
Todd W.
September 3rd, 2020
Communication is hard. The reps need to be empowered and encouraged to call the customers when necessary. They encourage 300 dpi resolution and under 2 MB PDF file, which is not even possible with our scanner. They made a vague comment about a legal description looking abbreviated but did not explain. They refused to call me. They said the county said "Image is light please darken", but the image looked fine to me. Maybe not their fault, but they refused to help work with the county on that for me. I followed their suggestion though and re-scanned at 300 dpi, but they misunderstood me and did not re-submit it right away. Over 48 hours later, it's still not recorded yet. I hope it will be today.
Reply from Staff
Thank you for your feedback Todd.
Vernon A L.
March 23rd, 2022
They are forms....no magic there. I still have to round up the details.
Reply from Staff
We appreciate your business and value your feedback. Thank you. Have a wonderful day!
Legal Forms Disclaimer
Use of Deeds.com Legal Forms:
On our Site, we provide self-help "Do It Yourself Legal Forms." By using a form from our Site, you explicitly agree to our Terms of Use. You acknowledge and agree that your purchase and/or use of a form document does not constitute legal advice nor the practice of law. Furthermore, each form, including any related instructions or guidance, is not tailored to your specific requirements and is not guaranteed or warranted to be up-to-date, accurate, or applicable to your individual circumstances.
NO WARRANTY:
The Do It Yourself Legal Forms provided on our Website are not guaranteed to be usable, accurate, up-to-date, or suitable for any legal purpose. Any use of a Do It Yourself Legal Form from our website is undertaken AT YOUR OWN RISK.
Limitation of Liability:
If you use a Do It Yourself Legal Form available on Deeds.com, you acknowledge and agree that, TO THE EXTENT PERMITTED BY APPLICABLE LAW, WE SHALL NOT BE LIABLE FOR DAMAGES OF ANY KIND (INCLUDING, WITHOUT LIMITATION, LOST PROFITS OR ANY SPECIAL, INCIDENTAL, OR CONSEQUENTIAL DAMAGES) ARISING OUT OF OR IN CONNECTION WITH THE LEGAL FORMS OR FOR ANY INFORMATION OR SERVICES PROVIDED TO YOU THROUGH THE DEEDS.COM WEBSITE.
Damage Cap:
In circumstances where the above limitation of liability is prohibited, OUR SOLE OBLIGATION TO YOU FOR DAMAGES SHALL BE CAPPED AT $100.00.