Navajo County Grant Deed Condominium Forms (Arizona)
Express Checkout
Form Package
Grant Deed Condominium
State
Arizona
Area
Navajo County
Price
$27.97
Delivery
Immediate Download
Payment Information
Included Forms
All Navajo County specific forms and documents listed below are included in your immediate download package:
Grant Deed Condominium Form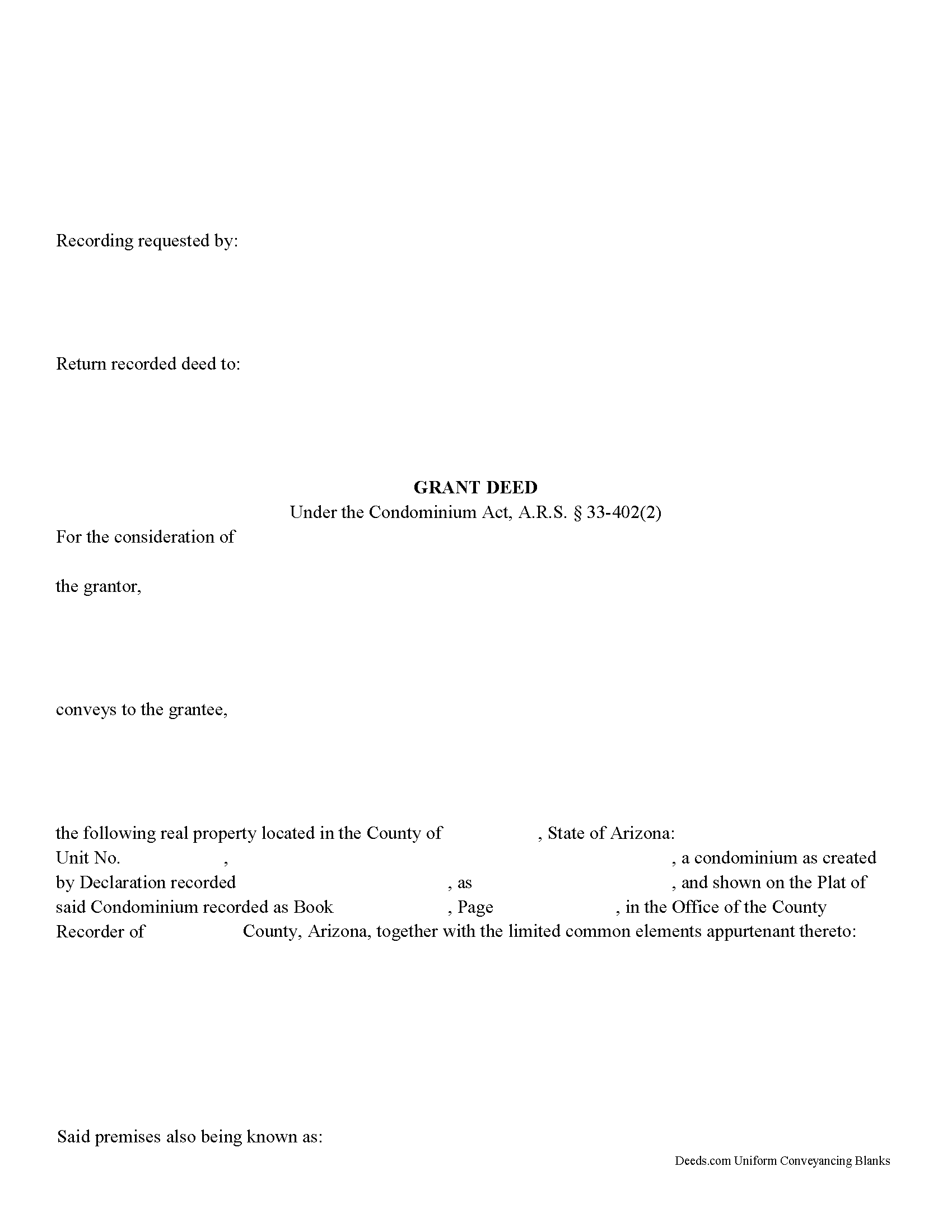 Fill in the blank form formatted to comply with all recording and content requirements.
Included document last reviewed/updated 8/24/2023
Grant Deed Guide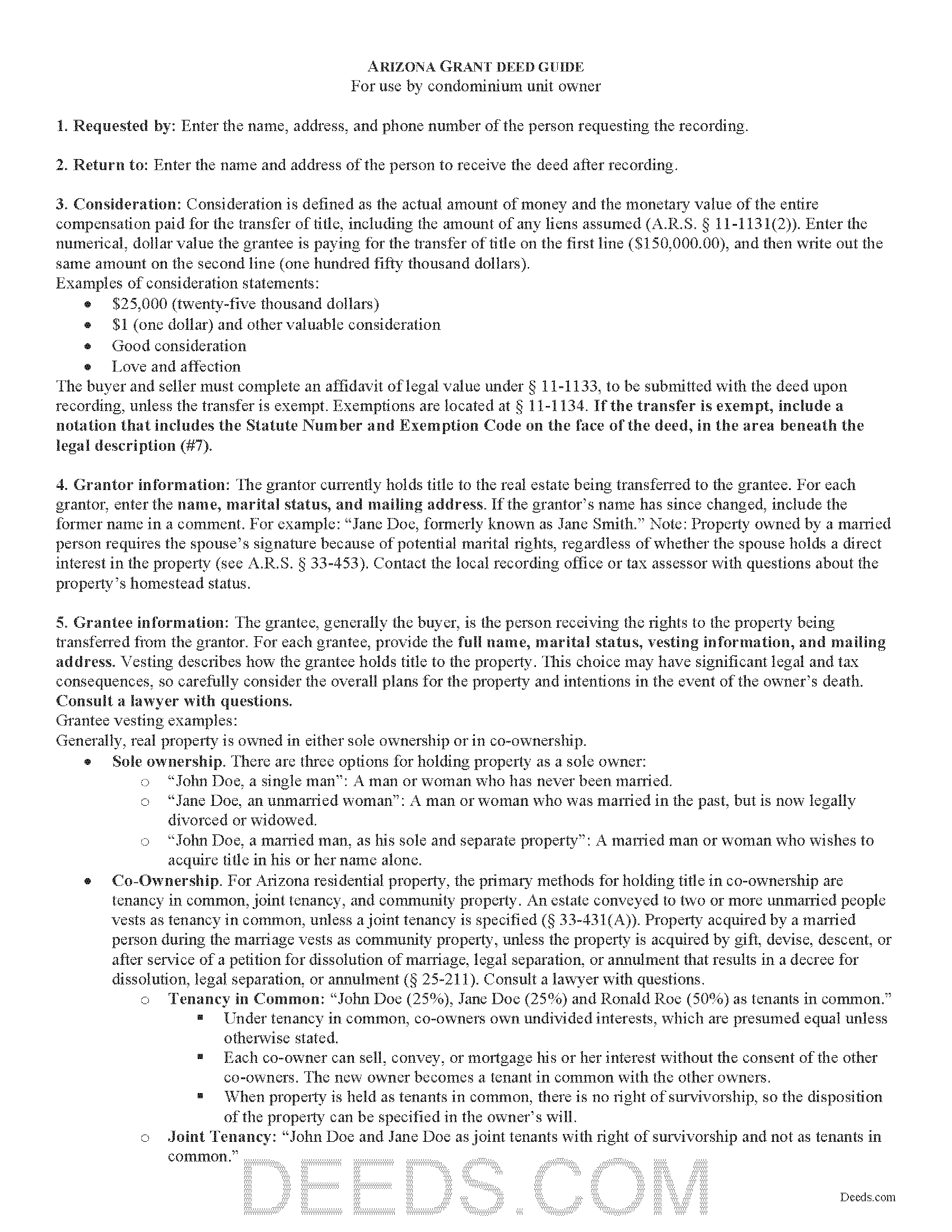 Line by line guide explaining every blank on the form.
Included document last reviewed/updated 11/14/2023
Completed Example of the Grant Deed Condominium Document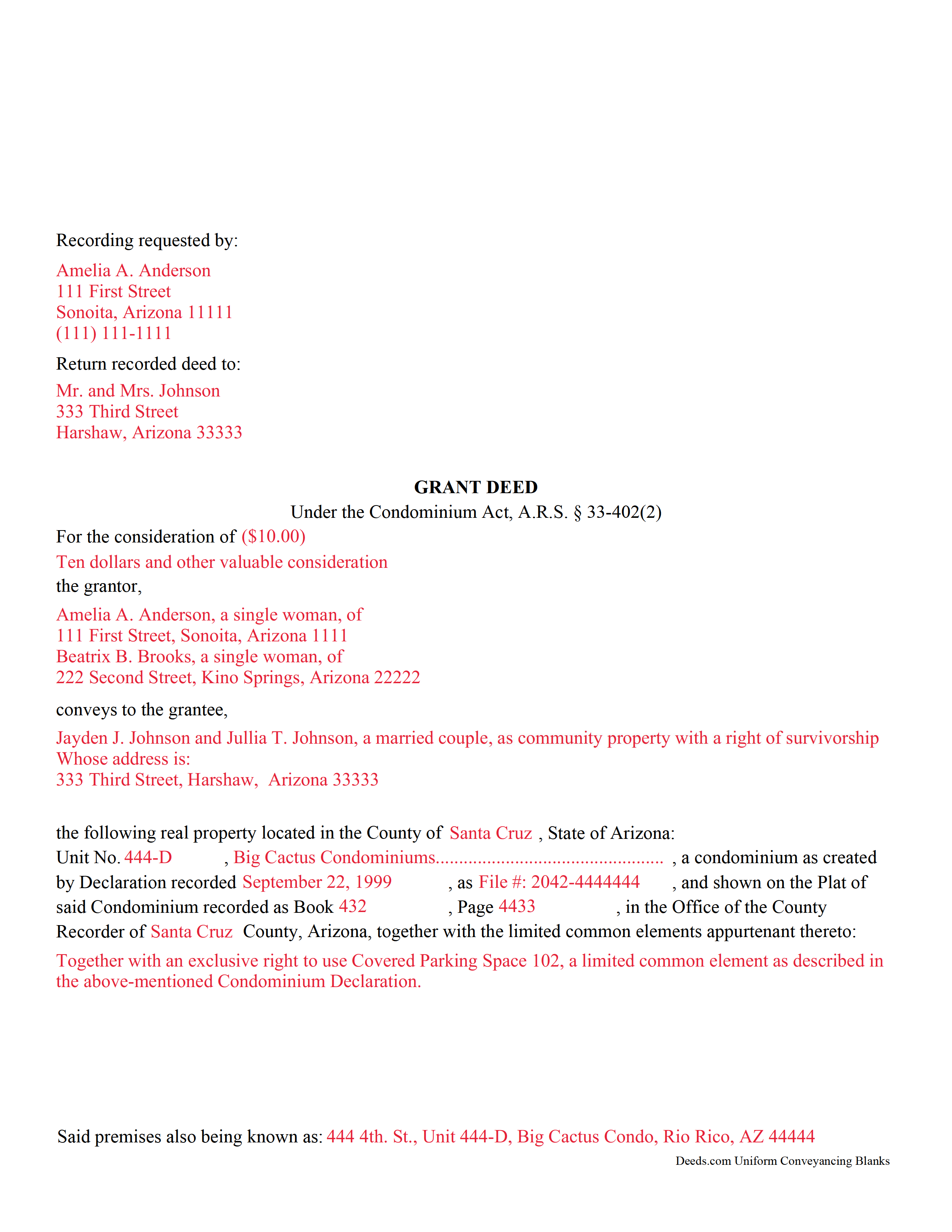 Example of a properly completed form for reference.
Included document last reviewed/updated 9/22/2023
Included Supplemental Documents
The following Arizona and Navajo County supplemental forms are included as a courtesy with your order.
Frequently Asked Questions:
How long does it take to get my forms?
Forms are available immediately after submitting payment.
What are supplemental forms?
Often when a deed is recorded additional documents are required by or Navajo County. These could be tax related, informational, or even as simple as a coversheet. Supplemental forms are provided for free with your order where available.
How do I get my forms, are they emailed?
After you submit payment you will see a page listing the Navajo County forms you ordered with a download link to the pdf form file. You download the forms to your computer. You will also receive an email with a link to your download page in case you need it later.
What type of files are the forms?
All of our Navajo County Grant Deed Condominium forms are PDFs. You will need to have or get Adobe Reader to use our forms. Adobe Reader is free software that most computers already have installed.
Can the Grant Deed Condominium forms be re-used?
Yes. You can re-use the forms for your personal use. For example, if you have more than one property in Navajo County that you need to transfer you would only need to order our forms once for all of your properties in Navajo County.
Are these forms guaranteed to be recordable in Navajo County?
Yes. Our form blanks are guaranteed to meet or exceed all formatting requirements set forth by Navajo County including margin requirements, content requirements, font and font size requirements.
Do I have to enter all of my property information online?
No. The blank forms are downloaded to your computer and you fill them out there, at your convenience.
Can I save the completed form, email it to someone?
Yes, you can save your deed form at any point with your information in it. The forms can also be emailed, blank or complete, as attachments.
Do I need any special software to use these forms?
You will need to have Adobe Reader installed on your computer to use our forms. Adobe Reader is free software that most computers already have installed.
Are there any recurring fees involved?
No. Nothing to cancel, no memberships, no recurring fees.
Areas Covered by These Grant Deed Condominium Forms:
Including:
Blue Gap
Cibecue
Clay Springs
Fort Apache
Heber
Holbrook
Hotevilla
Indian Wells
Joseph City
Kayenta
Keams Canyon
Kykotsmovi Village
Lakeside
Overgaard
Pinedale
Pinetop
Pinon
Polacca
Second Mesa
Shonto
Show Low
Snowflake
Sun Valley
Taylor
White Mountain Lake
Whiteriver
Winslow
Woodruff
What is the Arizona Grant Deed Condominium
The Condominium Act is codified in Arizona at ARS 33-1201, et seq. A condominium is a piece of real estate, portions (units) of which are reserved for separate ownership, with the remainder designated for common ownership solely by owners of the separate units (33-1202(10)).

A conveyance of a condominium unit typically includes the unit and common elements appurtenant to the unit. "Common elements" are the portions of a condominium other than the units, such as entryways, hallways, walls, and gardens (33-1212(7)). The declaration establishing the condominium, recorded in the real property records, designates the allocated interest of each unit, meaning the undivided interest in the common elements, the common expense liability, and votes in the association allocated to each unit (33-1202(2)).

Conveyances of condominium units follow the same guidelines for conveyances of real property under Title 33 of the Arizona Revised Statutes. As with any other transfer of real property, conveyance of a unit requires the execution of a deed.

A grant deed is a statutory form under ARS 33-402(2). When containing the word "grant" or "convey," a grant deed transfers title with the implied covenants that "previous to the time of execution of the conveyance the grantor has not conveyed the same estate or any right, title or interest therein, to any person other than the grantee" and that the estate is free from encumbrances at the time of the conveyance (ARS 33-435). A grant deed typically does not contain a promise by the grantor to defend the title, but carries more certainty for buyers than a quitclaim deed.

To transfer a unit, the instrument of conveyance requires a sufficient legal description that designates the unit by number and includes the name of the condominium, the recording information for the declaration (recording date and location), the county or counties in which the condominium is located, and a description of the common elements, rights, obligations, and interests appurtenant to the unit (33-1214).

Either the unit owner or the association, depending on the whether the size of the condominium is below or above fifty (50) units, respectively, is required to furnish information, including the bylaws of the association, a copy of the declaration, and other various statements, to the purchaser within ten days of a receipt of pending sale (33-1260).

In addition to the unit-specific legal description, the unit deed requires the name, marital status, and address of each grantor and grantee, as well as the grantee's vesting information, in the conveyancing clause. A statement of consideration reflects the amount of money and the monetary value of the entire compensation paid for the transfer of title, including the amount of any liens assumed (11-1131(2)). Include a reference to the source of the current grantor's title and note any restrictions on the property.

Arizona requires an affidavit of real value, alternately referred to as an affidavit of property value, completed by both parties to the instrument, to accompany all instruments transferring an interest in real property pursuant to 11-1133. When documents are exempt, a statement that the transfer is exempt and a citation of the relevant exemption should appear below the legal description on the face of the deed.

All conveyances are subscribed and delivered by the grantor and acknowledged in the presence of an authorized officer (33-401). Instruments must comply with the formatting requirements set forth at 11-480, and any other county-specific requirements for form and content.

Submit the deed and any supplemental materials for recording to the county clerk's office of the county where the subject property is situated. Contact the office to verify recording fees and accepted forms of payment.

Consult a lawyer with questions about transferring condominium units and grant deeds in Arizona, as each situation is unique.
Our Promise
The documents you receive here will meet, or exceed, the Navajo County recording requirements for formatting. If there's an issue caused by our formatting, we'll make it right and refund your payment.
Save Time and Money
Get your Navajo County Grant Deed Condominium form done right the first time with Deeds.com Uniform Conveyancing Blanks. At Deeds.com, we understand that your time and money are valuable resources, and we don't want you to face a penalty fee or rejection imposed by a county recorder for submitting nonstandard documents. We constantly review and update our forms to meet rapidly changing state and county recording requirements for roughly 3,500 counties and local jurisdictions.
Reviews
4.8 out of 5 (4211 Reviews)
Maria B.
November 27th, 2023
Deeds.com has excellent customer service and great processing times! I highly recommend their services.
Reply from Staff
We appreciate your business and value your feedback. Thank you. Have a wonderful day!
Joseph S.
November 27th, 2023
THIS IS MY FIRST EXPERIENCE WITH DEEDS.COM. I DLED THE ESTATE DEED FORM THAT I HOPE WILL GO THROUGH OK WITH THE COUNTY. IT WILL BE SOMETIME UNTIL I HAVE IT FILLED IN AND ALL THE NAMES IN, NORARIZED AND FILED. CAN I RECONTACT YOU FOLKS IF THERE IS A PROBLEM? THANK YOU, JOE SEUBERT
Reply from Staff
We are motivated by your feedback to continue delivering excellence. Thank you!
Ralph B.
November 25th, 2023
My needs were met quickly and efficiently with very little wait. Deeds.com made it easy to understand and use their program and I couldn\'t be more happy with the results!
Reply from Staff
It was a pleasure serving you. Thank you for the positive feedback!
Andrew M.
March 20th, 2021
Very easy to find the Quitclaim Deed form I needed. It was correct format and was accepted by my bank.
Reply from Staff
We appreciate your business and value your feedback. Thank you. Have a wonderful day!
Sean D.
September 13th, 2022
I am new to needing this type of service, and the Deeds.Com team has been fantastic. Responsive, professional, and thorough are the first 3 words that come to mind. Deeds.Com will be my first choice for all of our county recorder needs.
Reply from Staff
Thank you!
RICKY N.
July 10th, 2020
Fast Speedy great communication worry-free
Reply from Staff
Thank you!
Pamela L.
July 18th, 2023
Fast efficient informative. Thank you.
Reply from Staff
Thank you for your feedback. We really appreciate it. Have a great day!
Samantha A.
April 19th, 2023
This company is a super time saver for our firm and our client! Their website was easy to use and their staff was fast and efficient. Their fees are very reasonable. I would most certainly use their services again.
Reply from Staff
We appreciate your business and value your feedback. Thank you. Have a wonderful day!
Melody S.
February 11th, 2021
Although I was given quite a bit of information, I wanted my property title. I was not informed of what I would receive before I paid for this service.
Reply from Staff
Thank you!
Kathleen M.
April 14th, 2020
Your Service was excellent. Very responsive. Thank you.
Reply from Staff
Thank you!
lamar J.
January 18th, 2021
Easy to understand and work with
Very pleased with the information I
Received
Reply from Staff
We appreciate your business and value your feedback. Thank you. Have a wonderful day!
Pamela H.
April 10th, 2019
With Deeds.com I was able to acquire the form I needed for a reasonable fee. Easy navigation, plus guidelines & example of how the finished form should be filled out. I was most pleased to download blank form so I could type into it and then save the blank form. Well organized informative tool. Highly recommend
Reply from Staff
We appreciate your business and value your feedback. Thank you. Have a wonderful day!
Muriel S.
October 5th, 2023
The three people we dealt with were courteous and helpful.
Reply from Staff
Thank you!
Kellie Z.
December 4th, 2020
Wow! So much simpler & faster than I had expected. I had thought it would take weeks to get filed & took days- yea! Super easy & speedy!
Reply from Staff
Thank you!
Dale A C.
January 31st, 2019
Deeds.com was a very efficient and simple website to use in preparing my documents needed to complete a real estate closing. I highly recommend this website, as it is easy to use, inexpensive, and effective.
Reply from Staff
We appreciate your business and value your feedback. Thank you. Have a wonderful day!
Legal Forms Disclaimer
Use of Deeds.com Legal Forms:
On our Site, we provide self-help "Do It Yourself Legal Forms." By using a form from our Site, you explicitly agree to our Terms of Use. You acknowledge and agree that your purchase and/or use of a form document does not constitute legal advice nor the practice of law. Furthermore, each form, including any related instructions or guidance, is not tailored to your specific requirements and is not guaranteed or warranted to be up-to-date, accurate, or applicable to your individual circumstances.
NO WARRANTY:
The Do It Yourself Legal Forms provided on our Website are not guaranteed to be usable, accurate, up-to-date, or suitable for any legal purpose. Any use of a Do It Yourself Legal Form from our website is undertaken AT YOUR OWN RISK.
Limitation of Liability:
If you use a Do It Yourself Legal Form available on Deeds.com, you acknowledge and agree that, TO THE EXTENT PERMITTED BY APPLICABLE LAW, WE SHALL NOT BE LIABLE FOR DAMAGES OF ANY KIND (INCLUDING, WITHOUT LIMITATION, LOST PROFITS OR ANY SPECIAL, INCIDENTAL, OR CONSEQUENTIAL DAMAGES) ARISING OUT OF OR IN CONNECTION WITH THE LEGAL FORMS OR FOR ANY INFORMATION OR SERVICES PROVIDED TO YOU THROUGH THE DEEDS.COM WEBSITE.
Damage Cap:
In circumstances where the above limitation of liability is prohibited, OUR SOLE OBLIGATION TO YOU FOR DAMAGES SHALL BE CAPPED AT $100.00.