Lafayette County Beneficiary Deed Forms (Arkansas)
Express Checkout
Form Package
Beneficiary Deed
State
Arkansas
Area
Lafayette County
Price
$29.97
Delivery
Immediate Download
Payment Information
Included Forms
All Lafayette County specific forms and documents listed below are included in your immediate download package:
Beneficiary Deed Form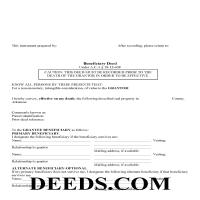 Fill in the blank form formatted to comply with all recording and content requirements.
Included document last reviewed/updated 7/27/2023
Beneficiary Deed Guide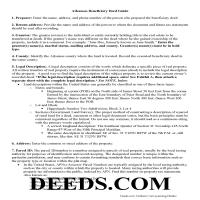 Line by line guide explaining every blank on the form.
Included document last reviewed/updated 9/15/2023
Completed Example of the Beneficiary Deed Document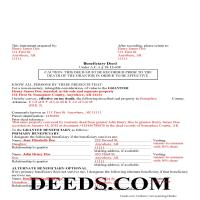 Example of a properly completed form for reference.
Included document last reviewed/updated 9/7/2023
Included Supplemental Documents
The following Arkansas and Lafayette County supplemental forms are included as a courtesy with your order.
Frequently Asked Questions:
How long does it take to get my forms?
Forms are available immediately after submitting payment.
What are supplemental forms?
Often when a deed is recorded additional documents are required by or Lafayette County. These could be tax related, informational, or even as simple as a coversheet. Supplemental forms are provided for free with your order where available.
How do I get my forms, are they emailed?
After you submit payment you will see a page listing the Lafayette County forms you ordered with a download link to the pdf form file. You download the forms to your computer. You will also receive an email with a link to your download page in case you need it later.
What type of files are the forms?
All of our Lafayette County Beneficiary Deed forms are PDFs. You will need to have or get Adobe Reader to use our forms. Adobe Reader is free software that most computers already have installed.
Can the Beneficiary Deed forms be re-used?
Yes. You can re-use the forms for your personal use. For example, if you have more than one property in Lafayette County that you need to transfer you would only need to order our forms once for all of your properties in Lafayette County.
Are these forms guaranteed to be recordable in Lafayette County?
Yes. Our form blanks are guaranteed to meet or exceed all formatting requirements set forth by Lafayette County including margin requirements, content requirements, font and font size requirements.
Do I have to enter all of my property information online?
No. The blank forms are downloaded to your computer and you fill them out there, at your convenience.
Can I save the completed form, email it to someone?
Yes, you can save your deed form at any point with your information in it. The forms can also be emailed, blank or complete, as attachments.
Do I need any special software to use these forms?
You will need to have Adobe Reader installed on your computer to use our forms. Adobe Reader is free software that most computers already have installed.
Are there any recurring fees involved?
No. Nothing to cancel, no memberships, no recurring fees.
Areas Covered by These Beneficiary Deed Forms:
Including:
Bradley
Buckner
Lewisville
Stamps
What is the Arkansas Beneficiary Deed
Beneficiary deeds in Arkansas are governed by A.S.A. 18-12-608. This statute offers owners of Arkansas real property to designate one or more beneficiaries who may gain the interest that remains in the owner's name at the time of his/her death.

Even though beneficiary deeds, just like other deeds of conveyance, must be lawfully recorded after they are completed and executed (signed in front of a notary), they differ from standard deeds in some important ways. If they are not recorded during the owner's life, they have no effect. Beneficiary deeds do not transfer any present interest in the real estate, so there is no requirement for consideration.

Perhaps one of their most unique features is the fact that the owner may execute and record new beneficiary deeds that change the beneficiary, the terms of the transfer, or even revoke the whole thing. The owner may even sell the property to someone else, leaving no interest to convey at death. Again, like the beneficiary deeds, to be effective, any changes must be recorded while the owner is alive. This flexibility allows land owners to retain absolute control over and use of the property.

When the owner dies, the beneficiary gains the title to the real estate described in the beneficiary deed. Any mortgages, liens, or obligations attached to the land at the time of the owner's death become the beneficiary's responsibility. In addition, if the owner received benefits from state or federal agencies, they might file reimbursement claims against the estate or the beneficiary.

Ultimately, beneficiary deeds can be a useful part of an overall estate plan. Still, executing one may impact the owner's eligibility for asset-based programs. Carefully consider the benefits and drawbacks to this type of conveyance to ensure that it supports the owner's overall intentions. Because each situation is unique, consult an attorney with specific questions.

For use in Arkansas only.
Our Promise
The documents you receive here will meet, or exceed, the Lafayette County recording requirements for formatting. If there's an issue caused by our formatting, we'll make it right and refund your payment.
Save Time and Money
Get your Lafayette County Beneficiary Deed form done right the first time with Deeds.com Uniform Conveyancing Blanks. At Deeds.com, we understand that your time and money are valuable resources, and we don't want you to face a penalty fee or rejection imposed by a county recorder for submitting nonstandard documents. We constantly review and update our forms to meet rapidly changing state and county recording requirements for roughly 3,500 counties and local jurisdictions.
Reviews
4.8 out of 5 (4174 Reviews)
Brennan H.
October 4th, 2023
I had worked for a couple of months sending things back and forth to the county and still had no success. I decided to use deeds.com and it was all done in a few hours. Such a relief! While I find this to be wrong and the county should work with property owners as well as they work with third parties, I was still grateful for this service.
Reply from Staff
Thank you for your feedback. We really appreciate it. Have a great day!
Norman J.
October 3rd, 2023
I really enjoyed your service. It was great.
Reply from Staff
Thank you!
Kristen N.
October 3rd, 2023
Very easy to use, helpful instructions and examples. I also like the chat feature and the erecording. So much better than other DIY law websites out there.
Reply from Staff
We appreciate your business and value your feedback. Thank you. Have a wonderful day!
Patricia H.
May 17th, 2022
I really like this site and it's actually recommended by many County Recorders. I especially like that there's not join up/monthly fee. It's easy to use and the customer support is outstanding. They're very helpful and patient.


Reply from Staff
Thank you for your feedback. We really appreciate it. Have a great day!
Robert C.
March 31st, 2019
I hope I have the right form. My deed should be for a mfg home.
Reply from Staff
Thank you for your feedback. We really appreciate it. Have a great day!
Wilma M.
August 7th, 2020
Amazingly easy. Thank you
Reply from Staff
Thank you!
Barbara D.
November 11th, 2021
Very helpful, clear and precise. The example further clarifies exactly what is needed to be included in information.
Reply from Staff
Thank you!
DONNA F.
June 7th, 2019
very easy and fast
thank you
would recommend
Reply from Staff
We appreciate your business and value your feedback. Thank you. Have a wonderful day!
Curley B.
January 6th, 2023
So far, I'm pleased. I am a first-time user, as most of my clients are in California. I look forward to working with you more in the future.
Reply from Staff
Thank you for your feedback. We really appreciate it. Have a great day!
Sherilynne P.
May 21st, 2019
I am delighted with the form. I just had to go through so much time and expense in order to use it. First, from your site I downloaded Adobe Acrobat. It totally compromised my computer. I had to get a computer expert to walk me through deleting adobe, and put a substitute on in order to use the form. That was an expense of $60.00. Then after that I still had a hard time getting the program to work, as the substitute program would not accept my e-mail address and I finally had to get someone on line to help me access that. I found it was a $$30.00 charge for the substitute. After fighting these lovely roadblocks, I was finally able to fill in the only form I needed and print it off. Took me two days to accomplish that. Why on earth do you offer adobe when it can compromise a computer so badly? Dealing with my husbands death and then having to deal with this, just one of many deterrents, well let's put it this way, it did not make my two days.
Reply from Staff
Thank you for your feedback. Sorry to hear of your experience. Our documents are Adobe PDFs because PDF is the standard for digital documents, most computers have Adobe Reader installed, and it (Adobe Reader) is free.
Karen L.
October 3rd, 2022
Good service could give a little more detail on where to location some of the information needed. Overall fairly simply to use.
Reply from Staff
Thank you for your feedback. We really appreciate it. Have a great day!
Terriana H.
December 12th, 2020
Order processed and fulfilled in the same day!
Reply from Staff
Thank you!
LISA R.
May 4th, 2022
I was very pleased to find your website and the range of services you offer. I was recommended to hire an estate attorney, but the forms you provided will eliminate the need for that. Thank you for the help!
Reply from Staff
Thank you for your feedback. We really appreciate it. Have a great day!
Precious M.
June 23rd, 2020
great quick response
Reply from Staff
Thank you!
Thomas D.
January 6th, 2019
Can I use this for easement in gross ? Like to grant cousins easement to use river front property with riparian rights ?
Reply from Staff
Sorry, we are unable to give advice on specific legal situations.
Legal Forms Disclaimer
Use of Deeds.com Legal Forms:
On our Site, we provide self-help "Do It Yourself Legal Forms." By using a form from our Site, you explicitly agree to our Terms of Use. You acknowledge and agree that your purchase and/or use of a form document does not constitute legal advice nor the practice of law. Furthermore, each form, including any related instructions or guidance, is not tailored to your specific requirements and is not guaranteed or warranted to be up-to-date, accurate, or applicable to your individual circumstances.
NO WARRANTY:
The Do It Yourself Legal Forms provided on our Website are not guaranteed to be usable, accurate, up-to-date, or suitable for any legal purpose. Any use of a Do It Yourself Legal Form from our website is undertaken AT YOUR OWN RISK.
Limitation of Liability:
If you use a Do It Yourself Legal Form available on Deeds.com, you acknowledge and agree that, TO THE EXTENT PERMITTED BY APPLICABLE LAW, WE SHALL NOT BE LIABLE FOR DAMAGES OF ANY KIND (INCLUDING, WITHOUT LIMITATION, LOST PROFITS OR ANY SPECIAL, INCIDENTAL, OR CONSEQUENTIAL DAMAGES) ARISING OUT OF OR IN CONNECTION WITH THE LEGAL FORMS OR FOR ANY INFORMATION OR SERVICES PROVIDED TO YOU THROUGH THE DEEDS.COM WEBSITE.
Damage Cap:
In circumstances where the above limitation of liability is prohibited, OUR SOLE OBLIGATION TO YOU FOR DAMAGES SHALL BE CAPPED AT $100.00.